Christina Louise Cobb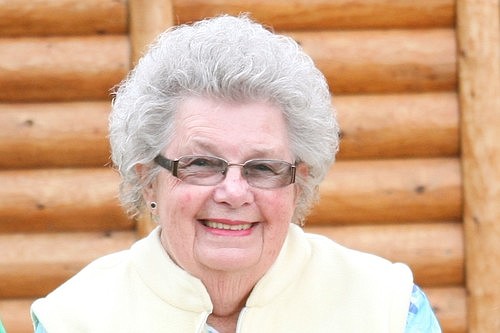 Christina Louise Cobb, 89, of Ephrata passed away peacefully on Thursday, Feb. 16.
|
February 21, 2023 11:09 AM
November 18, 1933 – February 16, 2023
Christina Louise Cobb, 89, of Ephrata passed away peacefully on Thursday, Feb. 16. She was born on Nov. 18, 1933, in Spokane, Washington to Harry and Dorothy Hartman. She attended Spokane schools and graduated from North Central High School in 1951.
On Aug. 26, 1951, Christina married the love of her life John Robert Cobb in Spokane, Washington and they were sealed for eternity in The Church of Jesus Christ of Latter-day Saints Temple in Salt Lake City, Utah on Feb. 25, 1970.
In 1964 they moved to the Ephrata area with their eight children and the following year their youngest son was born.
After moving to the Ephrata area Christina worked in the bakery at Jack's Bargain Barn in Ephrata and in the late '60s began working at Willow Drive Nursery until her retirement.
Following her retirement Christina served a year-long mission for the LDS church in the Family History Library in Salt Lake City. There she met and served alongside her companion Donnakazue Cooper from Girdwood, Alaska and the two continued to be lifelong friends.
After returning home from her mission, Christina continued to be the loving and caring mother and grandmother that her family knew and loved. Her heart of service continued to overflow onto every person she came in contact with as she served alongside other LDS single members.
Christina is survived by their nine children Mike and wife Janene Cobb of Ephrata, Susan and late husband Roland Fronsman of Ephrata, Jay and wife Linda Cobb of Estancia, New Mexico, Allen and wife Laura Cobb of Ephrata, Brian and wife Lori Cobb of Ephrata, Miles and wife Shelley Cobb of Ephrata, Colleen and husband Thayne Corbridge of Preston, Idaho, Julie and husband Douglas Larsen of Ephrata and Adam and wife Kristy Cobb of Nampa, Idaho; 40 grandchildren, 100 great-grandchildren, two great grandchildren on the way and 11 great-great-grandchildren and one half-sister Judy and husband Doug Wilcox of Colfax.
She was preceded in death by her husband John Robert Cobb, two granddaughters, one great-grandchild and one son-in-law.
The family would like to express its sincere gratitude and heartfelt appreciation for the staff and residents of the Columbia Basin Hospital and Nursing Home in Ephrata. Christina was always grateful for their service and kindness each and every day. The family sincerely thanks them for their continued love and care during her time with them.
The family would also like to thank Mike and Jeannie Scharbach of Scharbach's Columbia Funeral Chapel of Quincy for their assistance and care during this difficult time of the needed arrangements. Please express your thoughts and memories for the family at www.scharbachs.com.
A viewing will take place Saturday, Feb. 25 at 10 a.m. at the Church of Jesus Christ of Latter-day Saints Chapel, 1301 Division Ave. E., Ephrata, with a funeral to follow at 11 a.m.
Recent Headlines
---