Rodriguez signs with Yakima Valley Community College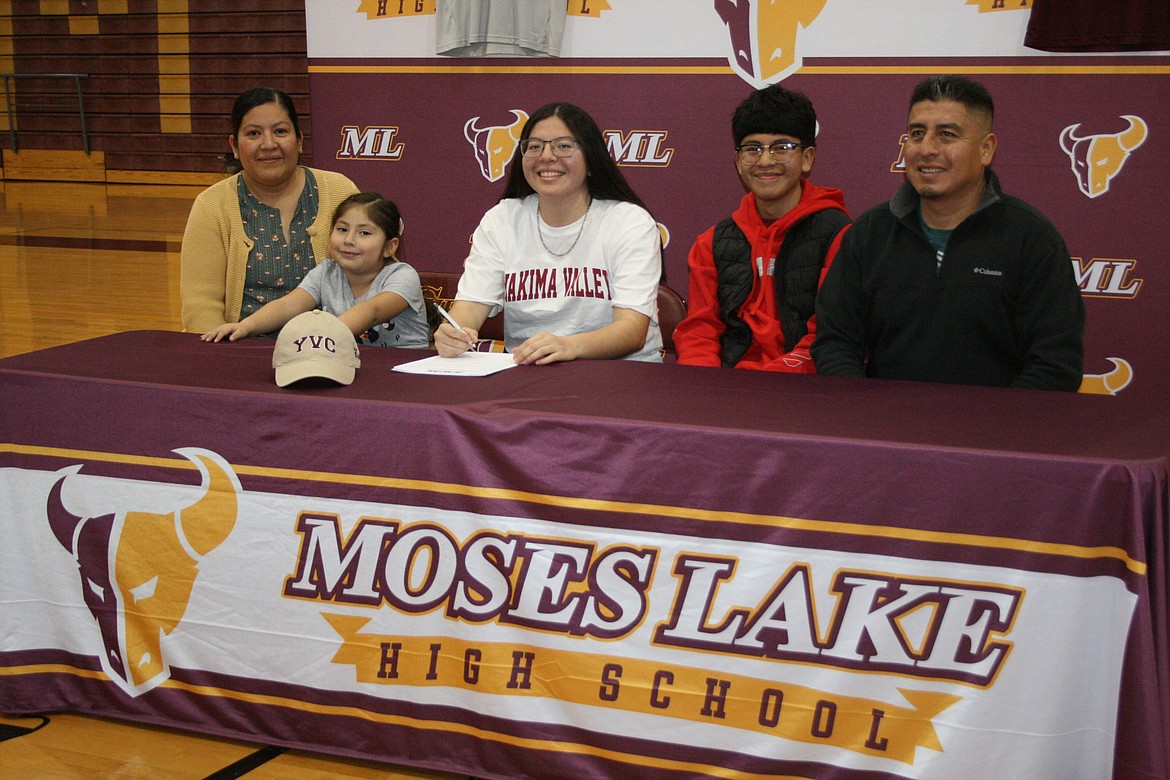 Abril Rodriguez, third from left, is joined by her mom Sandra Hernandez, sister Juliette Rodriguez, brother Filipe Rodriguez Jr. and dad Filipe Rodriguez Sr.
Cheryl Schweizer
by
CHERYL SCHWEIZER
Staff Writer
|
February 20, 2023 1:20 AM
MOSES LAKE — Moses Lake High School soccer player Abril Rodriguez will take the field for Yakima Valley Community College next fall. Rodriguez signed a letter of intent to attend YVCC last week.
"It was close to home, and the coach was very friendly. I thought we could work well together," Rodriguez said. "And I just really liked the campus, too."
She's been playing soccer most of her life.
"Since I was four," she said.
Rodriguez played for the Basin Sounders club team as well as MLHS. She said soccer broadened her horizons, allowing her to go places and meet new people.
"Just the way I feel when I get on the field," she said when asked about soccer's appeal. "It's a good way to get out of your comfort zone. And I like learning new things."
Soccer taught her lessons off the field too, she said, and she's still learning.
"So I think that for soccer, I felt like I could learn, not only sportsmanship or (soccer) skill-wise, but leadership skills."
Moses Lake girls soccer coach Alysha Overland said Rodriguez is the kind of player colleges look for.
"The biggest thing, I'd say, for a college is someone's effort on the field, and the heart that they put into the game," Overland said. "On top of that, Abril has a great skill set with the ball on her foot. She sees the field well, too. But the biggest thing that I would say is work ethic, and how much heart you put into the game."
Rodriguez brings that interest and that commitment, Overland said.
"She has a huge passion for the game," she said.
As a Running Start student, Rodriguez will graduate this spring with a MLHS diploma and an associate degree from Big Bend Community College. She said she plans to get her bachelor's degree while at YVCC, and then move on to four-year college for a master's degree. Her goal is to be a teacher and coach, she said.
Cheryl Schweizer can be reached at cschweizer@columbiabasinherald.com.
Recent Headlines
---