Ephrata council talks pickleball courts, garbage contract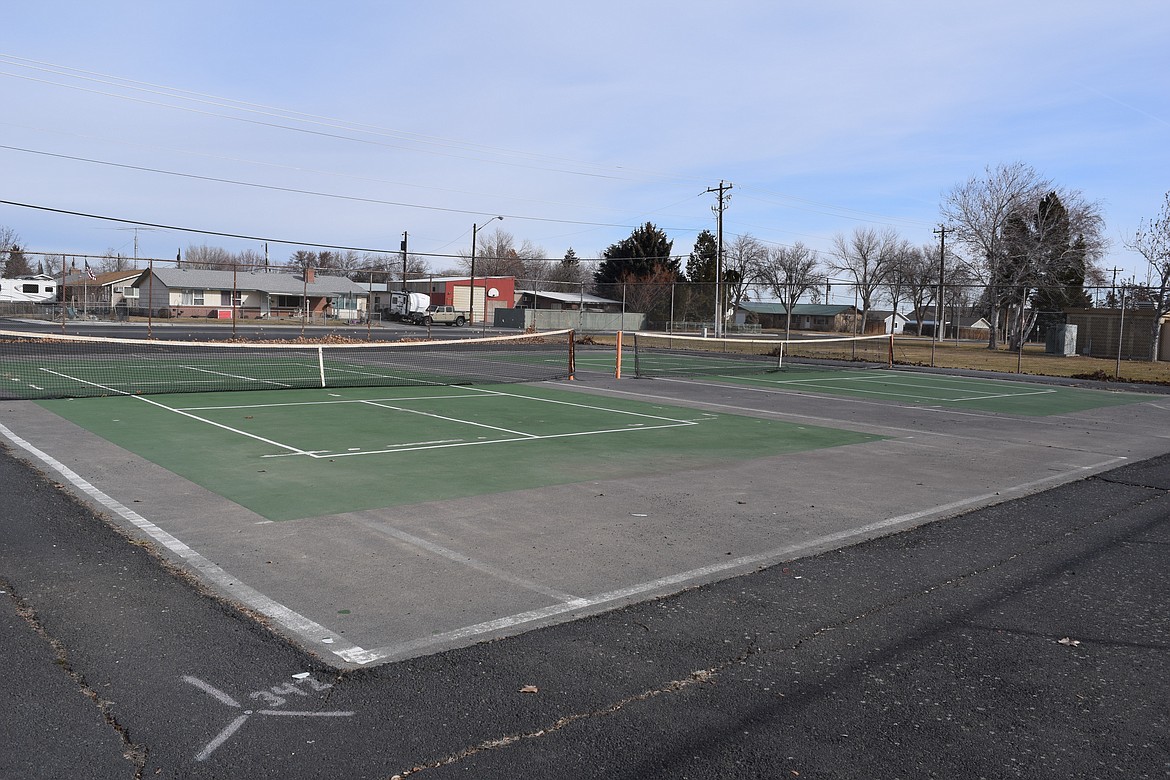 The pickleball courts near Columbia Ridge Elementary School in Ephrata. A group of city residents is working on figuring out how they could build additional courts in the city that would then be donated to Ephrata.
R. HANS MILLER/COLUMBIA BASIN HERALD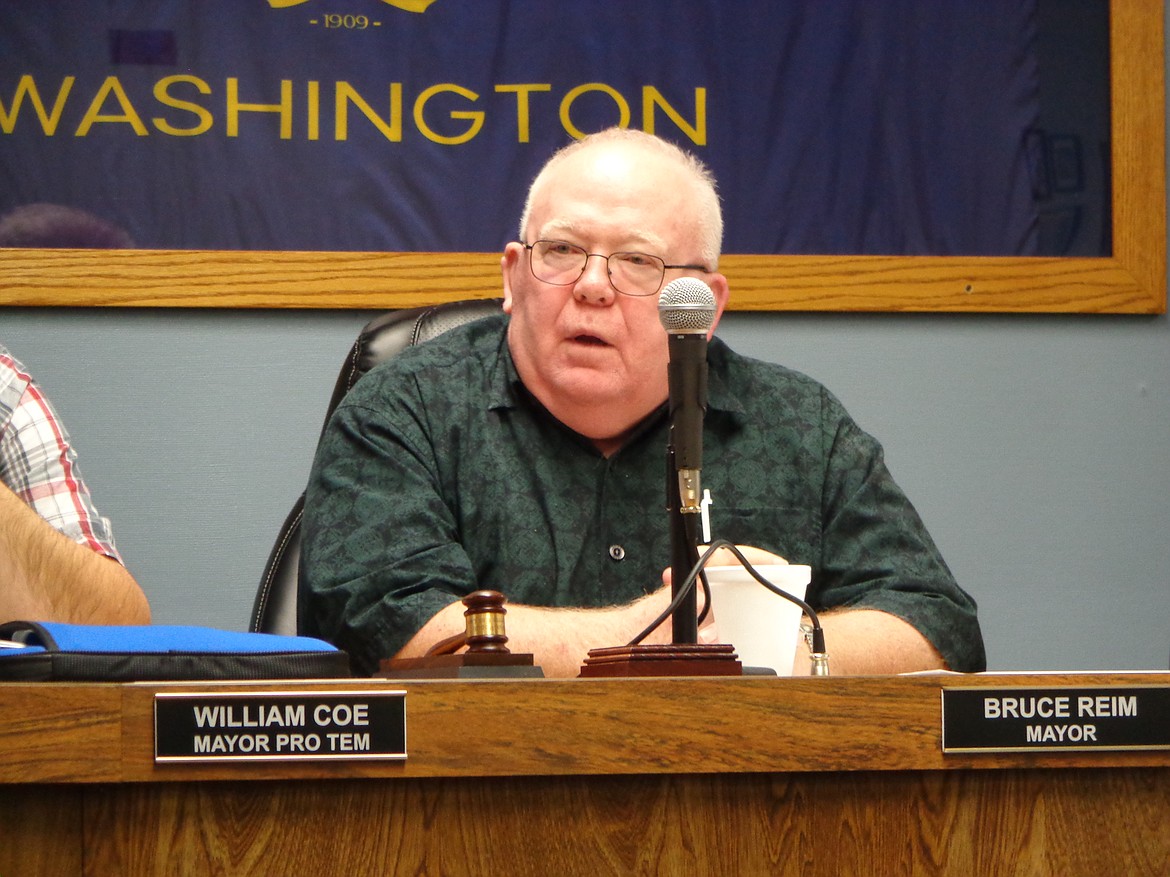 Ephrata Mayor Bruce Reim listens to Consolidated Disposal Services, Inc. General Manager Mark Wash at a regular meeting on Wednesday. Concern about developers using a variety of waste disposal services was discussed.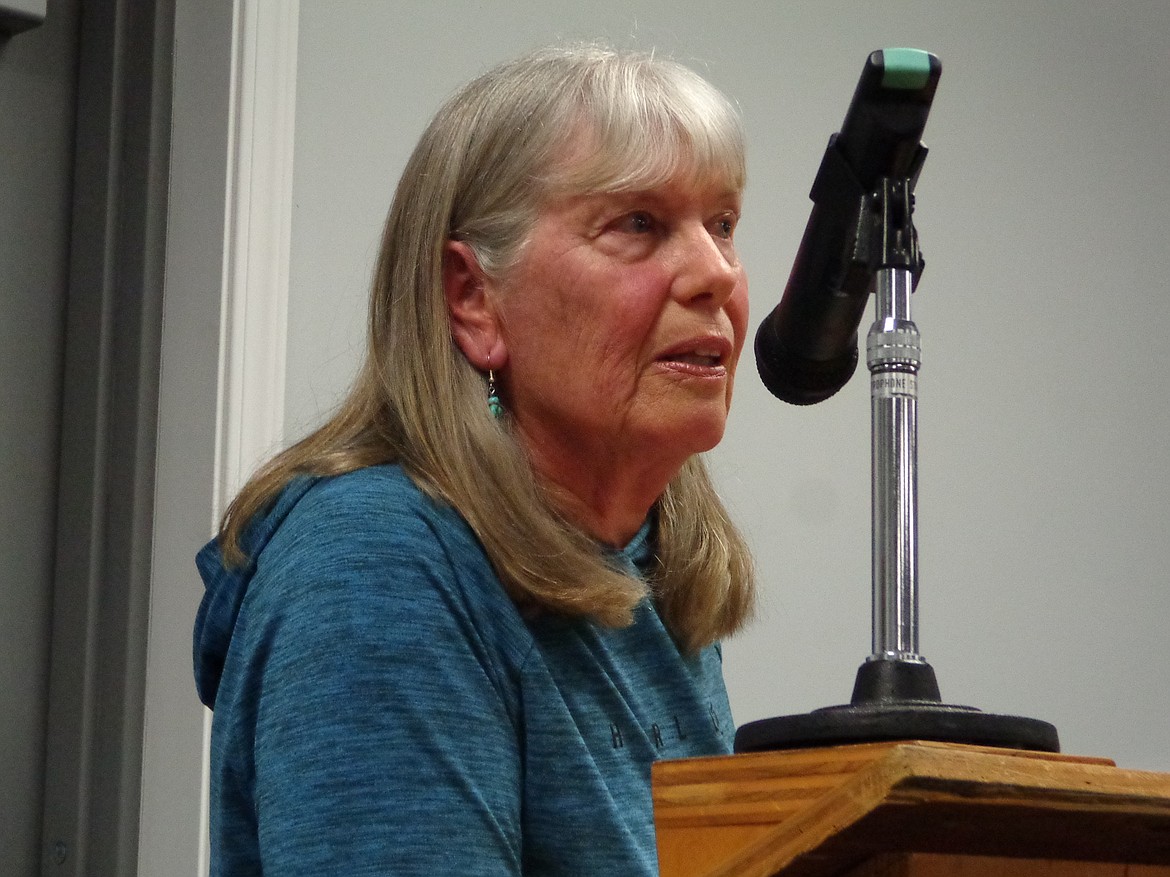 Ephrata resident Jean Patterson speaks to the Ephrata City Council on Wednesday. Patterson represents a group of citizens who would like to raise money and build new pickleball courts, preferably in Lions Park, and then donate them to the city.
Previous
Next
by
CHARLES H. FEATHERSTONE
Staff Writer
|
February 16, 2023 5:21 PM
EPHRATA — A group of volunteers wants to build new pickleball courts and donate them to the city of Ephrata.
"We are severely lacking in recreational opportunities in our park system here in Ephrata. Especially for adults," resident Jean Patterson told members of the Ephrata City Council at a regular meeting on Wednesday. "I have lived here for 30 years and there's not one new park added, and we've lost two tennis courts."
Ephrata needs more recreation opportunities, Patterson said, and pickleball – which she noted was invented in Washington state – is a rapidly-growing sport that could draw a lot of people and new courts could provide a venue for people to get together, have fun and maybe even host a tournament.
"Grade school students are old enough to play and it's common to see 80-year-olds playing as well," she said. "It's easy to learn and fun the first time you play."
Patterson said a group of residents has organized to raise money to build new pickleball courts for the city, preferably in Lions Park, and would like the city's help in applying for grants to fund the construction of two to six courts, depending on how much they can raise.
Once built, the group would then turn the courts over to the city, which would be responsible for care and maintenance, Patterson said.
"One hundred thousand dollars would pay for approximately two courts," Patterson said.
While generally supportive, council members were concerned about the loss of green space in Lions Park, the extra work for maintenance required from already-stretched parks and recreation staff, and the fact the city, along with the Ephrata School District, converted two old tennis courts on Division Street near Columbia Ridge Elementary School and Sage Hills High School to pickleball courts.
"Has there been a positive response to the remodel of the tennis courts on Columbia Ridge?" asked Council Member Matt Moore.
"No," Patterson replied. "The courts that were remodeled were poor tennis courts, and when you take poor tennis courts and try to remodel them into something good, you don't get something good."
Mayor Bruce Reim said the council would need a little time to consider the idea before embarking on any course of action, especially as the city is considering adding a new park in the northeast part of town where the town's new large subdivisions are being built.
"I'm not saying no, but certainly it's going to take some thought," he said.
Mark Wash, Ephrata resident and the general manager of Consolidated Disposal Services Inc., also addressed the city council on Tuesday with concerns that his contract to collect the city's garbage was not being properly enforced.
Wash said the issue wasn't residents or businesses in Ephrata, all of which pay the city for trash collection – the city, in turn, contracts with CDSI – but rather with home builders and other contractors using other companies to haul waste from construction sites.
"We now have outside services coming in and being provided to contract home builders," Wash said. "So therefore we're losing business, and the city's losing revenue for those services."
City Attorney Anna Franz said she asked Wash to come and speak to the council about the matter. While CDSI does have an exclusive contract to haul garbage within the city, Franz said, the company's current contract does not require construction companies to work with CDSI to haul their waste nor does the contract have any enforcement mechanism.
"I believe the request is that the city amend its municipal code to provide an enforcement mechanism against third parties," she said.
Ephrata Public Works Director Bill Sangster wondered if CDSI has enough dumpsters when prospective clients call. Wash said CDSI has a number of large dumpsters of different sizes, but demand can vary, and there are times when they won't have the size a client needs when the client wants it.
Reim suggested the city require construction companies to use CDSI unless the CDSI doesn't have the size of dumpster needed, and to give CDSI a legal right to enforce its exclusive contract in court.
"If we enforce this, and they come to you for a container and you cannot meet their deadline, they should have another means of securing the services they need," said Council Member and Mayor Pro Tem William Coe. "It shouldn't be held up based on your lack of inventory."
Charles H. Featherstone can be reached at cfeatherstone@columbiabasinherald.com.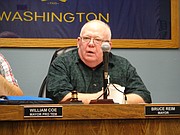 Recent Headlines
---