Open Market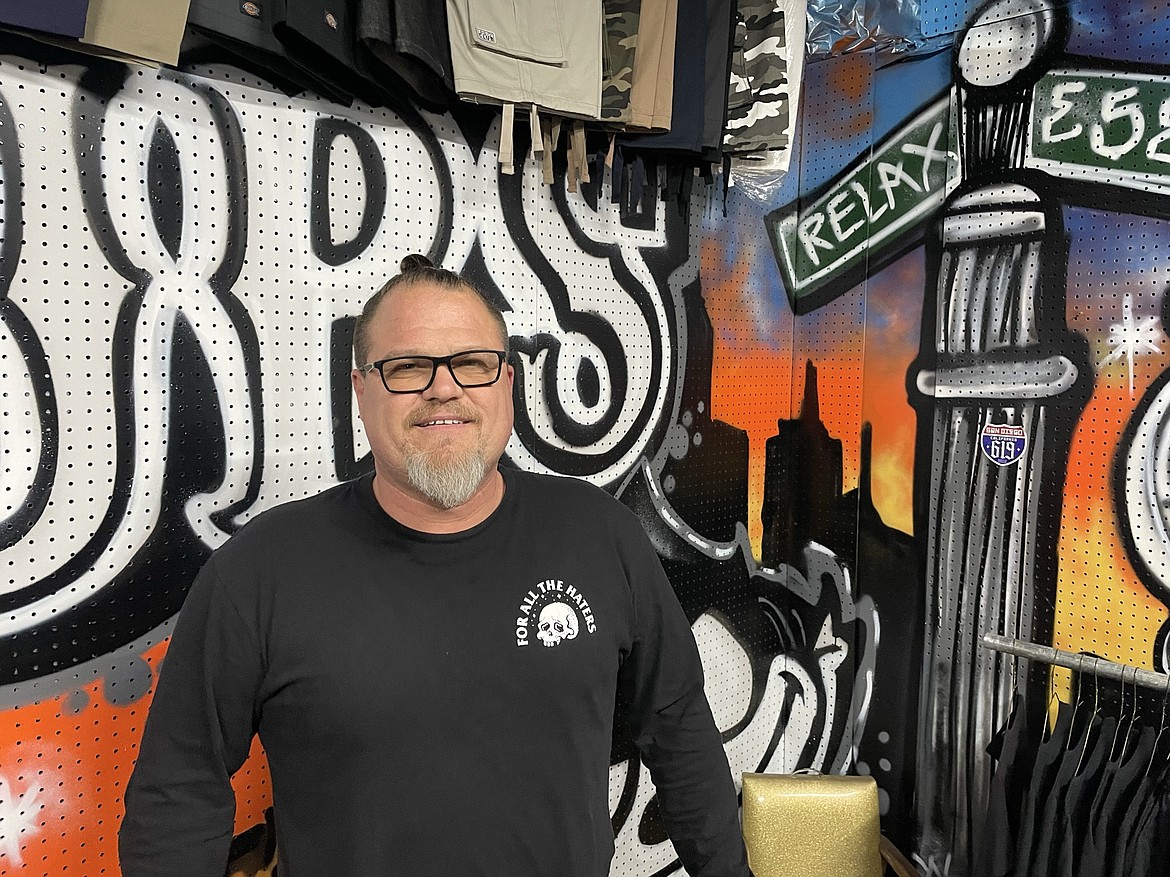 Paul Carney, owner of car customizer and clothing retailer EDUBS C/S, is leading the organization of an open indoor market on Saturday, Feb. 11, at Rick's Eatery and Entertainment, 819 W. Third Ave., from 8 a.m. to 3 p.m.
CHARLES H. FEATHERSTONE/COLUMBIA BASIN HERALD
by
CHARLES H. FEATHERSTONE
Staff Writer
|
February 7, 2023 1:30 AM
MOSES LAKE — If you're looking for a place to maybe get that special someone a Valentine's Day gift, Paul Carney has just the place – Open Market and Mimosas at Rick's in Moses Lake.
"It's the first open market where you're able to drink mimosas while you shop," Carney said. "And maybe do some last-minute Valentine's Day shopping as a couple. I think it's cool because I've been to a few events where you can stroll and you can shop and it's kind of romantic."
Carney, the owner of car customizer and lowrider clothing retailer EDUBS C/S, is organizing an indoor open market on Saturday, Feb. 11, at Rick's Eatery and Entertainment – Open Market and Mimosas – that will give local businesses a chance to rent a booth or space to show off their wares and customers a chance to stroll, drink adult beverages and see what local merchants have to offer.
Carney is teaming up again with Rick Biery – the two helped organize a free Thanksgiving Dinner for the community last fall – to stage the indoor market on Saturday as a way to increase the opportunities for up-and-coming business people to market their products.
"I went to Rick again, and Rick was like 'the space is all yours, let's do this,'" Carney said.
The indoor market will run from 8 a.m. to 3 p.m. and feature a number of local businesses like Favored Farmhouse, Hello Nature and Crafted Comfort, Carney said, though he noted they were still waiting for other businesses to confirm. In selecting the theme for the indoor market, Carney said he focused on Valentine's Day but also wanted to ensure not everyone will be selling the same products.
"There's going to be red shirts and hearts everywhere," he said. "I made sure that I opened it up and I have a different variety."
The market will also feature the first live performance of young Tik Tok singer El Lil Cuhh starting at 10 a.m., Carney said.
Carney said he hopes to make the indoor market a regular thing in Moses Lake, with some of the proceeds going to support charities, particularly lesser-known or -noticed charities. This coming market will be a fundraiser for Autism Support Group of Grant County, Carney said, which organizes support groups for families and provides scholarships for local high school students with autism.
"I'm going to make sure that the money goes to a good cause," he said.
For more information on the Indoor Open Market, contact Carney at 702-539-6538. For more information on the Autism Support Group of Grant County, visit their website at https://autismsupportgc.wixsite.com/asggc or contact them at grantcountyautism@gmail.com.
Charles H. Featherstone can be reached at cfeatherstone@columbiabasinherald.com.
Recent Headlines
---