Drive to succeed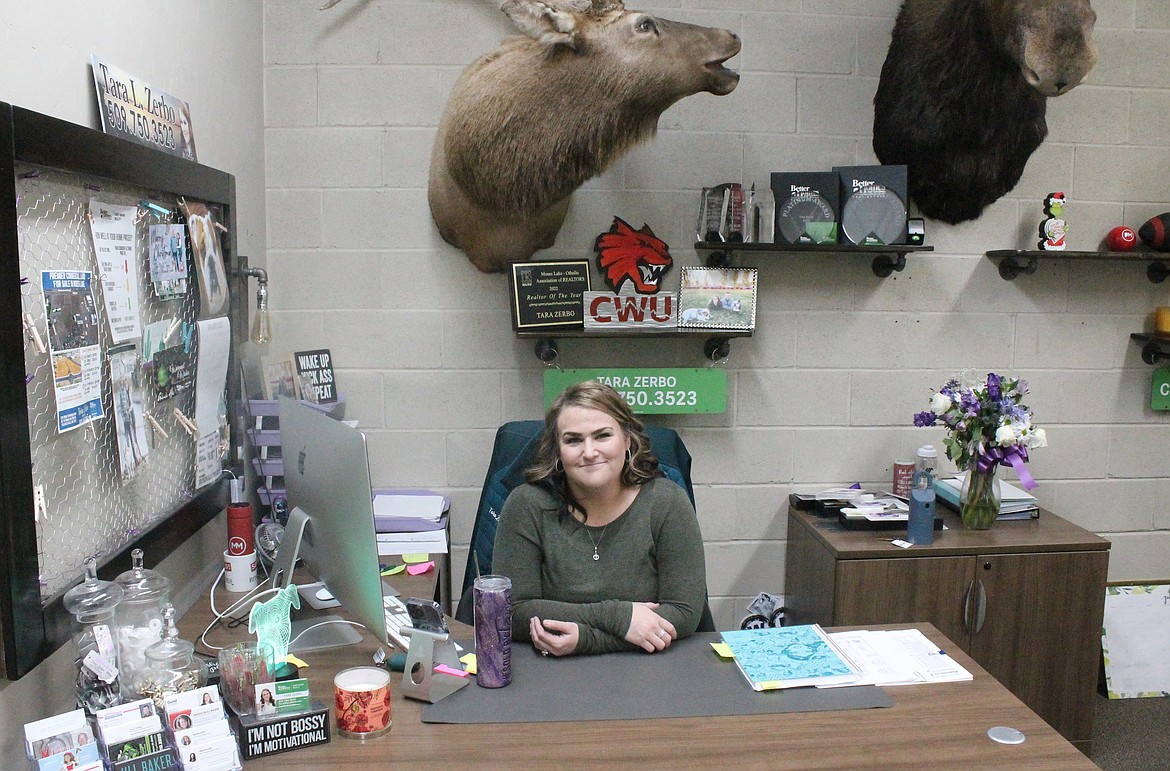 Tara Zerbo in her office at Better Homes and Gardens Real Estate Gary Mann Realty. Zerbo was recently named Realtor of the Year by the Moses Lake-Othello Association of Realtors.
Joel Martin/Columbia Basin Herald
by
JOEL MARTIN
Staff Writer
|
February 3, 2023 1:00 AM
MOSES LAKE — The signs in Tara Zerbo's office say it all: "I'm not bossy, I'm motivational" and "Wake up, kick (backside), repeat."
Zerbo, 37, was named Realtor of the Year by the Moses Lake-Othello Association of Realtors on Jan. 21. She also stepped down at that time as the president of the association, a role she handled with the same drive and energy her signs attest to.
"Tara Zerbo is a first-class person, takes her career extremely seriously and is a great role model," said Jason Hall, managing broker at BHGRE Gary Mann Realty. "She was successful before entering the real estate industry so it's not surprising how well she is doing."
A Moses Lake native, Zerbo participated in the Running Start program, which allowed her to graduate from both Moses Lake High School and Big Bend Community College at the same time in 2004. She's only been in the real estate game for a little less than seven years, but she spent years before that learning the business from the outside.
"I went to Central Washington University, got my bachelor's in business in 2006, then went to work at this hole-in-the-wall called Columbia Basin Herald," she said.
Zerbo started out doing inside advertising sales, which she described as just her, a phone, a phone book and a promotion to sell.
"And then about five months in I got promoted to outside sales. So I was working directly with the businesses and I was able to leave the building and developed a lot of experience and a lot of contacts and we've built a lot of relationships from that."
Eventually, Zerbo's accounts included most of the paper's real estate clients.
"We did a Gary Mann News every month, and nine real estate guides a year... I did that for nearly a decade."
In June 2016, Zerbo got her real estate license and moved to the other side of the desk at what was then Team Up Realty. In 2021 Team Up and Gary Mann Real Estate merged to become a Better Homes and Gardens franchise, and Zerbo went with them. Her selection as Realtor of the Year stemmed from her work for the Realtors Association, including, she said, working in the Burger Barn at fair time.
"We are located inside the rodeo grounds and we do hamburgers, hot fries, all of that," she said. "And then all that money goes to our scholarship fund, which provides scholarships for Moses Lake High School, Othello High School and Big Bend Community College (students)."
Zerbo's work with the Realtors association also included support for her fellow Realtors.
"We try to help our members as much as we can," she said. "We put together different community continuing education classes. For example, this last year, we brought in Annie Fitzsimmons, she's the Washington Association Realtors Hotline lawyer, and she did a class on equal opportunity and fair housing. "
The real estate business is unique in that its professionals are competitors, and yet they're not, Zerbo said.
"We compete, but we're also working together," she said. "Because at the end of the day, the goal is to get the property sold and get a buyer into it. So we have to work together to make those two things happen so that everyone's happy."
Zerbo had a bout with stage three Hodgkin's lymphoma a few years ago, but cancer was no match for her and she's been cancer-free for three years, she said.
Zerbo and her husband Dusti have been married for 16 years and share their home with a couple of English bulldogs. They tried breeding dogs for sale at one time, she said, but gave it up after one attempt.
"They had two pups and that was it. And then we decided we're not doing this again … There's not a high enough return for the amount of work that it is. The puppies are cute, but that's it, you know?"
Now that she's found her niche, Zerbo said she's planning to keep on in real estate.
"I love helping people get to the next step in their life, whether it be buying their first home or moving up to the next home or downsizing into something simpler. Just being a part of the process and a part of the journey is probably my favorite."
"I have literally had the privilege of watching her for her entire real estate career," Hall said. "Few agents have the drive and dedication to do the things that no one likes to do but gets the job done right. She took her role as president of the association very seriously and definitely deserves this award."
Joel Martin can be reached via email at jmartin@columbiabasinherald.com.
Recent Headlines
---