Three Grant Co. cities receive recreation grants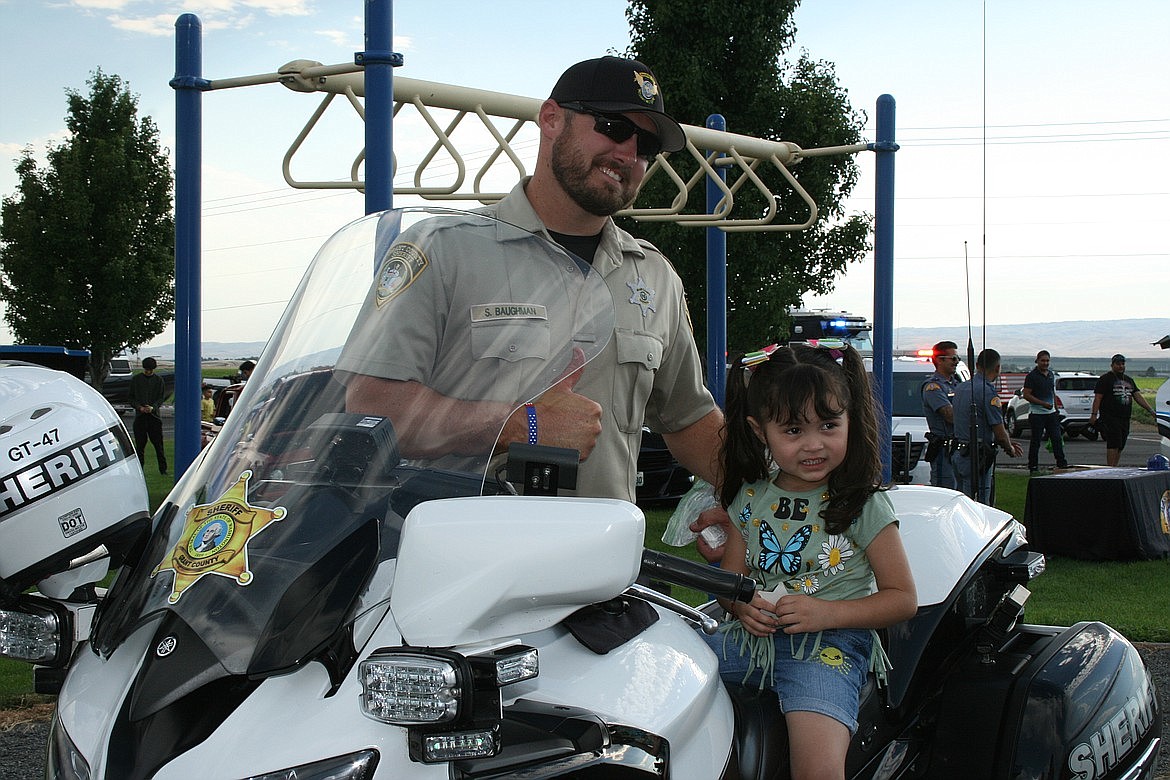 Adeline Diaz, right, gets a picture with Grant County Sheriff's Deputy Stormy Baughman at National Night Out in Quincy in August of last year. The event is held each year at Lauzier Park which will see improvements after the city received grant money from the Washington State Recreation and Conservation Office.
FILE PHOTO
by
STAFF REPORT
Staff Report
|
February 2, 2023 3:24 PM
OLYMPIA - Three Grant County cities received grant money for recreation planning from the Washington State Recreation and Conservation Office.
"The overwhelming number of applications we received speaks to the need for this kind of funding," said Megan Duffy, director of the Recreation and Conservation Office in a release by RCO. "Many small and underfunded communities don't have the resources to apply for grants. This funding will help them get started. Ultimately, we hope the planning leads to construction and we can increase the number of parks, trails, playgrounds and sports fields in places where there are currently few options for outdoor recreation."
The release stated the legislature funded the Planning for Recreation Access grant program in 2021 as a way to fund planning projects in communities that lack adequate access to outdoor recreation opportunities. The program focuses on diverse urban neighborhoods, small rural communities and those with less experience writing grants.
The cities of George, Mattawa and Quincy were three of 21 entities in 15 counties that received funding. Grant County received a total of about $356,000 in grants between the three cities.
"There are many communities in Washington where families don't have access to nearby recreation areas or the areas are worn out and unusable," Duffy said. "Everyone should be able to get to a park or outdoor area and receive the health benefits, both mental and physical, of spending time outside recreating. These grants are a first step in helping communities provide places to improve the wellbeing of their residents."
Three projects received the funding in cities throughout Central and Southern Grant County include:
George
Developing a Comprehensive Parks and Recreation Plan Grant Awarded: $59,000
The City of George will use this grant to develop a parks and recreation plan that will be used for planning projects and applying for construction funding.
Mattawa
Developing a Parks, Recreation and Open Space Plan

Grant Awarded: $60,000
The City of Mattawa will use this grant to develop a parks, recreation and open space plan. This will be the first dedicated planning for recreation access since the city was incorporated in 1958. This plan aims to ensure that residents have adequate access to outdoor recreation. The plan will have five primary components: a vision for recreation access, an inventory of facilities and their conditions, a community outreach plan including an assessment of need, a level of service standard, and prioritized lists of parks, recreation, and open space improvements for the next 20 years.
Quincy
Designing a field in Lauzier Park
Grant Awarded: $237,000
The City of Quincy will use the grant to design 30 acres of sports fields next to Lauzier Park, the largest and most active park in the southwest section of the city. The new sports fields will replace softball and baseball fields in other parks for one designated and well-developed four-plex with restrooms, lights, and support facilities. The new park design will also turn a large grass area into lighted soccer fields of different sizes. Soccer is played in Quincy nearly all year between youth and adult teams and leagues and more fields of different sizes will provide more access for these activities. The new park will have multiple parking lots, one of which will be next to the established park to help alleviate current congestion. Putting similar fields together will open space in other parks for upgrades.
Recent Headlines
---