Alexa Moser hired as new BBCC volleyball coach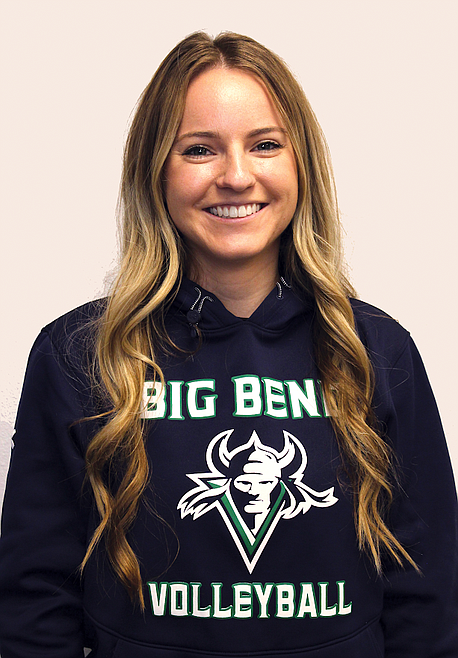 Alexa Moser, a former player for Walla Walla CC and Whitworth and a three-time state champion in high school, will take over the Big Bend volleyball program as head coach this fall.
CONTRIBUTED PHOTO/BBCC
by
IAN BIVONA
Sports Reporter
|
February 2, 2023 1:36 PM
MOSES LAKE — Alexa Moser has found success just about everywhere she's been when it comes to volleyball. Now, the former WIAA state champion and collegiate athlete is going to lead the Big Bend Community College volleyball team.
"I've been a part of many successful programs both as a player and as a coach, and because of playing and being an assistant coach at this level, I know what it takes to be successful. And that's commitment and dedication to the program," Moser said.
Moser said this will be her first head coaching job, having spent nearly four years as an assistant coach at Walla Walla Community College.
"Most of my life lessons have been from volleyball, and a lot of it is beyond just winning – that's always the end goal, but learning to be a part of a team, a part of something bigger than yourself," Moser said. "There's so much to learn from sports, and a coach can either make or break that."
This is the first coaching hire that Big Bend Athletic Director John Meeks has made, and he said that Moser will help in "laying the foundation" at Big Bend.
"For me, especially with this being the first (coaching) hire of a sport, I wanted to make sure that that person was the right person for that, and she checks every box," Meeks said. "She's an unbelievable person first off, very grounded, and she has a high-level knowledge of the sport. She has a great knowledge of the (Northwest Athletic Conference), having been a player in the NWAC as well."
An all-league player on Tekoa-Oakesdale's three-straight state championship-winning team from 2011-2013, Moser initially attended Walla Walla before transferring to Whitworth University in Spokane.
Moser also played softball at Walla Walla, later becoming an assistant coach for both the Warrior volleyball and softball teams.
"I knew I wanted to stay around it and get into coaching," Moser said. "Shortly after Whitworth, I actually moved back to Walla Walla where I was an assistant coach for both the volleyball and softball programs for the last four-ish years."
Having played under many coaches at the high school and collegiate level, Moser also learned from others on the coaching staff during her time as an assistant coach, which she plans to bring to Big Bend.
"I was involved at Walla Walla being an assistant coach for volleyball and softball, I was underneath two very different styles of coaching," Moser said. "And, I've played under very different styles of coaching. Just taking my experience in all those different scenarios and turning it into my own."
She's also learned what type of player it takes to find success on the court.
"I would definitely say that player development is a big focus of mine," Moser said. "You learn so many life lessons from your sport, so I'm not just looking for great volleyball players – I'm looking for great students, great teammates. Academics is just as important, if not more important, than volleyball."
At 26 years old, Moser believes her age will help her connect with incoming players at Big Bend this fall.
"Being such a young coach I feel is actually going to help me be super successful as well," Moser said. "As a former student-athlete at this level, I understand exactly where these kids are coming from. It's easier to build that relationship with them."
Attention to detail is always an important characteristic of a head coach, and Moser has that and more according to Meeks.
"Just from a coaching standpoint, she's very detail-oriented in regards to instruction level," Meeks said. "I think what supersedes that the most is that the girls know that she cares about them."
With years of experience both as a player and as a coach, Moser will look to turn around the Big Bend volleyball program.
"(I have) a lot of good relationships with teammates, past teammates and coaches that have taught me to be grateful for every opportunity and to live in the present," Moser said. "Take each day as it comes."
Ian Bivona may be reached at ibivona@columbiabasinherald.com.
Recent Headlines
---