Clean sweep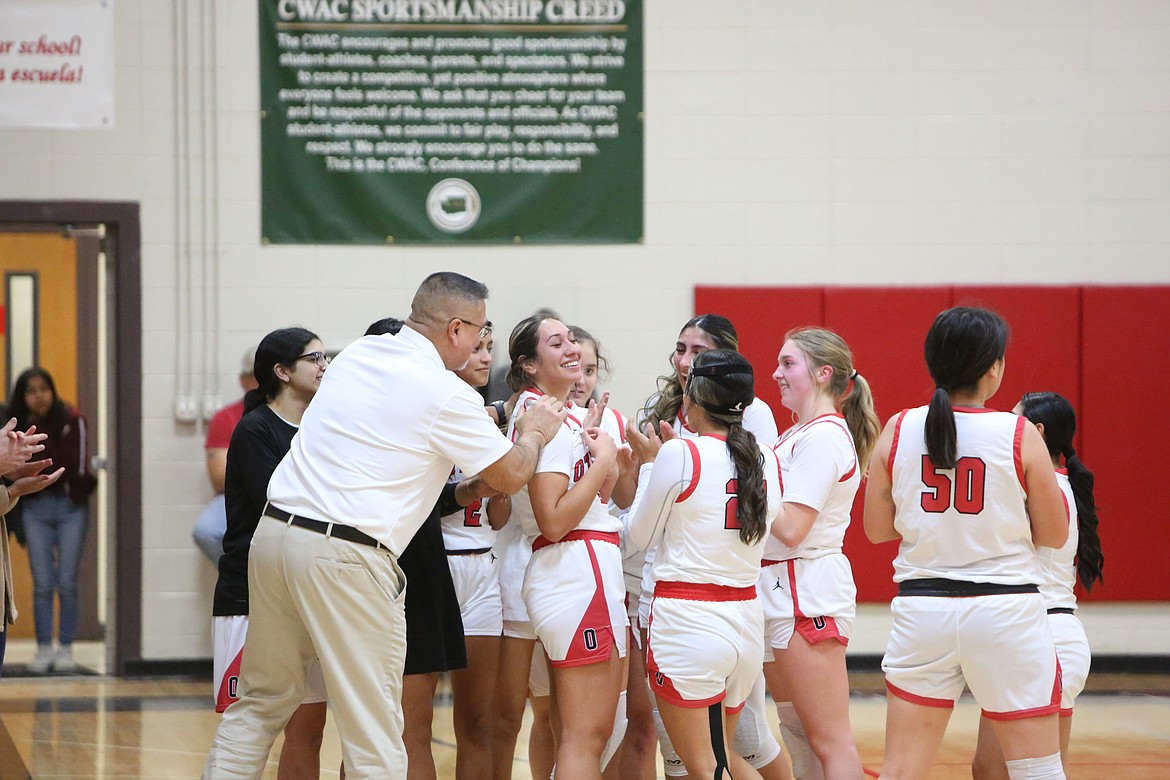 Coaches and players from Othello surround senior Briana Andrade, center, after she hit a three-pointer to give her 1,000 career points in Tuesday night's win over East Valley (Yakima)
IAN BIVONA/COLUMBIA BASIN HERALD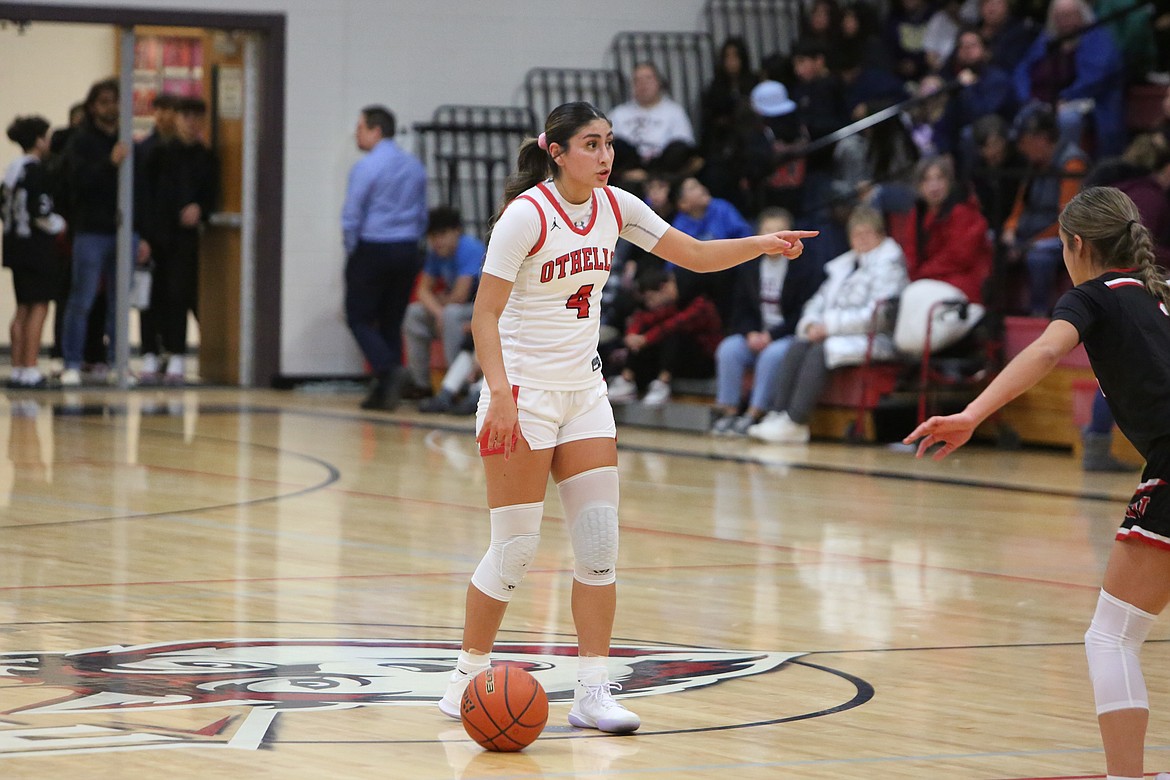 On senior night, Othello senior Annalee Coronado (4) led the Huskies with 20 points against East Valley (Yakima)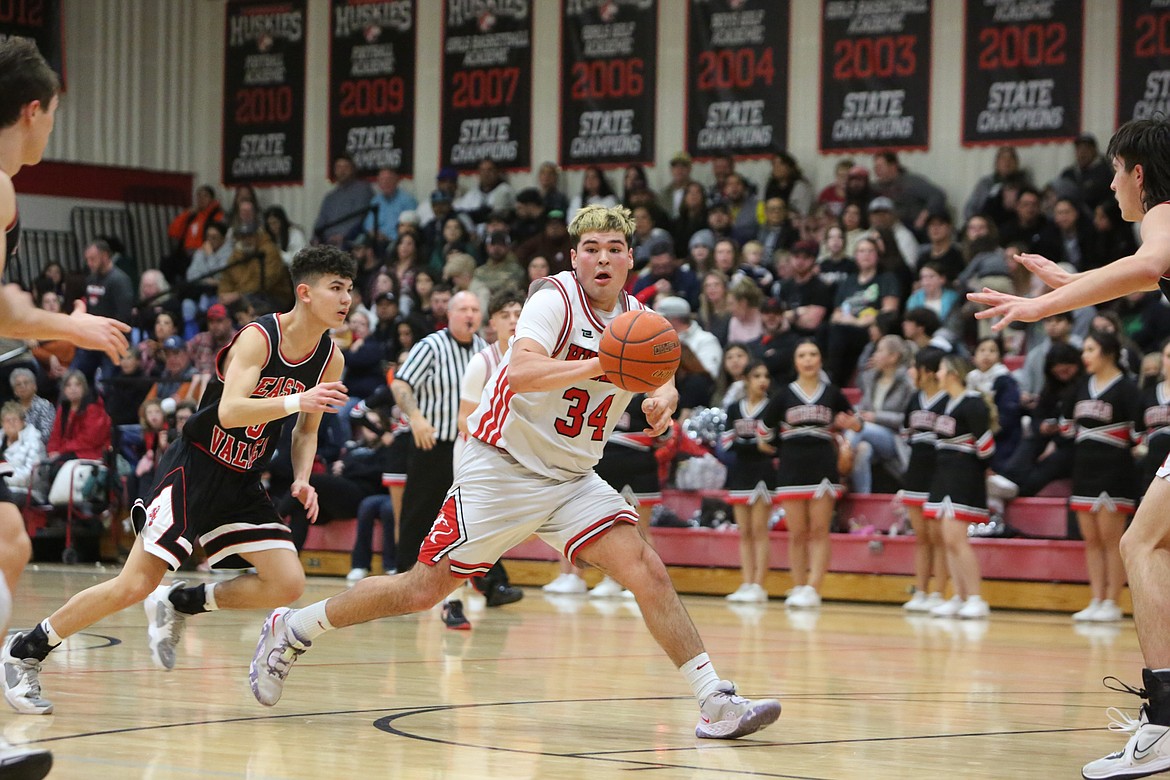 Othello senior Julian Alegria (34) looks for an open teammate while driving to the rim.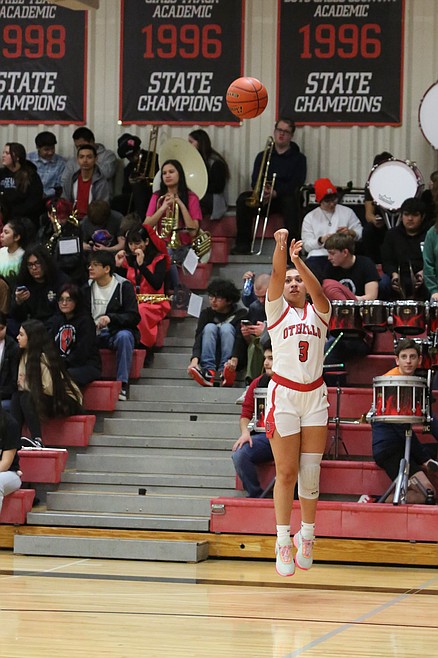 Othello senior Briana Andrade (3) lines up a shot from three in the second quarter against East Valley (Yakima). Andrade's shot was good, giving her 1,000 career points.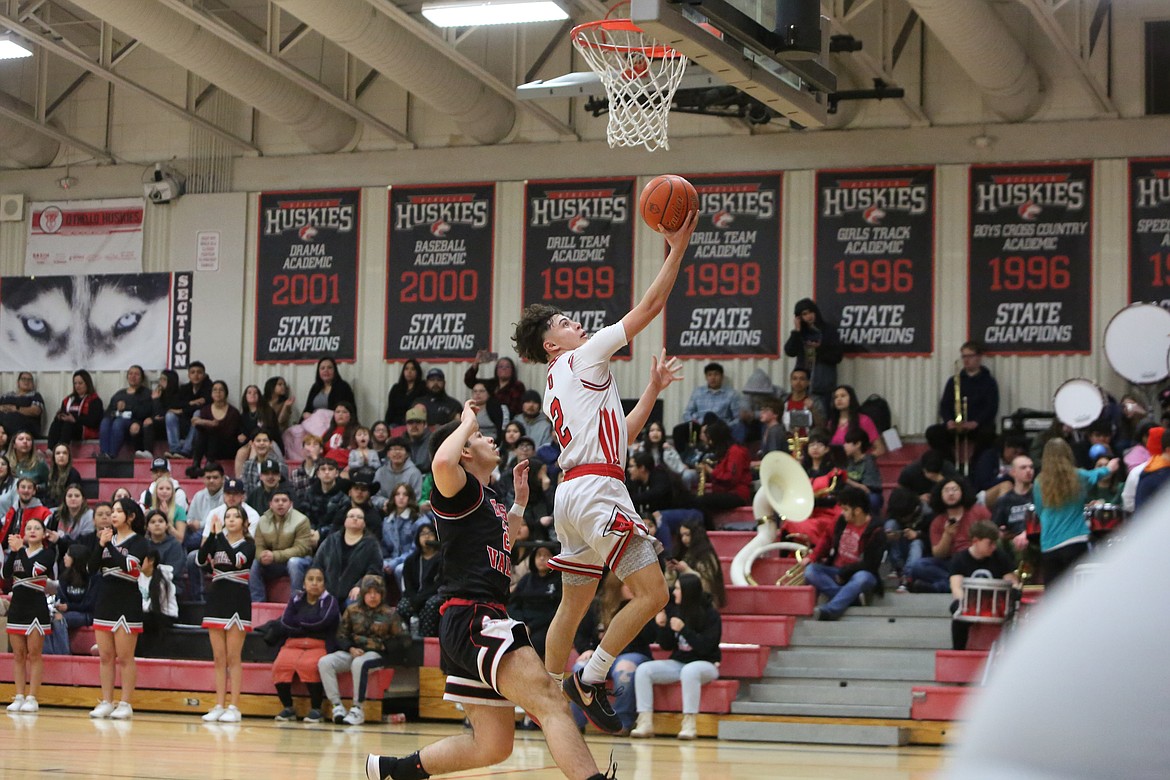 Othello junior Joshua Tovar (2) rises for a layup during a fastbreak in the second quarter of the Huskie's 57-54 win over East Valley (Yakima) on Tuesday.
Previous
Next
by
IAN BIVONA
Sports Reporter
|
February 1, 2023 4:04 PM
OTHELLO — On a night celebrating their soon-to-be graduating players, the Othello Huskie boys and girls basketball teams both earned wins against East Valley (Yakima) that put the two squads in contention to host a playoff game during their district tournaments.
The Othello girls first defeated East Valley 47-44 in a back-and-forth contest, with the Othello boys later leading nearly from start to finish in a 57-44 win over the Red Devils.
Othello girls
Locking up the No. 2 seed in the Central Washington Athletic Conference Tournament wasn't the only thing on the mind of Othello senior Briana Andrade. First, she was honored as one of the four seniors on Othello's girls basketball team, joining seniors Rubi Mondragon, Annalee Coronado and Ruby Trinidad; and second, she was only nine points away from crossing the 1,000-point mark in her career.
"She came in with a mission to get her nine points and not let anything get to her," Othello Girls Basketball Head Coach Adolfo Coronado said.
Her fourth basket of the night, an open look from the left corner behind the three-point line, gave Andrade exactly 1,000 career points.
"I was very nervous at the beginning," Andrade said. "It was just a matter of time before I was going to get my points, but I just kind of let the game come to me. Once my last shot went in – I knew it was going to go in – it was a big relief to see it go in and not have to think about getting the last bucket."
The game took a pause after Andrade's basket for an announcement in the gym that she had reached the millennium mark, with teammates and coaches swarming around her in celebration on the court and in front of the Othello bench.
"It was very exciting," Andrade said. "Me and (Annalee Coronado), we're basically sisters. When she came up to me I wanted to cry, but tried not to – I didn't want everybody to see me – but I was just very happy."
With emotions high after celebrating, there was still a game to play – nearly two-and-a-half quarters' worth. Andrade's three-pointer broke a 16-16 tie midway through the second quarter, and the Huskies and Red Devils would exchange the lead four more times until the clock read triple zeroes. The squads were tied at 26 at halftime, and East Valley led for nearly the entire third quarter.
"They run a tough (defense)," Coronado said. "Their 1-2-2 matchup zone, it gives people fits. They've beat some quality teams throughout the season, and they've given people fits. (Mya) Alvarado, their main girl – last game we got lucky, we threw something at them that they hadn't seen, and didn't let (Alvarado) get involved very much."
Clutch baskets and free throws by Othello senior Annalee Coronado helped Othello pull out its 47-44 win over East Valley on Tuesday, which secured a home playoff game for the Huskies on Feb. 11.
"(Annalee Coronado) just looks to create and get her teammates involved when they double her," Adolfo Coronado said. "I think that's what keeps most teams honest – that if you double her, she's gonna find an open teammate."
Getting the win made the night even more special for Andrade.
"It was a very tight game, but a win's a win," she said. "I'm glad we pulled it out."
Othello boys
East Valley scored the first basket in Tuesday's boys contest, but that would be their only lead of the night.
Despite an attempted Red Devil comeback in the second half, Othello pulled away with a 57-54 win.
"I told these guys, 'We have an opportunity to bring a playoff game back to Othello,'" Othello Boys Basketball Head Coach Roman Pruneda said. "The '02-'03 season was the last time we had a playoff game here in Othello, and I just told these guys 'You guys have put in the time and work since you were in the fourth grade. It's your turn to leave a legacy.'"
The Huskies dominated in transition play during the late second and early third quarters, leading by as many as 14 points before the Red Devils began to chip away.
"We rebounded tonight, and I told them 'Don't let them get set up on defense – just go,'" Pruneda said. "Have fun, get a rebound and go. That spurt, it really helped us out. It carried us in that moment."
Pruneda said the experience the Huskies have together on the court was a critical factor in their winning on Tuesday.
"They know how to play off each other, how to read each other and it's just easy for me to yell something, they look at each other and just go out and do it," Pruneda said. "They came together as a team and pulled through."
Senior Julian Alegria, who hit a stepback jumper right before the buzzer to close the second half, scored 10 of his 17 points in the final eight minutes to help Othello close out the win.
"I was just putting the ball up there and trying to set my team up for a better position to win," Alegria said.
Joining Alegria are fellow seniors Collin Simmons, Abraham Segura, Sonny Asu, Adriel Deleon, Travis Murdock and Jarrett Faix. All of Othello's seniors received playing time in the win.
"It's been a blessing to play with them," Alegria said. "The bond we created, the friendship – it's just a brotherhood that could never be broken."
Pruneda said the Huskies will clinch a home playoff spot if Othello can defeat Ellensburg on Thursday and Grandview defeats East Valley on Friday.
Ian Bivona may be reached at ibivona@columbiabasinherald.com.
Box Scores
Girls
Othello 8-18-5-16: 47
East Valley 7-19-6-12: 44
Boys
Othello 11-20-11-15: 57
East Valley 10-10-17-17: 54
Recent Headlines
---