Eagle offense shows efficiency in Monday scrimmage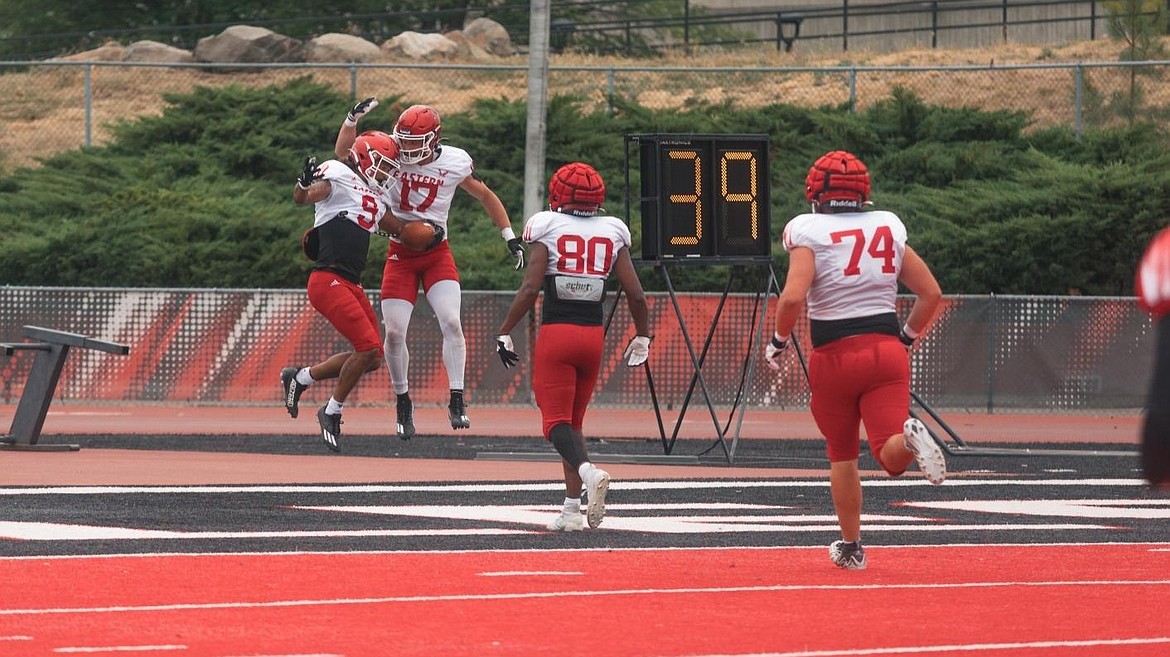 Eastern Washington's offense scored five touchdowns and a field goal in Monday's scrimmage, which was postponed from Saturday to Monday due to poor air quality caused by nearby wildfires.
COURTESY PHOTO/EWU ATHLETICS
by
CONTRIBUTED REPORT/EWU ATHLETICS
|
August 23, 2023 1:10 AM
CHENEY — After having their scrimmage Saturday canceled due to poor air quality caused by nearby wildfires, the Eastern Washington University football team was able to get back on the field on Monday afternoon for their first team scrimmage of fall camp. Offense earned bragging rights after two unexpected off days, turning in several highlight reel plays.
"To be able to do what we were able to do today was because of a lot of people outside of our circle, to be able to fight the fires and do the things they do to put their lives on the line, we get to play a sport because they are protecting our community," said head coach Aaron Best after the scrimmage.
"There's a lot of other way more important things that are going on outside of our circle. It's been a whirlwind for us but I can't imagine what it's like to do what they do, and have been doing, since Friday. Hats off to every one of those folks that are allowing us the opportunity to keep our community safe and prepare."
Monday's scrimmage was initially scheduled for Saturday at 1 p.m., but nearby wildfires and the resulting smoke in the air caused a suspension of all activities. EWU athletic training staff, in accordance with NCAA and National Athletic Trainers Association (NATA) guidelines, monitored the air quality closely all weekend, clearing the team to resume some activities as the air improved on Monday.
On the field, the Eagle offense was decisive and limited mistakes, combining for 5 touchdowns and a field goal in nine possessions. Quarterback Kekoa Visperas led the first unit and, unofficially, completed 9-of-10 passes for 152 yards and a touchdown, adding four carries for 22 yards. Jared Taylor took first snaps with the second unit along with Michael Wortham also getting into the action. Taylor went 11-for-13 through the air for 167 yards and two touchdowns.
Tuna Altahir led the ground attack with 41 yards on eight carries, finding the endzone twice. The Kennewick product looked polished on the day, bouncing a 13-yard gain off the left tackle to find the endzone and cap a methodical 10-play opening drive.
"I thought (the offense) put some pieces together that we needed to, we played with speed and had an overall good scrimmage," said Altahir.
Altahir lost over 10 pounds in the offseason, looking to add speed and quickness.
"I feel in shape, did some speed training in the winter. It was really good."
Justice Jackson (5-15) and Malik Dotson (6-19) also earned touches from the running back position, with Dotson adding a 21-yard score on a swing pass from Visperas.
Robert Mason III made a statement on the outside, scoring on 21- and 84-yard receptions, highlighted by a fingertip snag in stride down the left sideline. Preseason All-Big Sky honoree Efton Chism III hauled in three catches for 72 yards, including a 53-yard gain punctuated by a hurdle along the sideline. Malaki Roberson added two receptions for 26 yards.
Pending air quality, the Eagles will continue regular practice schedules including their second of two fall scrimmages Saturday at 1:30 p.m. Scrimmages are free and open to the public, with limited in-stadium amenities available.
Recent Headlines
---