Pedal tour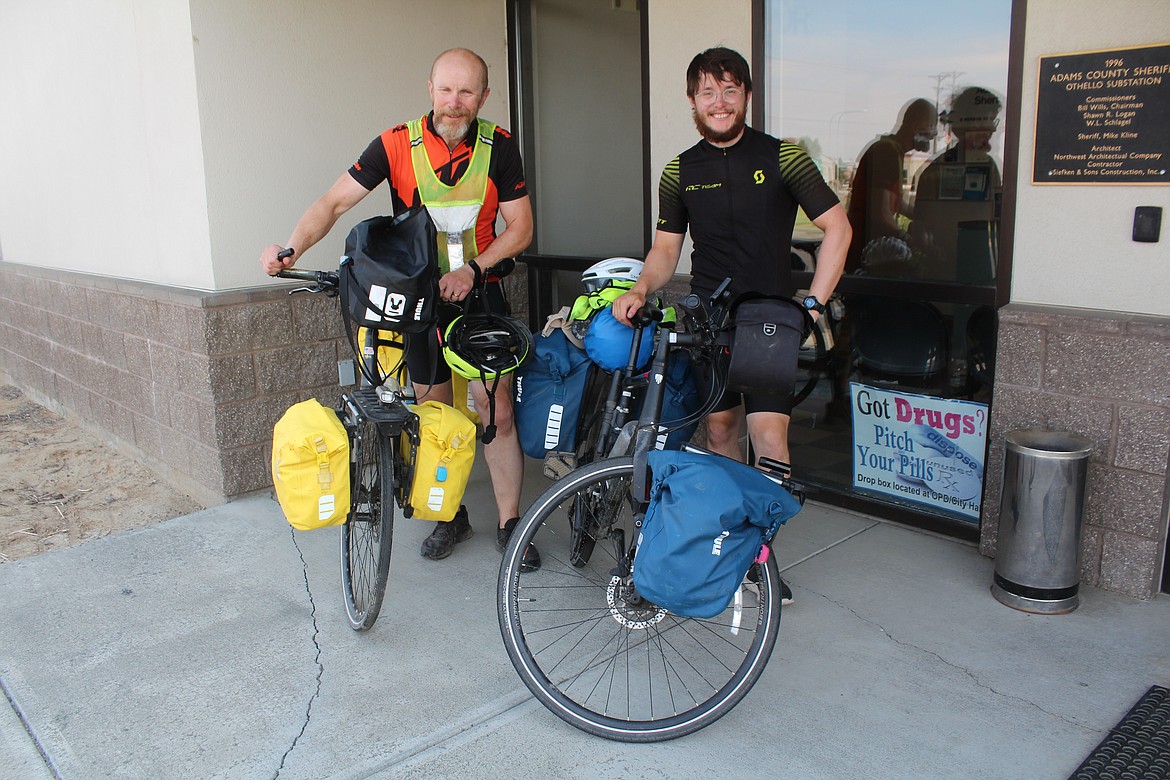 Eric Andersson, left and his son Axel Andersson, right, of Sweden spent their summer riding across the United States, starting in New York City.
CHERYL SCHWEIZER/COLUMBIA BASIN HERALD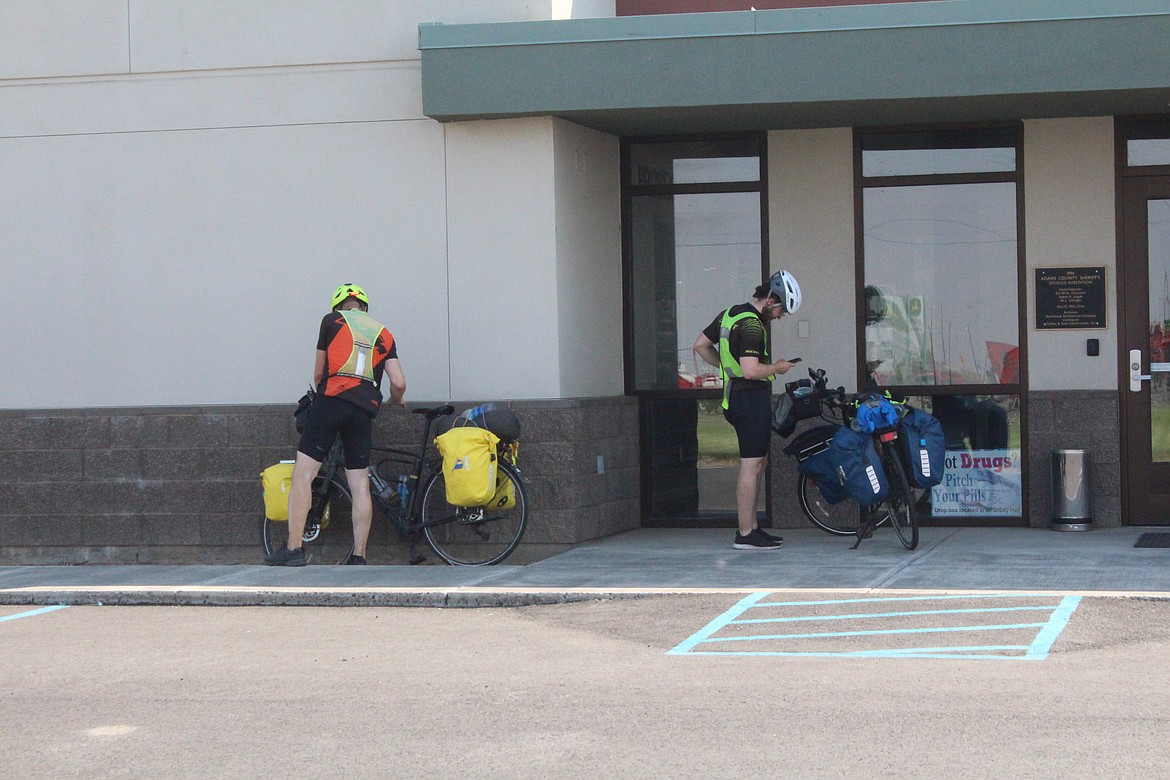 Eric Andersson, left, and Axel Andersson, right, made a stop in Othello as part of their bike ride across the country.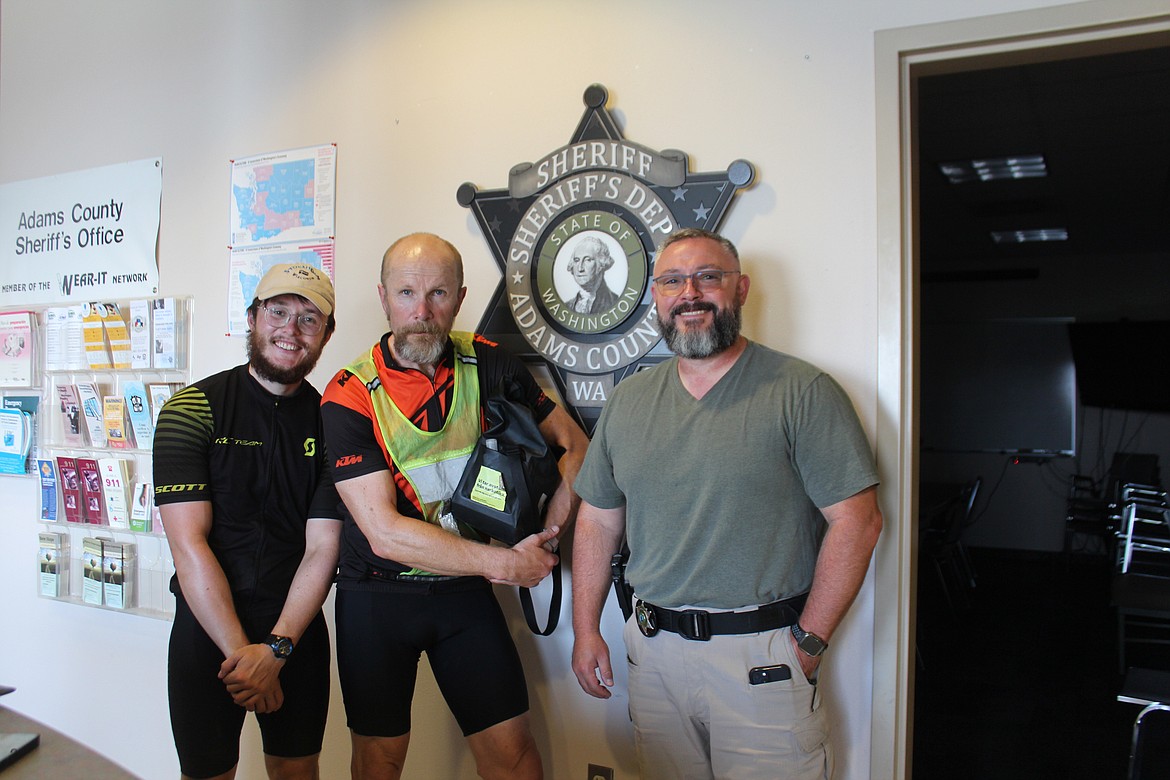 Axel Andersson, left, and his dad Eric Andersson, center, stopped at the Adams County Sheriff's Office in Othello at the request of Adams County Sheriff Dale Wagner, who planned to give them a souvenir of their stop in Adams County. Because Wagner couldn't be there, ACSO sergeant Ben Buriak did the honors. It was, Axel Andersson said, their second souvenir of their trip across the U.S. Axel's hat from Stockholm, Wisconsin is the other one.
Previous
Next
by
CHERYL SCHWEIZER
Staff Writer
|
August 21, 2023 1:30 AM
OTHELLO — Axel Andersson said his travels on a bike, which brought him and his dad Eric to Othello Thursday, started with a dilemma back in 2018.
"It was after my first year in university, and I didn't know what to do during the summer," he said. "So I said, 'I'm going to bike through Sweden.' And the longest I've ever biked before that, I think, was seven miles or something like that."
The Anderssons are natives of Sweden, and a trip at the speed of a bike showed Axel the country in a whole different way, he said. The bike was a good way to travel, and in the summer of 2019, he took to the road again.
"I went through Europe, from Sweden to Spain," he said. "And that was a fantastic trip."
He had plans for 2020 but the COVID-19 pandemic scuttled them, he said. Time marched on, and the window for a summer-long bike trip was closing.
"And then I was like, 'Okay, I want to do one more really big bike trip.' I've heard that America should be good to bike through, and I've never been to America. So it'll work out.' I talked to my Dad about it, of course, and he said, 'I'm in.'"
They started from New York City on June 16; as of Thursday, they had four more days on the road. They will be flying back to Sweden from Seattle this week.
"We did Pennsylvania, middle Ohio, Indiana, Illinois, and then a bit through Iowa, following the Mississippi River on the Wisconsin side," Axel Andersson said. "And then we went to Minneapolis, over Minnesota, then over South Dakota, northern Wyoming, and then Yellowstone. Then we went up to Missoula, and we came straight here."
They happened to camp in the Washtucna park on the same night as the Cops and Community event sponsored by the Adams County Sheriff's Office. They struck up a conversation with Adams County Sheriff Dale Wagner and the ACSO deputies, who gave them a ride out to Palouse Falls - something they would've missed otherwise, Eric Andersson said.
Both Eric and Axel Andersson spent a lot of time training for the trip, and Axel worked part-time jobs to help pay for it. Eric Andersson had to overcome an injury suffered while taking a north-to-south bike trip in Sweden.
Seeing the country from the back of a bike is different, Axel Andersson said.
"The whole slow travel aspect, of just going through slowly and getting to stop in places you wouldn't normally stop at," he said.
There's a stretch of northern Sweden, about 500 miles, that people just normally drive through, he said. That wasn't an option when he and his mom, who accompanied him on that trip, could do about 60 miles a day.
Eric Andersson said he had visited New York City before this trip, been to Florida and Las Vegas. But he figured he didn't really know much about the United States.
"Like in every country you have one picture - you see the TV news? But the TV news is not like this," he said. "I think it's (better) to go through the countryside, to meet the ordinary people."
Throughout their trip they've been treated courteously, the Anderssons said, and have had conversations with people all across the country who were interested in their trip and their experiences.
"All the people we have met have shown us great hospitality," Eric Andersson said. "And so nice - everybody, every single one."
Some have been nicer than others, he said, but they've had a positive experience.
"In Sweden we have hospitality, but not like the American people. You are more open - you meet strangers and you are interested in what the strangers are doing. And I think the American people like when somebody does a challenge," Eric Andersson said.
"Also people are a lot more talkative in the U.S.," Axel Andersson said. "I mean, you could bring a pink elephant in Sweden and people wouldn't say anything to you."
They've been impressed by the American wilderness - not just designated wilderness and national parks, but the large undeveloped open spaces. They rode through the Rockies - a long ride uphill, but a gradual slope, Axel Andersson said - and through the Bighorn Mountains in Wyoming. That was steeper and a much tougher challenge, Eric Andersson said. They've ridden along the Mississippi River, through the fields of the Middle West.
Axel Andersson said his trip through Europe was about 3,000 miles, which gave him a better understanding of the size of the U.S. But Europe has a lot more urban spaces, he said.
"Here you can go through these huge stretches of - corn, for example. There's a lot of corn in the U.S. There's a shocking amount," he said.
But there's also a lot of just wide open space, much of it still undeveloped.
"Ginormous areas that have so much nature, or prairie, or fields," he said. "All space in Europe is a bit cramped if you compare it."
They've seen bison, black bears and grizzly bears, Eric Andersson said. They've found all kinds of unusual places, like that fun bar in Wyoming, and things that were totally unexpected, like Palouse Falls in the middle of the desert.
"It has been great," he said.
It's back to work once they get back to Sweden; Eric Andersson is the principal at a school for students 13 to 16 years of age, he said. Axel Andersson will start a new job as a systems engineer in the Swedish military.
There may be at least one more bike trip in the future, he said.
"Japan would be nice, south to north," he said. "I've never been to Japan."
And maybe one more.
"I definitely could imagine biking through the U.S. again, but the southern states," he said.
Cheryl Schweizer may be reached via email at education@columbiabasinherald.com.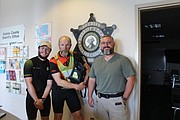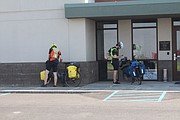 Recent Headlines
---