'It's always a good show'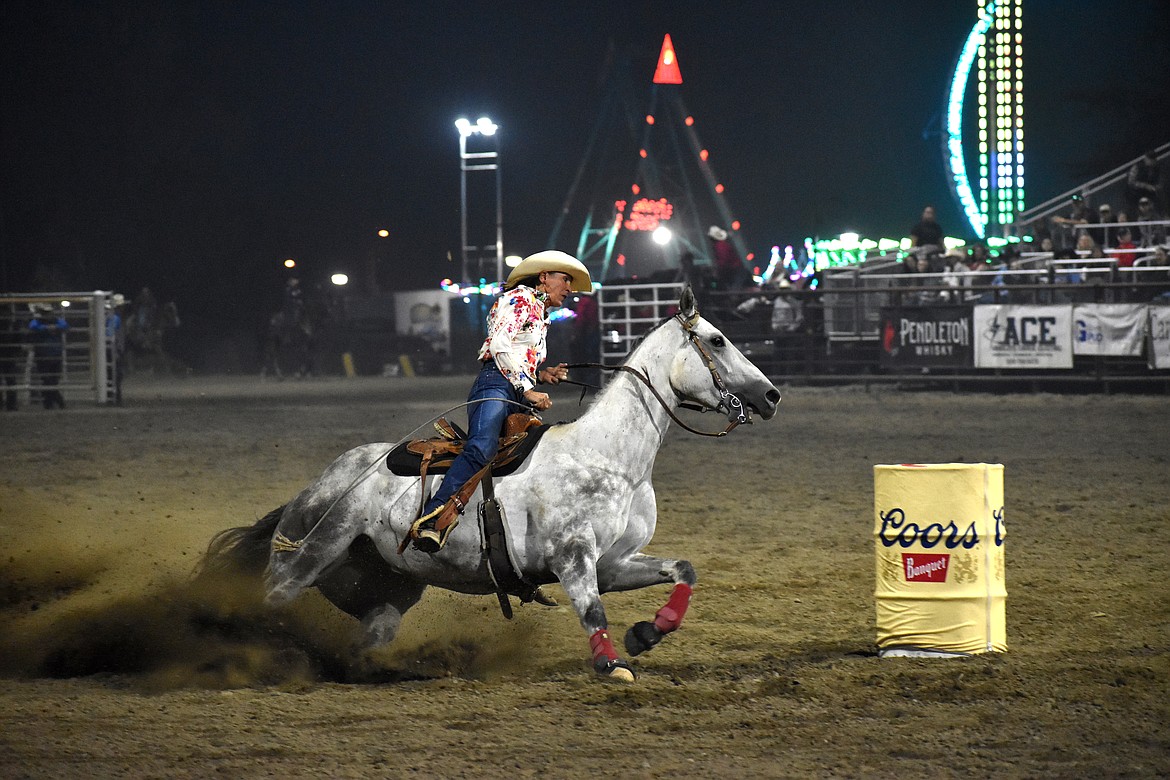 Barrel racer Pamela Capper-Coker makes her final turn during Saturday night's barrel racing at the Moses Lake Roundup.
Ian Bivona/Columbia Basin Herald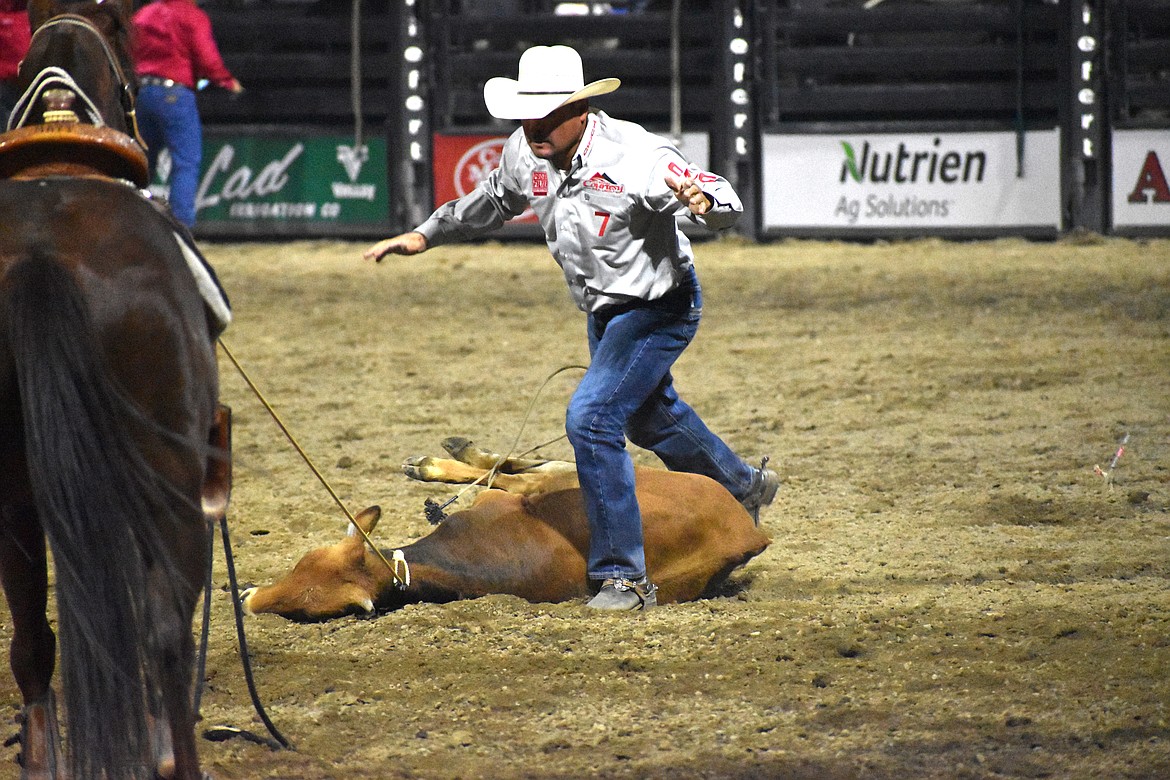 Tie-down roper Ryan Thibodeaux calls time on Saturday night at the Moses Lake Roundup.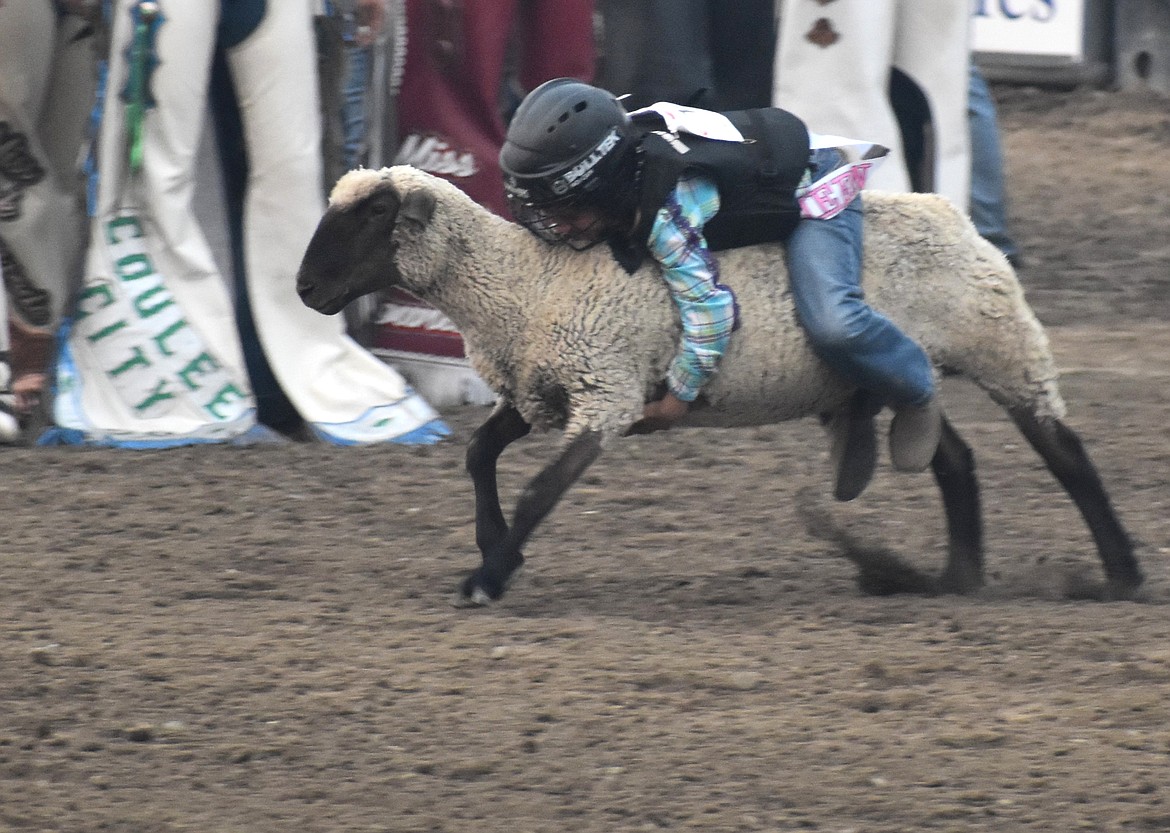 Youth riders opened the three nights with mutton bustin', where the aspiring cowboys and cowgirls rode on top of sheep inside the Rodeo Arena.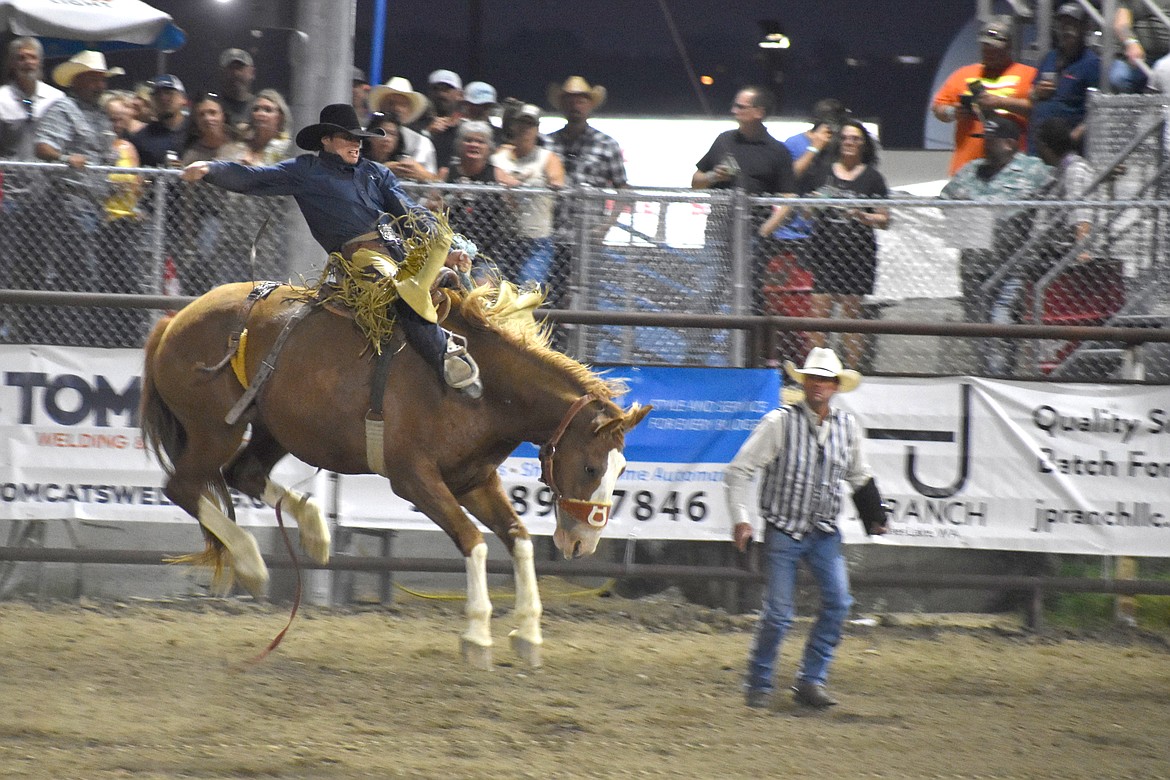 Saddle bronc rider Q Taylor's 82.5-point ride at the Moses Lake Roundup on Friday clinched an eighth-place finish.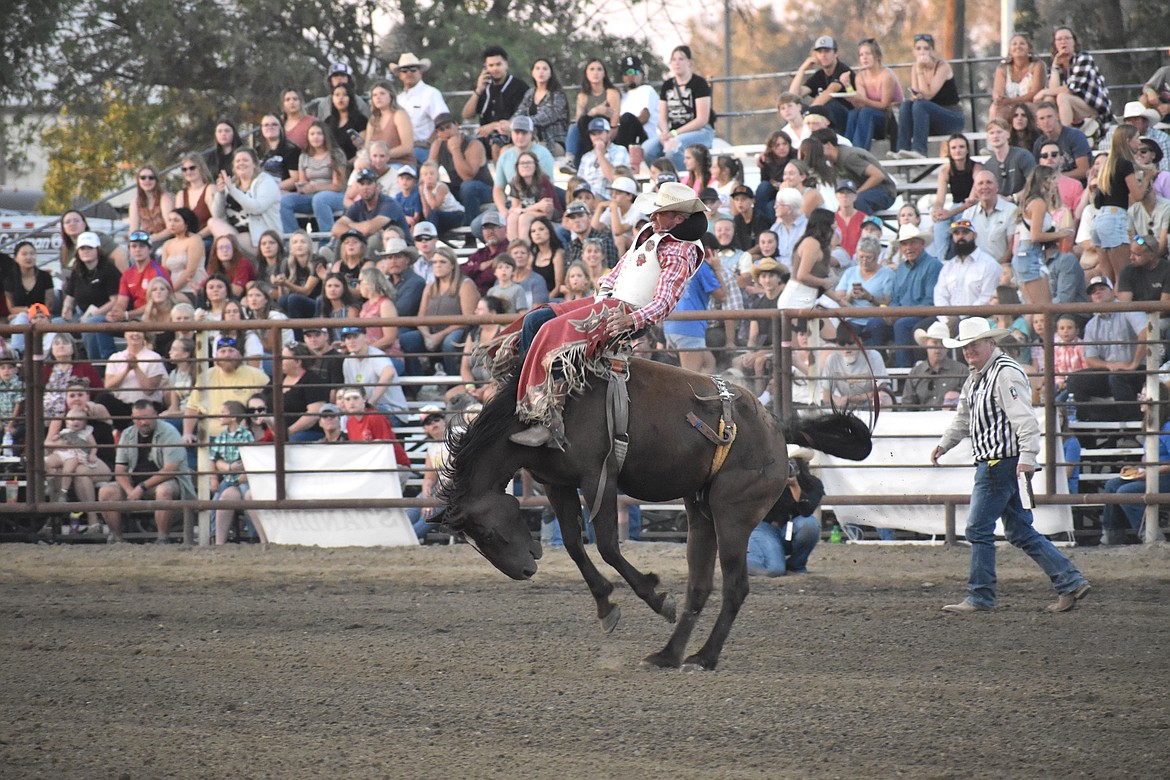 Bareback rider George Gillespie IV placed seventh in bareback riding at the 80th year of the Moses Lake Roundup this weekend.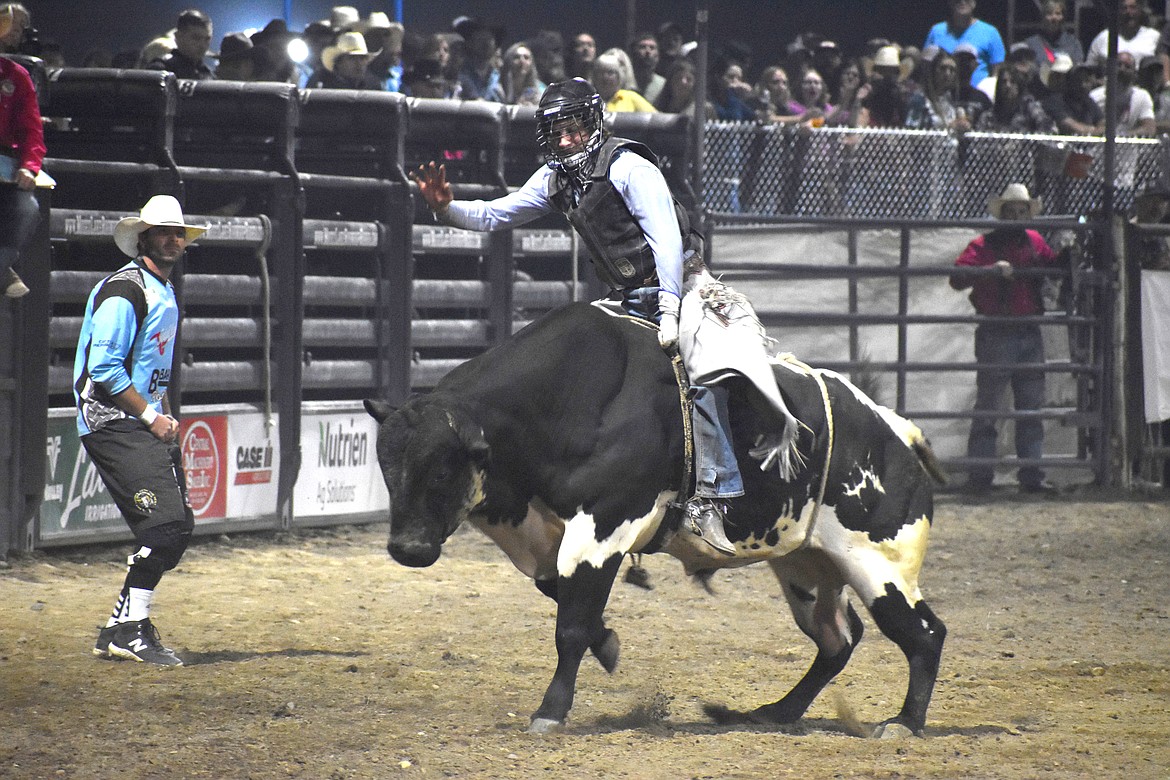 Bull rider Caleb McCaslin keeps his balance on top of a bull on Saturday, en route to a score of 80.5 points. McCaslin tied for fourth in bull riding.
Previous
Next
by
IAN BIVONA
Sports Reporter
|
August 21, 2023 5:52 PM
MOSES LAKE — The 80th year of the Moses Lake Roundup was celebrated Thursday through Friday, when competitors from around the world traveled to Moses Lake for a chance to take home thousands of dollars in the rodeo.
"It's a good rodeo, good contractors," saddle bronc rider Jake Clark said. "Great hospitality — they treat the competitors great here."
The stands in the Rodeo Arena were packed each of the three nights of the Roundup, watching the numerous competitors take part in bareback riding, steer wrestling, team roping, saddle bronc riding, breakaway roping, tie-down roping, barrel racing and bull riding.
"This is a great crowd; they all get into it the whole rodeo. It's not just the bull riding," bull rider Laramie Mosley said. "It makes it fun when you show up here and see the stands full, everybody cheering and hollering. It makes it enjoyable."
Mosley took home the title in the bull riding event, marking a score of 88 points Saturday night, riding Corey & Lange Rodeo's Cold Turkey. The 27-year-old bull rider has been a professional for the past six years, with this being his second trip to Moses Lake.
"It's a great rodeo and it got a lot of money added," Mosley said. "We stay out here all summer and hit the big ones."
A native of Palestine, Texas, Mosley said having a clear mind was key in his championship ride Saturday night.
"Just stay clear-headed and follow their moves," Mosley said. "If you try and blow it up in your head it gets way too hard, and you'll fall off anyways."
There was plenty of local talent in the rodeo, featuring Soap Lake steer wrestler and bull rider Caleb McMillan, Moses Lake steer wrestler Jacob Stacy, Moses Lake tie-down roper Kass Newman and a team roping duo of Jared Cox and Ryan Stewart, the former from Warden and the latter from Royal City.
The fans in the stands cheered on the competitors regardless of where they were from, with some traveling from Australia, Brazil and Canada.
"It's always a good show," Clark said. "Always full stands. Everybody's into it, it's a fun rodeo."
"I love it, there's no other feeling like it in the world," Mosley said. "You get off and hear everybody screaming, it makes you feel like you're somebody."
Champions in the rodeo were as follows: Clayton Biglow won the bareback riding with a score of 86.5 points; Gus McGinn won steer wrestling with a time of 3.9 seconds; the team roping duo of Derrick Begay and Colter Todd won with a time of 4.2 seconds; Kade Bruno won the saddle bronc with a score of 90 points; Zack Jongbloed and Kyle Lucas tied for first in tie-down roping with a time of 8.1 seconds; Carlee Otero won barrel racing with a time of 16.89 seconds; Mosley's score of 88 won the bull riding event.
For a full list of placers from the rodeo, as well as contestant earnings, see below. All results are according to the Professional Rodeo Cowboys Association.
Moses Lake Roundup Results
All-around cowboy: Jordan Tye (tie-down roping and team roping), $1,364.
Bareback riding: Clayton Biglow (86.5 points), $4,019; Cole Franks (85.5), $3,081; Clay Stone (80), $2,277; Clint Laye (79.5), $1,473; Jacek Frost (79), $938; A.J. Ruth (76.5), $670; George Gillespie IV (75), $536; Colton Clemens (71), $402.
Steer wrestling: Gus McGinn (3.9 seconds), $3,256; Harley Cole (4.2), $2,873; (tie for third) Mason Couch and Tyler Waguespack (4.3 each), $2,298 each; Ryan Shuckburgh (4.4), $1,915; (tie for seventh) Tyler Willis Ravenscroft and Ringo Robinson (4.6 each), $1,436 each; Sam Shelton (4.7), $1,149 each; (tie for tenth) Denell Henderson, Jacob Talley and Braedyn White (4.8 seconds), $255.
Team roping: Derrick Begay/Colter Todd (4.2 seconds), $4,600 each; Keven Daniel/Travis Graves (4.8), $3,987; Jake Orman/Corey Hendrick (5.0), $3,680; (tie for fourth) Zach Kilgus/Tyler McKnight and Kolton Schmidt/Logan Spady (5.2), $2,913 each; Billy Bob Brown/Kirby Blankenship (5.3) $2,453; Dustin Egusquiza/Levi Lord (5.4), $2,147; (tie for eighth) Spencer Mitchell/Justin Davis, Tanner Tomlinson/Patrick Smith and Jaxson Tucker/Clay Futrell (5.6), $1,533 each; Jack Graham/Matt Williams (5.8), $1,073; (tie for 12th) Luke Brown/Hunter Koch and Cash Duty/Sid Sporer (6.2), $767 each; (tie for 14th) Tyler Wade/Wesley Thorp and Andrew Ward/Buddy Hawkins II (6.3), $383 each.
Saddle bronc riding: Kade Bruno (90 points), $4,568; Zeke Thurston (87.5), $3,502; Parker Kempfer (85), $2,589; (tie for fourth) Isaac Diaz/Dawson Hay (84), $1,371 each; (tie for sixth) Parker Fleet/Shorty Garrett (83.5), $686 each; Q Taylor (82.5), $457
Tie-down roping: (tie for first) Zack Jongbloed and Kyle Lucas (8.1 seconds), $4,244 each; (tie for third) Clay Elliott and Lucas Potter (8.4), $3,355; Michael Otero (8.5), $2,728; (tie for sixth) Cody Craig, Kincade Henry and Lane Livingston (8.7), $2,122 each; (tie for ninth) Chance Thiessen and Jordan Tye (8.8), $1,364 each; (tie for 11th) Jordan Ketscher and Monty Lewis (8.9), $985; (tie for 13th) Marcos Costa and Tom Crouse (9.0), $531 each; Jerry Adamson (9.1), $303.
Barrel racing: Carlee Otero (16.89 seconds), $4,515; Brittany Pozzi Tonozzi (17.03), $3,612; Kelly Allen (17.08), $2,935; Rachelle Riggers (17.14), $2,257; Molly Otto (17.16), $1,806; Kailey Kinsel (17.19), $1,354; Carly Rudd (17.29), $1,129; Ashley Castleberry (17.30), $1,016; Taycie Matthews (17.36), $903; Andrea Busby (17.38), $790; Keyla Costa (17.43), $677; Kathy Grimes (17.47), $564; Cheyenne Allan (17.48), $451; Megan McLeod-Sprague (17.53), $339; Kim Schulze (17.56), $226.
Bull riding: Mosley (88 points), $6,824; Billy Quillan (85), $5,232; Jordan Spears (84), $3,867; (tie for fourth) Caleb McCaslin and Cody Teel (80.5), $2,047 each; Trevor Reiste (79), $1,137; (tie for seventh) Austin Herrera and Clayton Sellars (76), $796.
Total payoff: $188,947
Recent Headlines
---