GALLERY: Moses Lake Roundup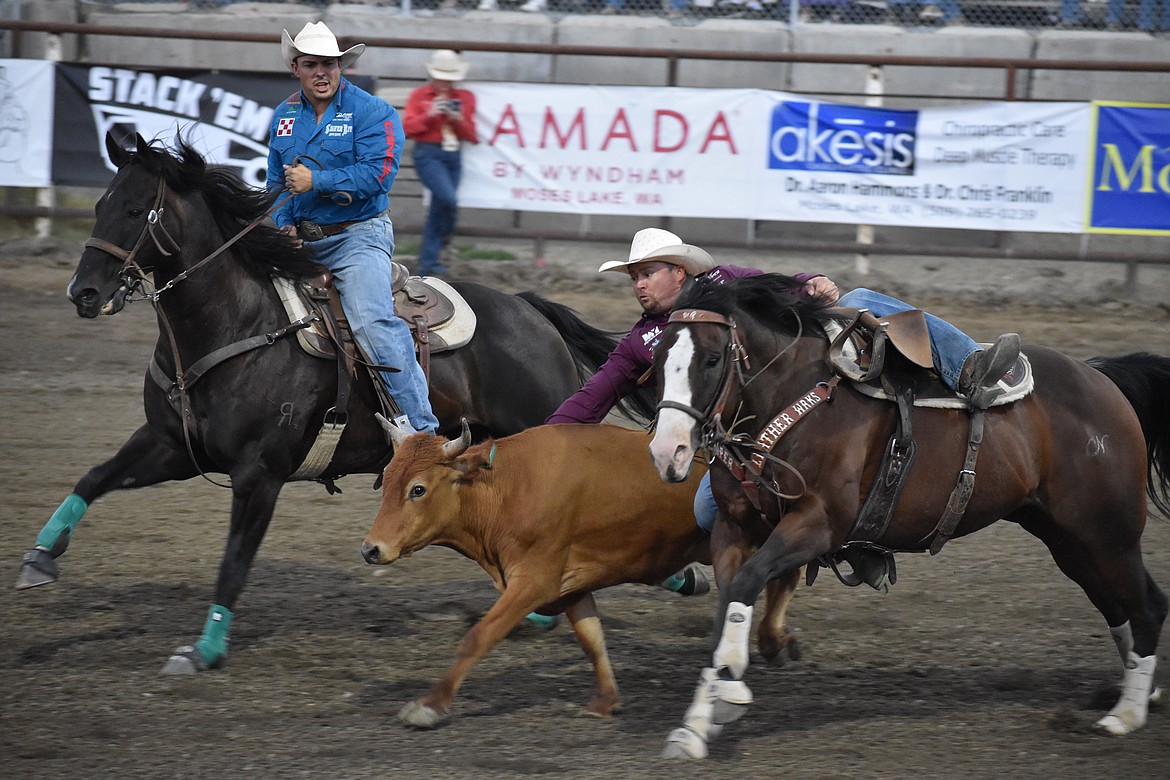 Steer wrestler Stan Branco, in purple, jumps onto a steer on Friday at the Moses Lake Roundup Rodeo.
IAN BIVONA/COLUMBIA BASIN HERALD
Saddle Bronc rider Wade Sundell of Boxholm, Iowa maintains balance on a horse at the Moses Lake Roundup Rodeo.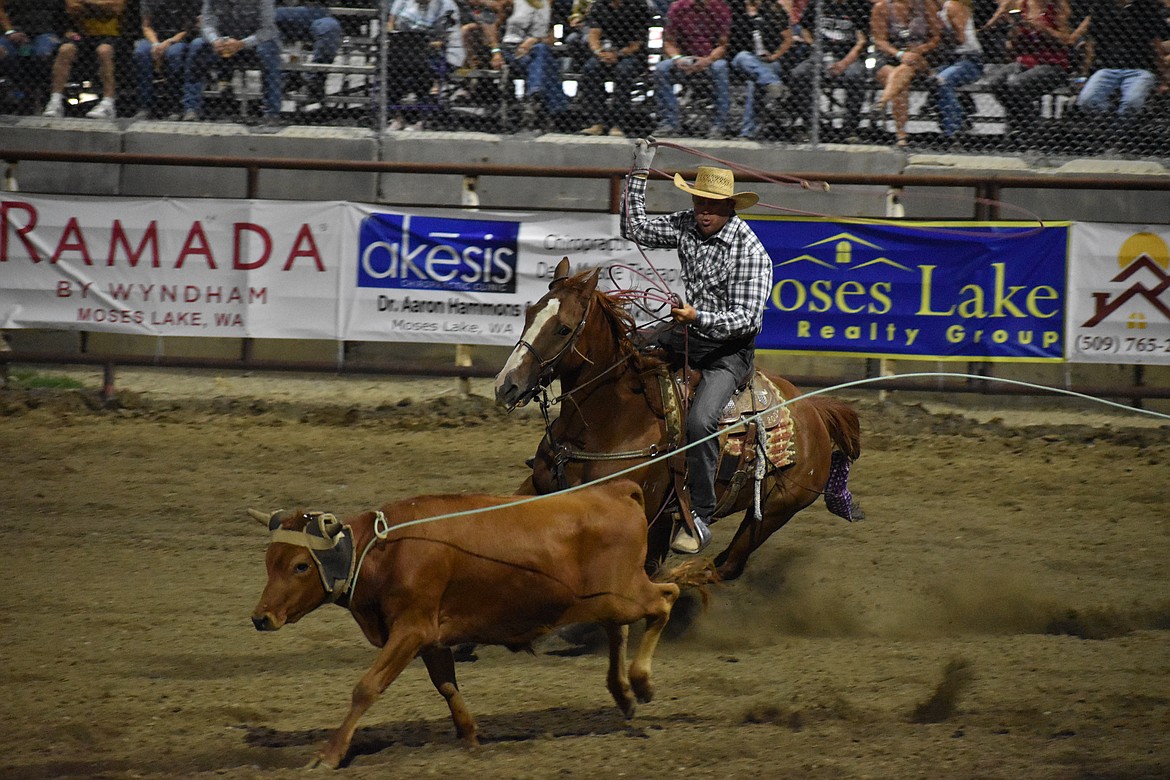 Team ropers rush toward a steer during Friday night's Moses Lake Roundup Rodeo at the Grant County Fairgrounds.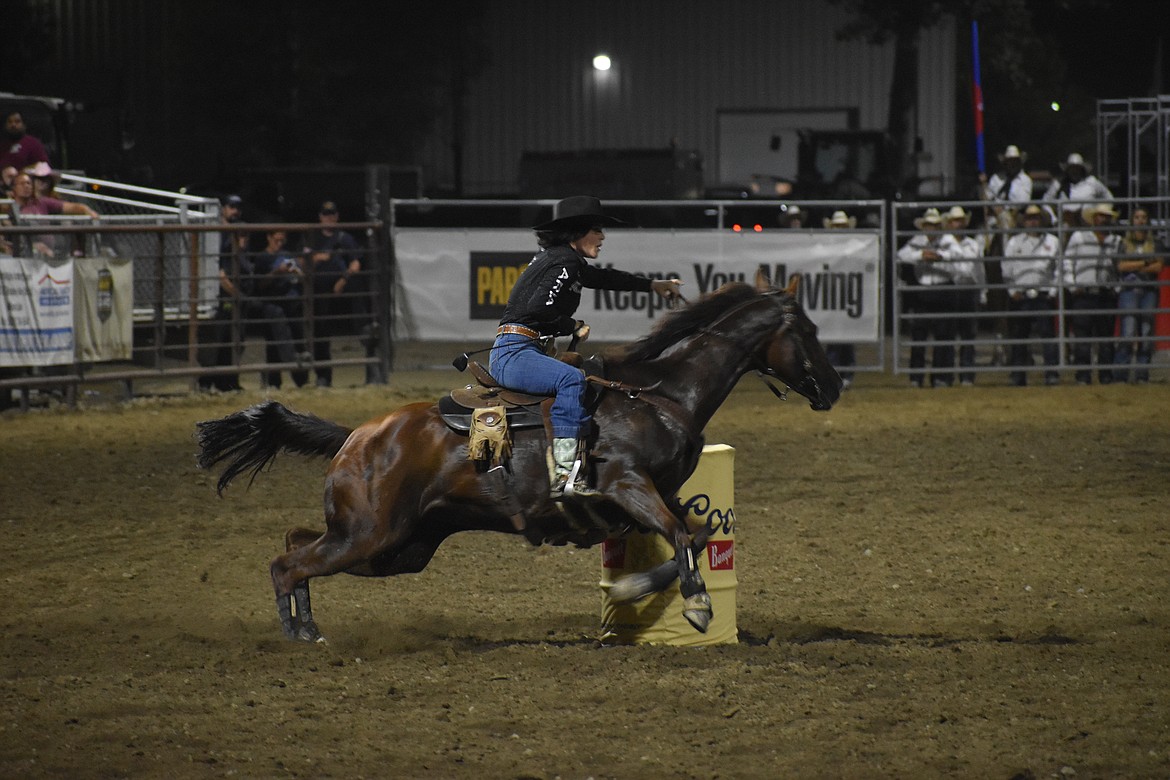 Barrel Racer Mackenzie Huggler makes a turn around a barrel on Thursday.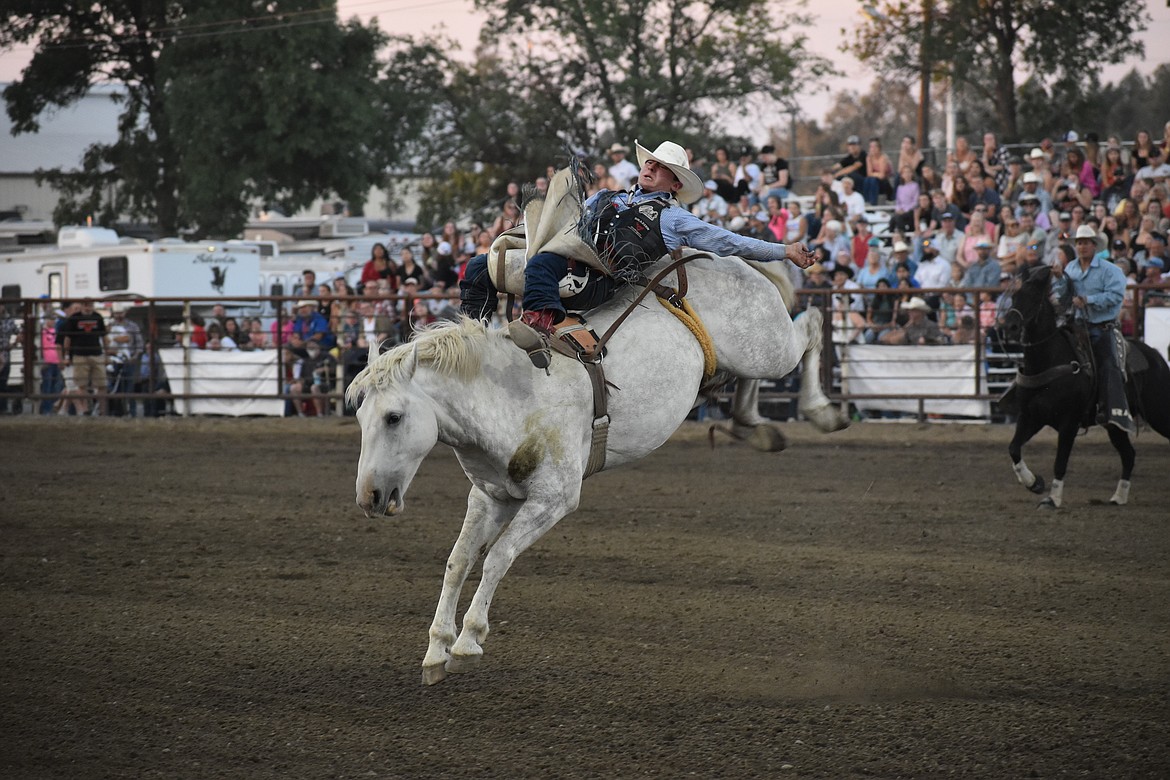 Bareback rider Jacek Frost of Browns Valley, Calif. leans back during his run in the bareback riding at the Moses Lake Roundup Rodeo on Friday.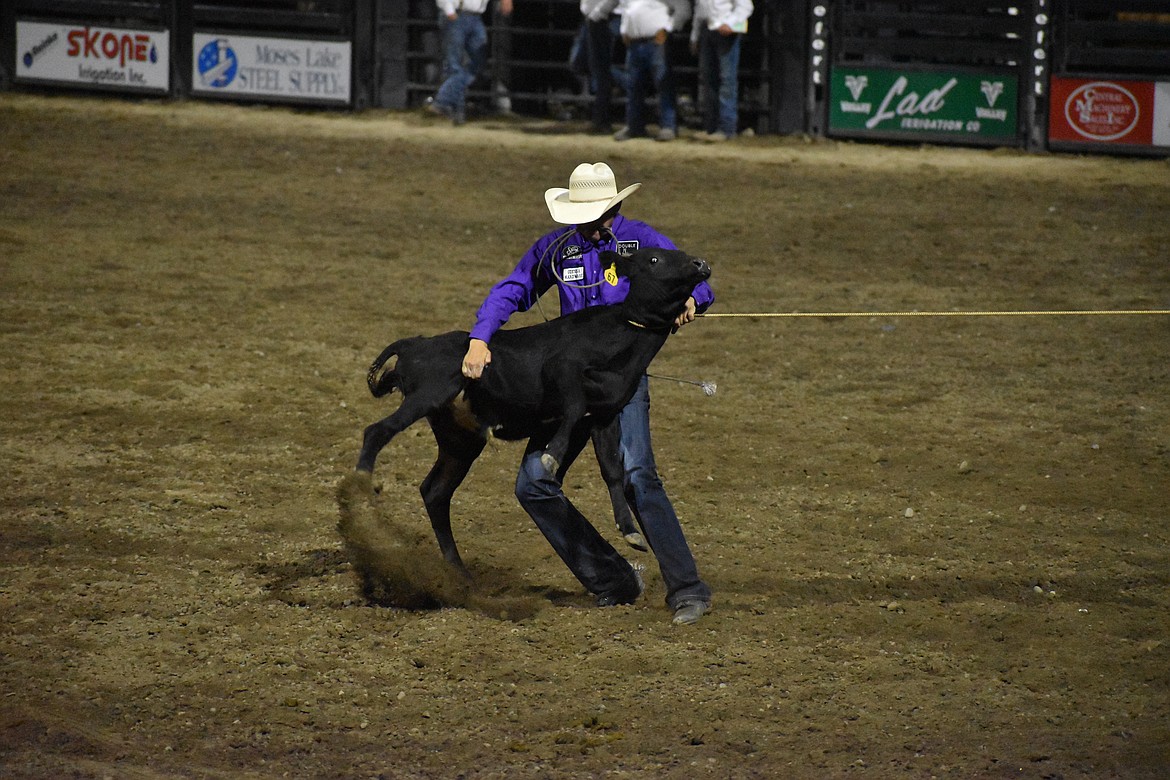 Tie-down roper Kass Newman of Moses Lake picks up a steer before tying its legs on Thursday.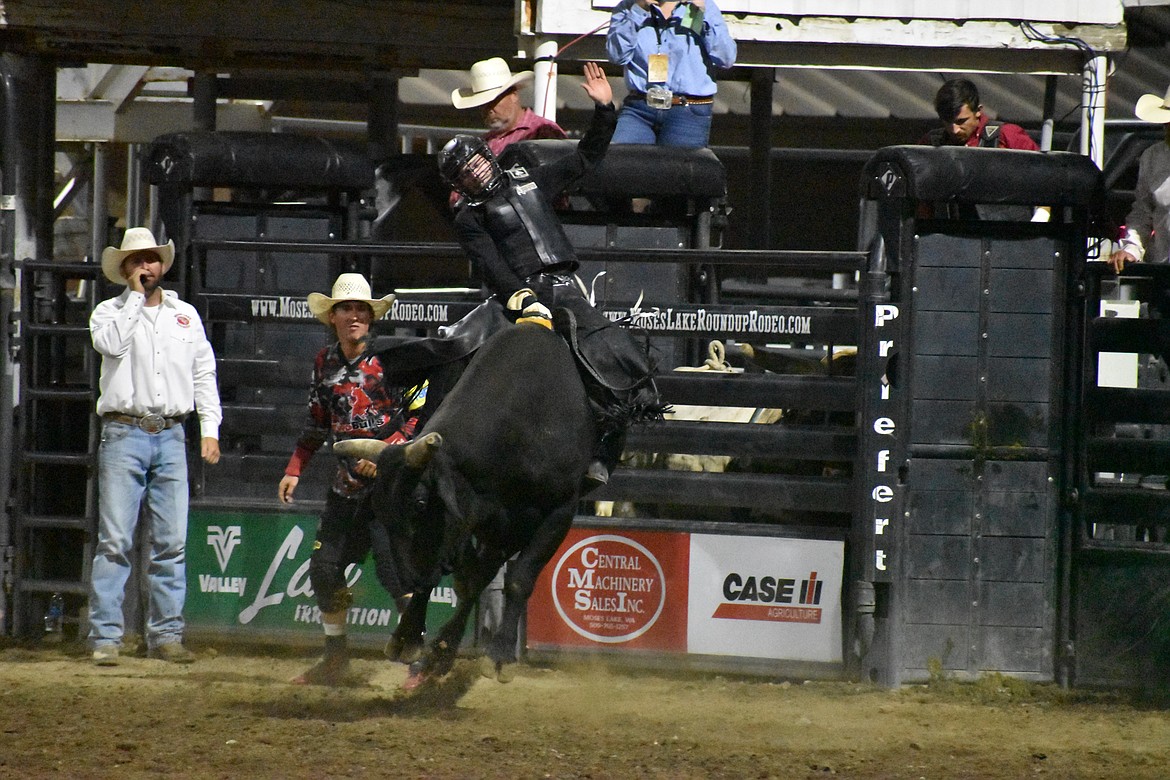 Bull rider Trevor Reiste of Linden, Iowa keeps his balance on top of the bull Make My Day on Thursday's showing of the Moses Lake Roundup Rodeo.
Previous
Next
by
IAN BIVONA
Sports Reporter
|
August 19, 2023 1:10 PM
MOSES LAKE – The first two nights of the Moses Lake Roundup took place at the Grant County Fairgrounds on Thursday and Friday, with competitors coming to Moses Lake from around the state, country and world.
Each night opened with bareback riding, followed by steer wrestling, team roping, saddle bronc, tie-down roping, barrel racing and bull riding. Full results from the Moses Lake Roundup were not available in time for press deadline, but see below for the standings through Friday night. Full coverage and results from the Moses Lake Roundup will be in Tuesday's edition of the Columbia Basin Herald.
Standings (Through Friday Night)
Bareback Riding: Clayton Biglow, 86.5 points; Clay Stone, 80 points; Clint Laye, 79.5 points; Jacek Frost, 79 points; George Gillespie IV, 75 points; Colton Clemens, 71 points.
Steer Wrestling: Gus McGinn, 3.9 seconds; Harley Cole, 4.2 seconds; Tyler Waguespack, 4.3 seconds; Ryan Shuckburgh, 4.4 seconds; Nick Guy, 4.5 seconds; (tie for sixth) Tyler Willis Ravenscroft and Ringo Robinson, 4.6 seconds each.
Team Roping: Derrick Begay/Colter Todd, 4.2 seconds; Keven Daniel/Travis Graves, 4.8 seconds; Jake Orman/Corey Hendrick. 5 seconds; (tie for fourth) Zach Kilgus/Tyler McKnight and Kolton Schmidt/Logan Spady, 5.2 seconds each; Billy Bob Brown/Kirby Blankenship, 5.3 seconds.
Saddle Bronc: Zeke Thurston, 87.5 points; (tie for second) Isaac Diaz and Dawson Hay, 84 points each; Shorty Garrett, 83.5 points; Q Taylor, 82.5 points; Joe Harper, 79.5 points.
Tie-Down Roping: (tie for first) Zack Jongbloed and Kyle Lucas, 8.1 seconds each; (tie for third) Clay Elliott and Lucas Potter, 8.4 seconds each; Michael Otero, 8.5 seconds; (tie for sixth) Cody Craig, Kincade Henry and Lane Livingston, 8.7 seconds each.
Barrel Racing: Carlee Otero, 16.89 seconds; Brittany Pozzi Tonozzi, 17.03 seconds; Kelly Allen, 17.08 seconds; Molly Otto, 17.16 seconds; Carly Rudd, 17.29 seconds; Ashley Castleberry, 17.30 seconds.
Bull Riding: Billy Quillan, 85 points; Jordan Spears, 84 points; Trevor Reiste, 79 points; Lukasey Morris, 75 points.
Recent Headlines
---