News Bites for Aug. 18, 2023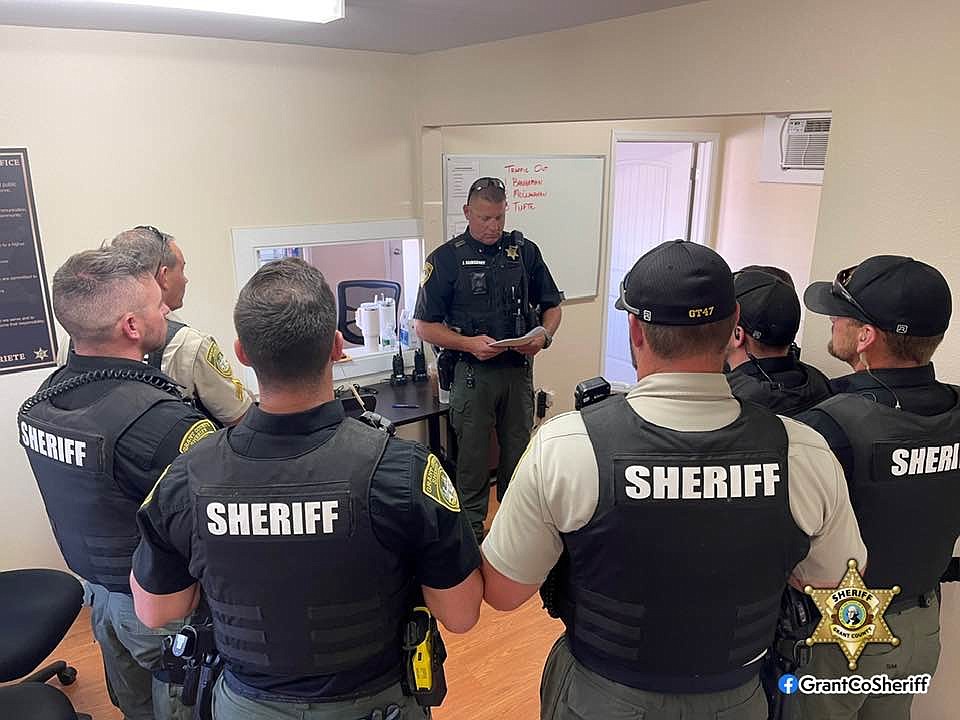 Grant County Sheriff's Office Chief Deputy Josh Sainsbury briefs deputies working at the Grant County Fairgrounds during an afternoon meeting Tuesday. Deputies are working to ensure they are easily accessible during this year's fair to keep the public safe.
COURTESY PHOTO/GCSO
by
STAFF REPORT
Staff Report
|
August 18, 2023 1:30 AM
DAVENPORT – A Fruitland woman died and a Fruitland man was injured Tuesday in a single-vehicle collision in Lincoln County, near Davenport, according to a press memo from the Washington State Patrol.
Melinda S. Curd, 53, was driving northbound around 3 p.m. on State Route 25 six miles north of Davenport when she drove off of the roadway to the right and into a ditch in a field, said the memo. Curd's 2003 Dodge Dakota collided with power pole guide wires and vaulted into an embankment. The vehicle came to rest in a field next to State Route 25.
According to the memo, Curd was declared dead at the scene. Robert F. Abrahamson, 21, a passenger, was injured in the collision and airlifted to Sacred Heart Medical Center.
It is unknown if drugs or alcohol were involved, and driving with wheels off the roadway was given as the cause of the accident. Neither Curd or Abrahamson were wearing seatbelts.
MOSES LAKE – Deputies with the Grant County Sheriff's Office are aiding with security at the Grant County Fair this week. A larger number than in prior years are on-site according to a GCSO statement. As of Wednesday, only one incident had occurred requiring GCSO intervention. A 17-year-old boy was arrested for making threats toward a fair employee and resisting arrest while a second is at large for suspicion of third-degree assault for spitting on a deputy. Both juveniles have been permanently trespassed from the fairgrounds.
GCSO also recommended in separate statements that parents take photos of their children as they enter the fair and have their phone numbers written on the wristbands of young visitors in case the children become separated from their families.
MOSES LAKE - Moses Lake Police Department Interim Chief Cpt. Dave Sands issued a statement regarding a Sunday shooting in the 800 block of Loop Drive in Moses Lake. In the announcement, Sands said Jeremy Flores, 36, of Moses Lake, was killed as a result of wounds sustained in the incident. Two other Moses Lake residents, ages 16 and 18, are expected to recover from their injuries sustained in the same shooting.
"The Washington State Patrol Crime lab assisted detectives in processing the crime scenes. During their scene investigation over 50 shell casings were recovered. The incident appears to be gang related," Sands said in the statement.
GRAND COULEE – The Grand Coulee Police Department expressed their thanks in an Aug. 2 announcement for aid in establishing their first National Night Out. The department said staff could not have had such a successful event without the help of the Cannon, Holeman, Lockard and Holt families as well as Catherine Tesch and Kristine Hansen Thiesfeld.
Recent Headlines
---