Soap Lake City Council swears in new member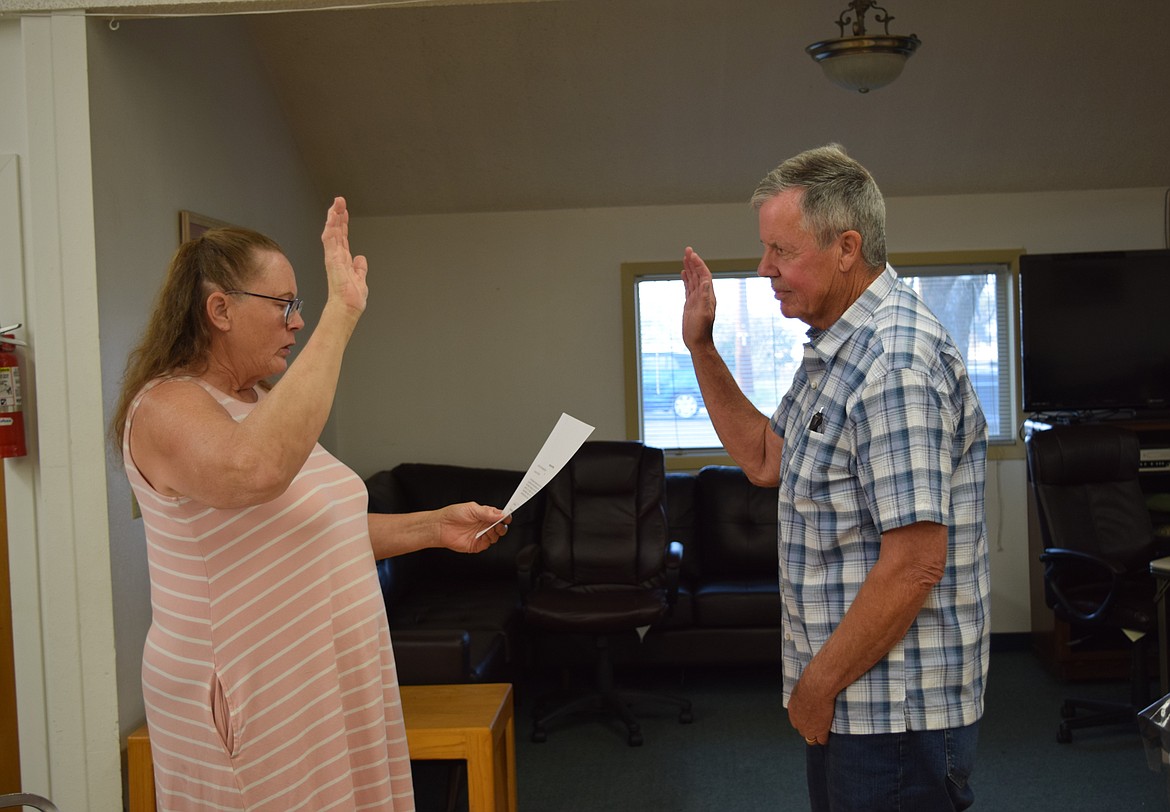 Mayor Michelle Agliano swears in Fred Slipper with the oath of office after Slipper was appointed to the Soap Lake City Council during Wednesday's regular city council meeting.
GABRIEL DAVIS/COLUMBIA BASIN HERALD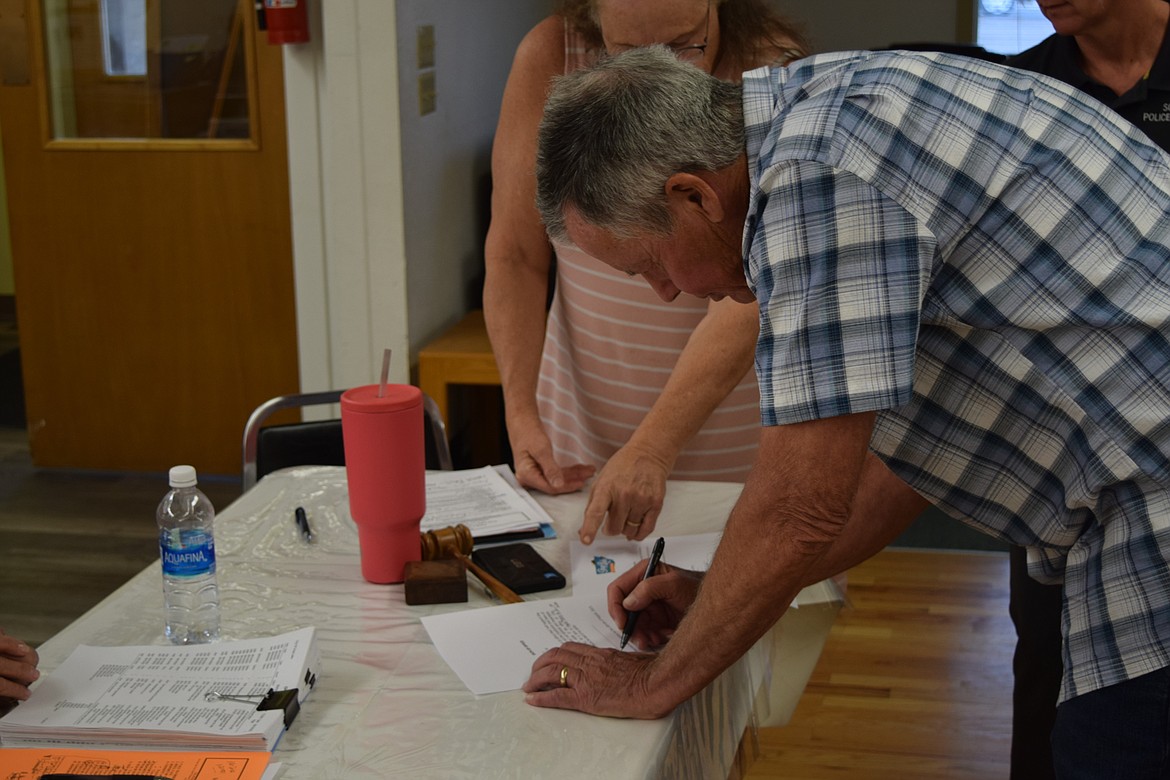 Newly appointed Council Member Fred Slipper signs the paperwork to officially fill position No. 2 on the Soap Lake City Council. Slipper's term will go until Jan. 1, 2024.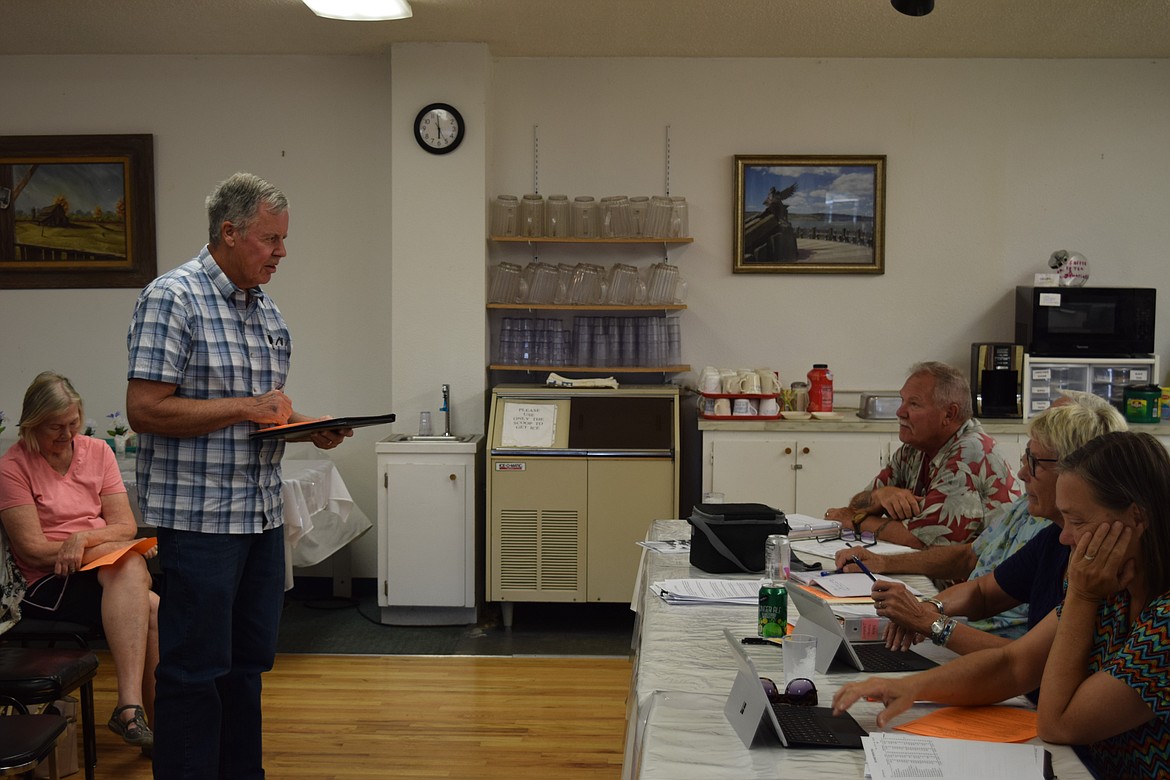 Fred Slipper speaks to the Soap Lake City Council during his interview for the vacant council position. Slipper said he would like to address issues such as the Soap Lake water level, code enforcement and water and sewage treatment if appointed to the council.
Previous
Next
by
GABRIEL DAVIS
Staff Writer
|
August 17, 2023 5:14 PM
SOAP LAKE – The Soap Lake City Council voted unanimously to approve Fred Slipper to fill the vacant position No. 2 on the council during Wednesday's regular meeting. Slipper will hold the position until Jan. 1, 2024.
Slipper's letter of interest to the city outlined some of his background and involvement in the city of Soap Lake and why he is applying for the position.
"I lived in Soap Lake in 1973-74, and have been a resident of Soap Lake since 2020. Between 1974 and 2020 I was a regular visitor to Soap Lake when my wife Suzette and I visited her family," he said in the letter.
Position 2 has been vacant since early July when Bill Bratton resigned from the council. Slipper was the only applicant reviewed by the council at the meeting. During his interview, Slipper explained several issues and subjects in Soap Lake he said he would like to assist with or provide oversight on if appointed to the council, the first of which was Soap Lake's water level.
"I live on the lake. I look out at it and think there's something wrong here. Where's that water going? I'd like to pursue, maybe with other members of the council, the answer to that," he said.
Slipper also mentioned the city's code enforcement department.
"With the resources there are, they're doing a good job, but I think that I'd like to see more staffing put towards that," Slipper said.
He also said he'd like to see strategic planning to ensure the continuity of water and sewage treatment services.
"At the end of the day, those two things cannot fail," he said. "They have to be functional. And from time to time in meetings, I hear that those two things are in good shape, and sometimes I hear that maybe they're not in such good shape. I think it should be on the front burner constantly because we would just have to pack up and leave if we didn't have those things."
Slipper's letter of interest also outlined his professional history and qualifications for the position. Slipper said he served in the Washington Air National Guard from 1968 to 1977 and worked for both the federal government and Washington state managing work programs in prisons.
"In my professional experience I was responsible for developing and managing businesses where I supervised civilian staff who supervised inmate workers in factories," Slipper wrote in the letter. "As a central office program manager, I developed and audited safety and quality assurance programs in the field. Throughout my career in prison industries, I was involved in budget development; staff training; policy development; and community relations."
After an executive session to discuss the appointment, the council voted unanimously to appoint Slipper to position 2. Mayor Michelle Agliano then swore Slipper in.
City Council Member Leslie Taylor thanked Slipper for applying to the position.
"Thank you for volunteering for this position. You have four months, and what my experience is is, it takes a long time to get anything done. So yeah, you're ready," Agliano said.
Council Member Kayleen Bryson said it can take some time to learn the job..

"That too," said Taylor, "and the other thing is, of course, citizens, just residents of the city, can be on any committee. So, if you find yourself passionate about your Parks and Recs committee, you can stay."
Gabriel Davis may be reached at gdavis@columbiabasinherald.com.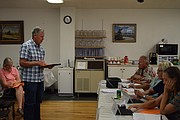 Recent Headlines
---