Vacated seat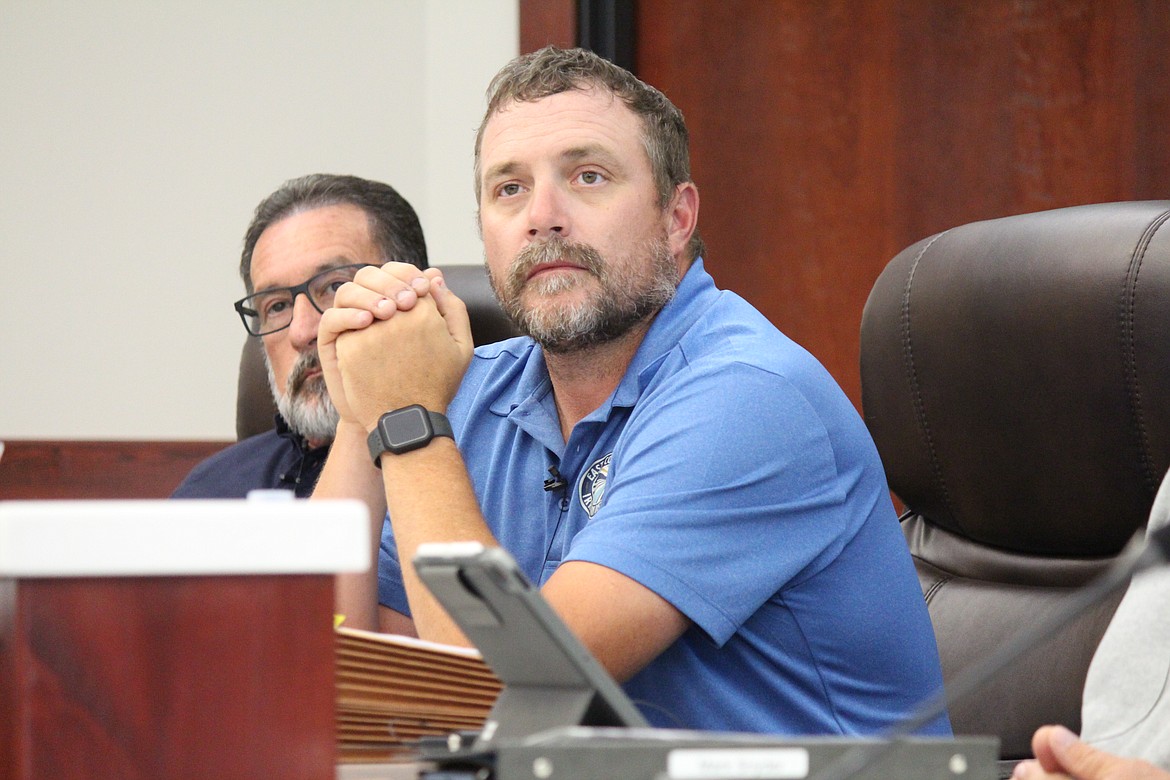 Jon Erickson listens to a presentation to the Othello City Council Monday. Erickson resigned from the council during the meeting, indicating that he had moved outside of the city and was no longer eligible to remain on the council as a result.
CHERYL SCHWEIZER/COLUMBIA BASIN HERALD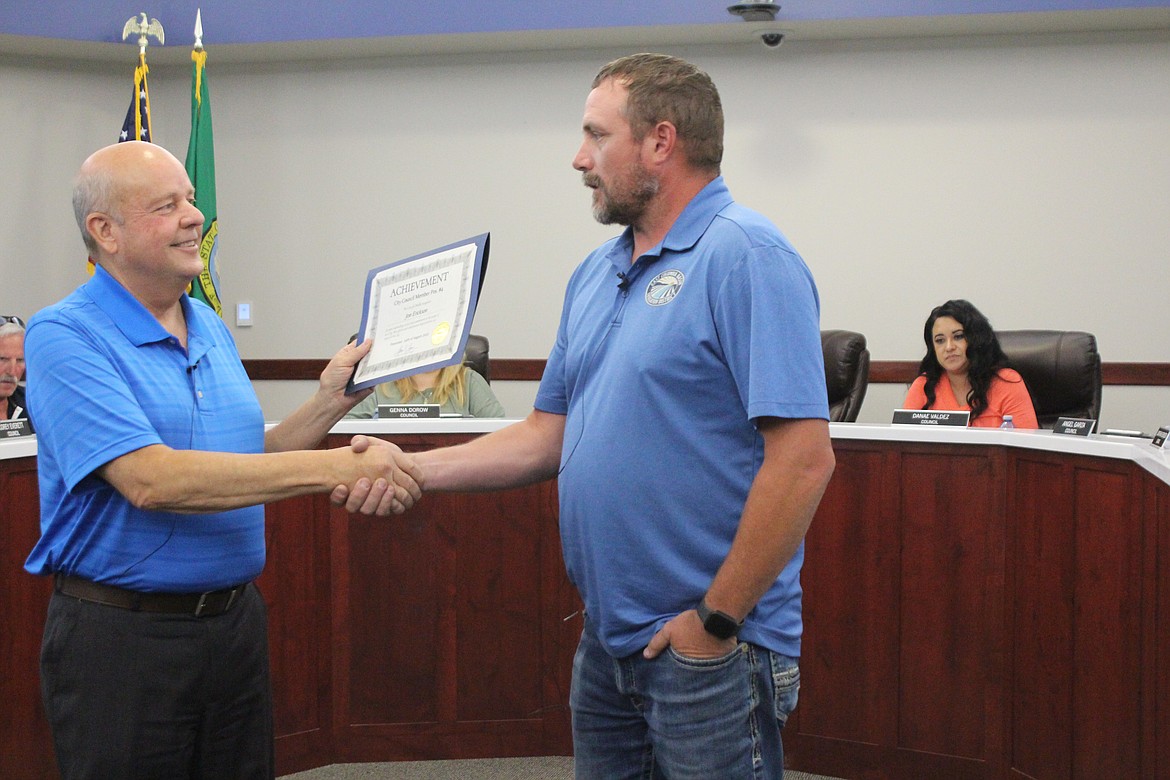 Othello Mayor Shawn Logan, left, presents a certificate of appreciation to Jon Erickson for his work on the Othello City Council. Erickson resigned from the council Monday after nearly four years on the city's governing body. He expressed appreciation for the city's residents, staff and elected officials for their aid during his tenure.
Previous
Next
by
CHERYL SCHWEIZER
Staff Writer
|
August 16, 2023 1:30 AM
OTHELLO — Othello City Council members will leave one council position vacant until the November general election. Council members decided not to replace Jon Erickson, who announced his resignation during the meeting.
The vote was 6-1 with council member Mark Snyder voting in opposition.
Two candidates are running for Erickson's position, and council member Corey Everett said in his opinion waiting is the best option. Erickson said he was resigning because he moved out of the city limits. He considered keeping a part-time residence in town, he said, but ultimately rejected that.
Erickson said he had learned a lot during his tenure on council. He learned to work with his colleagues, he said, and learned city government took work and research.
"I came in with what I thought was a very good understanding of what city politics was about," he said. "But within the first three meetings, I realized I didn't know jack about city politics."
The learning was part of what made his time on council enjoyable, he said.
"I enjoyed that effort and that work, and I appreciate every challenge that we came across as the city council. I appreciate all the discussions, the agreement and the disagreements," he said.
He said he appreciated the votes of Othello residents and was surprised by how fast time had gone by.
"These last three years and eight months have gone by really quickly," Erickson said.
Erickson expressed gratitude to the elected officials he had worked with and their staff members as well as the city staff.
"Most of all I'd like to thank everyone up here on the (council) dias," he said.
The process of reaching the decision on whether or not to fill the vacancy involved thorough discussion, with at least one council member wondering why there was reason to change past practices.
"Every time there's been a vacancy, we've (appointed) somebody," Snyder said. "And all of a sudden, we're changing?"
Council member John Lallas said the difference was that in 2023 there's a contested race for the position.
"It's never been where there was a (council) race actually going on at the time of the resignation," Lallas said.
Other members thought it was best to let the people weigh in.
"We're so close to an election. I think we need to wait and let the people of the city of Othello decide," Everett said.
Eugene Bain and Darryl Barnes are running for the position, and Erickson said he was concerned about the impression left if either man applied for the position and was appointed.
"If one of the two candidates were to be chosen, I think the people of this city would look at it as an endorsement," Everett said. "And I can't believe that would be legal. And even if it is legal, I think it would be immoral for the council to get involved with an election (just) weeks before Election Day."
Snyder said the council will be working its way through the 2024 budget process in late September and October. He thought it would be more important to have a whole council while its members were making those decisions, he said - and the council could choose somebody other than a council candidate. Ultimately though, the seat will remain open until the election is completed.
Othello Mayor Shawn Logan presented Erickson with a certificate of appreciation for his council service.
"He's represented the community well, and he was never silent about what he wanted to see and advocate for," Logan said.
Cheryl Schweizer may be reached via email at cschweizer@columbiabasinherald.com.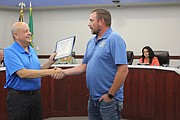 Recent Headlines
---