Moses Lake BMX to host Race for Life next Friday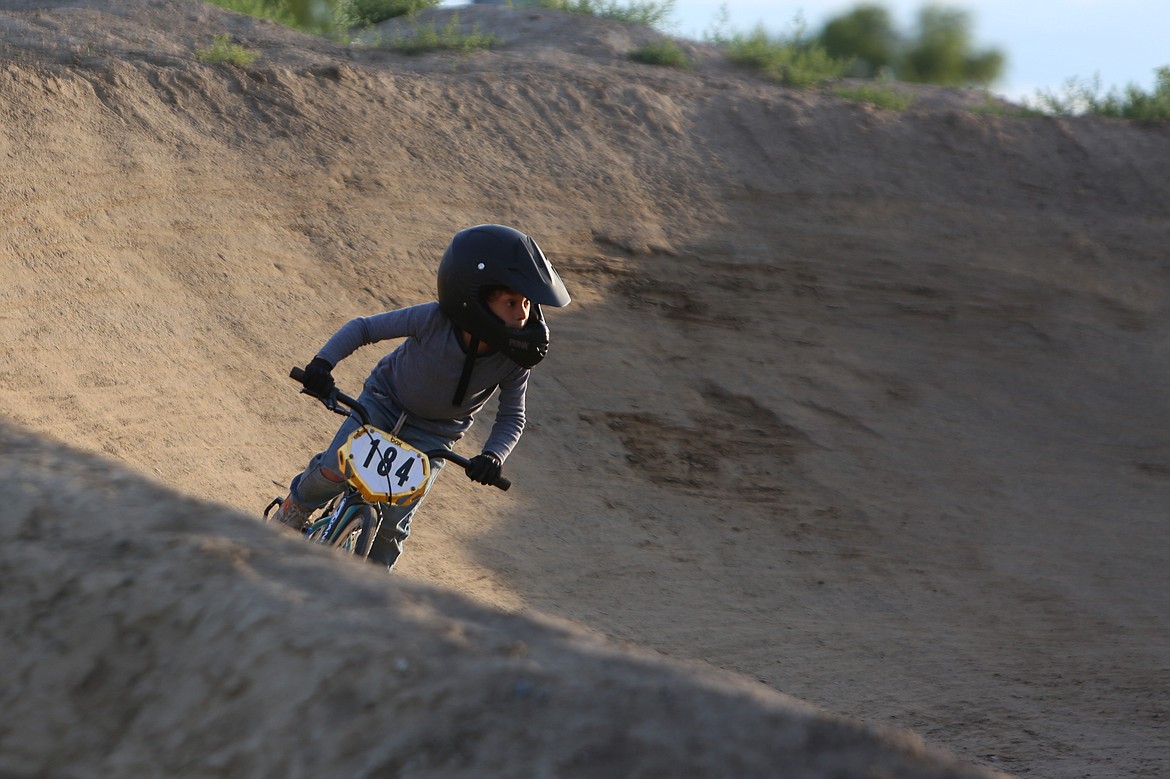 The Larson BMX Track will host Moses Lake BMX's Race for Life event next Friday, which raises money for Leukemia & Lymphoma Society.
IAN BIVONA/COLUMBIA BASIN HERALD
by
IAN BIVONA
Sports Reporter
|
August 16, 2023 1:00 AM
MOSES LAKE – BMX riders from across the east side of the state will travel to Moses Lake for the Moses Lake BMX's Race for Life on Aug. 25, part of a four-track series with BMX facilities in Tri-Cities, Spokane and Walla Walla.
"The Race for Life started back in 1981 to raise money for a BMX rider who was diagnosed with leukemia, and their fundraiser has continued since then," Moses Lake BMX Track Operator Jeff Niehenke said. "The (Moses Lake) track has participated in it since we were first founded in 2004."
The BMX rider was Todd Kingsbury, and in 1981 the American Bicycle Association launched the Race for Life events that are now held at BMX courses across the country. Proceeds from the different Race for Life events go to the Leukemia & Lymphoma Society.
"It's been an annual fundraising race for us, last year was the biggest year we've ever had and we raised nearly $5,000," Niehenke said. "We're hoping to outdo that this year."
This year Moses Lake's race is part of the Eastern Washington Race for Life Track vs Track weekend series, in collaboration with Columbia Basin BMX in Richland, Spokane BMX and Walla Walla BMX. Moses Lake leads off the weekend on Friday evening, with Columbia Basin following on Saturday morning and Spokane on Saturday evening. Walla Walla hosts the final race of the weekend on Sunday morning. The series includes a track versus track competition to see who can raise the most money for the Leukemia & Lymphoma Society, with the winner being presented with a trophy.
"It's a good way to raise more awareness and have more fun with the other tracks," Niehenke said. "Give the kids something to challenge them, to go race the other tracks."
While this year's series is aimed for BMX riders on the east side, Niehenke said the tracks hope to garner the eye of riders on the west side as well in the future.
"We're hoping in the future it draws enough attention to draw some of the west side riders over because we are going to have double points for our race and Spokane's," Niehenke said.
Points earned by riders go towards one's end-of-season standings, and double-point weekends are aimed to bring out riders to different events.
"Between the four races, it'll be 600 points available to the riders," Niehenke said. "We should be able to make it an 800-point weekend in the future, which will make it more appealing to the other riders to travel."
For those interested in competing in Friday's Race for Life in Moses Lake, registration will be available at Wednesday's gate practice at 6 p.m. or before Friday's race where registration opens at 6 p.m. Online registration is also available at https://bit.ly/3OUMZaL. To be able to compete, riders must have a helmet, wear long sleeves and long pants. Bikes are available to rent.
If you'd like to donate to Moses Lake BMX for the Race for Life, donations can be made at https://bit.ly/3OEz07G.
Ian Bivona may be reached at ibivona@columbiabasinherald.com.
Recent Headlines
---