"The hard work has paid off"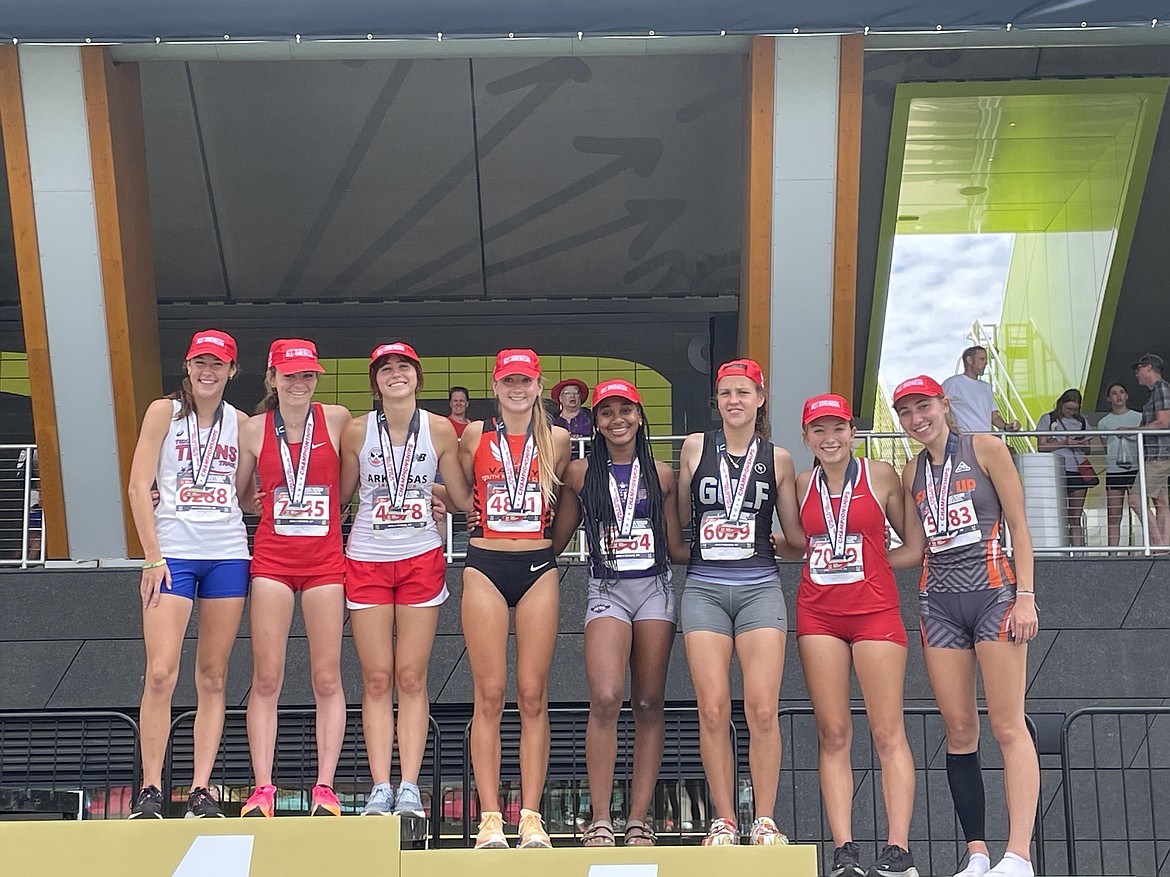 Moses Lake senior Paige Perkins, second to right, achieved All-American honors at the Junior Olympics in Eugene, Oregon.
CONTRIBUTED PHOTO/TY PERKINS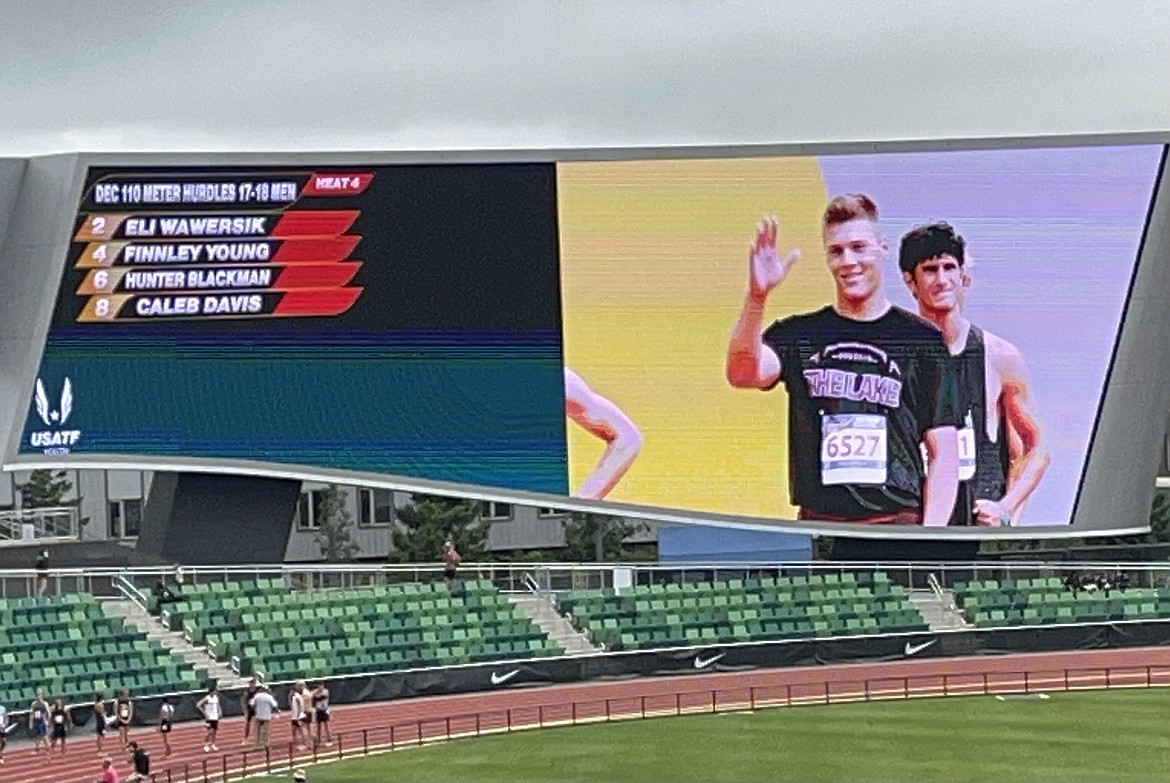 Moses Lake junior Hunter Blackman waves on the video board at the USA Track & Field National Junior Olympic Championships in Eugene, Oregon.
Previous
Next
by
IAN BIVONA
Sports Reporter
|
August 7, 2023 1:30 AM
EUGENE, Ore. – Two of Moses Lake's track and field athletes took their talents to Eugene, Oregon for the USA Track & Field National Junior Olympic Championships last week, with senior Paige Perkins and junior Hunter Blackman both having strong showings at the meet.
"Being able to go there and represent (Moses Lake) is pretty big," Perkins said. "Of course, we had Hunter (Blackman) there, and he did phenomenal for it being his first time and being younger in his age group. The honor of it is pretty big."
Perkins achieved All-American status in the 2,000-meter steeplechase after a seventh-place finish in the event. The senior also set a new personal best in the 1,500-meter run
"The hard work has paid off," Perkins said. "I really wasn't in my head this time, because sometimes I'm in my head worrying about everything – this time I went in and was like 'Whatever happens will happen. If something goes wrong there's always next time, so I really wasn't too worried."
For Blackman, this was only his second time competing in the decathlon. He set new personal bests in all the running events and finished 21st in the decathlon standings.
"I definitely learned when I need to focus on for next year," Blackman said.
Both Perkins and Blackman said the stress of competing at Junior Olympics was less than they originally anticipated
"Since this was an event that I haven't done as much as my other ones, I just didn't fully stress about it," Perkins said. "I just went in and the whole time my mind was clear. I wasn't worried about any ache, any pain – in my head, I was just like 'Keep these girls in front of you and keep the rest of the girls behind you."
Blackman said a positive relationship between himself and other athletes in the decathlon helped alleviate stress.
"It was a lot of fun, and it wasn't as stressful as I thought it would be," Blackman said. "It was cool because all the guys were really friendly, and we chatted it up. That helped a lot."
Competing at Junior Olympics will also provide a confidence boost heading into her senior season, Perkins said.
"It's definitely put me in a good spot, I'm more confident than I was last year because I've noticed the speed that I've built up and that I can keep moving forward with this," Perkins said. "It's definitely a change of mentality, I think it's given me a positive foot forward."
Though the Washington Interscholastic Activities Association doesn't offer the decathlon as an event, Blackman said he's looking to compete in a handful of the individual events when the track and field season rolls around in the spring. The junior competed at last year's 4A State Championships in the javelin throw.
"I'm definitely not a pole vaulter, but I think that'd be fun to just go and do that at a high school meet," Blackman said.
Ian Bivona may be reached at ibivona@columbiabasinherald.com.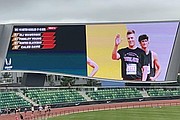 Recent Headlines
---