Eagles eye defense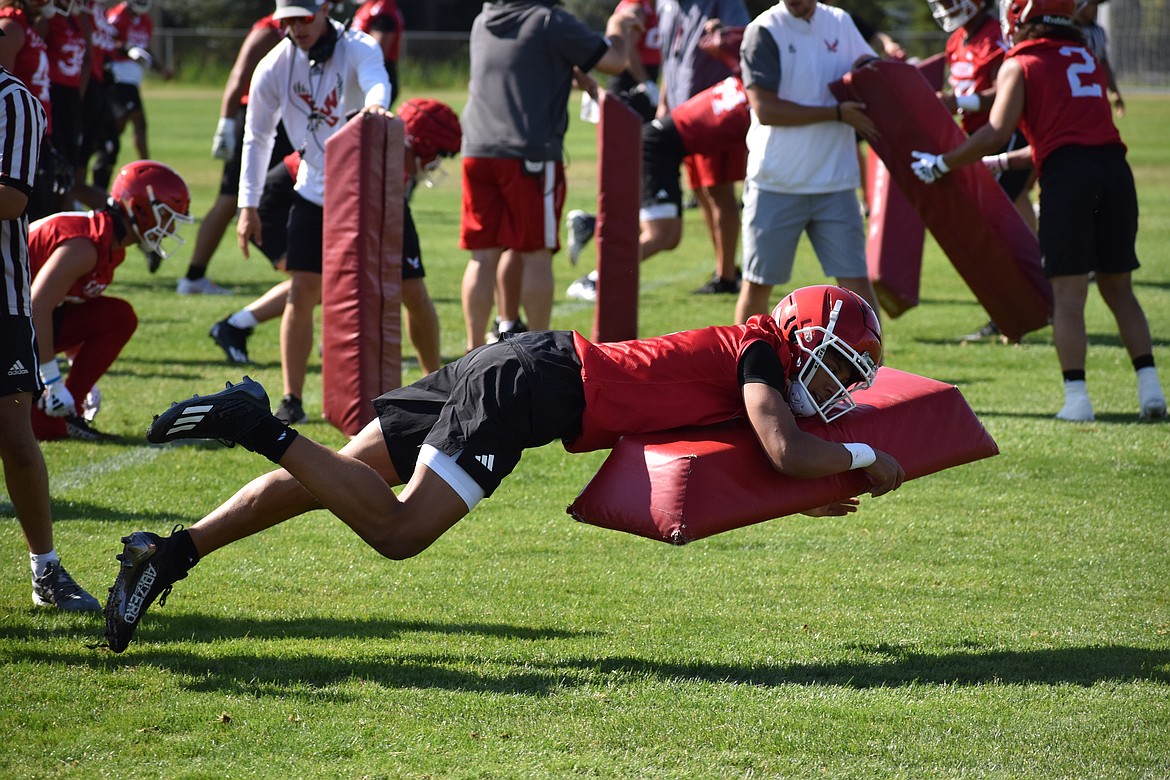 Eastern Washington cornerback Zion Jones dives during a tackling drill during Thursday's first practice of fall camp.
IAN BIVONA/COLUMBIA BASIN HERALD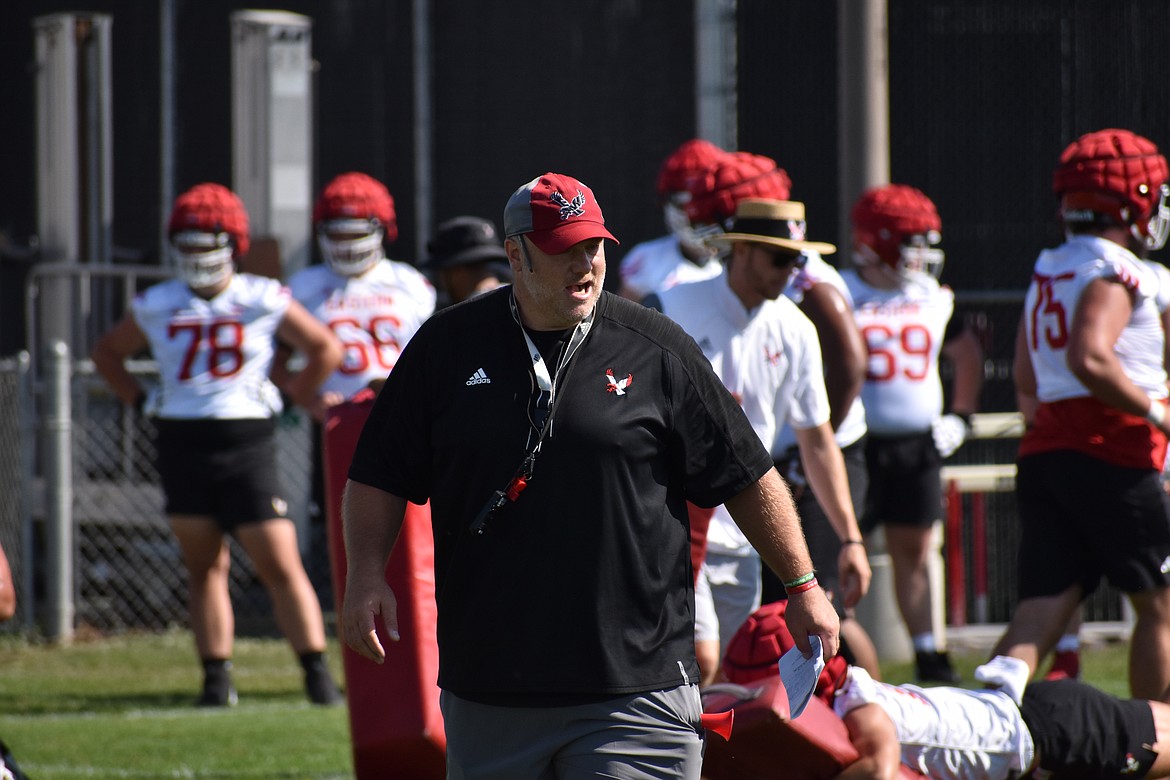 EWU Head Coach Aaron Best said that "close to" 90 of the team's 110 players were present over the summer.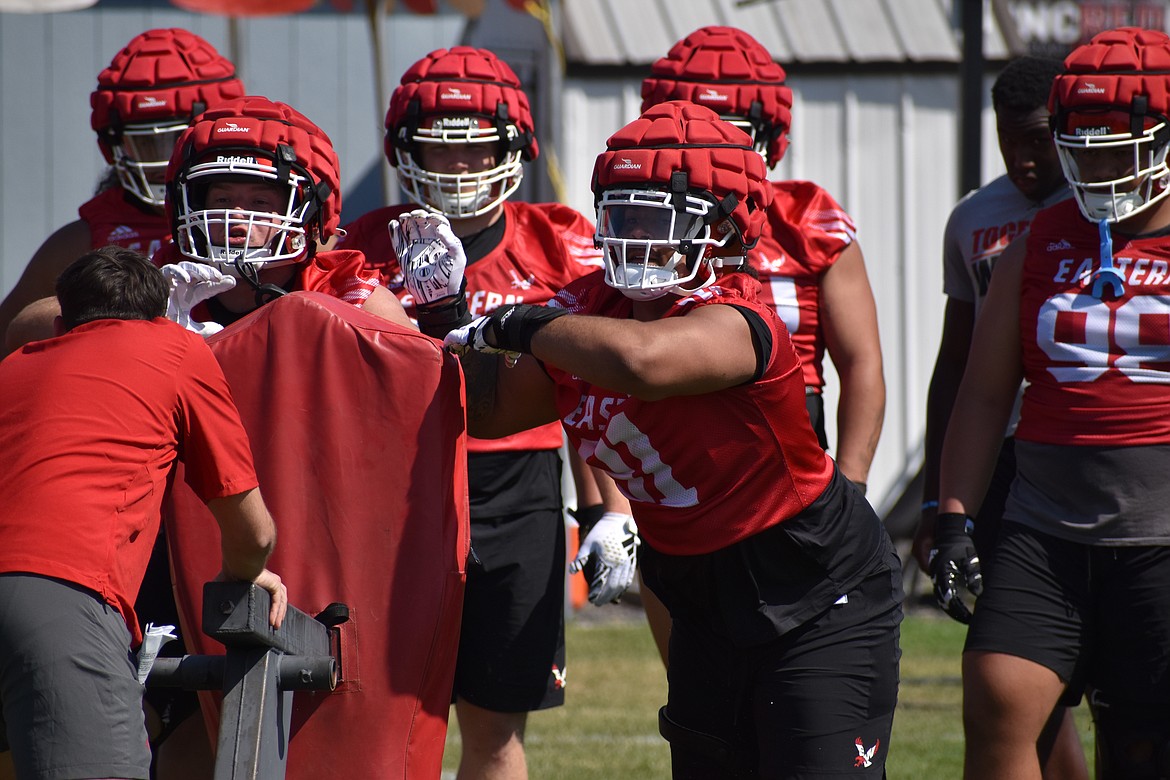 The Eastern defensive line unit works with a blocking sled at practice on Thursday.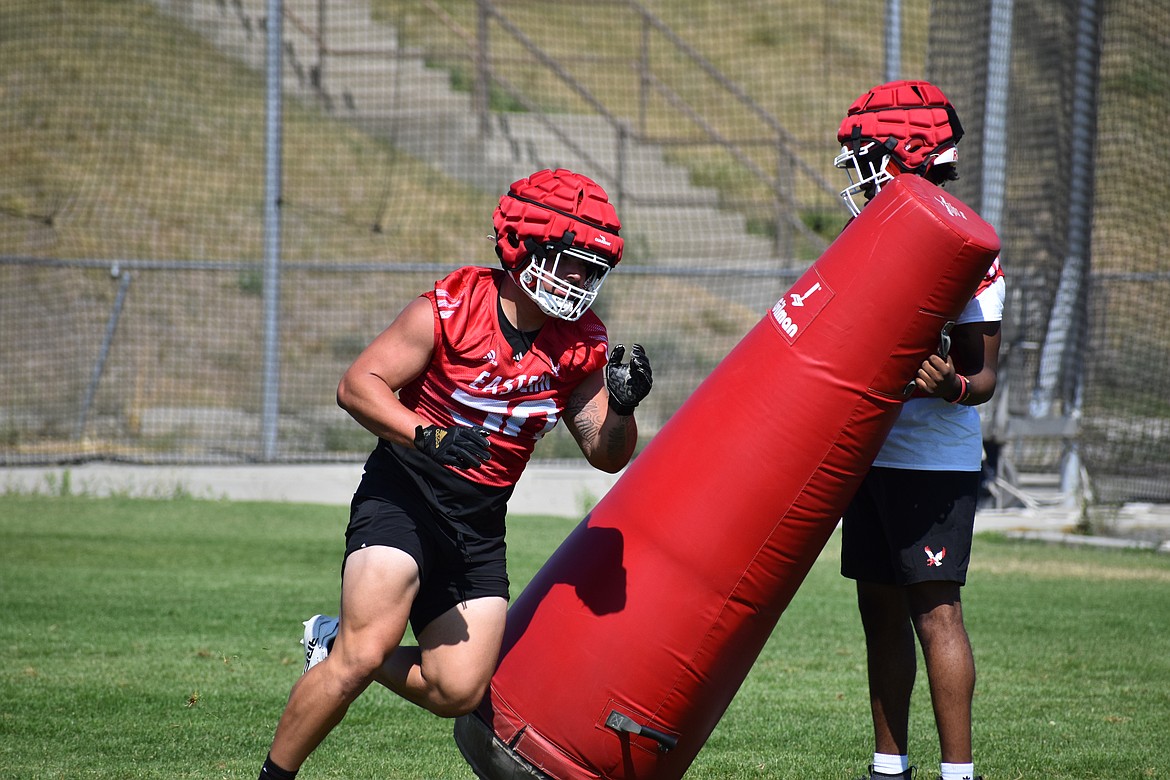 Eastern Washington defensive lineman Isaiah Perez pushes over a tackling dummy during a drill at Thursday's practice in Cheney.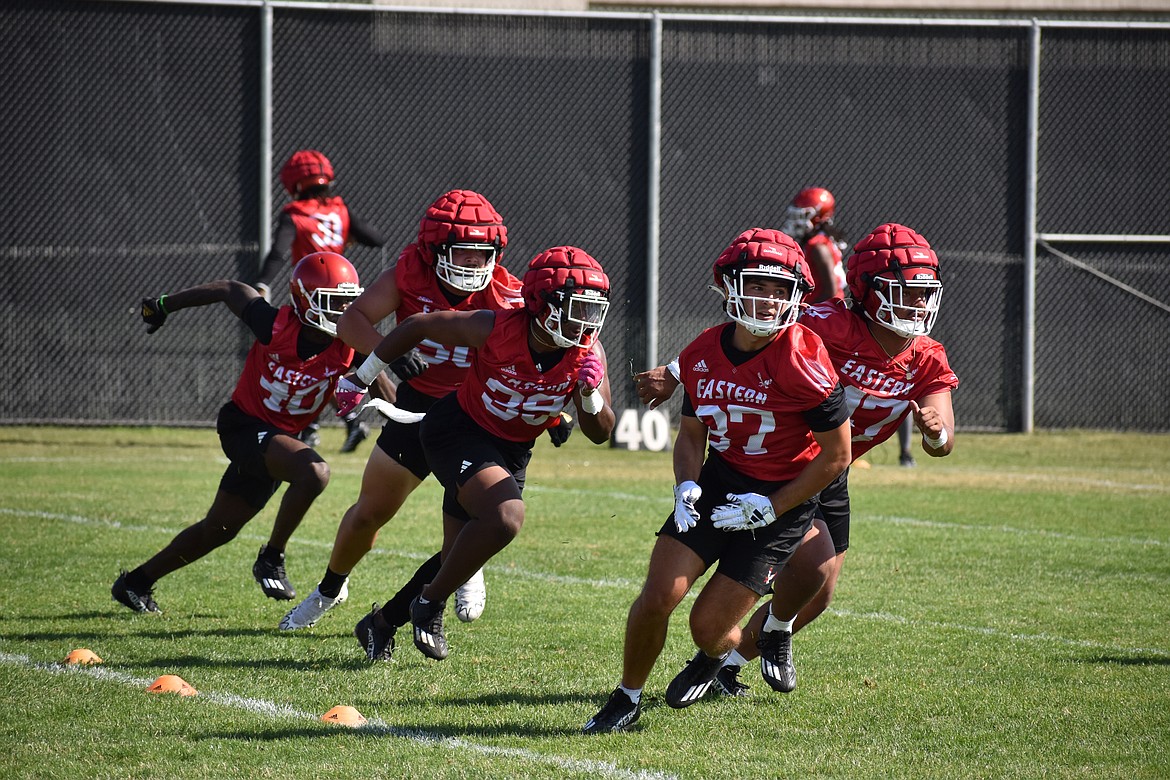 Eastern Washington defenders turn during a pursuit drill at Thursday's practice in Cheney.
Previous
Next
by
IAN BIVONA
Sports Reporter
|
August 3, 2023 4:14 PM
CHENEY – Coming off a 3-8 season, the Eastern Washington defensive unit has been the subject of a months-long focus among players since January, which players and coaches got to get a first look at on Thursday at the opening of fall camp.
"The energy's a lot different from last year," defensive end Brock Harrison said. "I can feel it, we've built something pretty special these past six months and we're not stopping now. It's going to be a day-by-day thing for us, but you can definitely feel there's more excitement in the air. Guys are ready to play and we're excited for the season."
Whether it was participating in player-ran practices, watching game film or spending time in the weight room, the work done by players on the Eagle defense is hoping to pay off when the season rolls around next month.
"I think it just comes down to preparation," linebacker Jaren Banks said. "A lot of guys are spending time in the weight room, studying film and doing their best to mentally prepare for (the season) so they can have that confidence not only for themselves but for the guys next to them."
Eastern's biggest struggle in 2022 was stopping the opposing rushing attack, allowing a Big Sky-high 2,352 yards over the team's eight conference games last year. Elder leadership among the team's defense has pointed out the problem, Banks said.
"We want to be a team that is respected in the Big Sky, respected in the country," Banks said. "That comes with days of preparation, but last year it was no secret that we weren't good in the run. Brock Harrison, one of our captains, Darrien Sampson, one of our corners, they really harped on 'We've got to be a run-first stopping team.'"
Harrison noted that the team's trust in one another on the field is a key aspect in stopping the run.
"We've just got to trust one another to fit the right gaps," Harrison said. "Last year at times, we lost trust in each other; kind of flying all over, running around like our head's cut off. This year, it's a lot more trust in one another that we're going to be able to do our job."
The Eastern linebacking corps added transfers in Ben Allen, formerly of Bucknell, and Adam Cohen, a transfer from UCLA. Along with fellow transfers in defensive lineman Mason Ahlemeyer, defensive lineman Isaiah Perez and safety Trevion Shadrick-Harris, the early weeks of fall camp will be an opportunity for incoming transfers to get familiar with returners.
"It was awesome to get Ben Allen and Adam Cohen in, those two key guys," Banks said. "(Allen), at Bucknell, was a team captain. Brings a lot of experience playing for Bucknell. (Cohen) having that Power Five experience; coming from UCLA, they're huge guys. We need all the help we can get there, and we're going to take what they have with them and keep going."
Head coach Aaron Best said that "close to" 90 of the 110 rostered players were in Cheney over the summer.
"You could win the off-season and lose a bunch of games, you could lose the off-season and win a bunch of games," Best said. "But, it gives us a chance – or more chances at success – because of the stuff they've done from January until now."
Eastern opens its 2023 season in Minneapolis, Minnesota against North Dakota State at U.S. Bank Stadium. Kickoff is at 12:30 p.m.
"It's a storied program, you can't argue that," Best said. "We had a down year, and that may be the best thing for us when it's all said and done. You don't win because you've won, and we've got to get that through to ourselves. It takes a lot of hard work, it takes a little luck, it takes opportunity, it takes preparation, it takes guys not being injured – there's a lot of variables to what goes in on Saturdays."
Ian Bivona may be reached at ibivona@columbiabasinherald.com.
Recent Headlines
---