WJGA state tournament comes to Moses Lake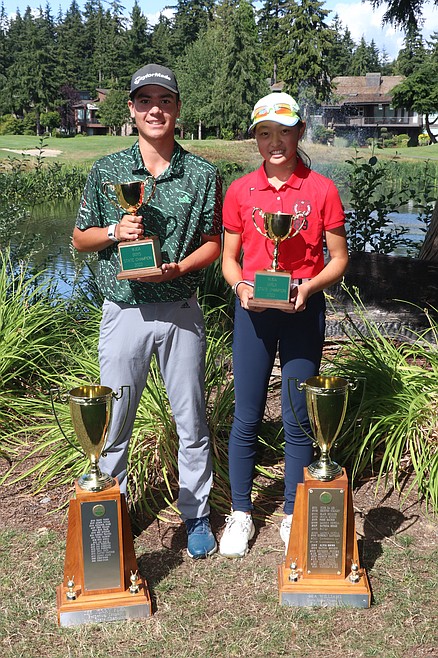 The Washington Junior Golf Association State Championship comes to Moses Lake on Tuesday, bringing in more than 250 golfers to three courses in the area.
CONTRIBUTED PHOTO/TYLER JOHNSEN
by
IAN BIVONA
Sports Reporter
|
August 2, 2023 4:59 PM
MOSES LAKE – More than 250 youth golfers will be in attendance for the 47th Annual Washington Junior Golf Association State Championship in Moses Lake next week, with golfers ages 8-18 competing in eight different divisions over a three-day span.
"We're very excited," WJGA Executive Director Tyler Johnsen said. "It's our culminating event of the season, and this is actually the first time we've ever been in Moses Lake."
Host sites for the state championship are determined by district, with every district hosting a state championship every six years. Moses Lake is in District 4, which also includes Yakima, Tri-Cities and northeastern Oregon. The last state championship tournament host site in District 4 was the Meadow Springs Country Club in Richland.
"It was District 4's turn in the rotation to host, and I looked back at the history when I was looking for who to contact," Johnsen said. "I noticed that we'd never been to Moses Lake, and I know that they've hosted several high-end amateur tournaments."
The trail to qualify for next week's state championship begins with sub-district competition, where golfers play in single-day tournaments early in the summer.
"The meat of our season is June, July and August," Johnsen said. "When the kids get out of school, each of those six districts has four one-day tournaments that are called sub-district tournaments. Those events are trying to qualify for their district championship."
From sub-districts, golfers advance into district tournaments, with each of the six districts across the state holding their own tournament to determine who advances to state. Each district has a different amount of state allocations, Johnsen said.
"Basically, 31 tournaments in a span of 60 days or so," Johnsen said.
The state championship is split between three golf courses in Moses Lake and Soap Lake; the main host site is the Moses Lake Golf Club, and The Links at Moses Pointe and Lakeview Golf and Country Club will assist in hosting. Golfers will take to the course at each of the three courses on the first two days of the tournament, with the final day being hosted at the Moses Lake Golf Club.
"I knew (the Moses Lake Golf Club) was a high-quality golf course with really fast greens and a great staff," Johnsen said. "I reached out to (Director of Golf at Moses Lake Golf Club) Mike Eslick, and he got back to me right away."
Five Basin golfers made the cut for state competition; Mason Bradford, Jayme Dwight, Seve Molitor, Travis Murdock and Quinten Whittall. Tee times for the tournament begin at 7 a.m. on Tuesday, with the state championship running through Thursday.
There are eight different divisions in play at the state championship; boys and girls divisions for ages 8-11, 12-13, 14-15 and 16-18. Though the Moses Lake Golf Club will carry the bulk of hosting the tournament, The Links at Moses Pointe will assist in holding the boys and girls 14-15 and 16-18 age divisions and Lakeview Golf and Country Club will assist in hosting the boys and girls 8-11 and 12-13 age divisions.
Ian Bivona may be reached at ibivona@columbiabasinherald.com.
Recent Headlines
---