Moses Lake Wrestling Club prepares athletes for future success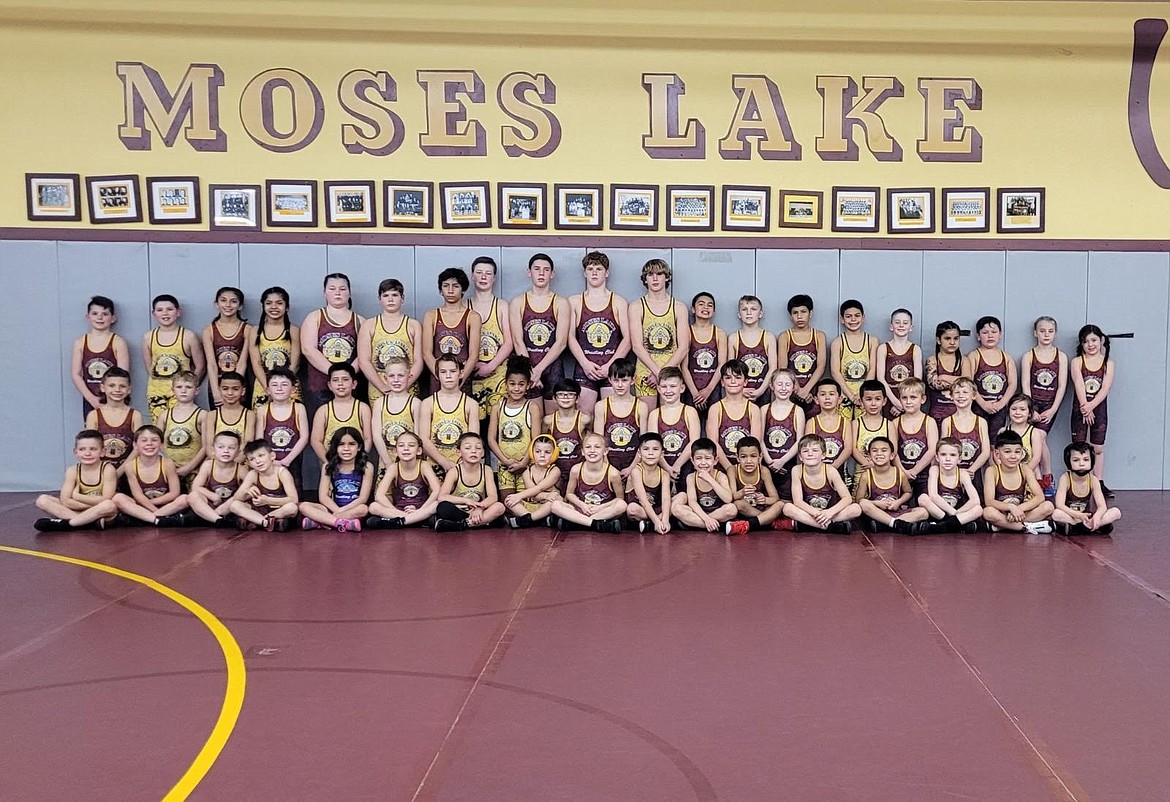 The Moses Lake Wrestling Club helps prepare youth wrestlers for once they reach the middle and high school ranks, coach Jaime Garza said.
CONTRIBUTED PHOTO/JAIME GARZA
by
IAN BIVONA
Sports Reporter
|
August 2, 2023 1:30 AM
MOSES LAKE — Many sports have youth organizations that help prepare young athletes for future competitions. Whether it's soccer, football, basketball or swimming — wrestling is no different.
"If you start playing seven-on-seven at a young age, or AAU basketball, eventually that is going to transition, hopefully, into a successful high school student-athlete," said Jaime Garza, a coach with the Moses Lake Wrestling Club. "That's what we're trying to do."
The group helps get youth wrestlers ready for the mat when they reach middle and high school competitions.
The club, which Garza said has been around since the early 1970s, taps into the family connection that wrestling tends to have. Many wrestlers begin because an older family competed, which wrestlers can see in the wrestling room at Moses Lake High School.
"Many of our practices are held at our local high school gym, which is really nice because a lot of those athletes in the program, they get to look up and say 'Hey, that's my dad's name,' or 'That's my uncle's name,'" Garza said. "There's a connection there, which makes that experience really unique for the child and the parent."
Numerous current and former Moses Lake wrestlers have gone through the program, helping to build the tradition on the mat that Moses Lake has. That tradition has shown its success both in the past and now.
"It's fair to say that our club has allowed our high school programs to have quite a bit of success," Garza said. "We recently saw it with the (girls) program, and some of those wrestlers that were on that state title team, at some point were also involved in the Moses Lake Wrestling Club as well. It's been a long-running feeder program into our middle and high schools."
Garza said that while the club gives wrestlers the opportunity to wrestle at several competitions throughout the course of the season, there's "no pressure" to compete in all of them. Wrestlers can learn both from tournaments and from the "wealth of knowledge" the club's coaching staff possesses; a past career on the mat at several levels of collegiate wrestling.
Wrestlers typically get started when they're around 5 years old according to Garza, and start small. Eventually, they'll move on to local tournaments between the ages of 6 to 10, and begin traveling to bigger tournaments afterward.
"By the time they're 10 years old, let's start competing at some higher-level tournaments where the stakes are a little higher or the venue is a little bit different," Garza said. "When they get to that state tournament in high school, that haven't been starstruck."
The club's season typically begins around the middle of September with the folkstyle season, which ends in February. From then on, wrestlers can choose to continue to compete in either folkstyle or freestyle tournaments which run through July.
"We want to prepare these kids for high school, that's the ultimate goal," Garza said. "Both middle school and high school, because that's when you get to ride your first bus and be with your team — the experience is different. What we've seen over time is those kids that come through the club system tend to be pretty successful when it comes to high school."
Last year there was a total of 107 boys and girls that were in the Moses Lake Wrestling Club, with the high numbers allowing wrestlers to compete against one another in different ways.
"That's huge, because wrestling – you can't do it by yourself, you need partners," Garza said. "You can't just have one partner, you need to have three or four partners that are around the same age. 107 kids, it was fun to see that. Consistently, we'd have about 60-80 kids in that wrestling room and it's going to start showing here."
Those interested in registering for the Moses Lake Wrestling Club can do so by contacting the club at 507-438-3441 or via email at mlwrestlingclub@gmail.com. More information can be found on the club's Facebook page, located at https://bit.ly/452nee0.
Recent Headlines
---