Mavs athletes sign college letters of intent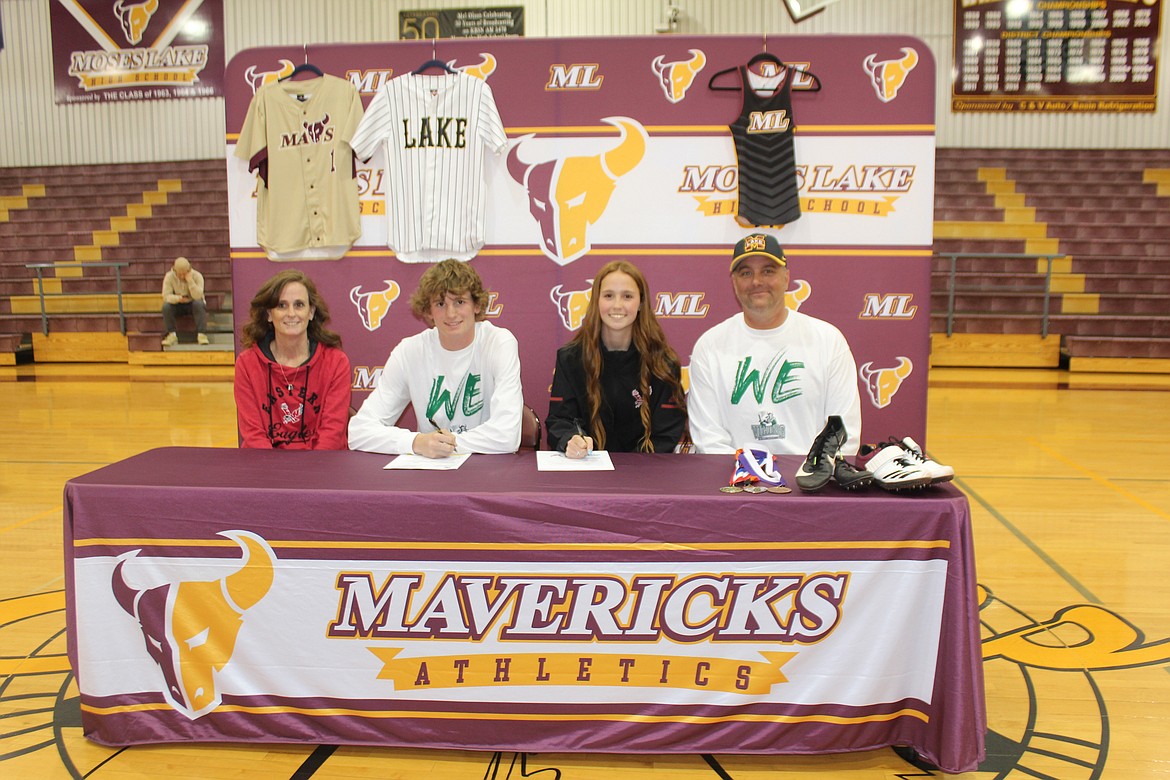 Moses Lake High School athletes Blaine Macdonald, second from left and Sydney Macdonald, second from right, signed letters of intent to play college athletics Wednesday. They are pictured with their parents Teresa Macdonald, left, and Eric Macdonald, right.
CHERYL SCHWEIZER/COLUMBIA BASIN HERALD
by
CHERYL SCHWEIZER
Staff Writer
|
April 19, 2023 6:14 PM
MOSES LAKE — Moses Lake High School senior Sydney Macdonald will be running track for Eastern Washington University next year, and her twin brother Blaine will be playing baseball for Big Bend Community College. The Macdonalds signed letters of intent for their respective colleges Wednesday.
"I'll be doing the heptathlon," Sydney Macdonald said.
The heptathlon comprises seven running and field events, sprints like the 100 meters and a longer distance like the 800 meters, and field events like the high jump and shot put.
"I like all the girls there and the coaches," Sydney Macdonald said. "And it's close to home."
Blaine Macdonald said familiarity with the team and the coaches also played a role in his decision.
"Great coaches, and I know a couple guys that go there," he said.
Their mom Teresa Macdonald said the time spent at practices and ballgames has been worth it.
"They've been playing for years, doing sports for years, and it's really kind of cool. All the running around, all the things we take them to. And they've always been dedicated to their sports," she said.
"They're going on to do what they want, and they both have goals," she said.
Sydney Macdonald said she plans to study kinesiology, looking toward a career in physical therapy. Blaine Macdonald said he wants to see if he can continue his baseball career after community college.
"And trying to figure out what I'm doing after that," he said. "I haven't really figured out that yet,"
Cheryl Schweizer may be reached at cschweizer@columbiabasinherald.com.
Recent Headlines
---