Regal save: New committee steps up to save Royal City Summerfest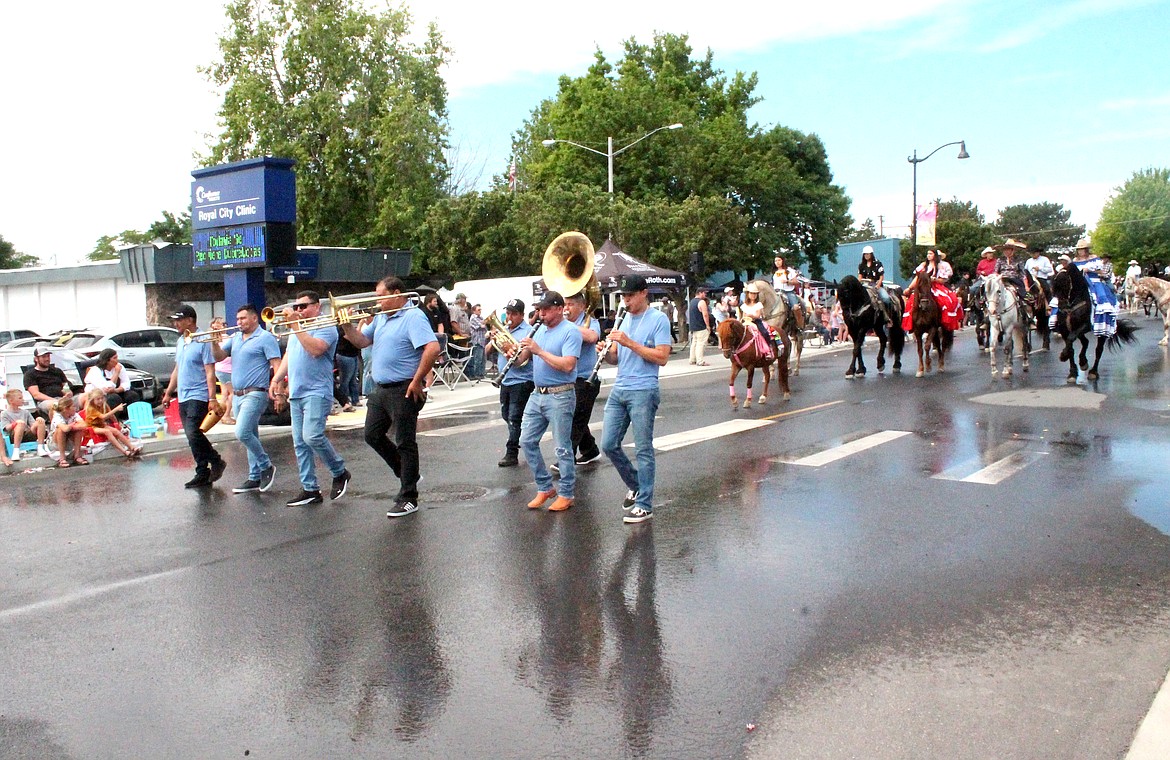 The 2022 Royal City Summerfest parade makes its way down Camelia Street. Plans for the festival hit some snags earlier in the year, but it's back on thanks to some dedicated community members.
FILE PHOTO
by
JOEL MARTIN
Staff Writer
|
April 12, 2023 1:30 AM
ROYAL CITY — Yes, there will be a Summerfest.
Back in December, the Royal City Summerfest committee put out a request on social media for new committee members because all of the existing members, who had shouldered the burden for years, were stepping down for a variety of reasons. By March, it was beginning to look as though the event would be history. Now, with a new committee chaired by Jonathan Cox of Royal City, the town's biggest community event will take place on schedule, July 7-8.
"I think we as a community were kind of waiting for someone, to see who was going to step up," Cox said. "I used to be the president of the chamber of commerce in Othello, and had been in charge of their Fourth of July celebration for many years, so I kind of knew what I was getting myself into. And I thought, if we can get a committee together and get enough people involved, I think we can make it happen."
With that, nine other community members stepped up to help make the Summerfest a reality. There will be some changes to the program, Cox said, as the committee looks over what they feel worked in years past and what could be done differently.
"What we found is different groups in the community look forward to different parts of the event," Cox said. "Previously, what would happen is we'd have a barbecue Friday night and have people at the park and things like that. What we decided to do this year, we're going to do the car show Friday night, and do that in the park, and we're also going to try to get vendors in the park Friday night."
Along with the car show will be a slow drag, Cox said, and of course, the traditional fireworks.
"Then Saturday, we'll start with the parade," he said. "And then we'll continue to have vendors at the park Saturday during the day. We'll have a couple of other fun things in the park – we're trying to look at what kind of entertainment we can bring in – and then we'll culminate with a live band Saturday. So the general structure should be the same. We're trying not to change too much."
Which band it will be is still undetermined, Cox added, because the band that the committee had originally tried to get was unavailable.
Also happening Saturday afternoon will be a ping pong ball drop, Cox said. A local pilot will fly over and drop colored ping pong balls into the park, which kids can pick up for prizes.
"We're still ironing out a lot of the details because we're kind of late to the game here," Cox said. "We have not sent out our solicitation for donors or solicitations for vendors yet. We're hopeful that we can get that done this week. We're looking for supporters who can make financial and in-kind contributions to the event and also we're expanding our vendor reach, going to a two-day event. We want to try to get some good vendors in the park for Friday and Saturday."
"The Royal City community has always been very generous with their financial contributions," he added. "Summerfest has never been underfunded; there's always been great people to help fund the event. And the previous committee has done a great job. They've been great stewards of the funds that they've received."
Besides donations, Cox said, volunteers are still needed to run various aspects of the event. There are a lot of little things that go into Summerfest, he said, and somebody needs to do them. The committee is also interested in suggestions from the community for vendors and bands, he added.
"I found that there were a lot of people willing to help," he said. "Everybody was willing to help, but no one was really able to take the whole thing on ... We've had a great response from the community, from people saying, 'Hey, you know what, I can't help with everything. But I can help with this one thing."
Joel Martin can be reached via email at jmartin@columbiabasinherald.com.
2023 Royal City Summerfest Committee:
• Jonathan Cox, chair
• Cindy Carter
• Marianna Zamora
• Jill Larsen
• Tia Allred
• Ashley Perkins
• Amy Davies
• Paul Davies
• Sarah Allred
• Kylie Eilers
Recent Headlines
---