Othello's Little Guy program wrestles well at state tournament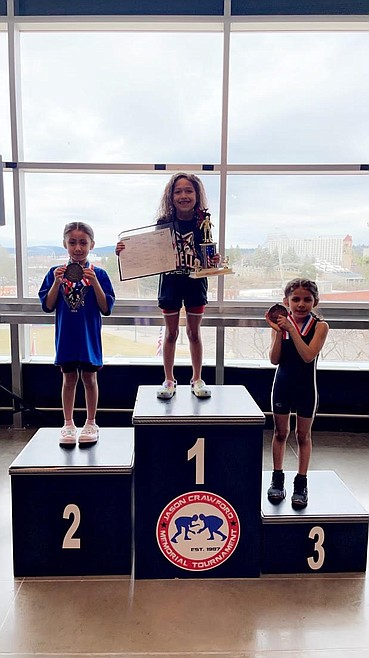 Isabella Mendez, center, smiles atop the podium after capturing a first-place finish at the Jason Crawford Memorial Tournament in Spokane last week.
CONTRIBUTED PHOTO/ABRAHAM GONZALEZ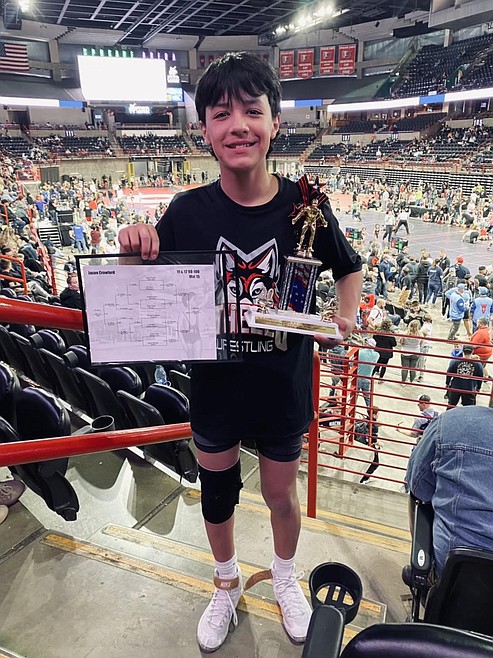 Xavier Mendez smiles with his first-place trophy after leaving the Jason Crawford Memorial Tournament with a title in the boys age 11 and 12 98-100-pound division.
Previous
Next
by
IAN BIVONA
Sports Reporter
|
April 11, 2023 4:48 PM
SPOKANE — Thirty-two Othello youth wrestlers competed at the Jason Crawford Memorial Wrestling tournament in Spokane over the weekend, with many bringing home placements and successful experiences from the tournament.
Fourteen Othello wrestlers competed in the finals, with eight bringing home titles. Overall, 23 wrestlers brought home medals
"They did really well, everyone seems to be really happy with their performance," said Abraham Gonzalez, head coach of the Othello Little Guy wrestling program. "All the kids seemed to really enjoy the experience. It was pretty cool being on such a big stage compared to when I was there and it was a lot smaller venue."
Along with giving children the chance to get acclimated to the lifestyle of wrestling at a young age, competing in a venue like the Spokane Arena can inspire wrestlers to one day make it to heights such as the Mat Classic in Tacoma for high school wrestlers.
"Once they get to middle school, high school age, I'm sure they'll realize that that was just a taste of what they can accomplish," Gonzalez said. "It also helps that they're going to be seeing a lot of the same kids that they'll see in high school. I'm sure they'll have their own healthy rivalries and tough matches to look forward to once they're older."
With numerous mats laid across the floor of the Spokane Arena, the environment isn't too far off from what a wrestler would experience at the Mat Classic.
"The way that they are handling it now is it's just coaches and wrestlers on the competition floor," Gonzalez said. "With it being such a big stage, everything is so loud and kind of hectic. The kids really have to be looking for their age group and their weight class, getting ready and warming up on their own. Learning how to focus up and trusting their preparation."
Gonzalez credited all who helped Othello through its season, noting that it took a community effort to help the wrestlers be successful.
"Othello, being such a close-knit town and a town with a history of successful ex-wrestlers, they're super helpful and they go all in with the team," Gonzalez said. "Seeing as how the kids did this year, a lot of parents are really excited."
Rudy Ochoa II, the head coach of Othello's high school boys wrestling team, said how important youth wrestling is to developing a successful high school program.
"I'm really excited with our youth," he said. "A lot of the high school success is because of our strong youth program that we have and that we have had in the past. We definitely recognize that as a wrestling community, because you need that strong foundation and we've been blessed to have that in years past and has definitely continued now with (Gonzalez)."
Gonzalez wrestled under Ochoa when he was a member of the Huskies.
"I'm super excited for (Gonzalez) to have this opportunity to share his wisdom and knowledge with our youth," Ochoa said.
This was Gonzalez's first season as head coach of the Little Guy program. He also coached Othello's middle school team this winter.
"It was my first year heading the program, so it was definitely an experience," Gonzalez said. "Wasn't sure what to expect, was just hoping our kids had a nice experience. They really surprised us. They did really well. We had a lot of new kids, and they seemed to really absorb everything really well."
Jason Crawford placings:
Boys age 5 and 6
Caius Valdez, first place (55-56)
Tristyn Garza, second place (37-38)
Three Perez, third place (44-45)
Aiden Gomez, fourth place (33-37 pounds)
Micah Sanchez, fourth place (37-38)
Lincoln DeLaRosa, fourth place (42-43)
Hunter Bise, fourth place (52-53)
Girls age 5 and 6
Isabel Mendez, first place (40-44)
Boys age 7 and 8
Ellis Morelos, first place (54-56)
Airyan Guzman, second place (49)
Brian Bise, second place (55-56)
Oliver Mendez, third place (57)
Girls age 7 and 8
Izabella DeLeon, first place (56-59)
Jewelz Perez, fourth place (52-56)
Boys age 9 and 10
Alexander DeLeon, first place (59-62)
Zaidyn Flores, first place (65-66)
Alek Guzman, second place (60-63)
Boys age 11 and 12
Xavier Mendez, first place (98-100)
Brayden DeLeon, first place (100-105)
Jose Gallardo, second place (130-134)
Manuel Gallegos, third place (112-116)
Boys age 13 and 14
Gael Hernandez, second place (131-135)
Wilson Pineda, fourth place (174-185)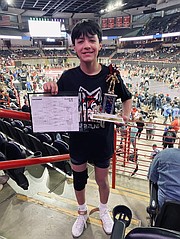 Recent Headlines
---