Creating a new culture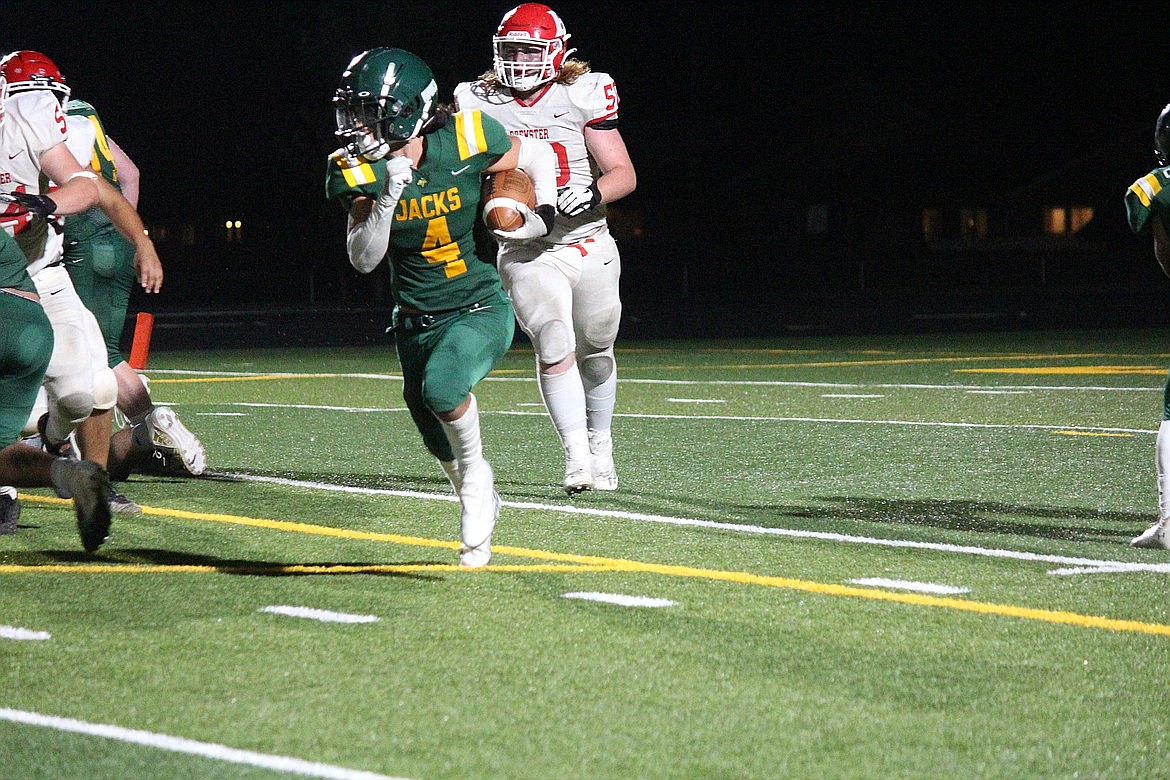 Quincy running back Jackson Yeates carries the ball past Brewster defenders during the Jackrabbits' 34-6 win over the Bears last Friday.
File photo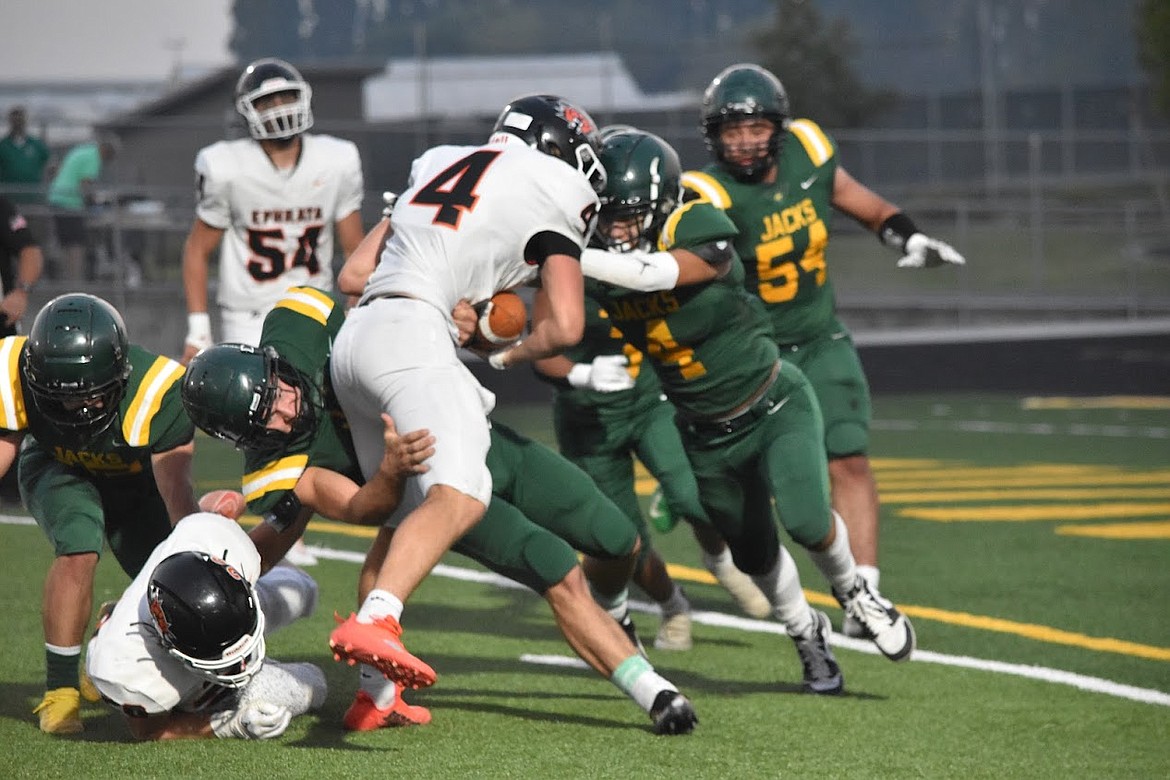 A group of Quincy defenders work to force a tackle during Quincy's game against Ephrata on Sept. 9.
Quincy head coach Russ Elliott breaks down the team during the end of a practice during training camp. Elliott said that there is an importance in running efficient practices to prepare for games.
Previous
Next
by
IAN BIVONA
Sports Reporter
|
September 29, 2022 2:02 PM
QUINCY — Quincy head coach Russ Elliott, who is in his first year at the helm, said one of his goals this season was to change the mentality of the program.
A year after going winless in 2021, the Quincy Jackrabbits evened their record at 2-2 with a 34-6 win over Brewster last Friday.
"It's (been going) good," Elliott said. "Kids are working hard, coaches are working hard. The good part is we got some payoff – we won a couple games, which is unusual for us and a good feeling for the kids."
The season began with back-to-back losses to East Valley (Yakima) and Ephrata, with both games seeing Quincy being shut out and allowing 20-plus points.
"It was pretty slow," senior Kenny Thompson said of the start to the season. "Right now I think we're just building one step at a time, getting better."
During a Sept. 16 matchup against Tonasket, the Jacks stormed to a 34-14 win over Tonasket for their first win in two years.
"I think since the start of the season they've implemented a lot of new stuff – new plays, everything's completely new," Thompson said. "We're just learning, laying the foundation to what they're gonna do in the future."
Quincy followed up the win over Tonasket with a 34-6 victory over Brewster last Friday at home, where the Bears didn't get on the board until late in the fourth quarter.
"Our coaching really helped us," senior David Medina said of the two wins. "They had everybody where they should be, and helped everybody stay focused."
With the back-to-back wins, Elliott's plan of changing the program into that of a "winning mentality" has begun.
"I think the kids are starting to believe that they can play with people now," he said. "So, we just got take that into the game."
Elliott credited the leadership of upperclassmen in assisting with the turnaround, setting the example for younger players
"It doesn't happen overnight, but we've got good senior leadership and kids are starting to get it," Elliott said. "They want it, they want to do well."
While winning is nice, the Quincy coaching staff sees that there are more improvements to be made, both for this season and in the future.
"We just want to keep improving, that's one of our team rules," Elliott said. "We want to be early, we want to protect the team and pick the team up, and the last thing we do is improve every day – individually and as a team, just getting better and better."
It's not just players that can improve as the season continues on, as Elliott gains more comfort as head coach with each game.
"I think I've learned about myself that I've got to be more confident, more secure in what we're doing and the guys we have and where they're going," Elliott said of his adjustment to the position. "Just let it grow, and to not be so impatient."
The Jacks enter league play tonight, traveling to Leavenworth for a matchup with the 4-0 Cascade Kodiaks. Kickoff is at 7 p.m.
"We're excited for this weekend because we've got (Caribou Trail League) play, and Cascade is putting up a lot of big numbers on offense," Elliott said. "They're tough and aggressive on defense, so we'll see what we can do this week."
Elliott's winning mindset has started to reach the Quincy players, especially the seniors.
"We're just getting started," Medina said.
Ian Bivona can be reached via email at ibivona@columbiabasinherald.com.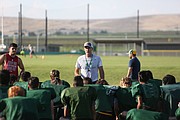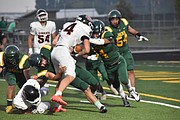 Recent Headlines
---