Everything fabric focus of new Moses Lake shop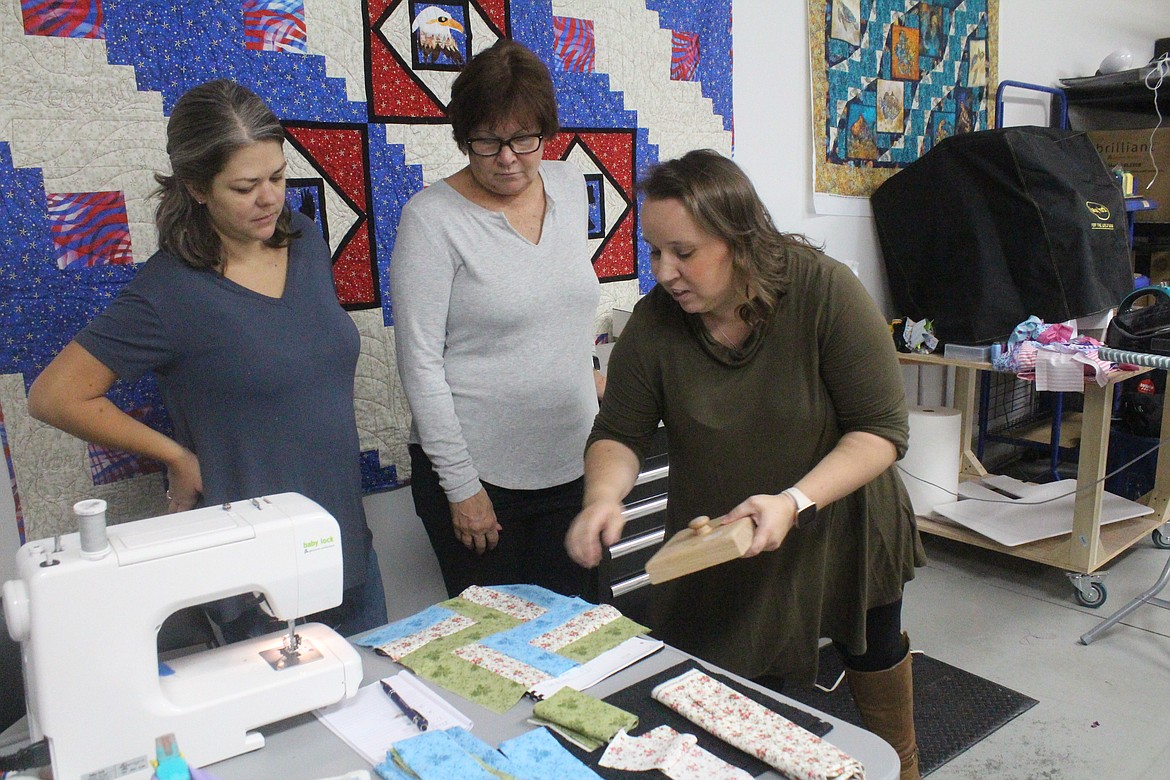 Owner Sophie Mattson (right) demonstrates a technique for students Jade Whittle (left) and Nancy Whittle (center) during a class at Stitch N Time, Mattson's Moses Lake shop.
Cheryl Schweizer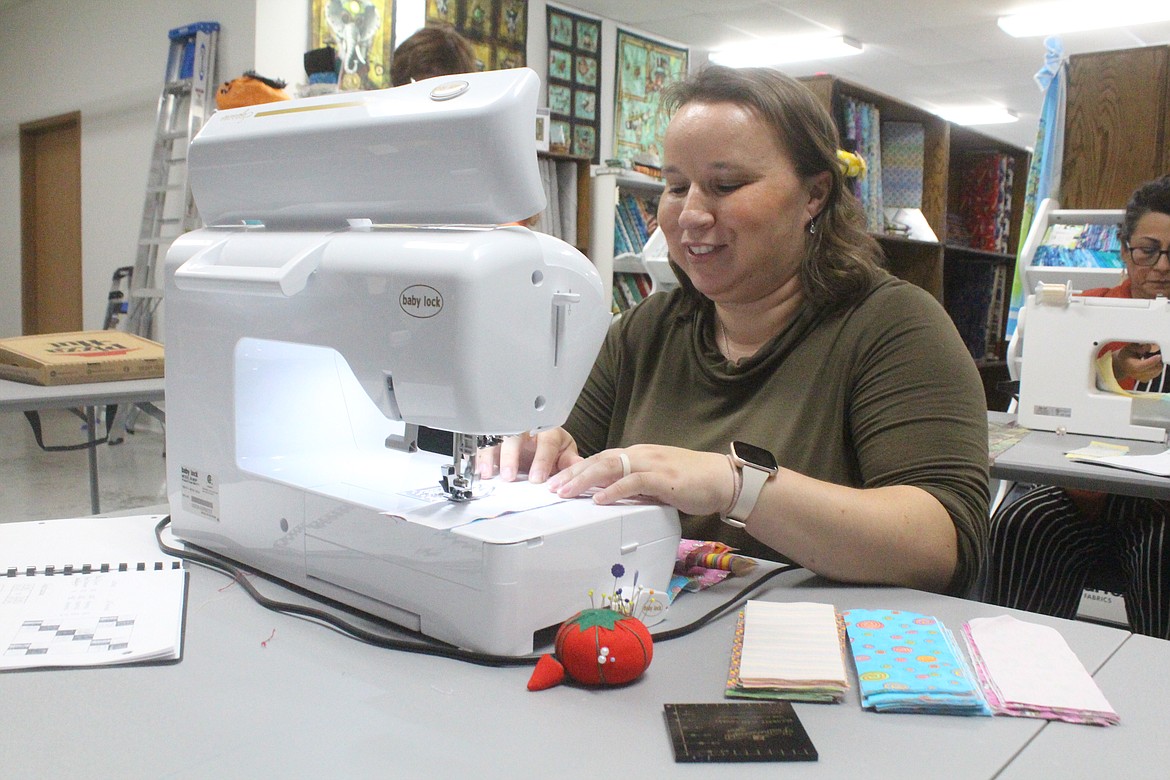 Stitch N Time owner Sophie Mattson works on a project during a class at her shop in Moses Lake.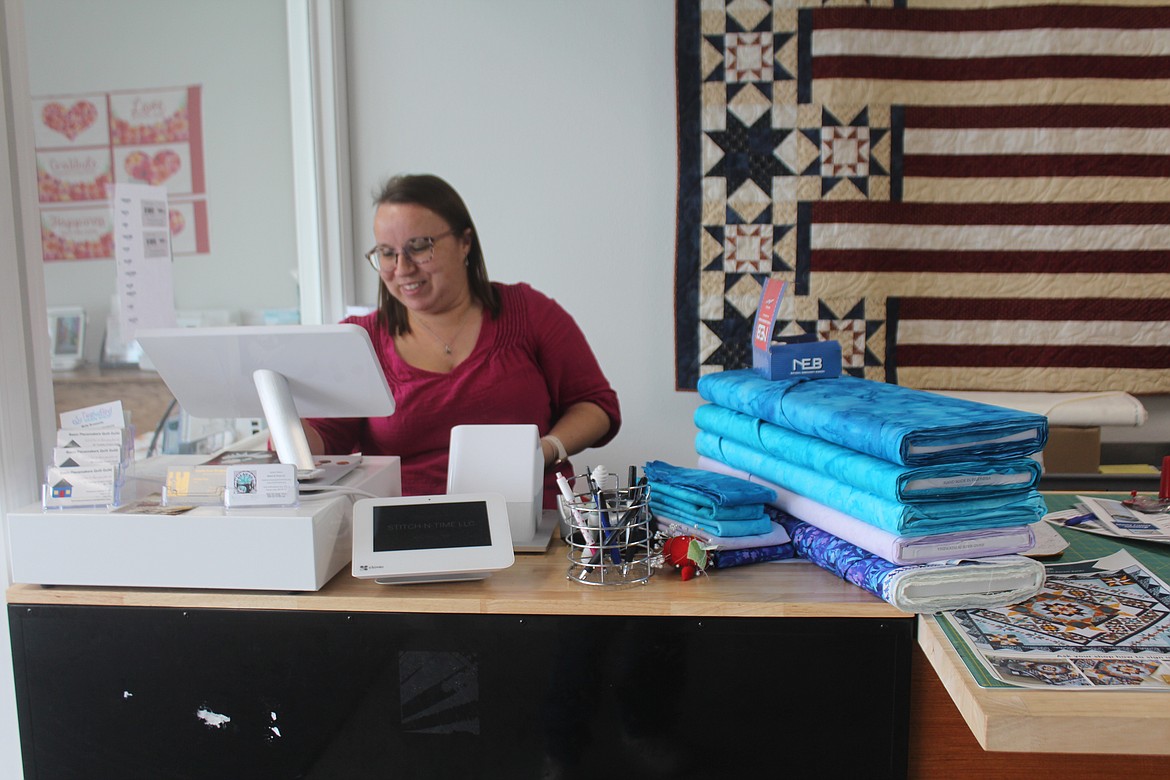 Surrounded by fabric, Stitch N Time owner Sophie Mattson rings up a sale.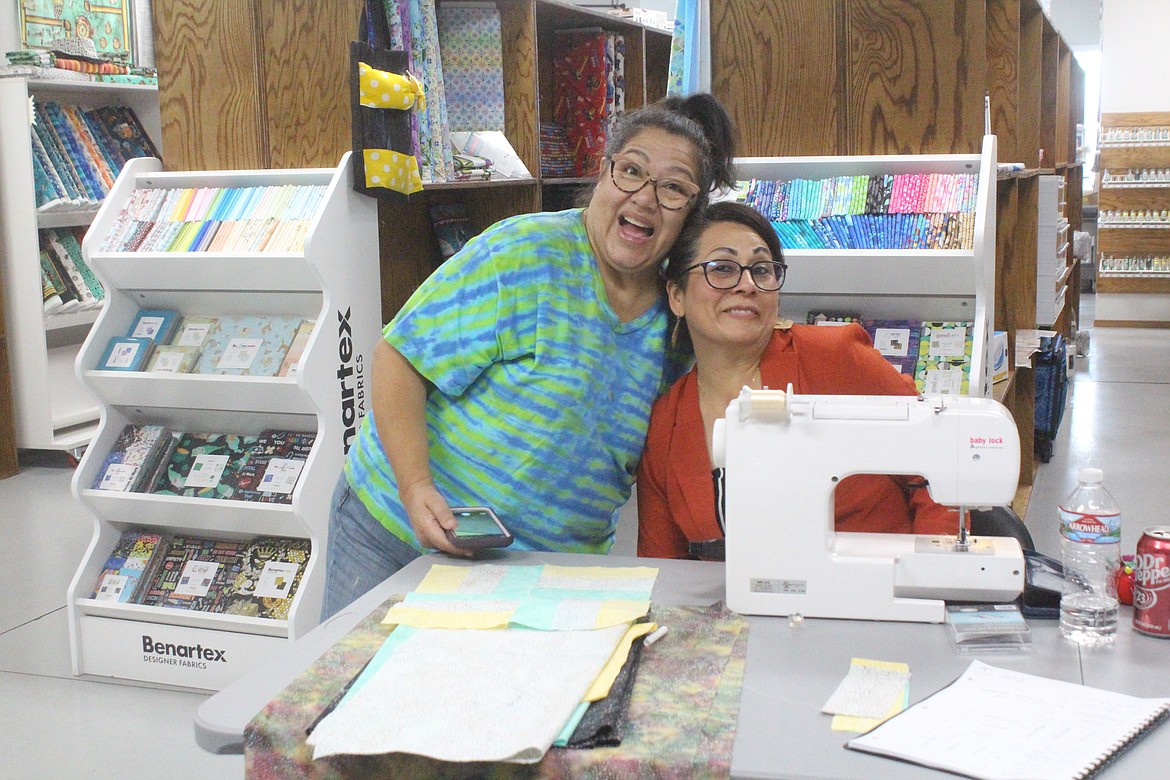 Beginning quilter Rita Reyna (left) and Stitch N Time employee Alma Saucedo (right) during a class at the shop Thursday.
Previous
Next
by
CHERYL SCHWEIZER
Staff Writer
|
September 27, 2022 1:50 AM
MOSES LAKE — If there is a needle and thread and material - doesn't matter much what kind - involved, Sophie Mattson is pretty sure she can take it from there.
"I've done a boat cover repair, I've done a golf cart cover repair," she said Wednesday. "I did a chair repair today. And (the owner) was super stoked about that too."
"If it can be done on one of my machines, I'll figure it out," she said.
Mattson and her husband Andrew are co-owners, with business partner Dave Johns, of Stitch N Time, 1626 W. Broadway Ave., Suite A, in Moses Lake. The shop opened July 1.
Mattson said she's still building her inventory, and for now the shop features a lot of quilting material; she also offers quilting classes. While quilting will always be a focus, Mattson already does more than quilting, and she said she plans to do a lot more.
Mattson has the equipment for custom quilting, for people who like making quilts but don't like putting them together, or don't have the equipment.
"I have a 10-needle machine (for custom embroidery). And we also do alterations and repairs," she said. "And we do custom quilts. So if somebody were to walk in off the streets and want a custom quilt made, we can do that for them too."
The quilts she makes and displays in the shop are for sale also.
Andrew Mattson is a sewing machine repairman, something he fits in with his day job.
"When he went to school we did antique (sewing machines) all the way to moderns, including mulit-needles and longarms," Sophie Mattson said. "And then he got some (introduction) to commercial machines."
Sophie Mattson still has another job too, the fabric-custom quilting-embroidery-quilt-alterations and repairs-classes store having been an unexpected opportunity.
"I made quilts for my business partner's grandkids, and he liked them, and said 'Let's start a business,'" she said.
She didn't take it seriously at first.
"Like everybody who has money drop in their lap, I (said), 'Yeah, sure, whatever.' And my husband came home from work and said, 'Dave's mad at you. He was serious.' And here we are."
Her other job involves her previous career in product and manufacturing analysis.
"I was part of the masses that lost my job with COVID, was not working for a year, a year and a half, but I was still looking for jobs," she said.
Her resume caught the eye of a company that makes superconductors for the U.S. Navy.
"I've got a lot of training in manufacturing and auditing processes," she said. "They needed somebody to audit their quality processes and do quality control.
"I had all the training and the know-how to make the process work. They just had to teach me about the superconductors," Mattson said.
She's got considerable experience sewing, too.
"I've been sewing for 30 years," she said. "Probably quilting for 20."
Stitch N Time may be starting with quilts and quilting material, but Mattson doesn't intend to stop there. The store has lots of sewing supplies, and she plans to add fabric for other uses besides quilting.
"That's going to be a slow buildup, whenever I have to order something from this or that distributor," she said. "There will be other stuff, slowly coming in."
She plans a wide array of classes for holiday projects, and she's started a - well, it's hard to say what "Quilt Till You Wilt" really is.
"You can bring in your sewing machine and set it up, and you are not allowed to leave the store. The second you leave the store, you're wilted," she said. "So it's basically all day. The last one lasted 13 and a half hours."
The last sewer put away her machine at 9:30 p.m., having been one of the first in the door at 8 a.m., Mattson said.
"Some of my ladies are competitive," she said.
She has some plans for the future.
"Never in a million years did I think I was going to do a store," she said. "And my goal is to make it a destination."
She also wants to open an online store and get an offsite space to offer multi-day classes. Mattson said she thinks there's enough business to support multiple shops, especially when people know there are two or three in close proximity.
"If we can make this successful where we're at, I'd really love to have an expansion in a couple of years," she said. "I think (employee Alma Saucedo) already tells Dave he needs to build a bigger store."
Cheryl Schweizer can be reached via email at education@columbiabasinherald.com.
Stitch N Time
1626 West Broadway Ave., Suite A
9 a.m. to 6 p.m. Monday through Saturday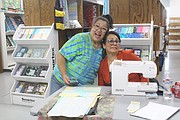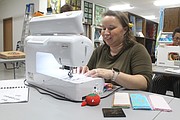 Recent Headlines
---