Grant Co. candidates face off in Mattawa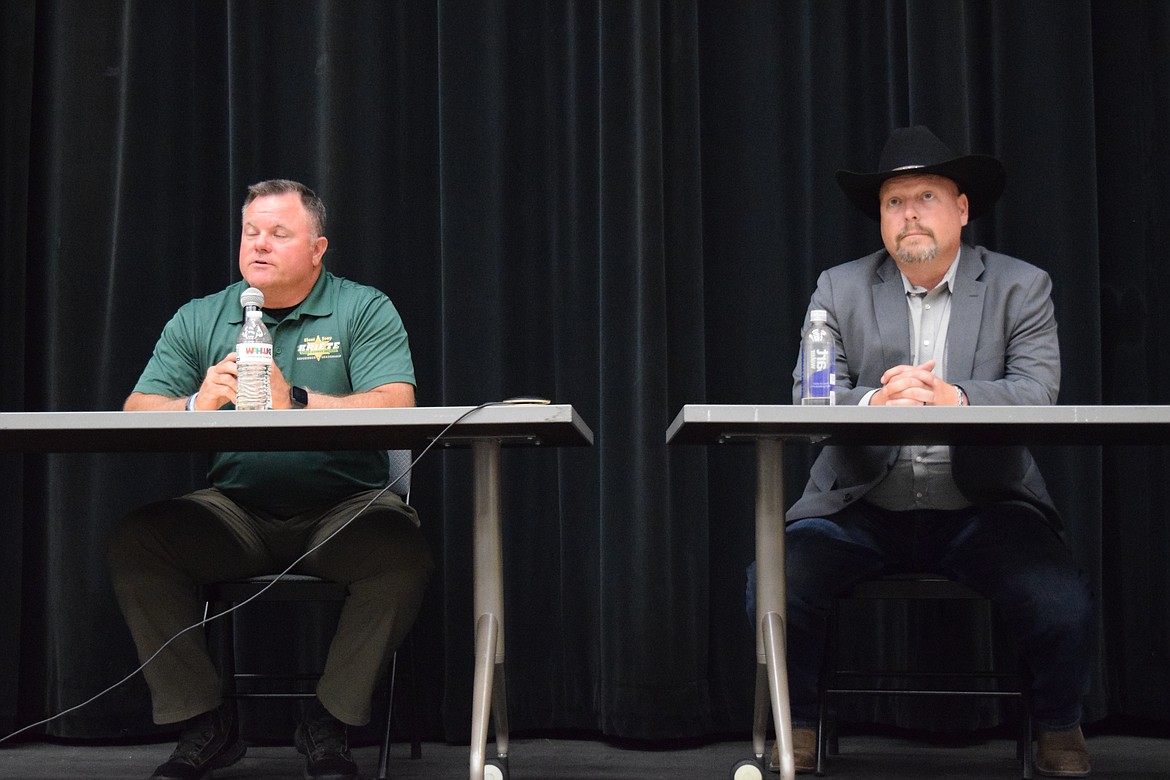 Grant County Sheriff Candidates Joey Kriete and Joe Harris answer questions during their race's segment of the Thursday evening forum. Both have extensive careers in law enforcement.
REBECCA PETTINGILL/COLUMBIA BASIN HERALD
by
JOEL MARTIN
Staff Writer
|
September 26, 2022 1:25 AM
MATTAWA — The democratic process was on display Thursday evening, as candidates for countywide office faced off at Wahluke High School Thursday evening.
The candidates forum, sponsored by the South Grant County Chamber of Commerce, Wahluke School District and the Wahluke Community Coalition and moderated by Columbia Basin Herald Managing Editor Rob Miller, included candidates for the office of Grant County clerk, sheriff and commissioner, as well as for Grant County Superior Court judge.
Candidates were given a few minutes to introduce themselves, and then asked a set of pre-selected questions.
Joe Harris and Joey Kriete, candidates for Grant County Sheriff, both discussed their long careers in law enforcement. Kriete has been with the Sheriff's Office for 30 years, he said, both on patrol and running the Corrections Division. Harris has been in law enforcement for 20 years, he said, at the city, county and state levels, including serving as Mattawa chief of police.
Both candidates agreed that response times needed to be improved. The trouble is, they said, Grant County is a very large area to patrol and respond to.
"If you're in the Ephrata or Moses Lake area, you might see a deputy in under 30 minutes, where down in this area, or up north in the Hartline or Coulee City area, it might be an hour and a half to two hours for the same call," Harris said. "My plan after I get elected is, we're going to open up a precinct in George, and we're going to open a precinct in Coulee City. The county sheriff's office already has agreements with those two cities. The agreements are different. But because it's a public partnership, it doesn't cost you, the taxpayer, any money. … So instead of responding from Ephrata to Mattawa, which takes an hour, now they're responding from George, which takes 25 or 30 minutes. You're not gonna get that five-minute response time. But we can cut it in half, almost immediately. "
Kriete said the Sheriff's Office is currently working to get two crews of eight in order to have at least two people in each of three areas of the county. He also suggested making more efficient use of the existing manpower.
"Right now our deputies have what's called a training exchange day that they get every month. That's 12 extra days off a month ... I would rather take that time and pay them the overtime for the mandatory training we are required by the state to get. That puts deputies on the road 12 more times a year as a whole, where we're not giving them more days off to where they have annual leave, trading exchange days, comp leave, sick leave."
Both candidates felt that recent laws were making it harder for law enforcement to do its job.
Kriete told a story about a situation when officers wanted to speak with a minor, but owing to recent legislation were required to wait for a lawyer.
"(If we'd been allowed to speak with him) we as law enforcement would have found out that the juvenile was actually the victim of a crime. About three days later, after this call came in before they can establish he was actually the victim of a crime instead of a suspect, the juvenile committed suicide … Just because we may have a situation that just deals with a juvenile doesn't mean it's always a criminal element," Kriete said.
Harris raised a couple of other restrictions placed on law enforcement.
"It doesn't make any sense to me that the cops are allowed to chase bad guys. That one needs to change. I think another law that needs more attention is the current possession law when it comes to drugs. The State Supreme Court a few years ago decided that it wasn't illegal to possess drugs anymore, and that had a ripple effect across law enforcement," Harris said.
Harris added that more locally-elected officials need to spend more time in Olympia working to lobby for changes statutory changes.
Another race in contention is the Grant County Commission District 3 seat, which includes most of western and southern Grant County. Incumbent Cindy Carter is facing challenger Jeff Foster. Foster cited 46 years of serving on community boards and organizations, as well as experience in commercial banking and real estate. Carter pointed out her 15 and a half years representing her district, and that she lives in southern Grant County and is familiar with the issues facing the area.
Both candidates had something to say about the issues of homelessness and the housing shortage in the county.
Foster said he felt the two issues weren't directly related, and those facing homelessness are divided into three categories, those needing a hand up, those with mental health concerns and a criminal element.
"We can't just throw money at the homeless crisis and build them huts or build them facilities without getting to the root cause. Our shortage of housing really doesn't have a direct relationship to homelessness. One of the reasons we're short of housing is it's very difficult to do business with Grant County. The planning process takes too long. We're not prepared in our planning department to deal with the speed of growth that's coming to Grant County," Foster said.
Carter had a different take.
"We need to address that we've received with ARPA funding close to $20 million dollars that are going into our county for homelessness," Carter said. "The problem is that we cannot get it to the people who need it. It is going through the Housing Authority, we have some that will go through New Hope, that will go through the city of Moses Lake. So getting the money to the people that need it."
Carter said the current process for getting aid dollars to those in need is too complex, and that the cost of housing is difficult for many area families who are close to losing housing.
"We also have families that are one paycheck away from being homeless, they can't afford that first and last month's rent, they can't afford the damage deposit on the homes," she said.
The candidates expressed different priorities when it came to allocating the county budget.
"I was raised that you took care of your home payment or your rent, you took care of your food needs, you took care of your utility needs and your essentials," Foster said. "Then you take care of social problems."
Foster said that, if elected, he will prioritize law enforcement and the justice system in the county to protect residents and their rights. Then he would ensure the planning department was properly funded so that it can ensure funding goes to the county properly.
"Because planning is the money-generating machine of the county. Every time there's a new house permit granted and a house is built, it then goes on the tax rolls, then we can get more tax money. I can't tell you today, because I'm not sitting on those budget discussions, what (budget items) need to be reduced. But we've got to take care of the essentials before we can take care of the social programs."
Carter broke down the current budget and explained some limitations on how funds are spent.
"We have about a $200 million budget," Carter said. "Forty-eight, $50 million of that is current expense. That's the everyday things that happen in the courthouse. Eighty-some percent of that funds our sheriff, our jail, our judges, our clerk's office - everything in the judicial system and the law. That is pretty much 83% of our budget. So what's left, we can fund the commissioners, building, planning, the auditor's office.
Carter said she would like to see the state fund the public defenders' office because legal cases are the state against the defendant, not the county. With a $2-$3 million price tag, that would give the county more flexibility in its budgeting.
Also appearing was incumbent Grant County Superior Court Judge Anna Gigliotti, who was appointed last year to fill the seat of Judge David Estudillo, who in turn had been appointed to a federal court. Gigliotti's opponent, Melissa Chlarson, was unable to attend. Sixteen-year incumbent County Clerk Kimberly Allen also made an appearance, as did her opponent, Marla Roduner, who had served in the clerk's office from 2006 to 2018.
The full forum may be viewed on the Columbia Basin Herald's Facebook page. A sample ballot may be found on the county's website at https://www.grantcountywa.gov/270/Elections/.
Joel Martin can be reached via email at jmartin@columbiabasinherald.com.
Recent Headlines
---