Late touchdown seals Knights' fate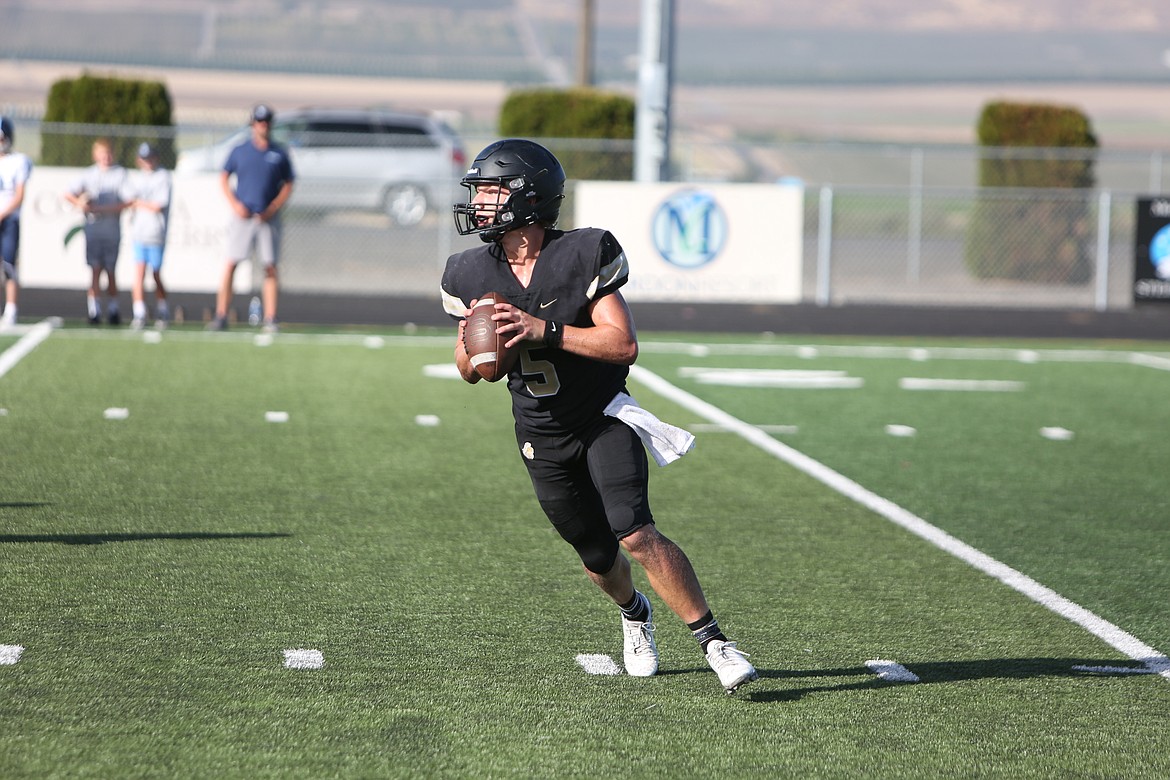 Royal senior quarterback Dylan Allred rolls out to his left to attempt a pass during the Knight's 21-14 loss to Lynden-Christen.
Ian Bivona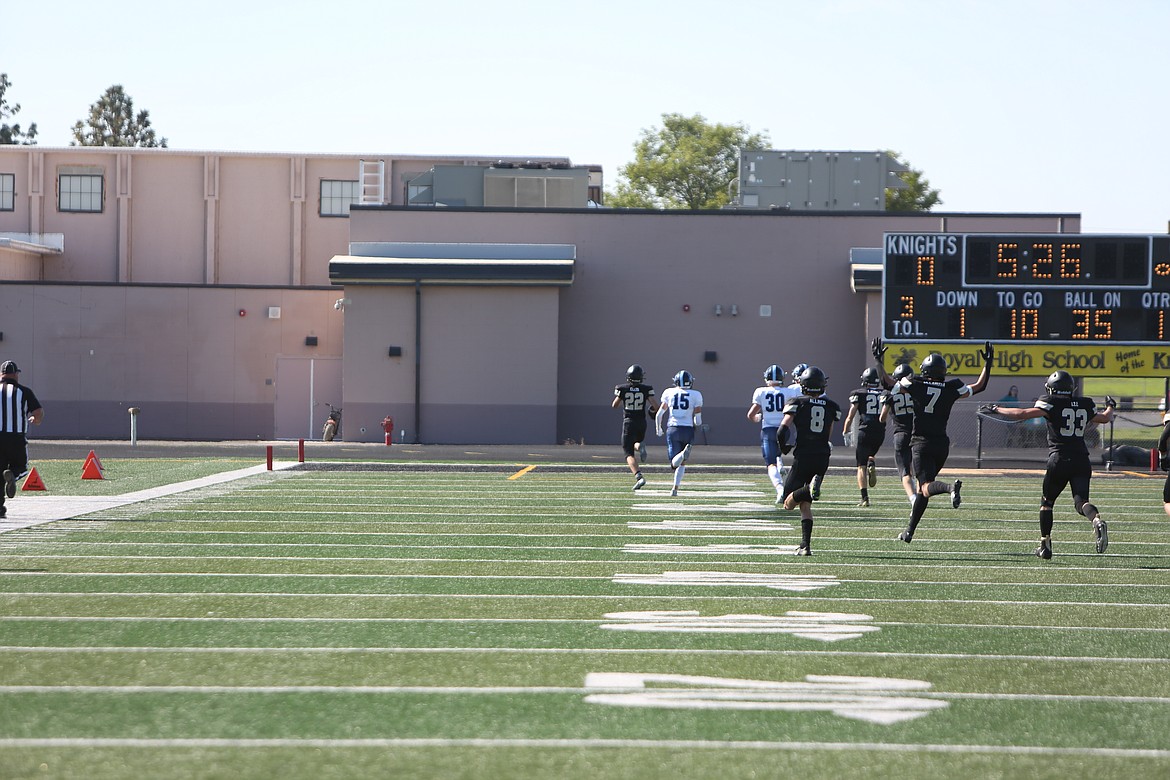 Royal's Ethan Ellis (22) runs back a kickoff for a touchdown while teammates celebrate.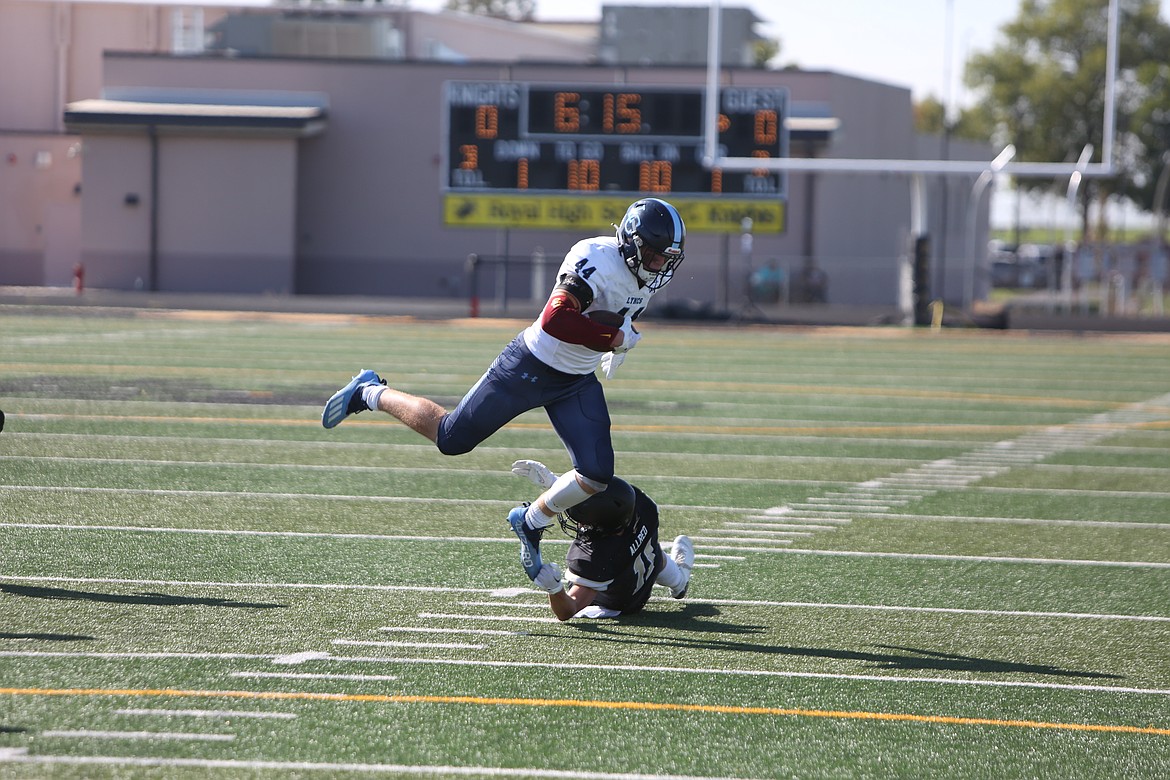 Defensive back Lance Allred reaches to tackle Lynden-Christian running back Kade Eldridge during the first half on Saturday.
Previous
Next
by
IAN BIVONA
Sports Reporter
|
September 25, 2022 2:27 PM
ROYAL CITY – After a two-yard rushing score by Lynden-Christian, the Royal Knights received the ball with 14 seconds left in the fourth quarter, down 21-14 to the Lyncs at home.
With a screen pass to receiver Edgar Delarosa only getting the Knights past midfield, the clock ran out and Royal's 36-game win streak was snapped.
"It's more like a championship game today with two really good football teams," Royal head coach Wiley Allred said. "Nothing was easy."
The power-running style of Lynden-Christian running back Kade Eldridge allowed the Lyncs to drive down the field on their first offensive drive, where quarterback Jeremiah Wright scampered in for a three-yard score. On the ensuing kickoff, Royal's Ethan Ellis returned the kick for a touchdown to tie the game at seven.
"It was great, it was awesome," Allred said of the kickoff return for a touchdown. "I think we've got that type of team, we can pop a quick one in a hurry."
Lynden Christian added another score on a five-yard touchdown to take a 14-7 lead into halftime.
"We're here to improve, we got kids that are getting more experienced all the time," Allred said. "We're figuring out better rotations. Our first four games have been tough, and we just got to protect the football better."
To begin the second half, Royal defensive back Case Christensen picked off a pass, and the Knights tied the game on a nine-yard touchdown reception by receiver Lance Allred. It would be Royal's final score of the game, as the Knights were plagued by three second half turnovers.
"Got a couple fumbles going the wrong way," Allred said. "Balls bounce funny, that's the way it goes."
The Knights were able to slow down the Lync's rushing attack in the second half, forcing a fumble and stopping Lynden-Christian on a fourth down attempt.
"Take those big kids low, sometimes we did and sometimes we didn't," Allred said. "Especially in the second half, I think we did a much better job. Just a cleaner game (in the second half.)"
On the final offensive drive of the game, Lynden-Christen's Wright ran into the end zone from two yards out for his third touchdown of the game.
"I thought we did a pretty darn good job in the second half," Allred said of slowing down the Lynden-Christian ground game. "I know they got the last drive, they got in when they needed to."
Royal drops to 3-1 on the year with the loss, with an opportunity to bounce back Friday at home against Wahluke. Kickoff is at 7 p.m. in Royal City.
Ian Bivona may be reached at ibivona@columbiabasinherald.com.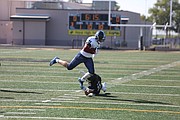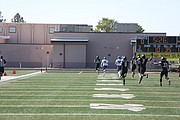 Recent Headlines
---