MLHS Class of '62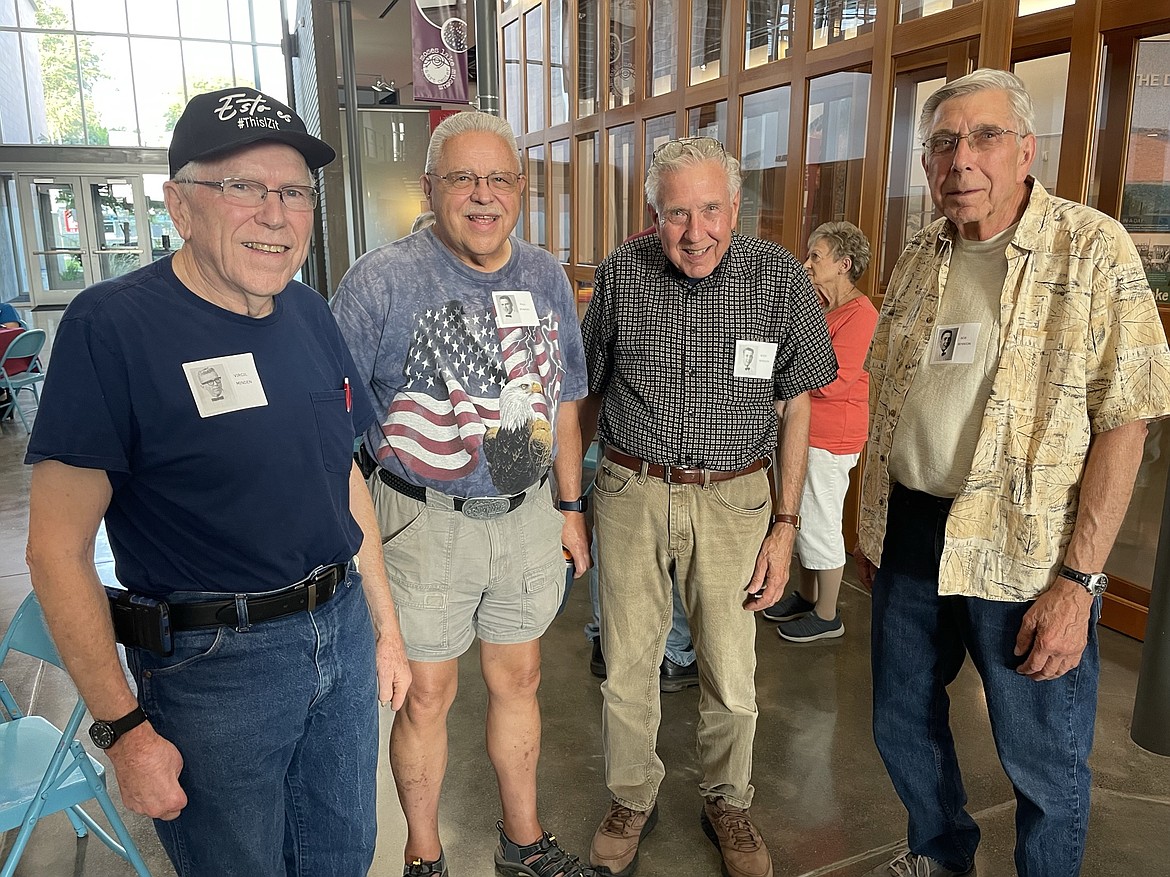 Moses Lake High School Class of 1962 alumni Virgil Minden, Paul Powers, and twin brothers Budd Bennion and Bob Bennion in the Moses Lake Civil Center last Wednesday, Sept. 14 for the first of two days of celebrations to mark their 60th Class Reunion.
CHARLES H. FEATHERSTONE/COLUMBIA BASIN HERALD
by
CHARLES H. FEATHERSTONE
Staff Writer
|
September 23, 2022 1:20 AM
MOSES LAKE — They came from all over to share memories and see old friends.
"We call ourselves the Spirits of '62 because we are very spirited," said Marilynn Hansen, a member of the Moses Lake High School Class of 1962 and one of the organizers of the class's 60th reunion gathering last week. "We've had a reunion every five years since our 30th."
Wednesday, Sept. 14, found them gathering in the Moses Lake Civic Center — a building designed by Seattle-based architectural firm Miller Hull, whose founding partner Robert Hull grew up in Moses Lake and graduated from MLHS in 1963 — to swap stories and renew old friendships and spend some time together.
"Tonight we're expecting about 50 or 60 people," Hansen said. "A lot of us went to kindergarten together."
"Several of these people still live in Moses Lake, including me," said Cheryl Elkins, who said many of the local Class of '62 graduates still meet regularly for lunch. "So it's just nice to see the ones we don't see very often."
While many of the folks at the Wednesday evening gathering still live in the area, Hansen said she expected the majority expected to attend the dinner on Thursday to hear from long-retired MLHS wrestling coach — and National Wrestling Hall of Fame inductee Gary Frey — would come from much farther afield.
Like Marilyn Dubas, the Class of '62 valedictorian who became a mathematician and worked for the non-profit research firm The Aerospace Corporation working on space launch systems and satellites, who came all the way from Southern California to be in Moses Lake this year.
Dubas said she remembers the Class of 1962 was a large class because Larson Air Force Base was still open and busy. She also remembers playing the MLHS band and going to play at the Seattle Century 21 Exposition — the world fair — that summer.
"It was a nice place to grow up. It was pleasant. It was not stressful, and we didn't stress each other out," she said. "We had some really good teachers."
Dubas said she regularly visited Moses Lake through the 1990s because she still had family here, and regularly attends class reunions every five years.
"I guess I felt a connection to this city and to my class," she said.
"We came here when it was still Neppel and there were board sidewalks," said Walt Kursave, who is currently retired, lives in Wenatchee, and keeps bees for a hobby. "My dad had a body shop here for years and was on the fire department."
Kursave, who said he spent some time working for Sears Roebuck before making his way back to central Washington, added he comes back to Moses Lake frequently to meet with friends.
"All my good memories, being a youth, are from here in Moses Lake," he said. "It's worth coming back for. Moses Lake is still home."
Charles H. Featherstone can be reached at cfeatherstone@columbiabasinherald.com.
Recent Headlines
---