Maverick slow pitch off to 4-0 start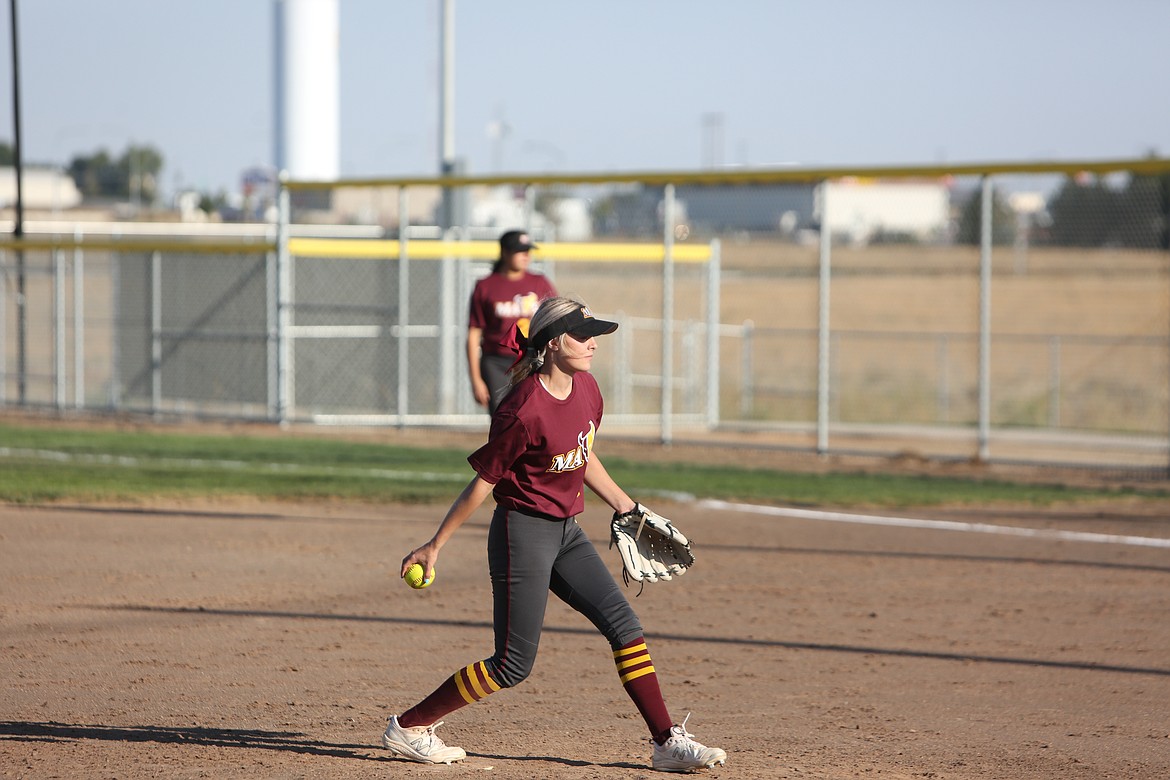 Moses Lake junior Kendall Reffett pitches during the Maverick's 10-0 win over Hermiston on Tuesday
IAN BIVONA/COLUMBIA BASIN HERALD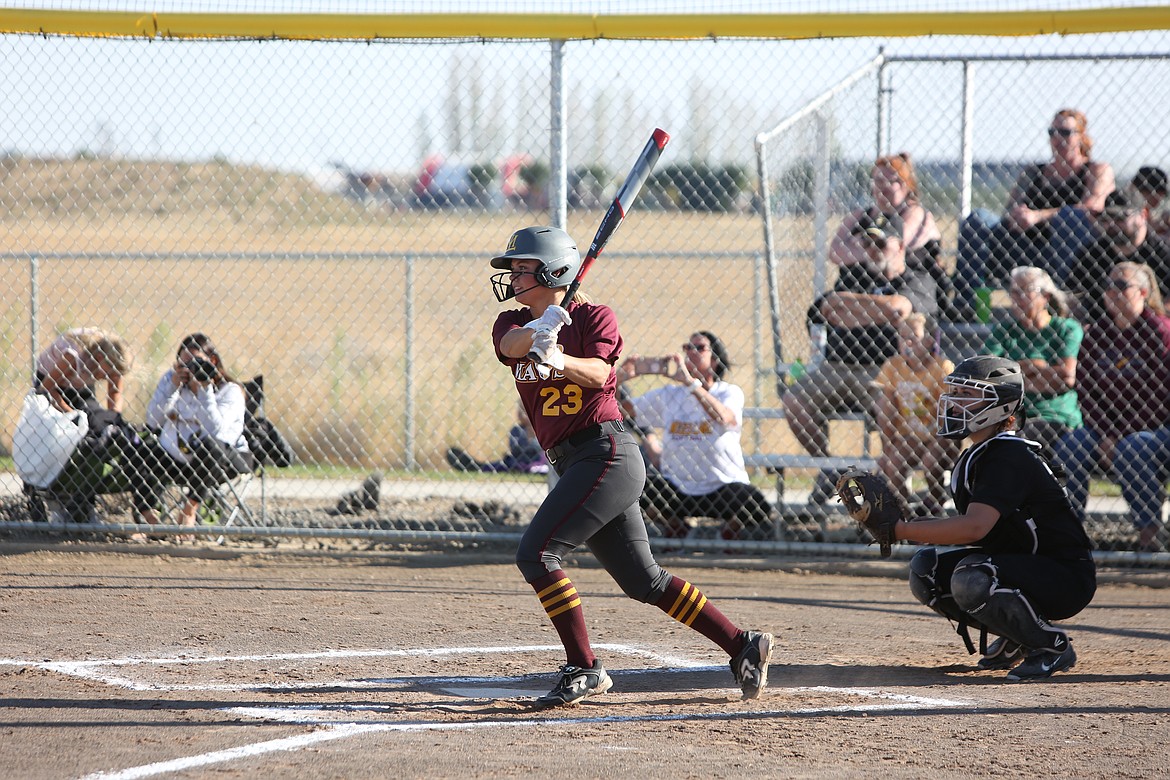 Moses Lake senior Katelyn Kriete looks on after hitting on a pitch during Moses Lake's 10-0 win over Hermiston.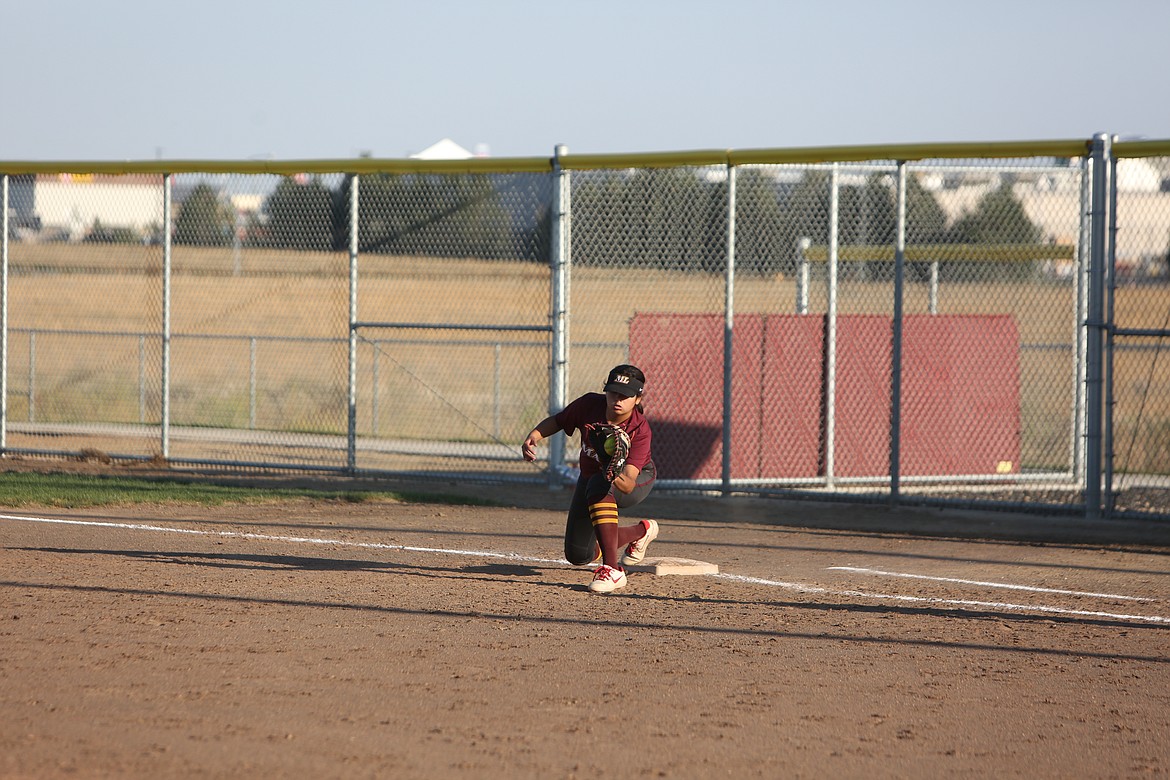 Sitting on first base, freshman Alina Lopez catches a pass from a teammate for an out. Head coach Mike Hofhenis said that freshmen get a lot out of the slow pitch season in preparation for the fastpitch season.
Previous
Next
|
September 21, 2022 3:25 PM
MOSES LAKE – The Moses Lake Mavericks have started 2022 with a 4-0 record in slow pitch softball, with sweeps of Chiawana and Hermiston in the first four games.
The Mavericks opened the season with back-to-back wins over Chiawana, winning 4-2 and 7-6 last week. On Tuesday, Moses Lake won both games over Hermiston by a score of 10-0.
"It feels good that we came out and played clean on defense," Moses Lake head coach Mike Hofheins said. "We got the sweep last Thursday against a really good team, and didn't play tremendous defense – so that's one of the things we kind of talked about since then."
In the first game on Tuesday, Moses Lake entered the second inning with a 2-0 lead over Hermiston. The Mavericks were able to build on their lead courtesy of 2 walks with the bases loaded, an RBI single by junior Kendall Reffett and a run scored on a throwing error to take a 6-0 lead.
"I thought our defense was much cleaner today, which is important in this game," Hofheins said.
In the bottom of the third inning, a sacrifice fly and an RBI double by junior Morgan Ross gave the Mavericks an 8-0 lead. The lead carried on until the eighth inning when freshman Lila Johnson scored on a sacrifice fly and freshman Addisyn Reffett was walked with the bases loaded for a 10-0 lead, which enacted the run rule to end the game.
"We have a ton of freshmen," Hofheins said. "Some of them are contributing on varsity, and older girls have brought them in like they've always been here. There's no separation, it's been pleasant to see them just fit right in – I think that's credit to the leadership of our older kids."
Building off a strong offensive performance in the first game of the doubleheader, the Mavericks opened the game with five runs in the first inning. The scoring began with an RBI single by senior Ali Stanley, with Stanley then scoring on a sacrifice fly herself for a 2-0 lead. With the bases loaded, Ross hit an RBI double for a 4-0 lead. With the bases once again loaded, sophomore Jenika Balderas was walked, sending freshman Ava Swett home for a 5-0 lead.
"Their desire to just come out and compete," Hofheins said of what had stood out about the Mavericks. "That's one thing I like about our group, whether it be in the Spring or the Fall, they just like competing together."
Scoring quieted down over the second and third inning but opened up again with Swett hitting a 3 RBI triple for an 8-0 lead in the fourth inning. In the fifth inning, Kendall Reffett scored on an errant ball that hit her in the helmet as she slid into third base, giving Moses Lake a 9-0 lead. The game was decided on an RBI single by junior Mikayla Schwartz, giving the Mavericks a 10-0 lead and a 4-0 record.
"It's good," Hofheins said of the 4-0 start to the season. "We knew coming in we had a good team, and I just challenged the girls, you know, there's some teams (that) are not as good as us, so we just have to play to our standard and not play down to our opponent."
Hofheins, who also coaches the Maverick fastpitch team in the Spring, said that the fall season serves as a preparation time for the players to bond with one another, and pays dividends in the fastpitch season. Many of the players on the Spring team are playing slow pitch now.
"All these girls play fastpitch, and we have some other girls who play other sports, which is super," Hofheins said. "We have pretty much everyone who doesn't play volleyball or soccer out here."
The Mavericks are back in action tonight, as they head to face AC Davis in a doubleheader. First pitch is at 3:30 p.m.
"If we keep improving and playing to our standard, I think we got a shot at the end," Hofheins said. "We're good 1-11, and we got subs on the bench that can come in and contribute. I think we're in a good spot, I feel good about it and I think the girls are excited about improving and making a run."
Ian Bivona may be reached at ibivona@columbiabasinherald.com.
CORRECTION: The spelling of Moses Lake head coach Mike Hofheins has been corrected in this article.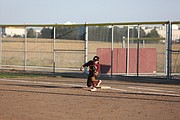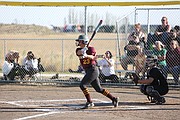 Recent Headlines
---