Soap Lake loses 22-0 to Bridgeport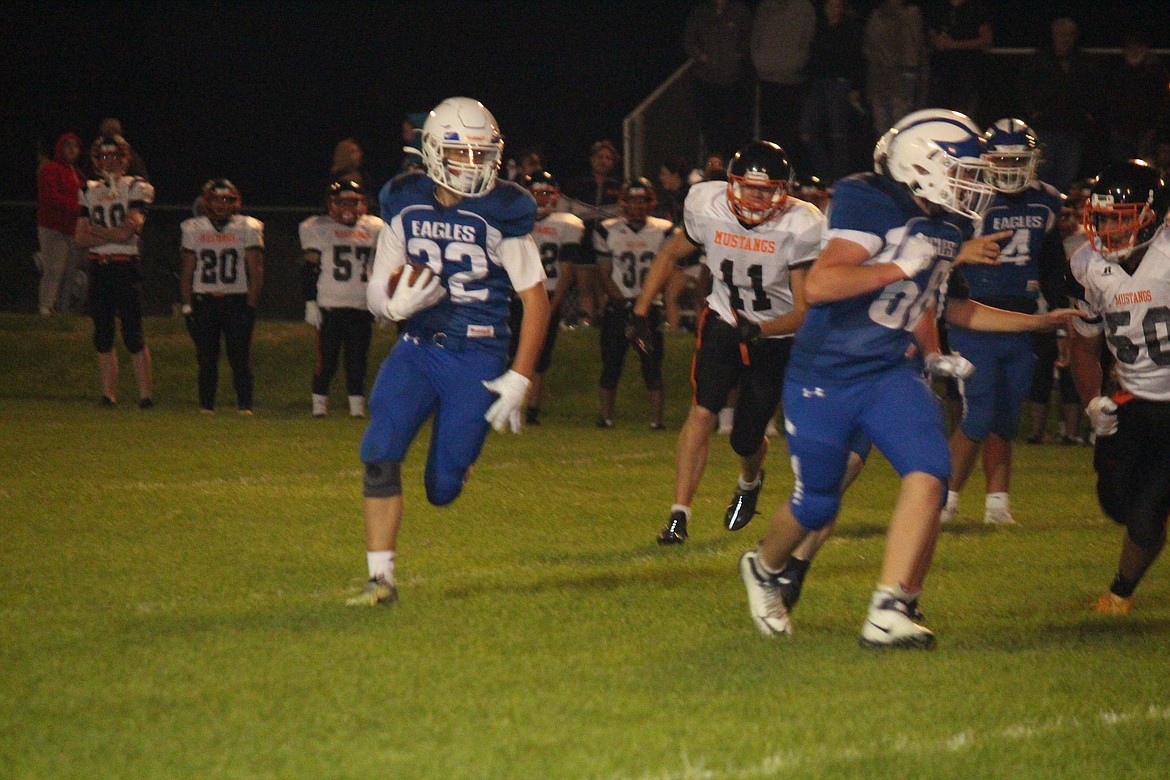 Soap Lake's Sam Schopf (22) runs to the outside during the Eagles' 22-0 loss to Bridgeport Friday.
Cheryl Schweizer/Columbia Basin Herald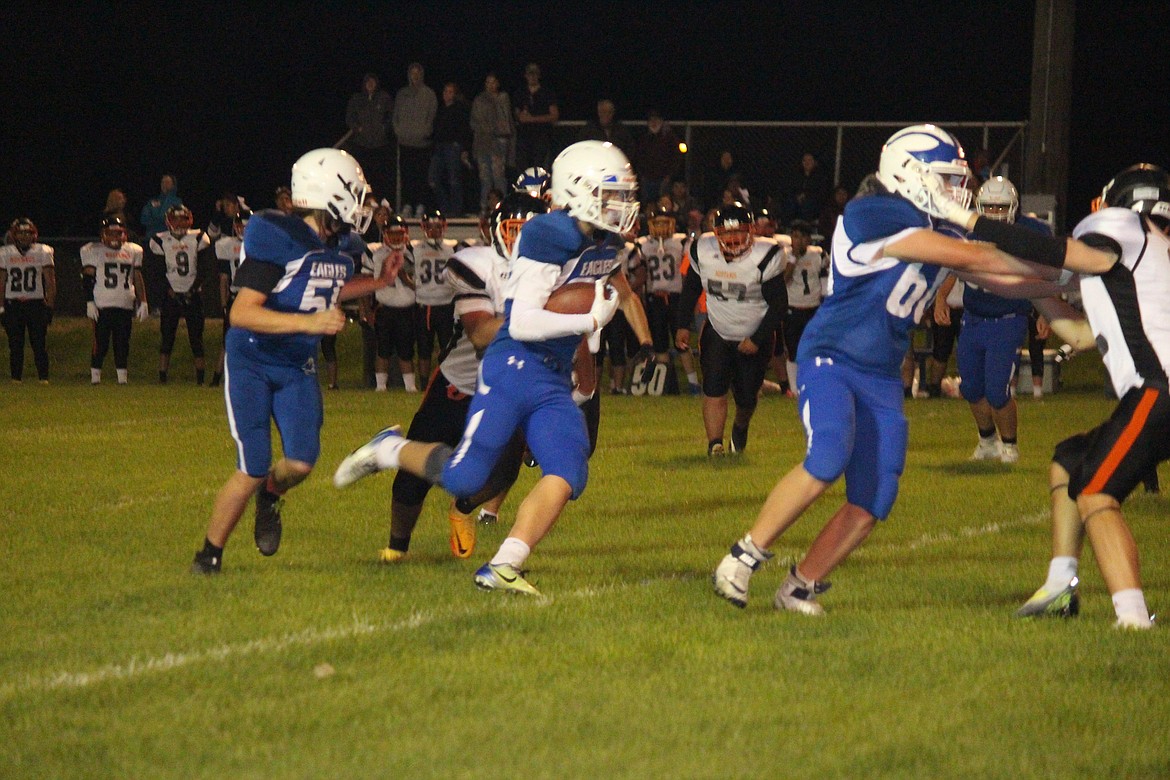 Accompanied by his blockers, Soap Lake's Sam Schopf (with football) heads downfield during the Eagles' 22-0 loss to Bridgeport Friday.
Sam Schopf (22) hands off to Giovanni Campos (15) on a reverse play that went for a big gain during the Soap Lake-Bridgeport game Friday.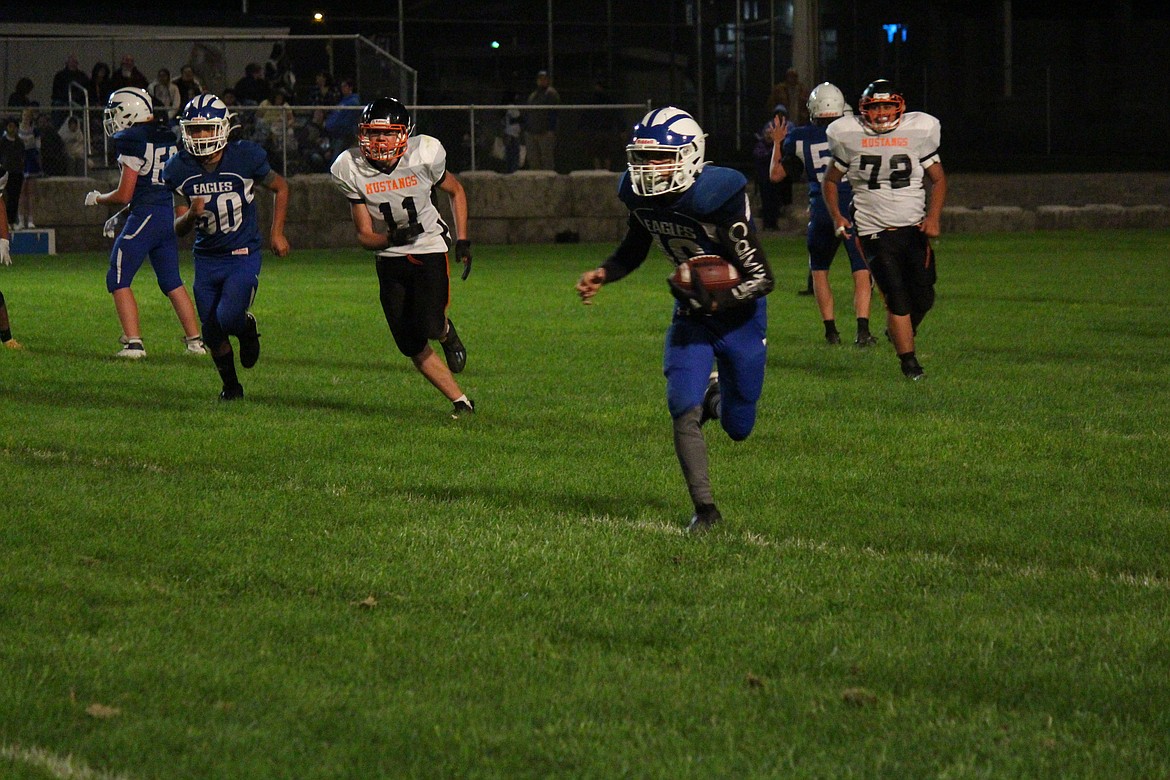 Eagles running back Robby Fisher (10) breaks into the open field during the Soap Lake-Bridgeport game.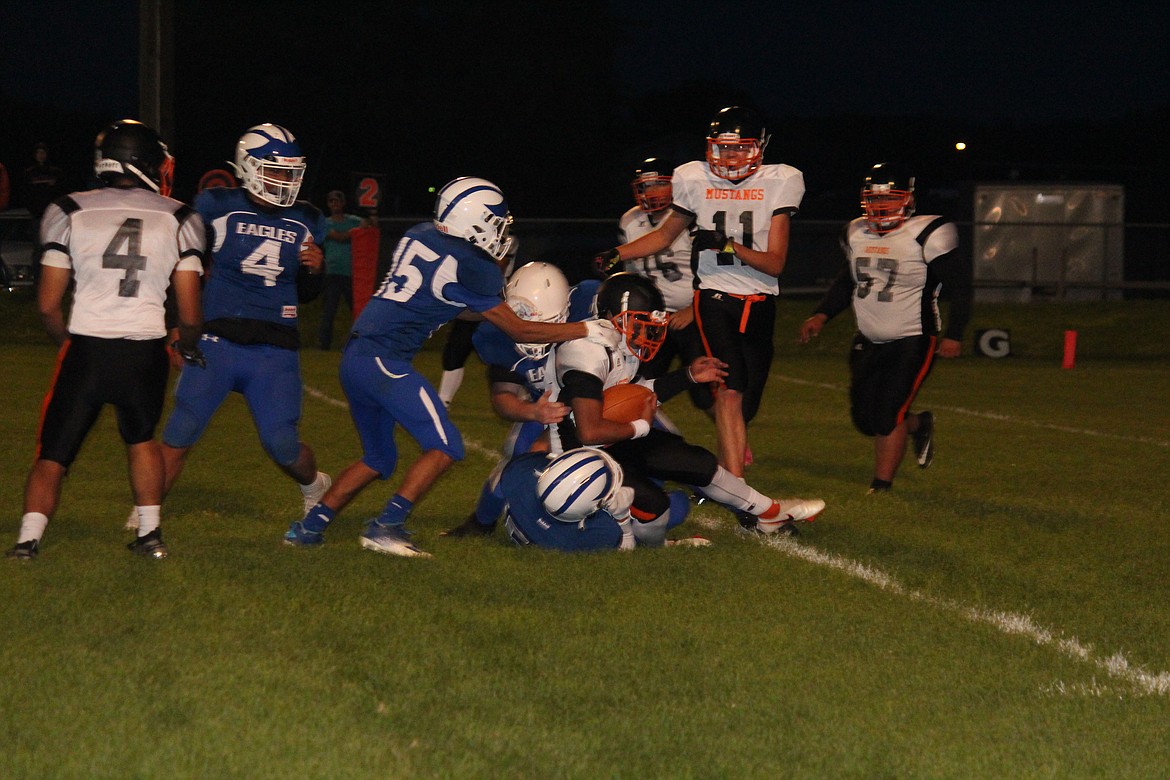 The Soap Lake defense stacks up a Bridgeport running back during the Eagles' 22-0 loss to the Mustangs.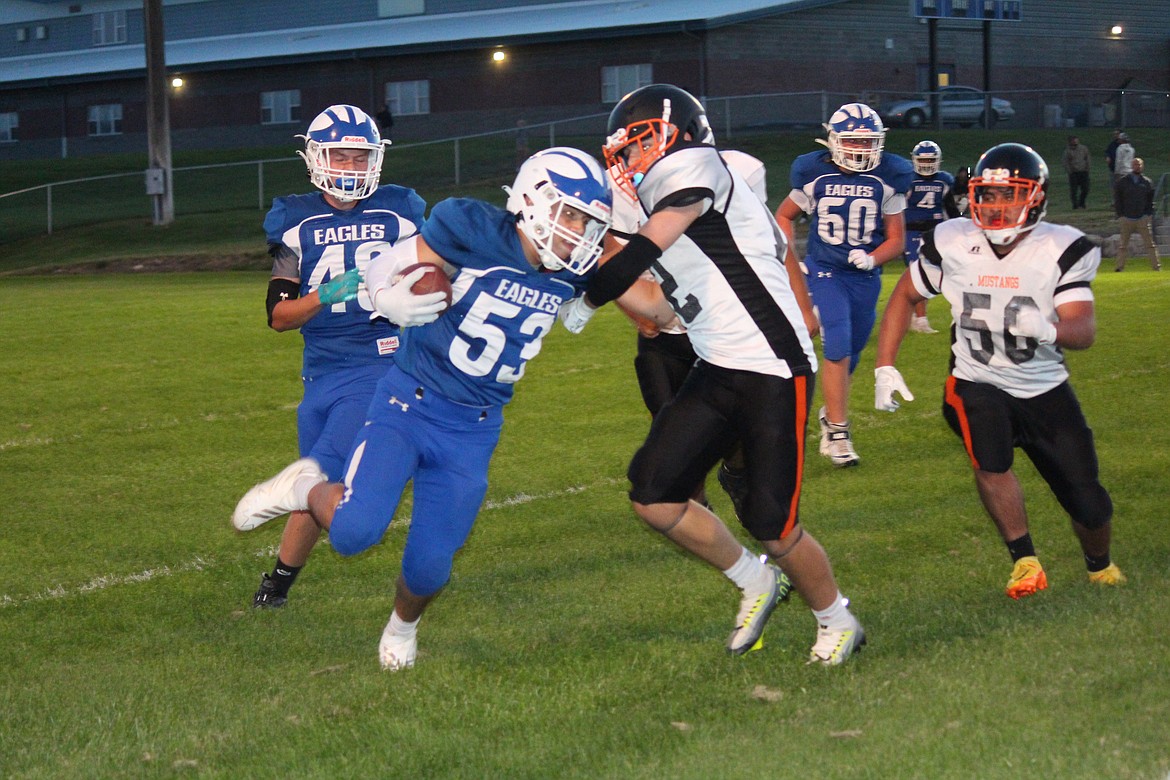 Soap Lake running back Anthony Contreras (53) fights off a Bridgeport defender.
Previous
Next
by
CHERYL SCHWEIZER
Staff Writer
|
September 17, 2022 11:10 AM
SOAP LAKE — The Soap Lake Eagles came close, but they couldn't quite get into the end zone, losing to the Bridgeport Mustangs 22-0 Friday in Soap Lake.
"We had some mistakes, some penalties, that really hurt us," said first-year head coach Garrett Devine.
With under a minute left in the game, receiver Alex Bustos got behind the Bridgeport defense, caught a pass from quarterback Jairo Lopez, and took the ball into the end zone for an 80-yard touchdown - only to have the play called back on a penalty. Devine said miscommunication on a play near Bridgeport's goal line that led to a Mustang defensive stop also cost the Eagles.
A mishandled ball on a play deep in Soap Lake territory ended with Lopez being tackled in the end zone for a Bridgeport safety. Bridgeport also scored late in the game when Brandon Garcia intercepted Lopez and returned the ball about 60 yards for a touchdown.
Soap Lake did have some offensive success, fooling the Bridgeport defense with a couple of reverses and gaining significant yardage on some pass plays.
"We had some big plays, some big runs, but we just couldn't capitalize," Devine said.
But the Eagles, a very young team, made some progress. Devine said he was pretty pleased with the defensive play in particular.
The Eagle linebackers played well, he said, and the defensive line did a good job stopping the Mustang running game.
Bridgeport scored its first touchdown on a run by Tyrel Tonseth with about 8:29 left in the first quarter. The Eagles held on the two-point conversion attempt.
Garcia scored on an 80-yard pass with 5:18 left in the second quarter, but the Eagles defense stopped the Mustangs on the two-point try. Bridgeport led 12-0 at the half. That was the last score until the Bridgeport defense tackled Lopez for the safety, the interception return and successful two-point conversion, which resulted in the 22-0 final.
"We've got a lot of work to do," Devine said. "But there was a lot of stuff I really liked."
Cheryl Schweizer can be reached via email at cschweizer@columbiabasinherald.com.
BOX SCORE
Bridgeport 6-6-0-10 22
Soap Lake 0-0-0-0 0
Recent Headlines
---