Asu's last-second touchdown pushes Othello to 14-13 win over Ephrata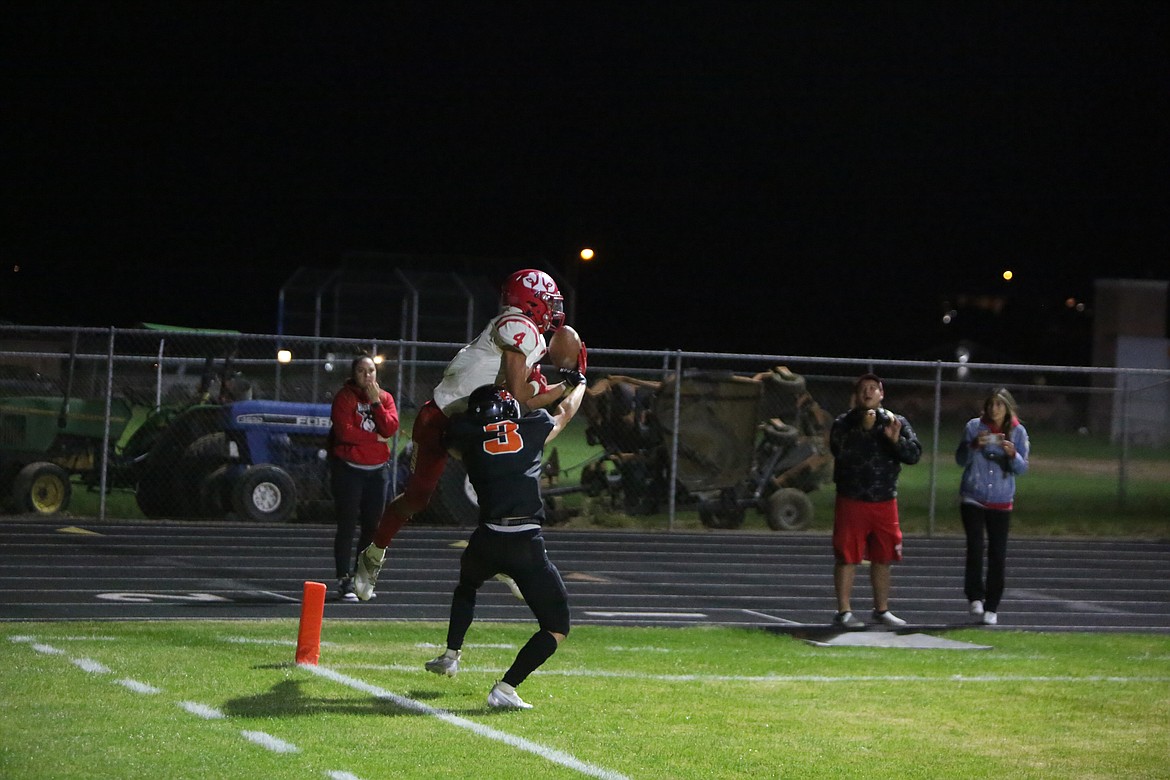 Othello receiver Sonny Asu catches a game-tying touchdown in the final seconds of Othello's 14-13 win over Ephrata.
Ian Bivona/Columbia Basin Herald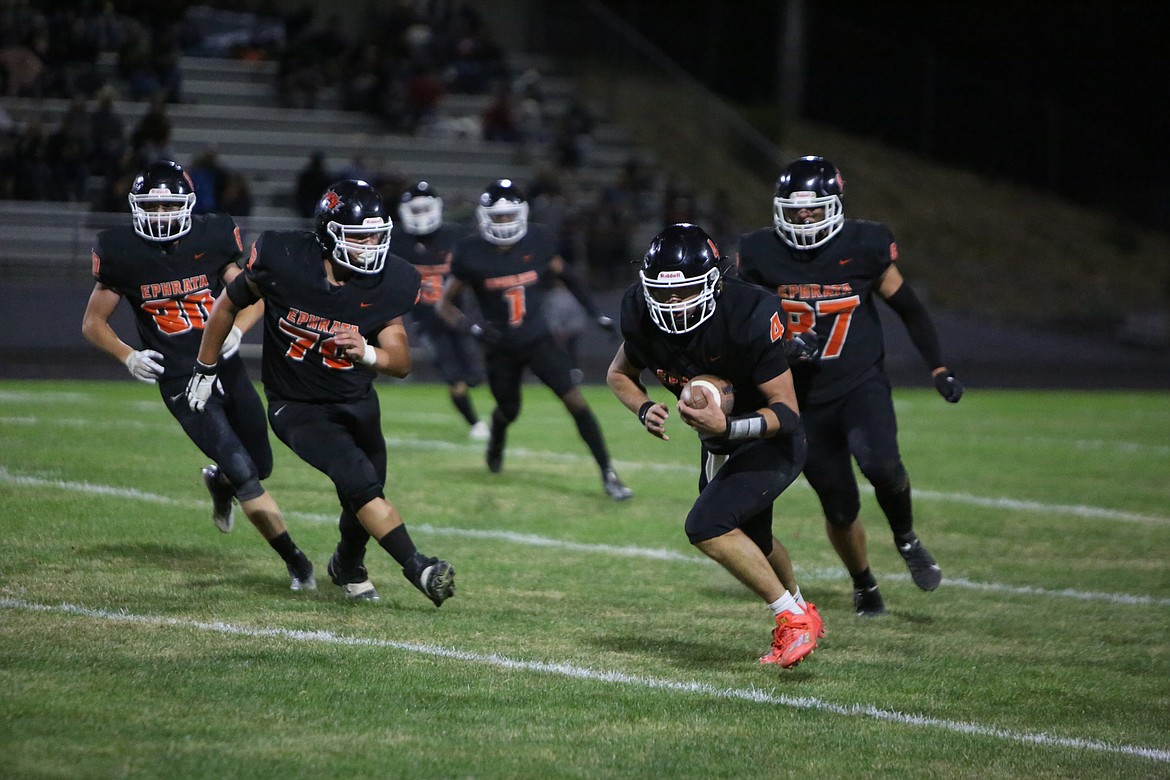 Ephrata quarterback/linebacker Travis Hendrick intercepts a pass of Othello quarterback Maddox Martinez.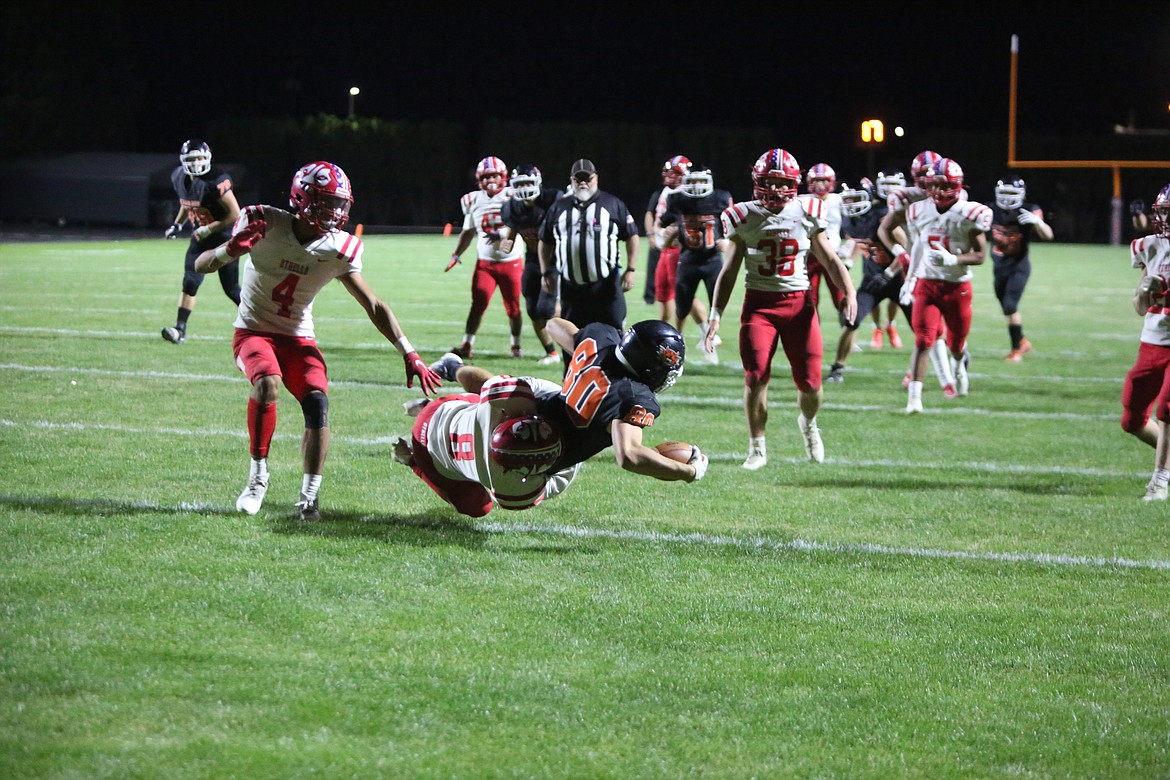 Ephrata tight end Seth Jones reaches for a touchdown in the fourth quarter of the Tigers' 14-13 loss to Othello.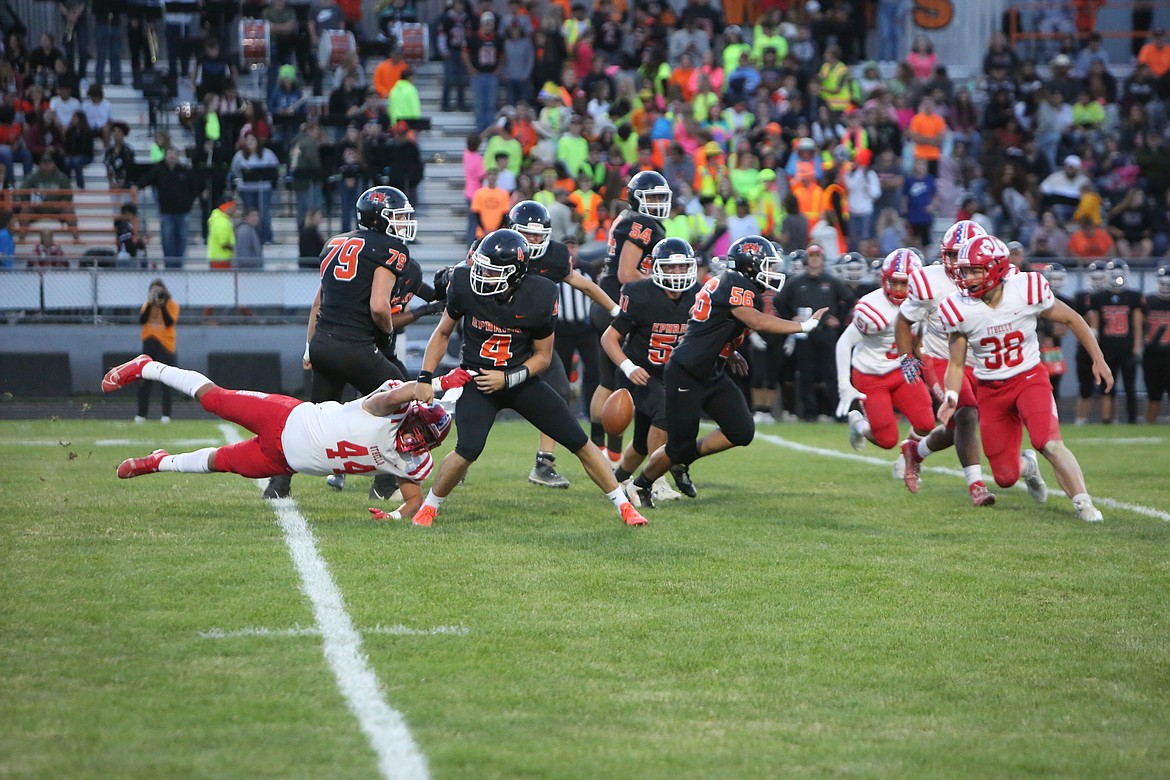 Othello's David Julian Alegria forces a fumble of Ephrata quarterback Travis Hendrick in the first quarter of Friday's game.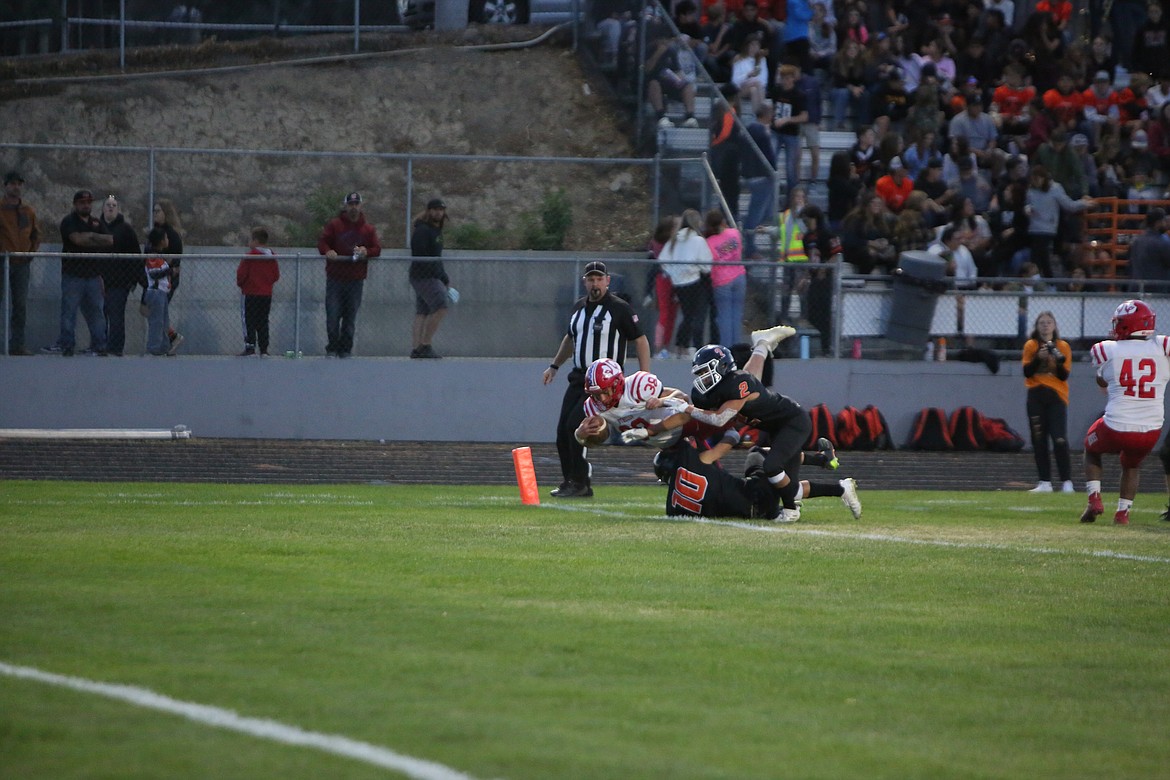 Othello fullback Terrill Freeman reaches across the goal line for a touchdown.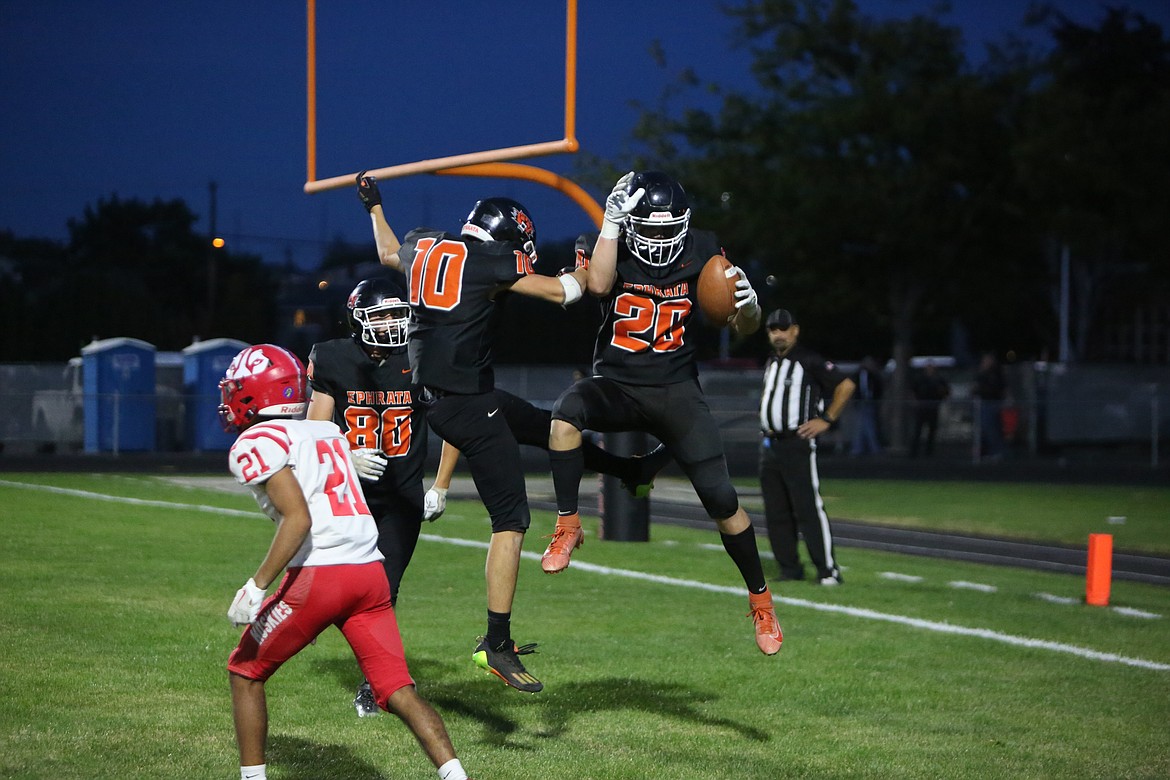 Ephrata teammates Joshua Green (10) and Hudson Sager (20) celebrate after Sager scores a touchdown in the second quarter on Friday.
Previous
Next
by
IAN BIVONA
Sports Reporter
|
September 17, 2022 11:02 AM
EPHRATA — It was a windy night at Kiwanis Field in Ephrata on Friday night, where Othello senior kicker Brandon Garza stepped onto the field to attempt a game-winning extra point after a touchdown by senior running back Sonny Asu in the final seconds of the fourth quarter.
With players and coaches looking on nervously from both sides of the field, Garza's kick went through the uprights, finalizing a 14-13 comeback win for the Huskies.
"Brandon! Brandon! Brandon!" the Othello team cheered as they met in the north end zone at Kiwanis Field.
Facing a 13-7 deficit with 4:11 remaining in the game, the Huskies began to drive down the field from their own 34 yard line. On the eighth play of the drive, senior receiver Adriel Deleon's 15-yard catch-and-run set Othello up on the Ephrata 21 yard line with 1:18 remaining.
"A lot of credit to our big men up front," Asu said. "They opened up a lot for us, and half our runs were because of them."
A holding penalty gave the Huskies first-and-20, where Asu quickly regained 17 yards on back-to-back runs. After a first down, a bad snap set the Huskies back six yards and quarterback Maddox Martinez spiked the ball to stop the clock. With only 8.2 seconds on the clock, the Tigers were called for a defensive pass interference penalty on an incomplete pass in the end zone, giving Othello one last chance to score.
"They're a hell of a team," Asu said of the Tigers. "We tried a variety of different things, and it was just hard to get an opening."
On the game's final offensive play, Martinez found Asu in the right corner of the end zone for a 10-yard score, tying the game at 13. With no time left, Garza's extra point gave Othello the 14-13 win.
"Oh my goodness – only thing I kept saying in my head was 'Come down with that ball,'" Asu said. "I did what I had to do, got on the route and jumped over and came down with it. It's a blessing."
The ground attack was in full force on Friday night, with both teams rushing for over 150 yards in the game.
"We told (the team) all week that it was going to be an old school, smash-mouth football game," Ephrata head coach Patrick Mitchell said. "They were gonna come out and try to run the ball, and that's kind of our m.o. as well."
Scoring began with Martinez finding Terrill Freeman for an 11-yard score on the Huskies' second drive, taking a 7-0 lead. The Tigers evened the score on a five-yard scamper by running back Hudson Sager under two minutes into the second quarter.
"It means we got a lot of heart," Othello defensive coordinator Kevin Hale said of what the win says about the Huskies, overcoming turnovers and penalties. "I know defensively, every time we had a timeout in the huddle, I just said 'We gotta do our jobs, we gotta make the tackles and we gotta get after them.'"
Coming out of halftime tied at seven, junior running back Alex Mendez carried the ball on six of the first seven Othello offensive plays in the third quarter, cumulating 43 yards on that drive alone.
"It's kind of natural," Mendez said of his running style. "I've been playing running back since I was 5 – every time I see it, it's just natural."
Ephrata took a 13-7 lead early in the fourth quarter, with senior tight end Seth Jones diving across the goal line on a 14-yard pass from quarterback Travis Hendrick. The extra point was blocked by Othello, a play which gave the Huskies the opportunity to win the game on an extra point of their own.
"We expect to be playing for a long time, so this is going to be a great learning experience for us and we're gonna get better from it," Hale said.
Altogether, the Huskies rushed for 176 yards in the contest.
"That's our identity," Hale said of Othello's ground game. "We want to be a tough, physical football team and that's Roger Hoell, Othello football. That makes us feel good, it builds our confidence and we're gonna keep doing that."
Othello (2-1) will host Selah next week, and Ephrata (1-2) travels to East Valley (Yakima). Both kickoffs are set for 7 p.m. on Friday.
Ian Bivona may be reached at ibivona@columbiabasinherald.com.
BOX SCORE
Othello 7-0-0-7 14
Ephrata 0-7-0-6 13
Recent Headlines
---