Warriors begin season 2-0, still looking to grow
|
September 14, 2022 1:38 AM
COULEE CITY – With the 2022 season off to a hot start, the Almira/Coulee-Hartline Warriors begin the football season with a 2-0 record.
The Warriors, who won the 2021 1B state title a season ago, entered 2022 with a much younger roster than last season.
"It's a young team," head coach Brandon Walsh said. "The expectations are high because they have those expectations of themselves, but knowing what to expect because we're so young, there's some uncertainty. The fact that we're 2-0 is great."
ACH kicked off its season with a 40-0 win over Columbia on the road, forcing four turnovers and rushing for 173 yards in the ground game. The second quarter of the Warriors' opening game saw 26 points scored for the visiting team, with a receiving score by junior Jaxon Baergen and two rushing scores by sophomore Carter Pitts.
"It feels pretty good," senior Cody Allsbrook said of the team's 2-0 start. "Being unsure with how the team was going to look, it's really nice to see that we were able to start off with two wins, see what our guys can do when we work together."
After the Week 1 win, coaches were pleased with the growth made by the young team.
"We have to coach harder than we did last year, when we were so talented and senior-heavy," Walsh said. "They all have impressed me, they show up every day and get after it in practice."
The win gave players something to look forward to with the team as well.
"I think we have a lot of potential," junior John Pierce said. "We still have a lot of work to do, but we have a ton of potential. Going into our next few games, we have a few tough opponents, and really looking forward to see how we rise to the adversity."
In Week 2, ACH had its home opener against Entiat on Friday night. The Warriors had a much closer game than their season opener, but still came out with a 36-32 win.
"They compete – they played so hard on Friday, and it was a close game," Walsh said. "It could have gone either way multiple times. Things would go bad for us, we'd have a penalty or give up a big play, and they just put their heads down and go make a play the next series. To me that's an indicator of a great team"
The offensive attack differed from Week 1, shifting to more of a balanced offensive output. Of ACH's 327 total yards, 178 came through the air compared to the 149 on the ground.
"It was just the flow of the game," Walsh said. "We still ran it on Friday, but we certainly passed more than we did the week before. That was just the situations required it."
As the team starts the season with two wins, Walsh said that it has contributed to the team's confidence, an important aspect of fielding a young team.
"We need that confidence," Walsh said. "As young guys, they need to learn how to win, and seems like they're figuring that out at a quicker pace than maybe anyone anticipated, which is cool."
Walsh said that despite the 2-0 record, the team can improve on specifics like tackling and blocking.
"The little things," Walsh said of what the team can improve on, "Coaching 24 years of football, we've never played a mistake-free game."
With the season progressing, upperclassmen and coaches alike have stepped up to help lead the young Warriors.
"Really, just constructive criticism," Allsbrook said about how the team can progress its younger players. "Not only our upperclassmen, but coaches as well – which I feel like we've done a really good job of that. Just getting them into games, and game experience to understand what we're talking about really helps a lot."
ACH will travel to Liberty Bell on Friday for the Warriors' third game of the season. Kickoff is at 7 p.m.
"We have a bunch of guys that just love to compete, they're competitors at heart throughout any sport, and it really shows on the football field, " Pierce said.
Ian Bivona may be reached at ibivona@columbiabasinherald.com.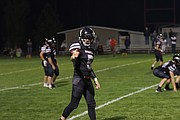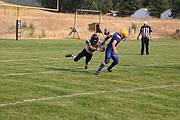 Recent Headlines
---