Eagles clinch first win of year, defeat Wilson Creek 3-0
|
September 14, 2022 1:22 AM
SOAP LAKE – The Soap Lake Eagles earned their first win of the 2022 season on Monday night, sweeping Wilson Creek in three sets for a 3-0 win.
The Eagles had a serving percentage of 84.5% and 16 aces over the three sets, with freshman Liana Sushik having five aces on 20 serves, senior Emily Stevens had four aces on 17 serves and junior Cierra Koski had three aces on 15 serves.
"Just that we had to work hard for every point, and to keep our heads up," Soap Lake head coach Nicole Noble said of what she told the team before the win. "We knew we had to work hard for it – that was actually our first win this year, but also that was my first win at Soap Lake."
Soap Lake ran away with the first set, winning 25-15 with the final point scored on an out of bounds volley by the Devils.
"I'm just really proud of these girls because they really have worked hard and they are a young team," Noble said. "And if they're not young, they're new to the team. They just work so well together, they compliment each other really well."
In the second set, the Devils jumped out to an early lead that the Eagles were able to erase. Once the set was tied at 17, Soap Lake scored eight of the next 11 points to secure a 25-20 win in set two.
"We've never had the cohesion that we have this year," Noble said.
To begin the third set, Soap Lake rallied off the first seven points of the match, with all the serves done by Sushik. The lead carried on throughout the set, with the Eagles clinching a 25-13 win on an out of bounds volley by Wilson Creek.
"Just that we have to fight for every point in every game," Noble said. "I always tell them, that's the beautiful thing about volleyball – there's no time limit, and anything can happen until that last point is on the ground."
Soap Lake traveled to Riverside Christian on Tuesday night, and will return to its home court on Thursday against Easton.
"Just how well we worked together, how well we supported each other," Noble said of what stood out about the team. "Nobody got down on themselves or each other, and for girl's teams, that's really important."
Ian Bivona may be reached at ibivona@columbiabasinherald.com.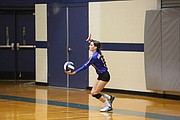 Recent Headlines
---