Sandra Elaine Kisler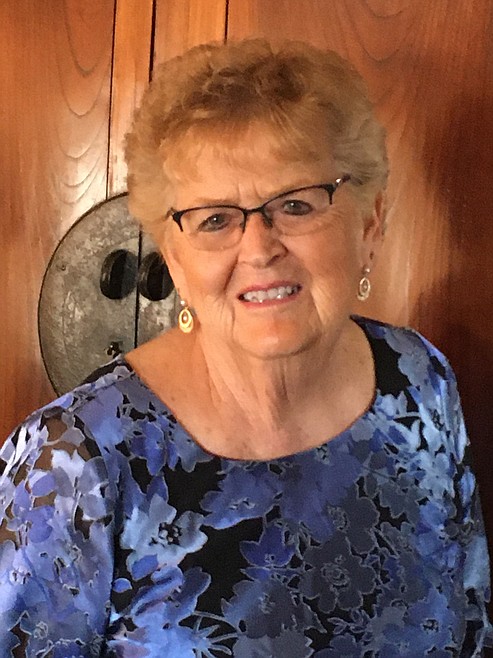 With her beautiful, generous smile, Sandra Elaine Kisler, affectionately known as Sandy, welcomed and embraced students, friends and family for over 84 years. In the early morning hours of July 13, 2022, though, heaven's choir of angels must have needed another voice and called Sandy to join them.
|
September 12, 2022 11:48 AM
July 6, 1938 — July 13, 2022
With her beautiful, generous smile, Sandra Elaine Kisler, affectionately known as Sandy, welcomed and embraced students, friends and family for over 84 years. In the early morning hours of July 13, 2022, though, heaven's choir of angels must have needed another voice and called Sandy to join them.
Born Sandra Elaine Wanamaker to Anna Marie Rautio and Buford Floyd Wanamaker in Wallace, Idaho, on July 6, 1938, Sandy spent most of her childhood and teen years in Wallace. After the bombing of Pearl Harbor, however, Sandy, along with her older siblings Floyd and John, moved with their parents to Portland, Oregon, where they sought work in the war industries. Eventually, the Wanamaker family moved back to Wallace where Sandy and her brothers thrived, all eventually graduating from Wallace High School.
Sandy's belief in the importance of community involvement was established early in life. As a child, she was an active member of Campfire Girls, where she met some of her lifelong best friends. Ever the performer and musician, Sandy played the saxophone in the WHS band and sang in the school's choir. She loved acting and even won the Best Actress award in 1954 as a member of the Thespians Drama Club. She also joined the pep club and honed her debating skills on the debate team. Outside of school, Sandy was a member of Rainbow Girls and worked at JCPenney each summer during her high school as well as college years. In 1956, Sandy demonstrated she was one smart cookie by graduating third in her class from Wallace High School.
Although her father died shortly after her high school graduation, Sandy's mother and older brother Floyd ensured she attended and graduated from the University of Idaho. Just as she had been active in high school, Sandy was equally engaged in university life. She continued playing her saxophone in the Vandals university band and joined the SPURS, a service organization, where she ushered at concerts, even meeting Fats Domino and Buddy Holly, two musical icons of the day. Sandy always had a good chuckle when she told the story about meeting Mr. Domino backstage when he asked for a good restaurant recommendation in Moscow. Inexperienced in fine dining experiences, Sandy naively suggested the dining hall in the student union building! Sandy was also involved in student government and pledged Alpha Gamma Delta sorority. In 1960, she earned her BS in elementary education and was ready to embark upon her remarkable 33-year career as an elementary school teacher.
Shortly after graduating from the U of I, Sandy began her teaching career in Warden, Washington, accepting a third-grade position at Janette Evans Elementary School. While teaching in Warden that first year, she met her soon-to-be husband, Wesley Kisler. Following a short courtship and engagement, the couple were married in Wallace, Sandy's hometown, on Aug. 6, 1961, and then began their married life in Moses Lake. Sandy continued to teach a second year in Warden and gave birth to daughter Kari later that spring. The family of three moved to Moscow, Idaho, in 1963 where Sandy taught fourth grade for a year. After returning to Moses Lake a year later, Sandy and Wes welcomed their first son Dean in the summer of 1964.
Finally, in 1967, Sandy and Wes bought a home in Othello where they would add their youngest child Bryce to their family, see all three children graduate from OHS and WSU and live for the remainder of their lives. It was also during this time Sandy became a much-beloved fourth-grade teacher in Warden and Othello. Emulating one of her own favorite elementary school teachers, Sandy brought her love of music into her classroom, and her students could be seen marching around her room every morning, singing old-time favorites such as "Do Your Ears Hang Low?" and "The Cannibal King." Over the years, Sandy kept in contact with dozens of former students and up until her final days was still receiving messages from many who told her she remained their favorite teacher. Several even confessed they were still singing those silly songs to their own children and grandchildren. Some students remembered her smile and laughter, while others considered her their "light bulb," as she had inspired them to love learning and to look beyond themselves to the wider world. Sandy felt blessed her students fondly remembered her and their time learning (and singing) together. All in all, Sandy taught a total of 33 years, 31 of those iconic years in Warden.
As busy as she was raising her children and influencing hundreds of eager little fourth-graders, Sandy continued to be involved in her broader community. Through the years, she sang in the choir at Othello's Presbyterian Church and taught Sunday School at the Congregational Church in Moses Lake. She was a member of AAUW, Delta Kappa Gamma, the Children's Orthopedic Guild, and the Othello Theater Guild. In fact, she was quite the hit portraying one of the murderous old ladies in a production of Arsenic and Old Lace. While her three children were growing up, she was also involved in the local PTA and was both a Campfire Girls and Cub Scouts leader. Despite her busy schedule, Sandy could also always be counted upon to be a room mom and to bake her delicious chocolate chip cookies for her children's class parties.
Sandy and Wes also fostered a love of history and introduced their children to the joys of travel as they spent many a Sunday driving to one of several historic destinations in the area so their children could tromp around old forts and missions, explore a museum or two, and learn about the awesome power of Washington's dams. The Hawaiian Islands also became a favored destination during Christmas vacations as well as an annual tradition.
In 2001, newly-retired Sandy and Wes began splitting their time between their home in Othello and their Coachella Valley condo where they enjoyed golfing, traveling with friends, and eating out – a lot! For her 70th birthday, Sandy treated herself to a two-week trip to Europe with her childhood best friend Karen, fulfilling a dream she had had since her college days.
In her later years, Sandy lovingly cared for Wes, who had been diagnosed with Parkinson's and dementia, until his passing in 2018. During this time, she became involved in the Daughters of the American Revolution and started writing poetry again, even self-publishing a book of her own favorite poems. Last year, she won a DAR national poetry competition, which pleased her immensely. Composing poems about what she observed outside of her window and about everyday activities while caring for Wes helped keep her brain sharp, her mind focused temporarily on something other than her husband's steady decline. Sandy also loved doing jigsaw puzzles and could be quite competitive with Wordle and Quordle. Sandy's miniature schnauzer Molly, who continually lathered her with "kisses and loves," brought much joy and amusement to her in her final years.
Sandy was preceded in death by her parents Buford and Anna Marie, her older brothers Floyd and John and her beloved husband Wes. She is survived by her daughter Kari of Othello, son Dean and daughter-in-law Karen of Bothell and son Bryce and daughter-in-law Debbie of Everett. Sandy was also extremely proud of her two granddaughters Katherine and Elizabeth Kisler, also of Bothell.
A memorial service for Sandy will be held at the Warden Community Church on Saturday, Sept. 24, 2022, at 11 a.m. Sandy will join her husband Wes at Warden's Sunset Memorial Gardens. In lieu of flowers, the family suggests donations be made to the scholarship fund administered by Warden School District's P.A.W.S. organization.
Recent Headlines
---