Knights start 2-0, defeat Othello 14-0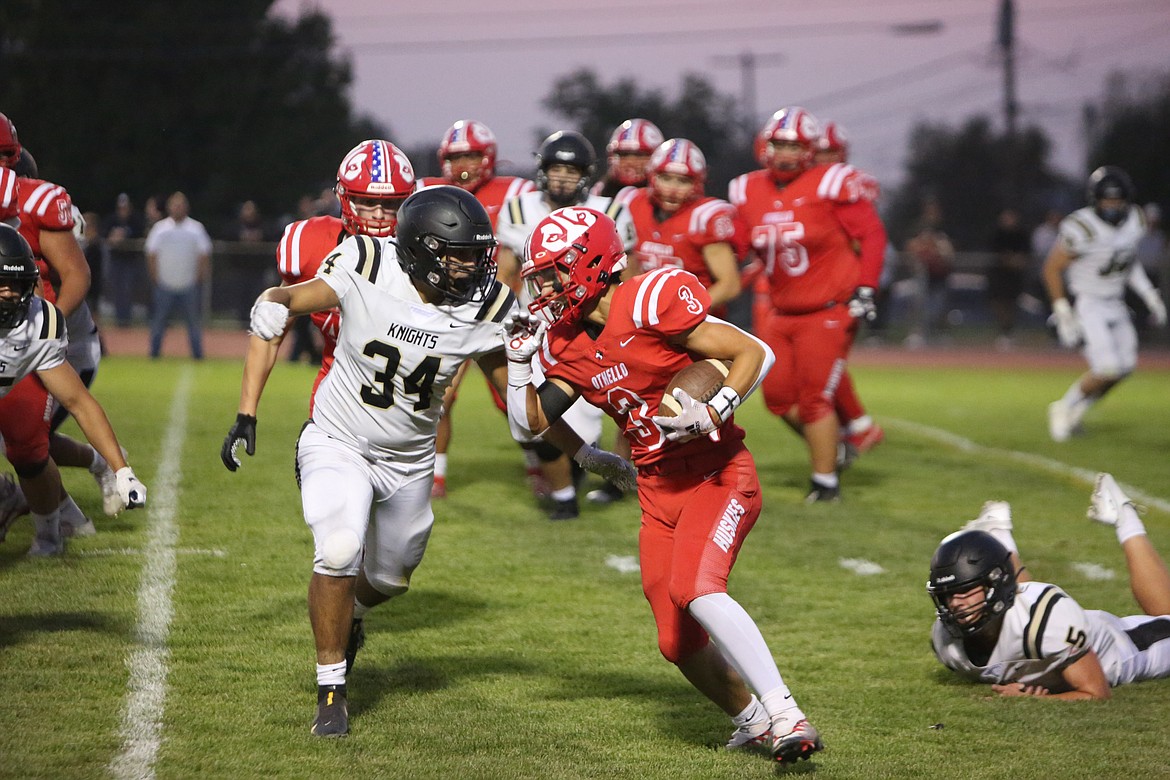 Othello's Ezra Gonzalez (3) and Royal's Oscar Cervantes (34) collide during Royal's 14-0 win over Othello.
Ian Bivona/Columbia Basin Herald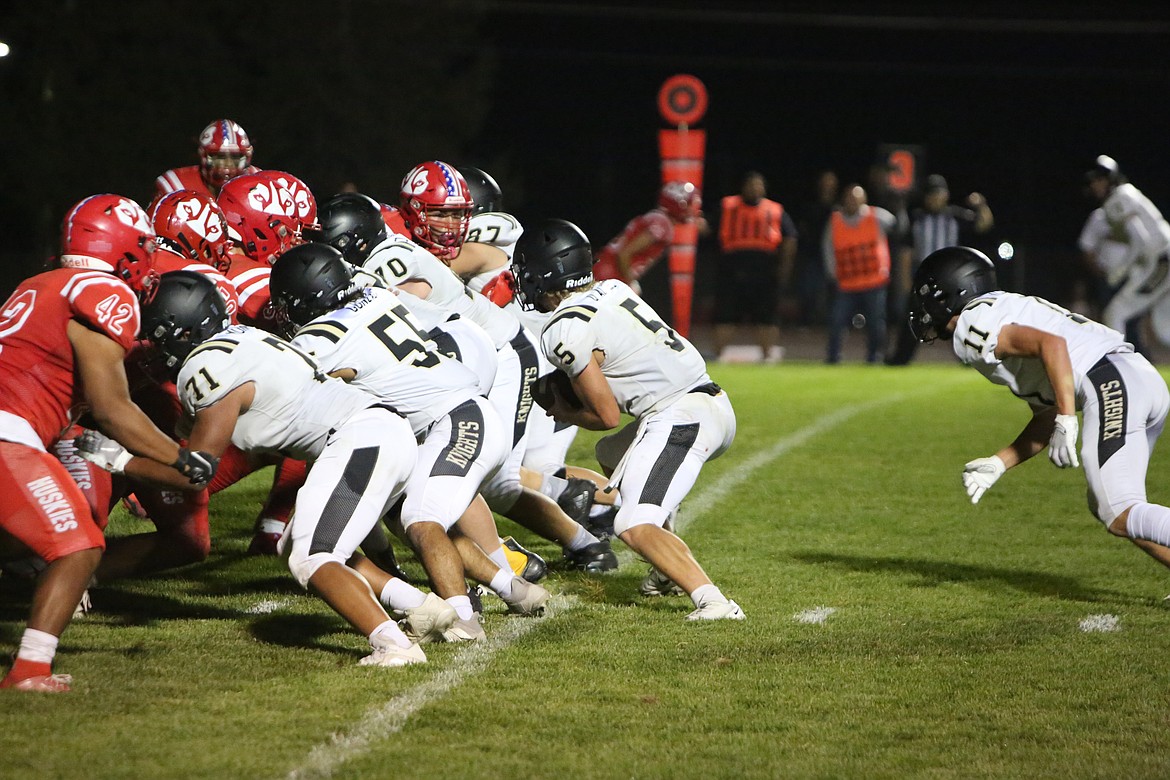 Royal quarterback Dylan Allred runs a quarterback sneak for a four-yard touchdown in the third quarter of Royal's 14-0 win over Othello.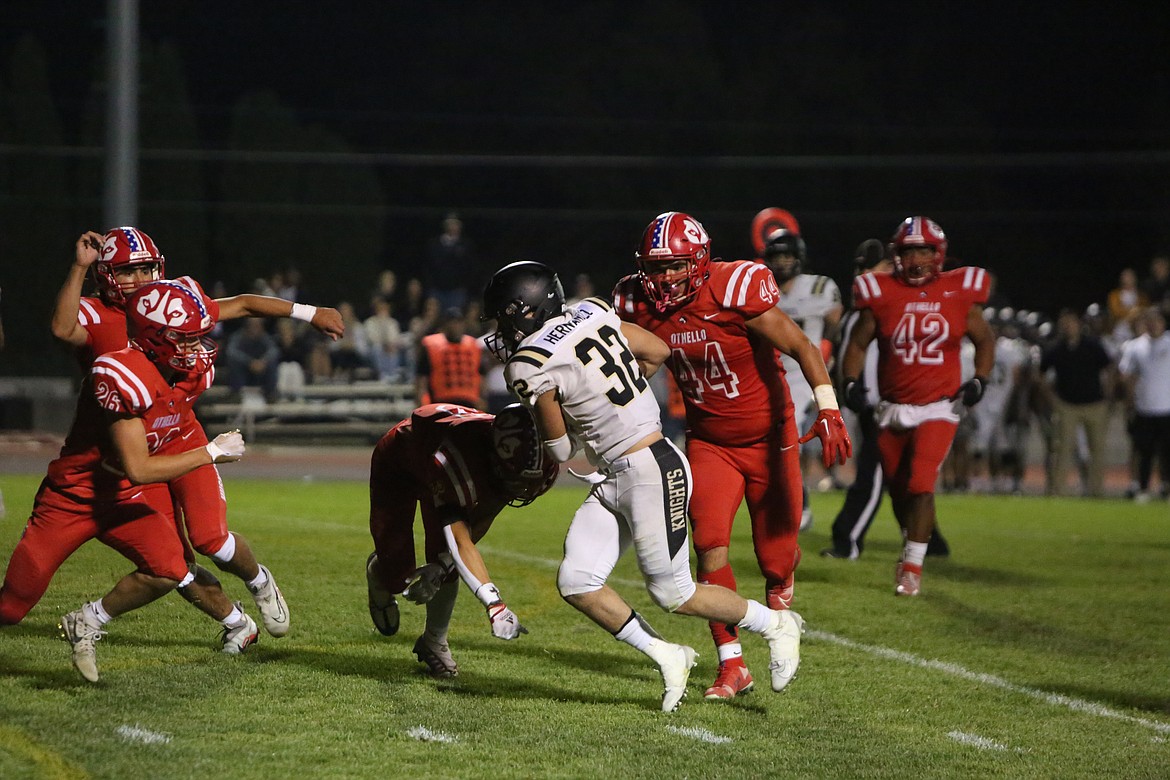 Royal running back Kaleb Hernandez fights for extra yardage in the red zone.
Previous
Next
by
IAN BIVONA
Sports Reporter
|
September 12, 2022 1:00 AM
OTHELLO — After a first half full of strong defense, the Royal Knights used the second half to pull away on the road in a 14-0 win over Othello on Friday night.
"It's always nice," Royal head coach Wiley Allred said of getting a road win. "Really solid defense the second half…We knew they'd be a hard team to beat, to stop and slow down running the ball, but as the game wore on we got a little bit stronger."
Following a first quarter with turnovers by both squads, an interception by Dylan Allred and a fumble by Othello's Alex Mendez, the Huskies had an interception for a touchdown (a pick-six) called back due to a roughing the passer penalty. The score would have given Othello a 7-0 lead, but instead gave Royal an extra 15 yards down the field.
"We had three interceptions, should have had a fourth," Othello assistant coach Kevin Hale said of the called back pick-six. "Which, I think, was a big momentum change in the game. We scored a touchdown, they called it back, there in the second quarter. That was a big play in the game, that would have made at least a little bit of a difference – would have put some pressure on (Royal)."
The Knights and Huskies once again traded turnovers in the second quarter, with both Dylan Allred and Othello quarterback Maddox Martinez both throwing interceptions. Entering halftime, the scoreboard was tied at zero.
"I was just thinking one play at a time," senior running back Kaleb Hernandez said of getting the offense going. "We gotta pick up momentum, that's how we roll. Just gotta keep the team up, and just do what we can."
Royal shifted into an emphasis on the running game in the second half, allowing the Knights to move down the field and into the red zone just four minutes into the second half.
"There were some things we could hit, I think maybe (the Huskies) were getting a little tired or we found a few things we could go to," Wiley Allred said. "We were pretty predictable, or I was, with the rollouts, and I think that helped. Kaleb (Hernandez) and Dylan (Allred) are both really good runners too."
Othello's Terrill Freeman intercepted the Huskie defense's third pass of the night, returning the pass out of his team's end zone. After the Royal defense forced a punt, the Knights were able to drive down the field and score on a four-yard rush by Dylan Allred.
"He's pretty tough," Wiley Allred said of his senior quarterback. "His mind is great, he doesn't get bothered much. I thought he did a great job bouncing back every time."
On Royal's next offensive drive, senior receiver Edgar Delarosa took a wide receiver screen 29 yards down the field for his fourth touchdown of the 2022 season, giving his team a 14-0 lead in the fourth quarter.
The Huskies were unable to mount a comeback, giving the visiting Royal squad its second win of the season. With the shutout, the Knights have only allowed six points in their first two games.
"I thought they did well – different types of teams both games, and a big, physical team tonight with a fast running back," Wiley Allred said of Royal's defense so far on the year. "I was really proud that we didn't give up any big runs or huge plays, either."
Royal will have its home opener against Zillah next Friday at 7 p.m. Othello will travel to Ephrata on Friday, with kickoff at 7 p.m.
"It's gonna be good to be home," Wiley Allred said. "We don't mind playing on the road, obviously we can pick up W's, but we love playing at home."
Royal quarterback Dylan Allred completed 14/21 passes for 166 yards and a touchdown, also throwing three interceptions and adding 52 yards and a score on the ground. Royal senior running back Kaleb Hernandez ran for 61 yards on 14 carries. Othello's Mendez rushed for 91 yards on 23 attempts and Freeman led the Huskies with nine total tackles, two for a loss.
Ian Bivona may be reached at ibivona@columbiabasinherald.com.
BOX SCORE
Royal 0-0-7-7 - 14
Othello 0-0-0-0 - 0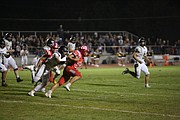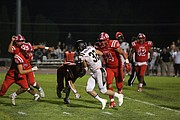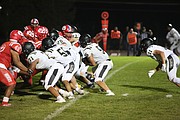 Recent Headlines
---