Gonzaga comes up short on the pitch against Sacramento State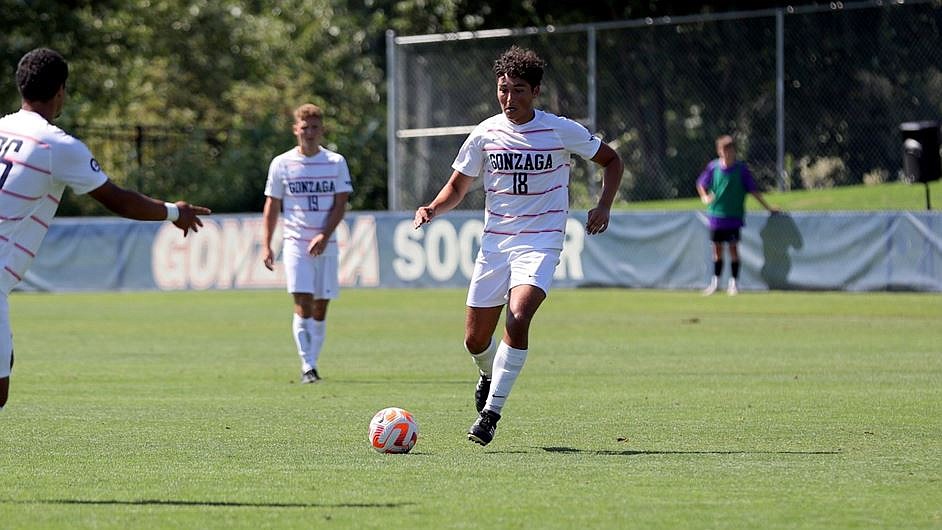 Gonzaga midfielder Robbie Mora (18) runs the ball down the field during Sunday's match. Mora was one of two players to score for the Zags during the match.
COURTESY PHOTO/GONZAGA ATHLETICS
by
CONTRIBUTED REPORT/GONZAGA ATHLETICS
|
September 12, 2022 4:55 PM
SACRAMENTO, Calif. — Despite two second-half goals, the Gonzaga men's soccer team came up just short at Sacramento State on Sunday afternoon, 3-2.
The Hornets got on the board first in the 20th minute as Francisco Magana headed the ball into the back of the net after passes from Christo Cervantes and Cody Sundquist. The goal gave Sacramento State the 1-0 lead, which ended up being the only score in the opening half.
In the first half, the Zags took six shots compared to Sacramento State's 10. Logan Dorsey led the Zags with two shots as one of those were also on goal. Johan Garibay also recorded three saves in the first 45 minutes.
The Hornets scored their second goal in the 51st minute as Magana scored again, this time from the bottom left side of the goal and assisted by Austin Wehner.
The Zags responded in the 55th minute with a goal from Frankie Ljucovic at the bottom right side of the goal, assisted by Kupa'a Fernandez to cut GU's deficit to 2-1. The score marked Ljucovic's second goal of the season and his seventh career goal in a Gonzaga uniform.
Sacramento State extended its lead again in the 67th minute as Magana scored his third goal of the day, this time unassisted, to give the Hornets a 3-1 lead.
Robbie Mora scored his first career goal at GU in the 86th minute to make it 3-2. The goal was assisted by Logan Dorsey as Mora found the bottom left of the goal for his first point as a Zag.
Overall, Gonzaga took 17 shots with six of those on goal. The Hornets took 20 with nine of those on goal. Dorsey led the Zags with four shots, one of those on goal as Demitrius Kigeya was right behind him with three shots. Garibay made six saves on the day for GU as the Hornets recorded four.
Records: The Zags move to 1-5-0 on the year and 7-4-0 all-time against Sacramento State. The Hornets now sit at 4-1-1 on the year with their only loss being against No. 3 Washington.
Up Next: The Bulldogs return home to host two games this week. GU welcomes Marist College on Sept. 15 at 7 p.m., followed by a game versus UC San Diego on Sept. 18 at 7 p.m. Live stats and live video can be found at GoZags.com.
Recent Headlines
---