'Two Goofy Dogs'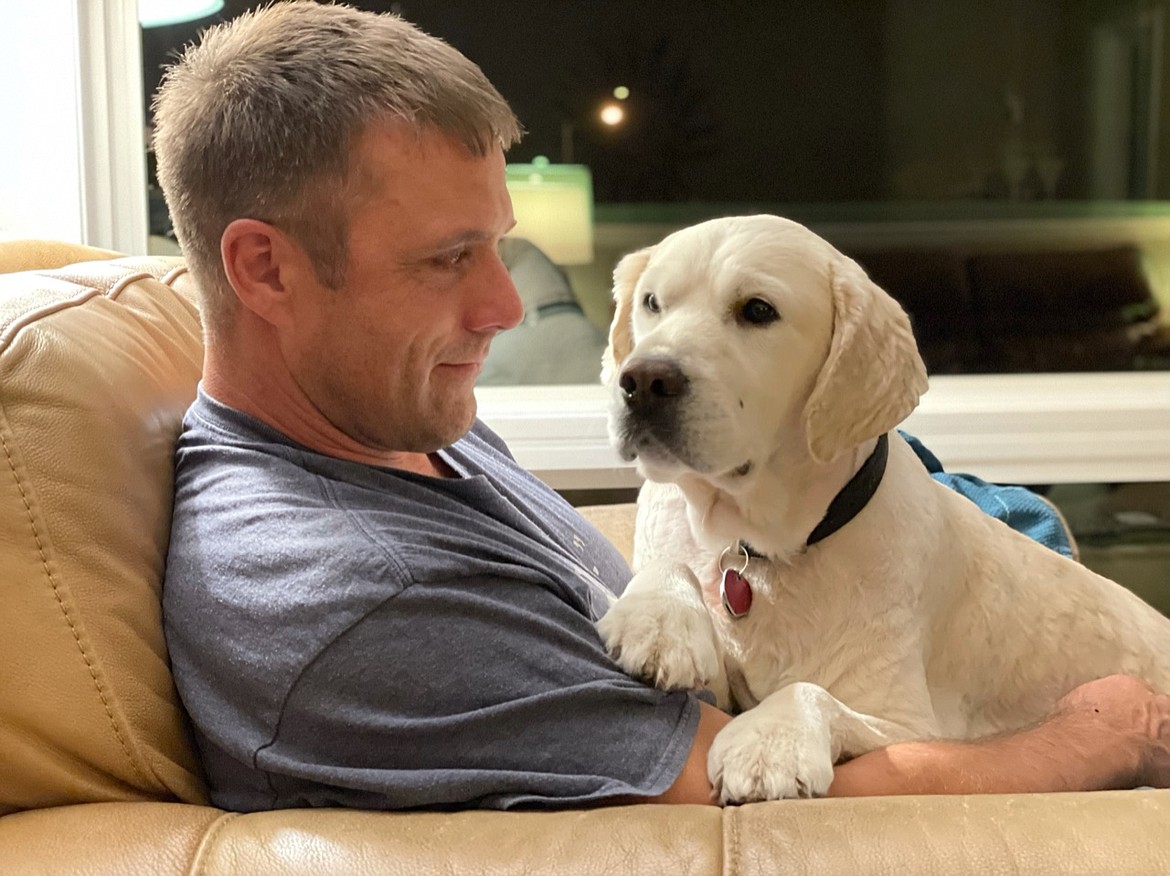 "Two Goofy Dogs" author Denver Morford relaxes with his English cream golden retriever Harry.
COURTESY PHOTO/DENVER MORFORD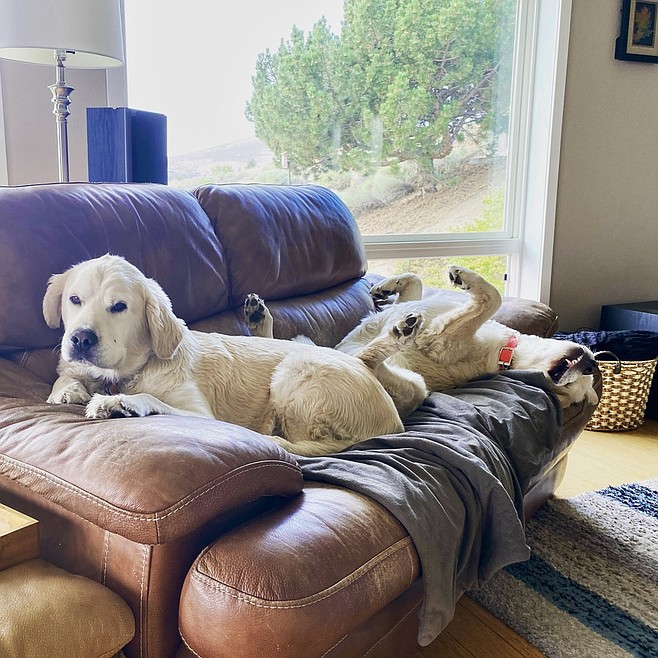 Harry, left, looks sedate on the Morford couch, while Charlie, right, gets a little, well, goofy.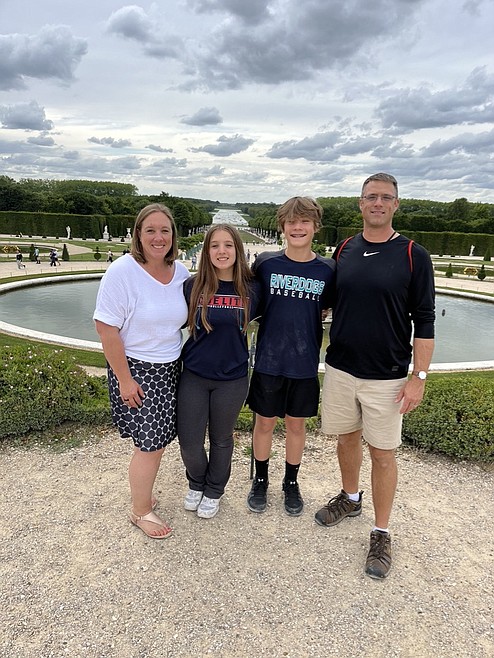 The Morford family, from left: Sarah, Erika, Mitch and Denver. Denver will be signing copies of his book, "Two Goofy Dogs" this weekend in Ephrata at The Bookery.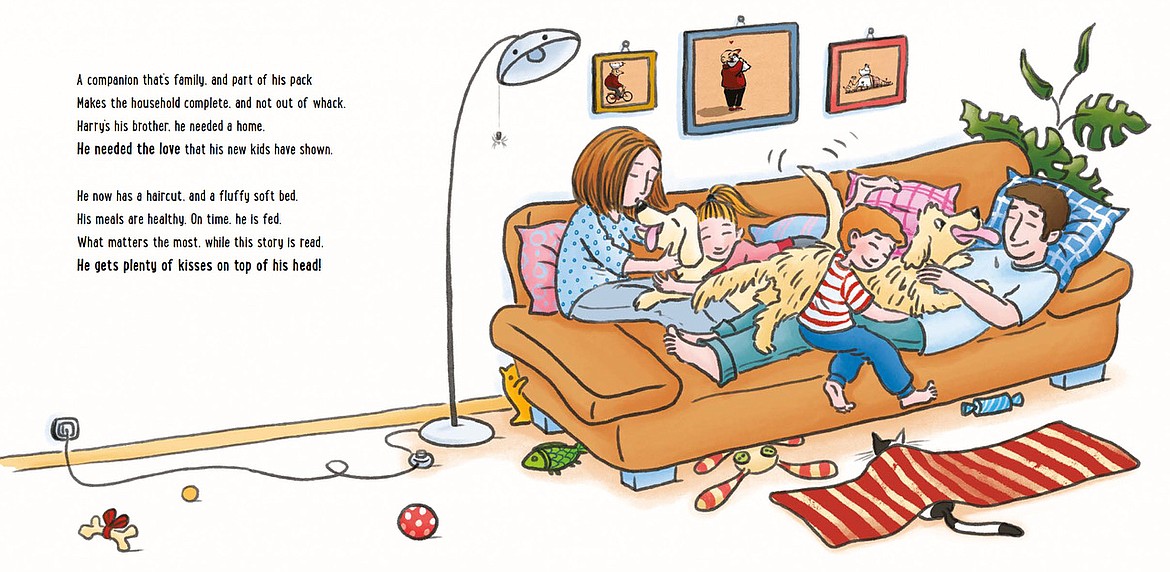 A page from Denver Morford's book "Two Goofy Dogs." "If you look around, you'll see a simple happy image," Morford said. "When you look deeper, you'll see a lot in the room, including some of my illustrator's original artwork on the wall. These are some of the illustrations I saw when I asked her to work with me."
Previous
Next
by
JOEL MARTIN
Staff Writer
|
September 7, 2022 1:15 PM
EPHRATA — Denver Morford is just wild about Harry. And Charlie.
Morford, the former owner of Barry Chevrolet in Ephrata, recently published "Two Goofy Dogs," a children's book about his experiences with two pooches named Charlie and Harry.
Morford had always liked golden retrievers and found them to be well-behaved and trainable.
"They were grownups," he said. "They were mature animals that didn't require a leash. I taught them hand signals so that … I could run my business and they wouldn't be in the way."
Then in 2016 his wife Sarah Morford - who also serves as the public information officer for the Ephrata School District - brought home Charlie, an English cream golden retriever, and everything changed.
"This dog is just weird. He's not a grownup. And he was awkward. I couldn't bring him to the dealership because he'd steal stuff off of people's desks. And I couldn't teach him hands signals because he was hard-headed. He was a smart dog that knew what he wanted. He just knew that he didn't care what you were saying or what you wanted."
Clearly, Charlie was never going to be an office dog. So the Morfords decided to get him a companion. They reached out to the breeder they'd gotten Charlie from and found he had a dog in need of rescue, Charlie's brother, Harry.
"So we're like, 'Oh, my God, maybe the stars are aligning. Wow. Whoa.' So we jump in our car, we race across the state and go to Seattle. And we discover Harry, who was about 100 pounds heavier than Charlie from eating nothing but horrible food. He was a backyard fixture. He had never been groomed. He had never been bathed. Wow, he stunk. His teeth were in horrible condition. He was a 200-pound golden retriever."
Denver and Sarah and their children Erika and Mitch began the long process of getting Harry into shape and found a wonderfully weird animal hidden under all the dirt.
"After a week of being with us, he finally started to come out to the yard with us a little bit, and then he'd get really nervous and want to come back in the house. We got to the point a month later where we could walk him halfway around the block before he would absolutely freak out and flip over and come home. That went on for a number of months. And then suddenly one day he showed his personality to us and he came in the living room with us and he sat down in front of me and he had a huge smile on his face, and from that point forward, he was our family dog with Charlie. We were watching their personalities mesh and watching these two really weird, awkward comfy dogs just play with each other and the weird things that they would do, their facial expressions."
Oddly enough, it was the musical "Hamilton," with its rapped dialogue and pacing, that inspired Morford to write a children's book.
"I started to think back to the thousands of children's books that we read to our kids back when they were really young," he said. "I started to get the best ones out of storage, and go through and look at the rhyming schemes, how they're put together, started to analyze what I loved about our favorite books ... And after about a year of hashing it out I came up with the verbiage that I was really happy with."
With two goofy dogs at the center of his story, Morford needed pictures that would bring out the goofiness. He reached out to several illustrators online and found that Friederike Ablang, in Berlin, Germany, captured them perfectly.
"She spent almost a year putting all of these images onto the page," he said. "And what she sent me was absolute perfection that nailed our family and nailed our dynamic and nailed our dogs, the personalities, all that stuff. So it was almost like it was meant to be."
Manuscript in hand, Morford began contacting publishers and discovered that the publishing business wasn't what he had expected.
"The children's book world is a really strange animal," he said. "I discovered that every single day, there are literally 50 million children's books that are authored. So the big publishers don't take solicitations. They don't take manuscripts, they don't take that stuff because of the sheer quantity that exist. So the consultant for our network said, 'Put your first book out on Amazon, Kindle Direct Publishing, sell 10,000, 20,000, 30,000, 40,000, 50,000 copies of that, create a name for yourself a little bit and start marketing yourself to local bookstores, and then expand your influence to regional bookstores. And that's kind of the most effective way to start getting out there in this world. "
Morford isn't stopping at "Two Goofy Dogs." He has plans for sequels as well.
"I've written three additional books that kind of take the story and go into different scenarios and such," he said. "And my goal is to have a series of books about this duo. And then at the end of that series, write like a novel that's tailored for younger readers, fifth grade, sixth grade, seventh grade, eighth grade, somewhere in that ballpark, that kind of combines all of those stories."
Charlie is still happily running around the Morford home, Morford said, but Harry is not.
"We found out in March that he was acting a little bit funny," Morford said. "So we had an X-ray, and he was completely full of cancer. It was all through his lungs; his spleen was the size of a cantaloupe. He had a difficult time going to the bathroom, and it absolutely just broke my heart. And the vet said, 'you're going to notice him changing, just make sure he's as comfortable as possible.' … What started as 200 pounds of massive dog ended up being about 55 pounds, and there wasn't much left at the end of his life. So in May, unfortunately, we had to do what was best for him and end his suffering."
"But we keep coming around," Morford added. "His story was told."
Joel Martin can be reached via email at jmartin@columbiabasinherald.com.
Meet & Greet…
Denver Morford will be signing copies of "Two Goofy Dogs" from 11 a.m. to 4 p.m. tomorrow at The Bookery, 1 Basin St. NW, Ephrata.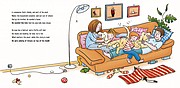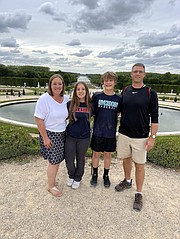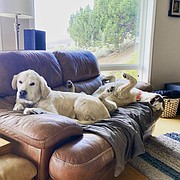 Recent Headlines
---