Meet the Herald part 1: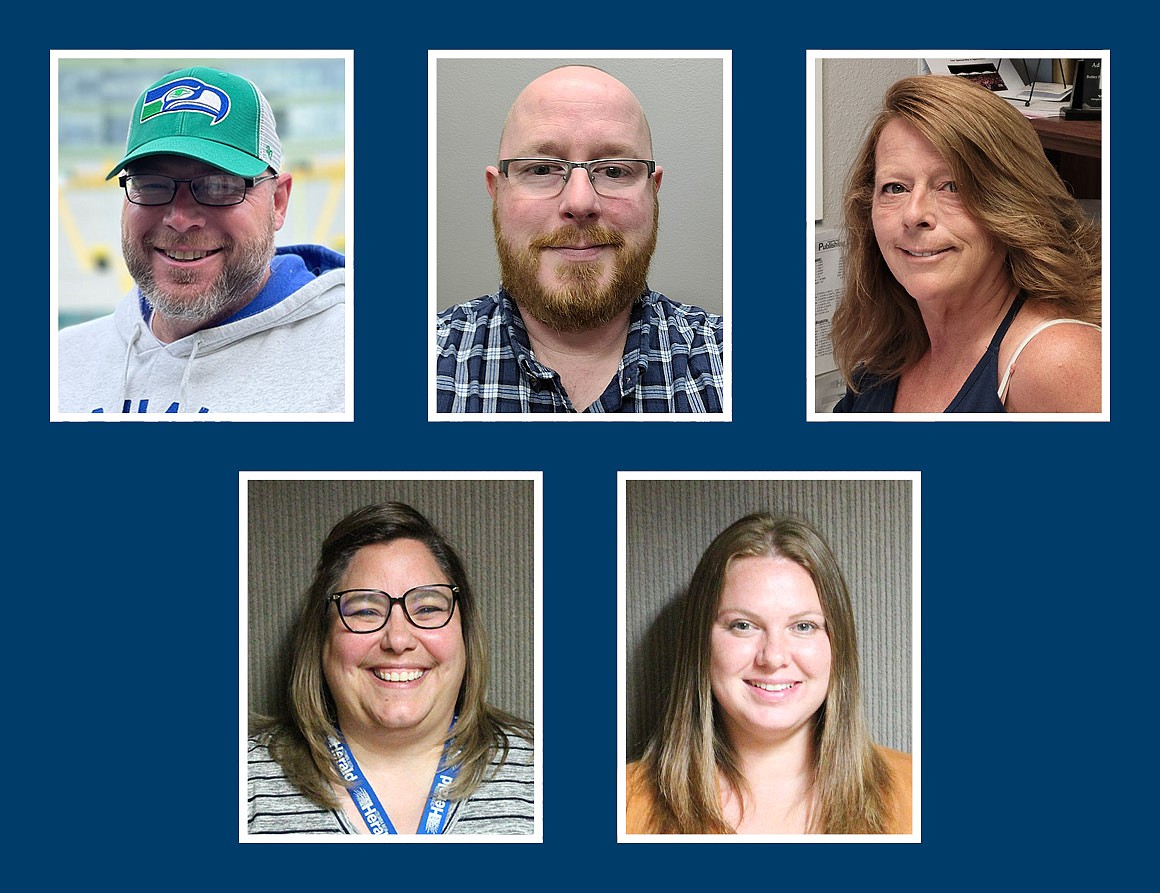 From left to right: Columbia Basin Herald staff include Bob Richardson as general manager, R. Hans "Rob" Miller as managing editor, Dana Moreno as director of marketing and audience development, Cecilia Johnson as advertising facilitator and Jeannie Austin as receptionist.
PHOTOS BY COLUMBIA BASIN HERALD STAFF
|
September 6, 2022 1:25 AM
The Columbia Basin Herald is made up of local staff that work hard to keep the community informed on local issues and events. We value transparency and, with that in mind, we thought we would introduce ourselves to our readers. Over the next few weeks, we will be publishing introductions like those below for all of our staff. We want you to know us and why we care about the communities we live in here in Grant and Adams counties.
Our first set of introductions is for our leadership team and those staff that assist readers directly with distribution and customer service.
Bob Richardson, General Manager:
brichardson@columbiabasinherald.com
Columbia Basin Herald General Manager Bob Richardson is a hometown boy who worked his way up the ladder. Bob started out in the Herald's circulation department, then spent nine years as the advertising director at another Grant County publication before returning as publisher of the Herald's former sister paper, the Royal Register. Since then, Bob has served as the advertising director, circulation director and publisher of the Sun Tribune and the Basin Business Journal, wearing some of those hats simultaneously. In January 2022, Bob became the first Moses Lake High School graduate to take the helm at the Columbia Basin Herald in living memory.
Bob serves on the Moses Lake Chamber of Commerce, the Grant County Economic Development Council and the Washington Newspaper Publishers Association boards. He has a son, two daughters and two grandsons, and is very involved in coaching softball for the Washington Rage.
Dana Moreno, Director of Marketing and Audience Development:
dmoreno@columbiabasinherald.com
Dana Moreno, one of the Columbia Basin Herald's long-timers, joined the staff in 1994. Dana grew up on the West Side of the Cascades and attended Edmonds Community College, where she studied to be an administrative assistant. When she and her family relocated to the Basin, Dana worked as a bookkeeper for a local restaurant for a while, but it wasn't really what she wanted to do.
She found her true calling when the Herald advertised for an ad designer. She's always been artistically inclined, so she took a chance and applied, she said. Since then she spent several years as the Herald's special sections editor, before moving into her current position as marketing and audience development director. In that capacity, she oversees the circulation department as well as growing the Herald's readership both in print and online.
That doesn't mean she's given up on the artistic side, though. Dana continues to design advertising for the Herald on a more limited basis. She's won consistent awards from the Washington Newspaper Publishers Association for her designs, including first place in the state for the last five years. Dana has also garnered the association's Community Service award for her work with the Moses Lake Senior Picnic.
R. Hans "Rob" Miller, Managing Editor:
rmiller@columbiabasinherald.com
Rob Miller, or as readers may know him, R. Hans Miller, began with CBH in November of last year and was promoted on Valentine's Day to Managing editor.
Rob was born and raised in Montana but comes to the Pacific Northwest from Texas where he was the editor of a weekly newspaper, making him no stranger to the role of editor.
Rob has worn many other hats throughout his life as well, working in banking, aerospace and even in Texas government. He also spent some time as a tank turret technician for the U.S. Army, gaining skills in electronics and hydraulics.
Rob put on his reporter's hat a little later in life, graduating from Texas State University. He enjoys the adventure and education he receives through journalism and ensuring the paper informs and builds community
Rob lives in Ephrata with his wife, Brandee and their three dogs, Draco, Cinnamon and Pepper. He also has one son, William, 19, who lives in Texas helping his grandparents around their property.
Jeannie Austin, Receptionist:
jaustin@columbiabasinherald.com
That smiling face that greets visitors at the front desk of the Columbia Basin Herald belongs to Jeannie Austin, who joined the team in January 2022. Jeannie comes from Oroville, a small town in Okanogan County right on the Canadian border. Jeannie came to the Columbia Basin seven and a half years ago, and she says it feels very different not seeing any mountains.
Jeannie originally went to school to study nursing and put in some time in that field, but it wasn't her cup of tea.
"When I was little, you know, when we'd play house, I was always the one that would pretend that I was sitting at a computer," she said. "Now I'm doing that."
Besides being the first point of contact with visitors, Jeannie coordinates obituaries and legal notices. She also spearheads office events: parties, potlucks and other morale-builders that make the Herald a great place to work.
Outside the office, Jeannie is active in the community through an online group called Moms Helping Moms. The group, which Jeannie started, now numbers about 3,000 mothers and facilitates trades and giveaways, including a Christmas toy drive and fundraising yard sales, to lend a hand to local moms in need.
Heather Boen, Customer Service Representative:
hboen@columbiabasinherald.com
Heather is the friendly voice you hear on the phone when you call to say your paper is late, change your subscription address, or pay your bill.
An Ephrata native, Heather went to work in fast food in high school and became a store manager when she turned 18. It was good work, she says, but the schedule was crazy and she decided she needed a change. She put in a few months at a retail store in Moses Lake and came to the Columbia Basin Herald in November 2021. She's been a district manager in the Herald's circulation department ever since.
Outside the office, Heather enjoys swimming and spending time with friends and family.
Cecilia Johnson, Advertising Facilitator:
cjohnson@columbiabasinherald.com
Cecilia is an Othello native, born and bred. She attended Big Bend Community College after high school, originally planning to be a teacher before she decided that wasn't for her. A friend encouraged her to apply for a job as a dental assistant, and that turned into a 19-year career.
Five years ago the Columbia Basin Herald hired her as a receptionist, and she never looked back, she says. That job included more than just sitting at the front desk; she also entered legal notices and obituaries, as well as helping with accounts receivable and circulation. Since last year Cecilia has been the Herald's advertising facilitator. This entails scheduling, tracking and billing advertising for both print and digital media, as well as coordinating with the ad design department in Coeur d'Alene.
When she's not at work, Cecilia and her husband enjoy camping, spending time on the lake and traveling.
"We're always planning our next getaway," she said.
In the next few days, we'll introduce you to our editorial staff. Thank you for your readership and for being a part of the wonderful Columbia Basin community.
Recent Headlines
---