GCSO candidates speak at Realtors association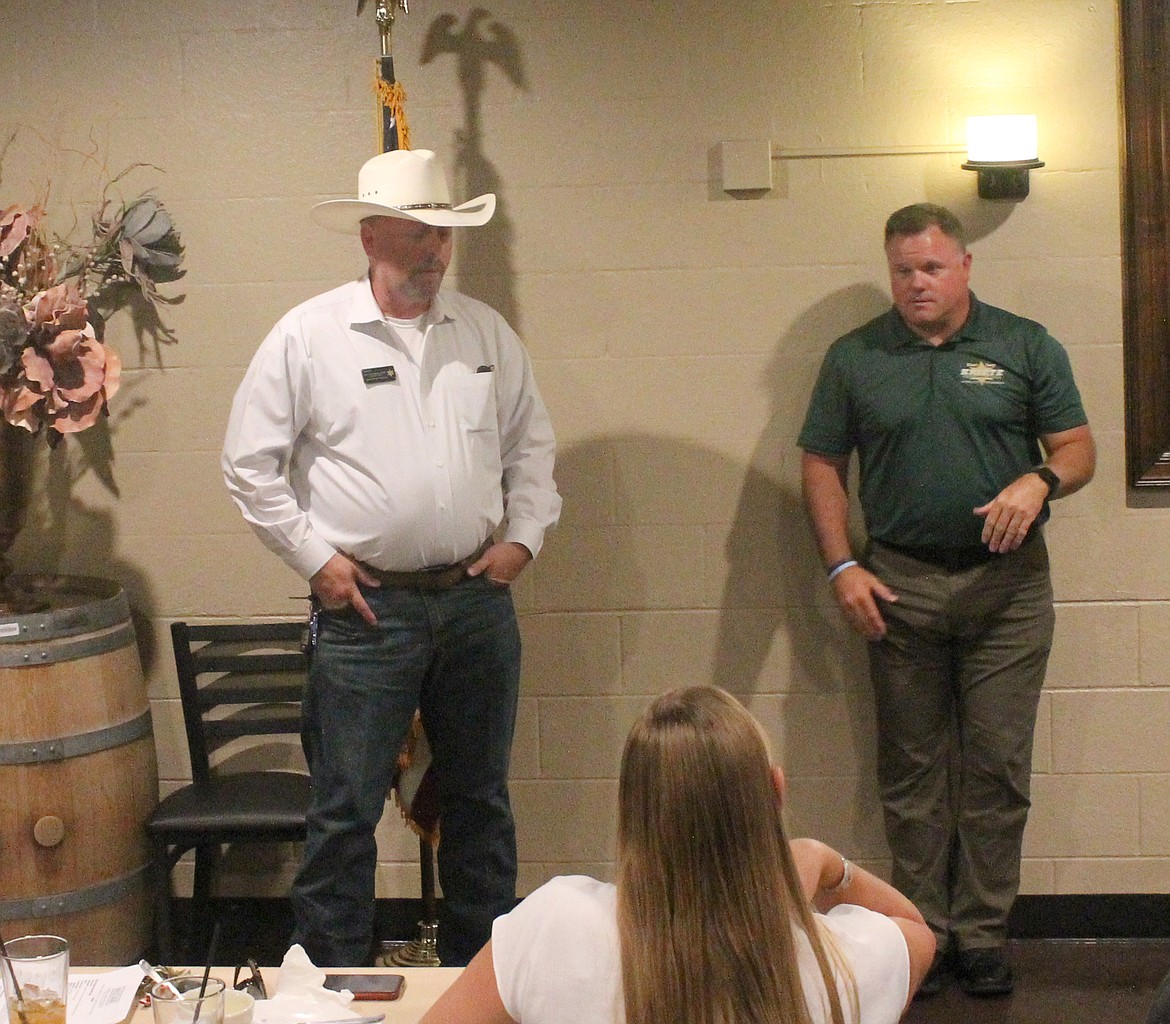 Grant County Sheriff candidates Joe Harris, left, and Joey Kriete address a meeting of the Moses Lake-Othello Association of Realtors Thursday.
JOEL MARTIN/COLUMBIA BASIN HERALD
by
JOEL MARTIN
Staff Writer
|
September 2, 2022 1:25 AM
MOSES LAKE — Grant County Sheriff candidates Joey Kriete and Joe Harris addressed a meeting of the Moses Lake-Othello Association of Realtors on Thursday, covering a range of topics including drugs and theft, as well as administrative and structural ideas for improving the function of the Grant County Sheriff's Office.
Realtor Tara Zerbo introduced the two candidates to an audience of 25 people over lunch at the Porterhouse in Moses Lake. Each candidate spoke for about 15 minutes, then the two fielded questions from the audience. Both discussed their history in law enforcement and agreed that more deputies are needed to cover Grant County as it continues to grow.
Kriete spoke first, introducing himself and running through his history with law enforcement and the Grant County Sheriff's Office. He emphasized the county's struggle with illicit drugs.
"The biggest problem is, right now, there's a lot of drugs, and they're easy to get by the cost," Kriete said. "Years ago, if you wanted to buy a pound of methamphetamine, it was gonna cost you anywhere between probably $10,000 and $20,000. You can get it now for a thousand bucks. That's how much of it's out there. Fentanyl pills - you've read about fentanyl - how deadly it is. 10 bucks a pop. Because there's so much out there, and that's the scary part for law enforcement is that we have so much of this stuff coming across the border. I just don't think that we're doing enough to deal with the problem."
What local law enforcement has been doing so far isn't working, he said, adding that many other crimes grow out of drug use.
"If we don't start coming up with a better plan, to deal with the core problem, it's never gonna go away," he said. "We're always gonna have a problem with assaults, shootings, and all the stuff that's driven by this addiction that's out there."
Along with a rundown of his own experience, Harris spoke about the logistics of policing a largely rural county, pointing out that in some areas a call for police can result in a wait of as much as two hours.
"The sheriff's office is based in Ephrata. That's where everything is at, and when I worked for the sheriff's office, I worked at the south district most of the time, but my main office was in Ephrata. So, if I went down to Mattawa to do something - take a burglary call and collect evidence or whatever - and drive all the way back to Ephrata to process that evidence and then drive all the way back down to Mattawa. And it never fails, you're pulling right into Ephrata I've just driven an hour up from Mattawa. Now I gotta call in Royal Camp, a priority call I can't just set off to the side. So now, I'm running from Ephrata to Mattawa, from Mattawa to Ephrata, and now I gotta go to Royal Camp."
Harris suggested putting GCSO precincts in smaller towns like George and Coulee City for deputies to work from as a means of mitigating travel and response times.
One thing both candidates agreed on was the need for more deputies. One audience member asked about abandoned vehicles and the difficulty in getting them removed. Harris explained that the utility officers who handle such calls are stretched thin.
"If you call a utility officer, a utility officer shows up, you're now expecting something to happen that doesn't happen," he said. "Now, that's not the fault of the utility officer, but because there's (only) two of them for the entire county."
Kriete agreed.
"If we had about 100 extra deputies on the road, then we could be everywhere at once, but we can't be everywhere at once, and we sure as heck can't do it alone," Kriete said.
Joel Martin may be reached at jmartin@columbiabasinherald.com.
Recent Headlines
---