'Far West' art show headed to Soap Lake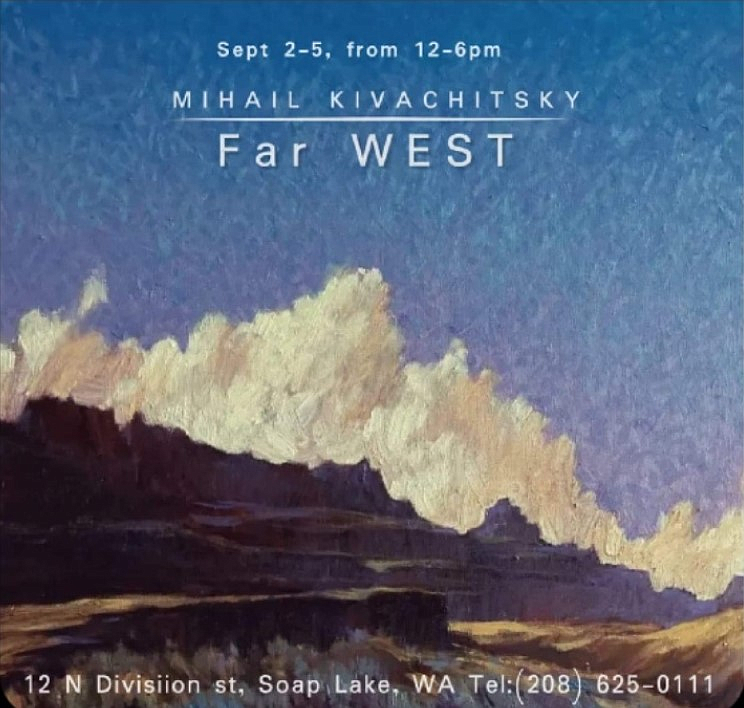 The "Far West" art exhibit will run from 12 to 6 p.m. each day, Sept. 2 through 5 at 12 N. Division Street in Soap Lake.
COURTESY PHOTO/MIHAIL KIVACHITSKY
|
September 2, 2022 1:25 AM
SOAP LAKE - Artist Mihail Kivachitsky will be returning to Soap Lake Sept. 2-5 to host another art show, this time featuring new pieces.
"This is special," Kivachitsky said. "This is a document of real time."
The art show, "Far West," will feature some pieces from the previous show that was held in Soap Lake over the Fourth of July weekend along with new pieces inspired by the landscape of the Columbia Basin and West Coast of the United States.
He said he feels like his art captures not only the features and distinguishable characteristics of the land and the area, but also works as a piece of history. He explained that his art documents what things were like at that point in time and through his eyes as he experiences them, sometimes for the first time. As he visits those things again, and as time goes on, those things change or are seen differently, which is what makes the original piece so unique.
He mentioned he is also capturing things and places that have special meaning to people and inspires good feelings and memories in them when they see his art.
In just the last couple of months since his last exhibit, he has created 10 new paintings inspired by his time in the area.
Kivachitsky said he chose the name "Far West" for his exhibit because he wanted to capture the landscapes of the far west to him. He grew up in what used to be the Soviet Union, more specifically Bishkek, Kyrgyzstan, and explained that he had never seen places like what he has experienced in the Western United States.
"Because for me, this was everything exotic and any place I saw was completely like what I never saw in my life," said Kivachitsky.
He said he hopes one day to have a more permanent gallery set up in Soap Lake and hold art classes.
"Like an art center," he said.
For now, he plans to have at least one more exhibit in Soap Lake, after 'Far West', before the end of the year.
"Far West" will run from 12 to 6 p.m. each day, Sept. 2 through 5 at 12 N. Division Street.
Rebecca Pettingill may be reached at rpettingill@columbiabasinherald.com.
Recent Headlines
---