Maverick boy's XC qualifies for first state meet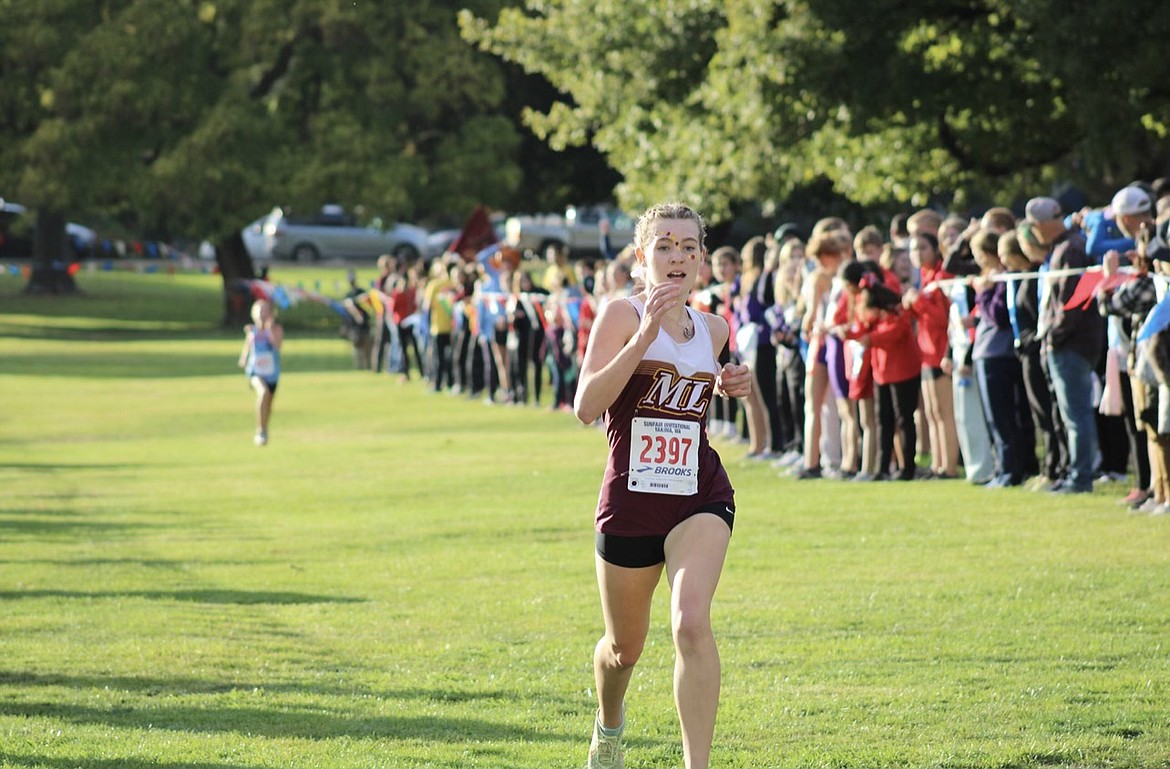 Moses Lake senior Ashlee Scheel finished 13th in the Columbia Basin Big 9 District Meet on Thursday, qualifying her for state as an individual.
CONTRIBUTED PHOTO/IVAN ALFARO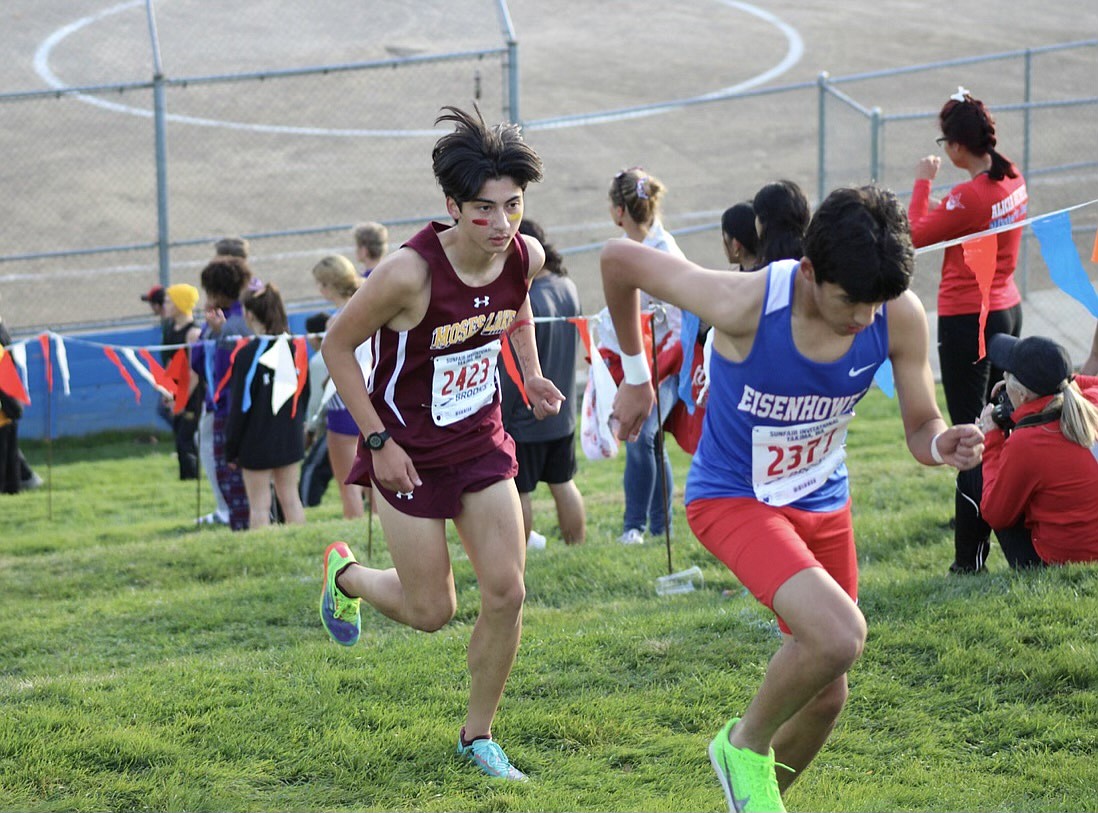 Moses Lake sophomore Niko Rimple runs uphill at the Columbia Basin Big 9 District Meet.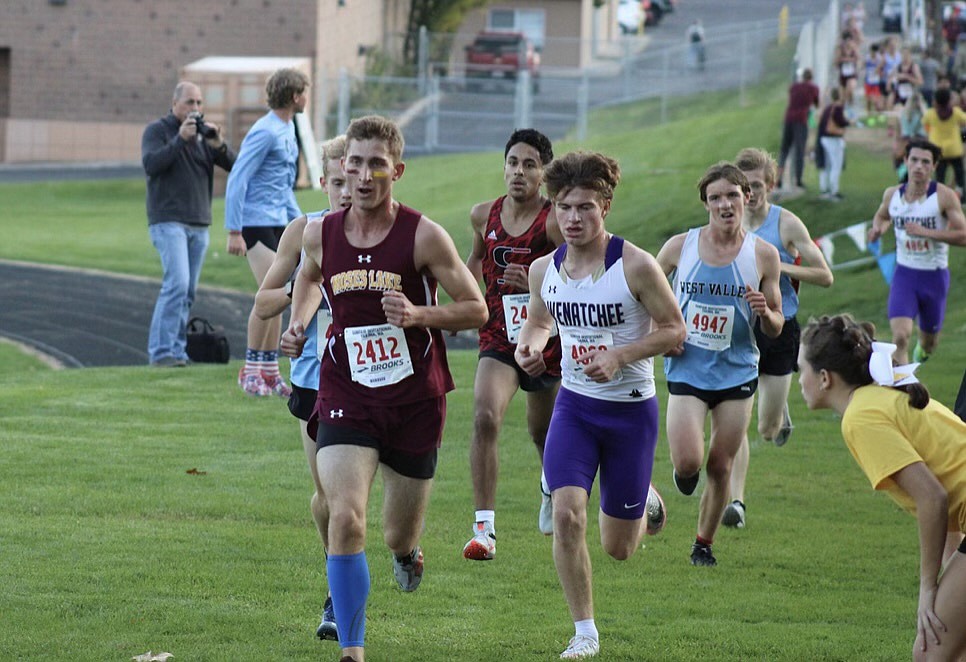 Moses Lake senior Ethan LaBonte's sixth-place finish at districts helped push the Maverick boy's cross country team to their first state appearance.
Previous
Next
by
IAN BIVONA
Sports Reporter
|
October 29, 2022 3:06 PM
MOSES LAKE – For the first time in program history, the Moses Lake boys cross country team will pack their bags for state after the Mavs finished with a score of 86 points in Thursday's Columbia Basin Big 9 District Meet at Franklin Park in Yakima, a top-two placement that qualified them for the 4A state meet.
"We've come so close to getting into state before, and then when we started researching, no Moses Lake team has ever qualified," Moses Lake head coach Larry Dagnon said. "Some had been there when it was the University of Washington Invitational from 1959-64, but in 1967 that's when teams started to qualify."
Senior Ethan LaBonte's sixth-place finish of 16:33.47 on the three-mile course led Moses Lake, with senior Sam Elliott finishing 12th (16:55.37), Jonathan Roueche finishing 16th (17:10.12), junior Miguel Mendoza finishing 22nd (17:26.62), Angel Verduzco finishing 23rd (17:28.75), sophomore Niko Rimple finishing 25th (17:35.80) and senior Logan LaBonte finishing 30th (17:55.27).
"Everything leading up to state, we really wanted to get into the mindset that we can do this," Ethan LaBonte said. "And that we wanted to be physically and mentally prepared for state in general. The week before (districts) we were all physically there, the goal was just to get there mentally – and that's exactly what we did."
The Mavs finished second at districts behind West Valley, who finished second at the 4A state meet last year.
"This year I've been the most motivated to work for what we achieved at districts," Logan LaBonte said. "Especially, the week before leading up to the race, we did a lot of mental training."
Along with the boy's team qualifying for the state meet, the Mavericks are sending individual qualifiers. Seniors Camryn Holterhoff and Ashlee Scheel both qualified as individuals for the 4A girl's meet. In order to qualify as an individual, runners had to finish inside the top 14.
"Being a senior, it makes it more awesome that we get to go to state," Holterhoff said. "We've just worked so hard for this."
Scheel described making the meet as "surreal."
"It means a lot to get to state," Scheel said. "It was super surreal to get to cross the finish line and hear that me and Camryn were both top 14."
Elliott, who qualified for the boy's state meet as an individual, said that the moment was special for him because his older brother was a state qualifier when he was in high school.
"He's the one who got me into running cross country," Elliott said. "He went to state twice, so that's always been my goal."
Mendoza said that the team's mentality has changed since a season ago, and he credited his teammates for motivating him at the district meet. Brodie Holland added that the Mavs feed off of each other, with teammates cheering runners on throughout the course.
"Everybody was cheering for every person on the team," Holland said. "Everybody was at every spot. At this corner, at the dead zone, which we call somewhere where nobody cheers at, at the hill, at the finish. Just everywhere, and I think that's what pushed everyone on."
Rimple, who recently moved to Moses Lake from Japan, said that he was relieved to hear that Moses Lake placed second in districts.
"When I heard the result after the race, the pressure was off and I was relieved," Rimple said.
The 4A state meet is being held at the Sun Willows Golf Course in Pasco on Saturday, Nov. 5.
"Getting to experience that, not only the feeling of making it to state but making history, it's really cool," Verduzco said. "Especially getting to run with all these guys, all these seniors, I look up to them very much."
Ian Bivona may be reached at ibivona@columbiabasinherald.com.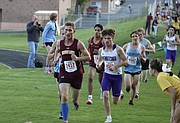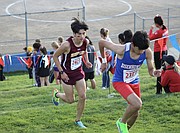 Recent Headlines
---