New-look Cougs strive to push for NCAA tourney
by
IAN BIVONA
Sports Reporter
|
October 27, 2022 2:23 PM
SAN FRANCISCO – With all the turnover that the Cougars have faced this offseason, including bringing in six new players to replace four transfers, Efe Abogidi moving to the NBA's G-League and Michael Flowers graduating, the Cougars remained excited about the upcoming season at Wednesday's Pac-12 Media Day.
"We talk about having great attitudes, working hard, guys having pride in being a Coug, and the group that's behind has done the same," WSU head coach Kyle Smith said at Pac-12 Media Day on Wednesday. "We're just going to look a little different."
The Cougs lost their top-four scorers from a season ago, with Flowers graduation, guard Tyrell Roberts transferring to San Francisco, guard Noah Williams transferring to Washington and Agogidi in the G-League.
"We're just a different team," Smith said. "Despite our talent is different. We have a little bigger guards, I think. Our frontcourt is a little more skillful. I think our group's more skillful."
Incoming guard transfers Justin Powell (Tennessee) and Jabe Mullins (Saint Mary's) and freshman center Adrame Diongue will help alleviate some of the stress left by the departure of the former Cougars, with Smith saying it will adjust the play style.
"It's going to make us play a little differently, but I think our guards with T.J. and Justin Powell in the backcourt and Andre Jakimovski, Mouhamed (Gueye) and Jabe Mullins kind of fill out the group," he said.
Junior guard T.J. Bamba returns as the fifth-highest scorer from a season ago when he averaged 7.7 points per game. As an upperclassman, Bamba said he believes it's his time to step up and lead WSU to success this season.
"I feel like it's my job this year to lead the group," Bamba said. "Being in the program for three years now, I know what it looks like, and I know what it takes to be a great team and get to that postseason that we hopefully are pursuing this year."
Gueye had put his name in the NBA draft and the transfer portal this offseason, but the forward opted to return to Pullman for a sophomore season with the Cougars. He said on Wednesday that he's spent the off-season working on his game and, similar to Bamba, becoming a better leader.
"This off-season I worked on my game overall, obviously shooting because that was my biggest focus," Gueye said. "But I work on my game overall, like T.J. said, trying to lead, trying to be a better leader, be more vocal. Be more aggressive on the defensive end, and I think that will help the team too."
In Smith's first three seasons as head coach, the Cougars have seen their winning percentage increase each season. WSU went 22-15 and had an appearance in the final four of the NIT last season. Now, in his fourth year, Smith says the Cougs will have to build off the success from the previous seasons in rebounding, defense and keeping control of the ball.
"The challenge for us to make that jump is to keep the defense in the rebounding at that level," he said. "We have bigger size on the perimeter. We're more switchable. We're going to have to do those things to really compensate."
WSU tips off its season at home against Texas State on Nov. 7 at 4:30 p.m. The Cougs were picked to finish eighth in the Pac-12 Preseason Media Poll.
Ian Bivona may be reached at ibivona@columbiabasinherald.com.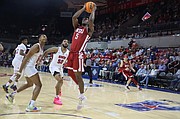 Recent Headlines
---