Market change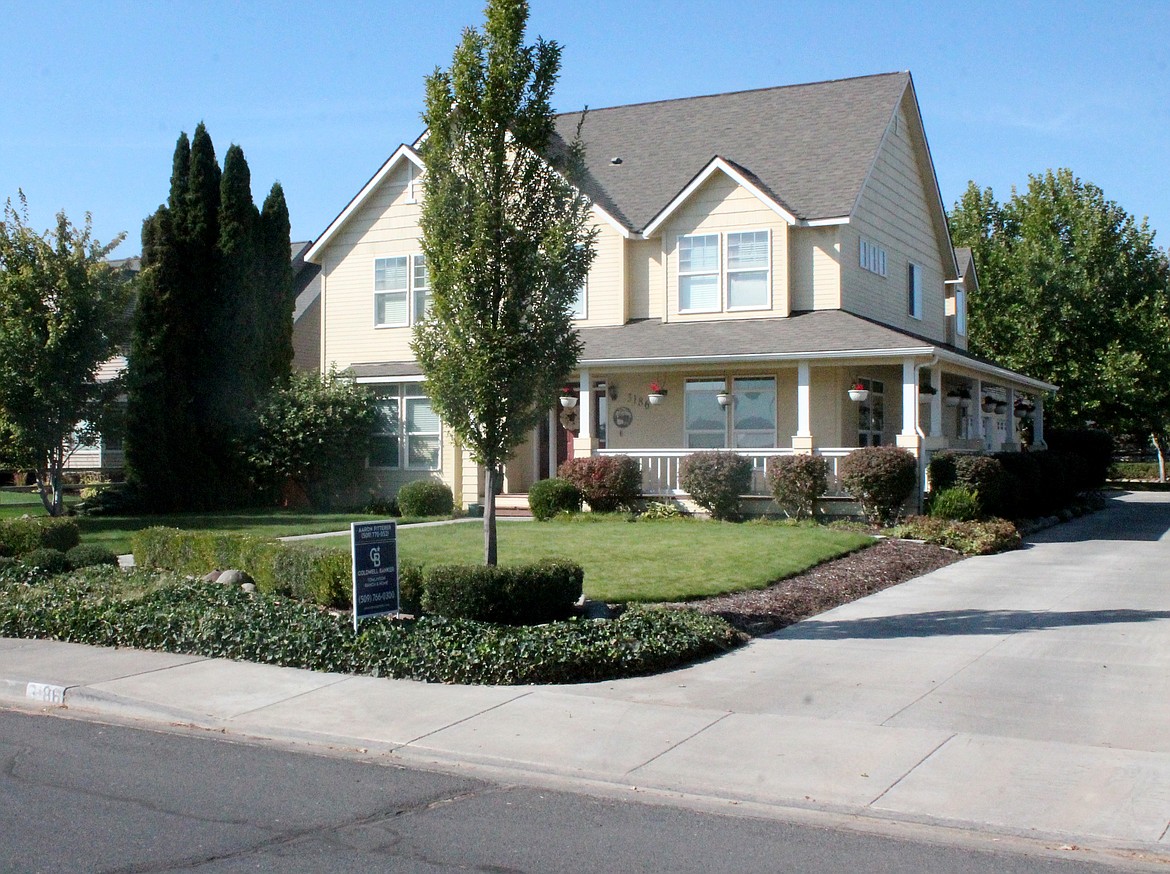 A home for sale in Moses Lake. Prices statewide are dropping, experts say, but for the time being they're holding steady in the Basin.
Joel Martin
by
JOEL MARTIN
Staff Writer
|
October 7, 2022 1:50 AM
MOSES LAKE — Things are beginning to shift in the world of real estate, but it's hard to know how much of that shift will come to the Basin.
Home prices have dropped 0.8% in Washington since June, according to a study by QuoteWizard, a Seattle-based online insurance comparison platform.
"Less than 1% may not sound like a huge amount, but you're talking about tens, if not hundreds of thousands of dollars in some cases," said Nick VinZant, an analyst with QuoteWizard, a Seattle-based online market research company. "That can be a huge difference."
VinZant has a theory as to the reason for the shift.
"I think what is happening is two things that are related to one thing," he said. "And that is that interest rates are starting to rise. That ultimately means that money isn't cheap anymore; you're going to have to pay more interest, it costs you a lot more. So a $500,000 house, the interest that you're going to pay on that is suddenly a lot more than you would have been paying before."
At the same time, more homes are coming on the market. In June, Washington real estate brokers had 0.61 months of inventory, meaning that it would take a bit over half a month to sell all the homes that were on the market, according to figures from Northwest Multiple Listing Service. By August, the latest month for which data was available, that figure had risen to 1.74 months of inventory. That, VinZant said, is where supply and demand comes into play.
"As the market tightens, it shifts from a seller's market to a buyer's market. So people are really looking at homes and seeing if they're worth what the asking price is. And asking prices are starting to have to come down to really reflect what people are willing and able to pay."
That's having a real impact on how home sales are made in this state, VinZant said.
"Here in Seattle, anecdotally, we've heard that a couple of months ago somebody would put a house on the market, get $200,000 or $300,000 above asking price and have a bidding war for it. Now they're putting homes on the market and hoping to get one bid. And you're starting to see homes that are sitting for longer. People are paying asking price, maybe even less than asking price in some circumstances. And that's something that we're just not used to."
OK, that's Washington as a whole. However, the ripples from that change haven't really spread to the rural regions. Home prices are up 3% since June in both Grant and Adams counties, according to data supplied by Josh Driskell, a spokesman for QuoteWizard. Grant County's months of inventory have held steady through that time, at 1.95.
"It's interesting because I closed three transactions last month and I got full asking price," said Janet Piper, a real estate agent with Realty Executives of Grant County. "Two of them were in cash. Whatever is going on in the state, I think, isn't really affecting us economically. I also do property management, and Boeing is gearing up, so I've had a couple of tenants moving over from the West Side. There's not a lot of rentals. And there's a lot of people that are still coming from out of town, out of state, with cash in hand. And it has a little bit to do with the (LDS) temple, Boeing's gearing up, and REC's gearing up as well. This is great. It's a very organically-grown economy around here. Thankfully, the interest rates really are not hurting us as they are in other parts of the state and country."
The wrench that COVID-19 threw into the gears may have delayed building, but that's beginning to reverse itself both here and statewide. The principle of supply and demand is coming into play, which means prospects are looking better for home buyers.
"If you're looking to buy, I'd wait a little bit longer, because I think that it's gonna start trending down," VanZint said. "We've seen in some places a 6% drop in two months. And I think that that is going to continue as long as there are signals that the interest rate is going to stay where it is, it's not going to get higher. So if you're looking to buy, it's a good time for you."
"They're continuing to build houses all over town," Piper said. "I think in Dune Lakes alone just last week there were three foundations laid in those lots. People are building and building and building."
Joel Martin can be reached via email at jmartin@columbiabasinherald.com.
Recent Headlines
---