Mavs push past Wenatchee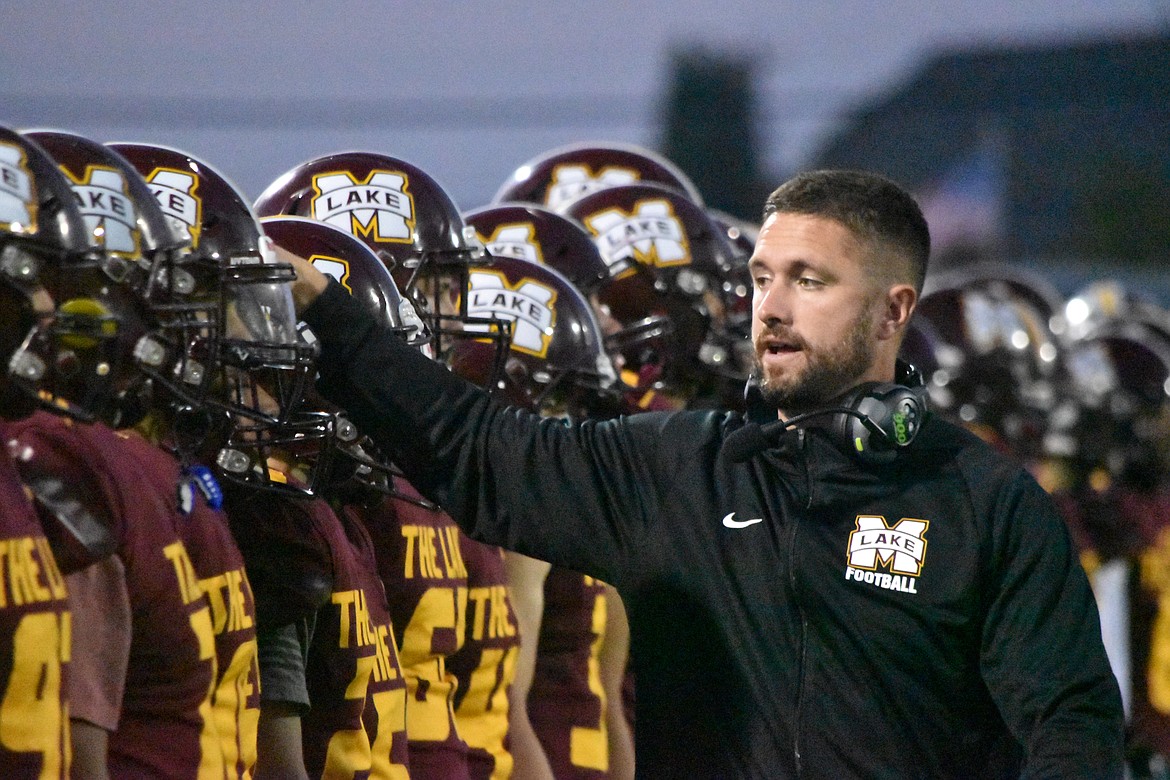 Moses Lake Head Coach Brett Jay goes down his line of players just before the game against Wenatchee High School began Friday night.
Rebecca Pettingill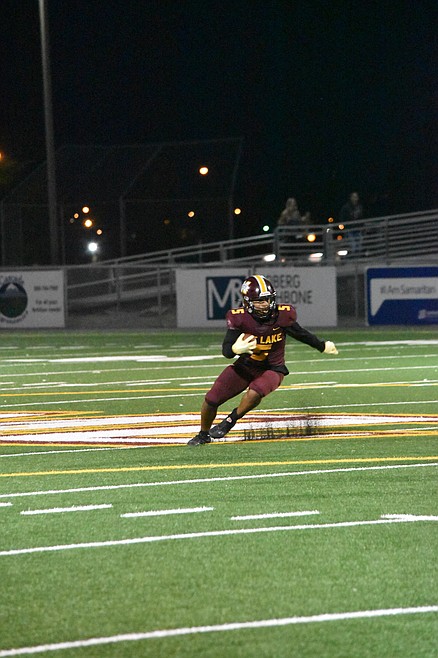 Moses Lake's Kyson Thomas (5) had three out of four of the team's touchdowns of the game.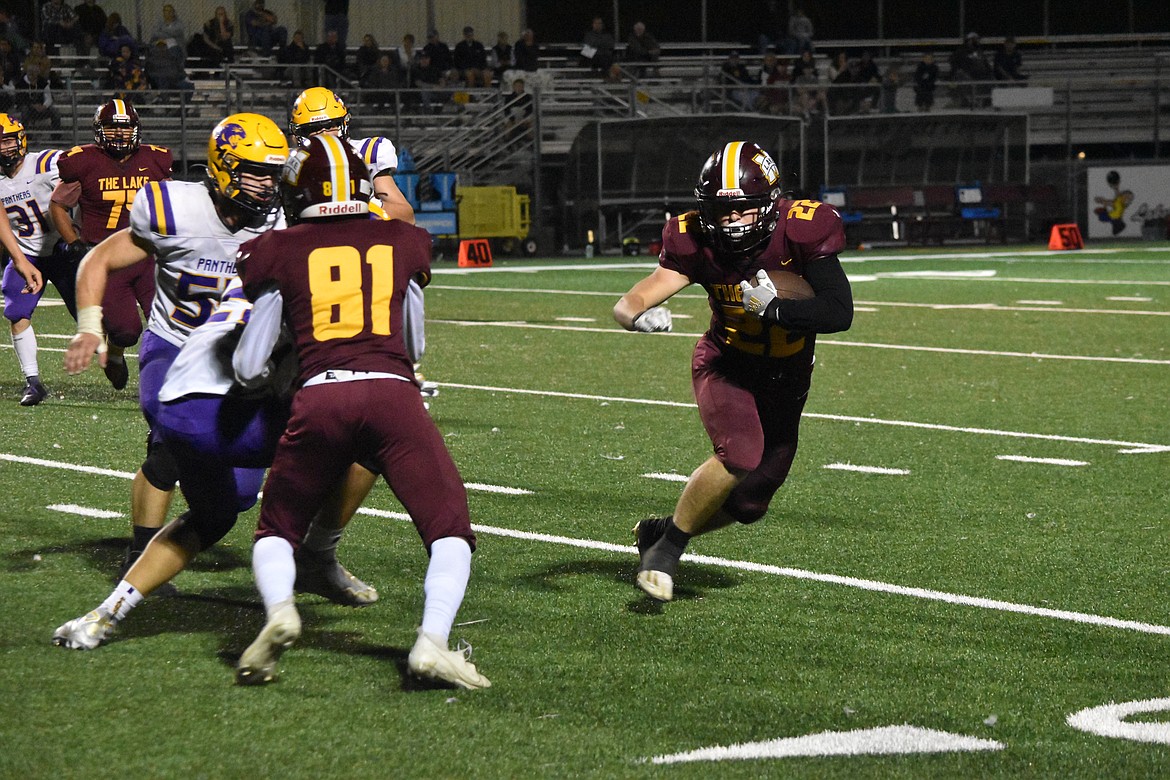 Maverick junior Jonah Robertson (22) rushes as sophomore Isaiah Jackson-Moreno (81) holds a couple Wenatchee players back and creates an opening for Robertson.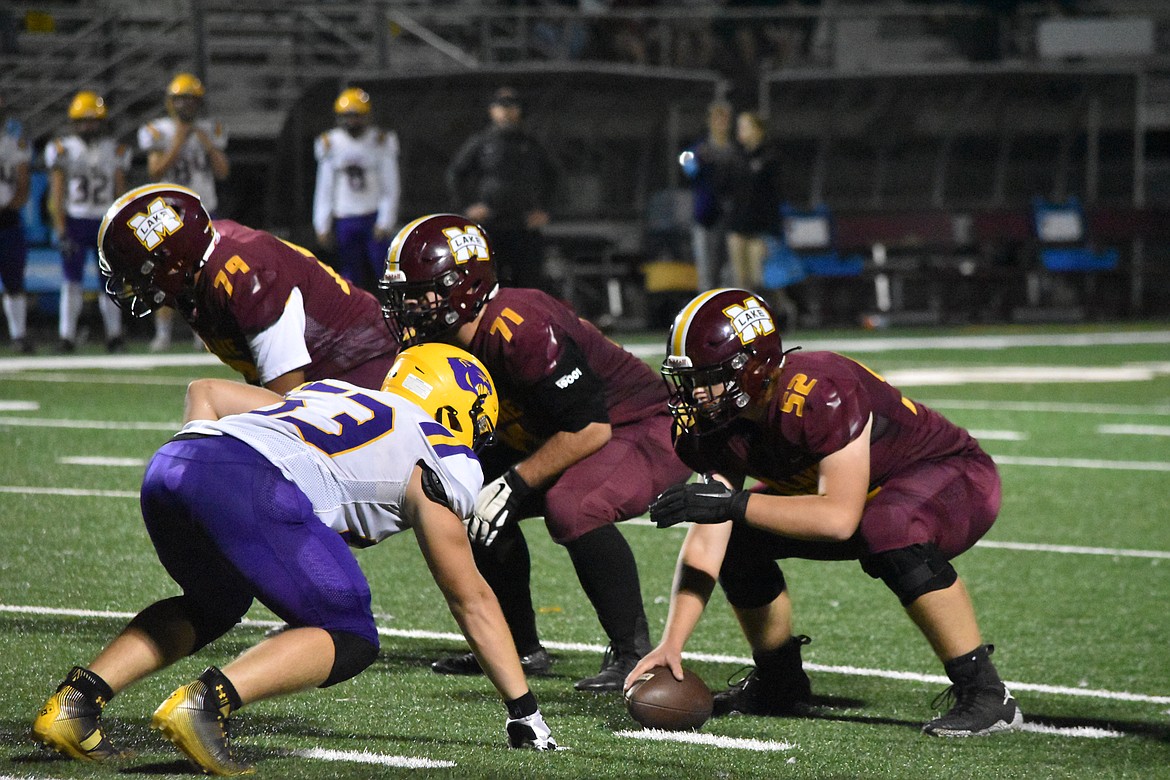 The Moses Lake High School Mavericks took down Wenatchee High School Friday 28-7.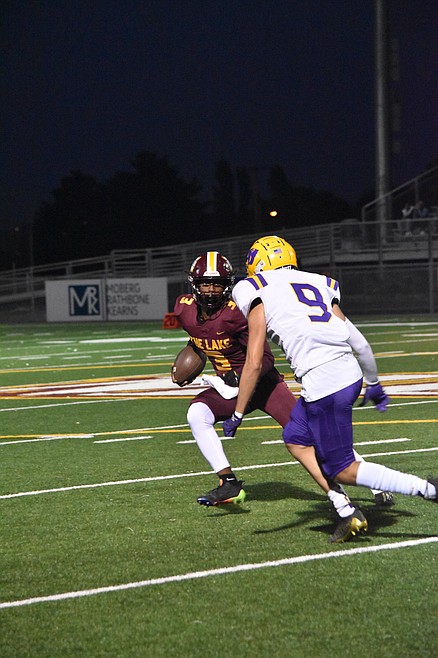 Junior wide receiver Joel Middleton (3) stepped up as quarterback in the game against Wenatchee on Friday for teammate Brock Clark who was out with an injury.
Previous
Next
by
REBECCA PETTINGILL
Staff Writer
|
October 1, 2022 4:08 PM
MOSES LAKE - The Moses Lake Mavericks swept the Wenatchee High School Panthers 28-7 Friday night. Despite the big win, the head coach and players for Moses Lake say they still have improvements to make.
"Just because we won doesn't mean we're happy with it," said Moses Lake senior Tell Rathbun.
An interception and return touchdown by Moses Lake junior Kyson Thomas halfway through the first quarter seemed to drive the tide for the Mavericks, who went on to score another touchdown before the first quarter was up. The Mavs added a third touchdown in the second quarter and their final touchdown of the night in the fourth quarter.
While plenty of penalties were called on both teams, the Mavericks only let Wenatchee see the end zone once, coming in the fourth quarter.
Head coach Brett Jay said he felt like his team did well on defense and special teams, but struggled on offense and had too many penalties.
"I thought we played two of the three facets of the game," said Jay. "Championship teams are going to play three of the three facets night in (and) night out. We had two of three tonight, if we get our offense going it's a big night for us but we'll get there. It just takes time."
Thomas and Rathbun agreed.
"It was a good win, but we are way better than we played tonight," said Thomas. "If we want to go to state and compete at the level we want to compete at, then how we played tonight isn't good enough."
Even though they are still trying to get things right offensively, there were a few things Jay thought went well.
"I was really proud of Joel (Middleton) for stepping in there," said Jay. Middleton, who typically starts at receiver, stepped in for quarterback Brock Clark after Clark's injury last week against Central Valley.
He said they expect Clark to return to the field soon, most likely within the next couple games.
Jay gave props to senior Jacob Goude, who is leading the team in tackles this season and senior Camden Stout who Jay said played his best game in the two years he's coached him.
Thomas also had a notable game, scoring three of the four touchdowns of the game.
"He's just a great all around player, he does it on offense, he does it on defense, and did it on special teams tonight," said Jay.
Jay noted that Thomas had a return field goal for a touchdown, a defensive touchdown and a special teams touchdown that was called back.
"Overall I think we played good and we're going to keep getting better," said Jay.
The Mavericks next take on Davis High School on Oct. 7 on the road.
Rebecca Pettingill may be reached at rpettingill@columbiabasinherald.com.
Box Score:
Moses Lake -14 7 0 7 - 28
Wenatchee - 0 0 0 7 - 7
Recent Headlines
---