Jacks rally to defeat Mabton 3-1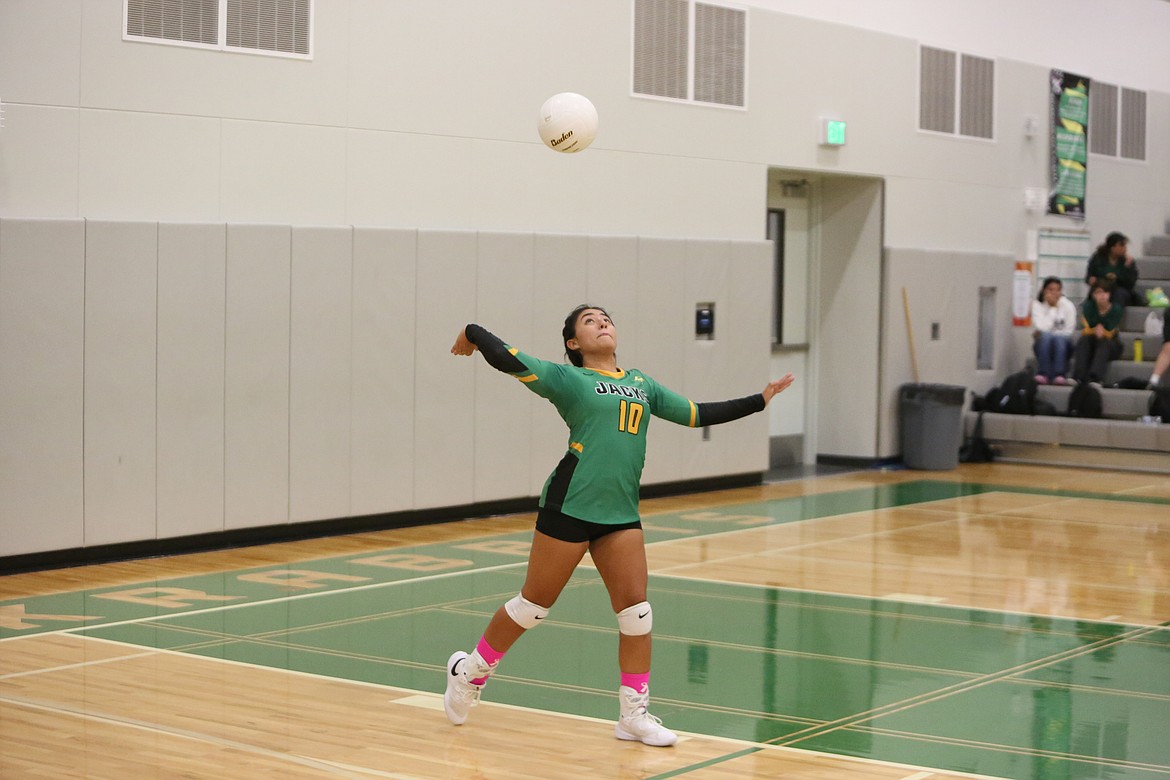 Quincy junior Ashly Garcia prepares to serve during the first set of the Jacks' 3-1 win over Mabton.
Ian Bivona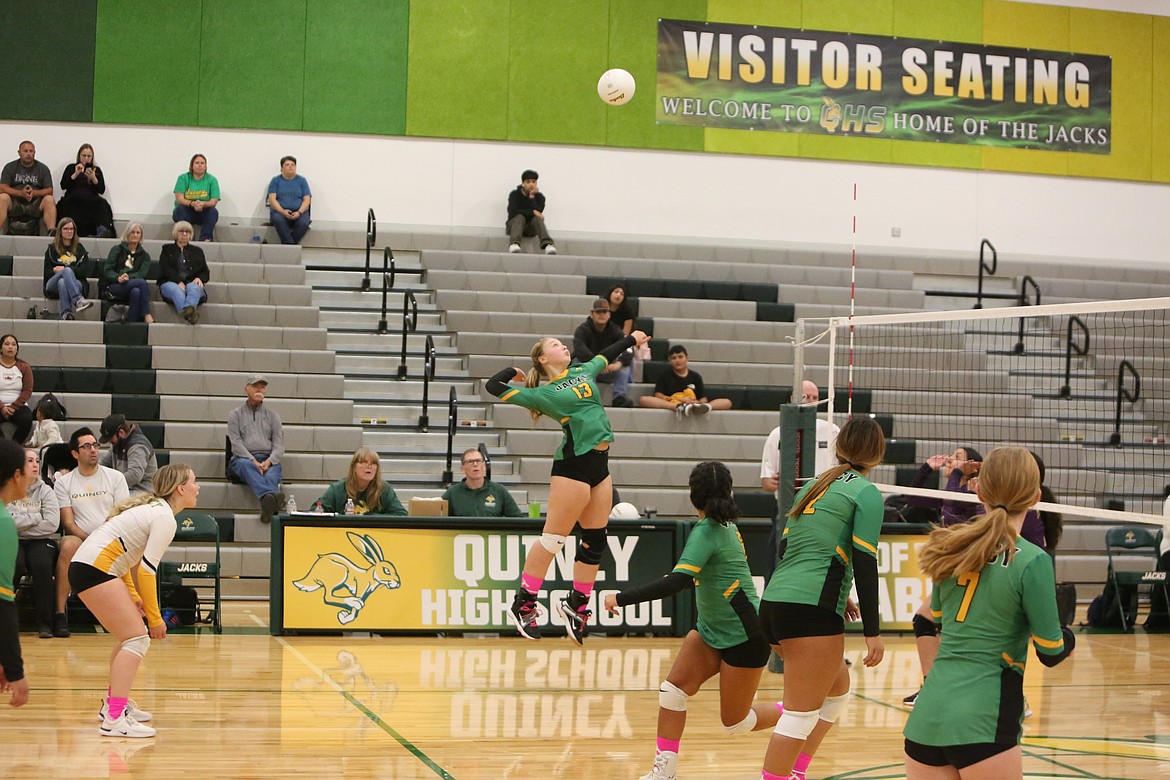 Quincy freshman Jaydin Nellis leaps in the air to return a volley to the Mabton side of the court during the Jacks' 3-1 win over the Vikings on Saturday.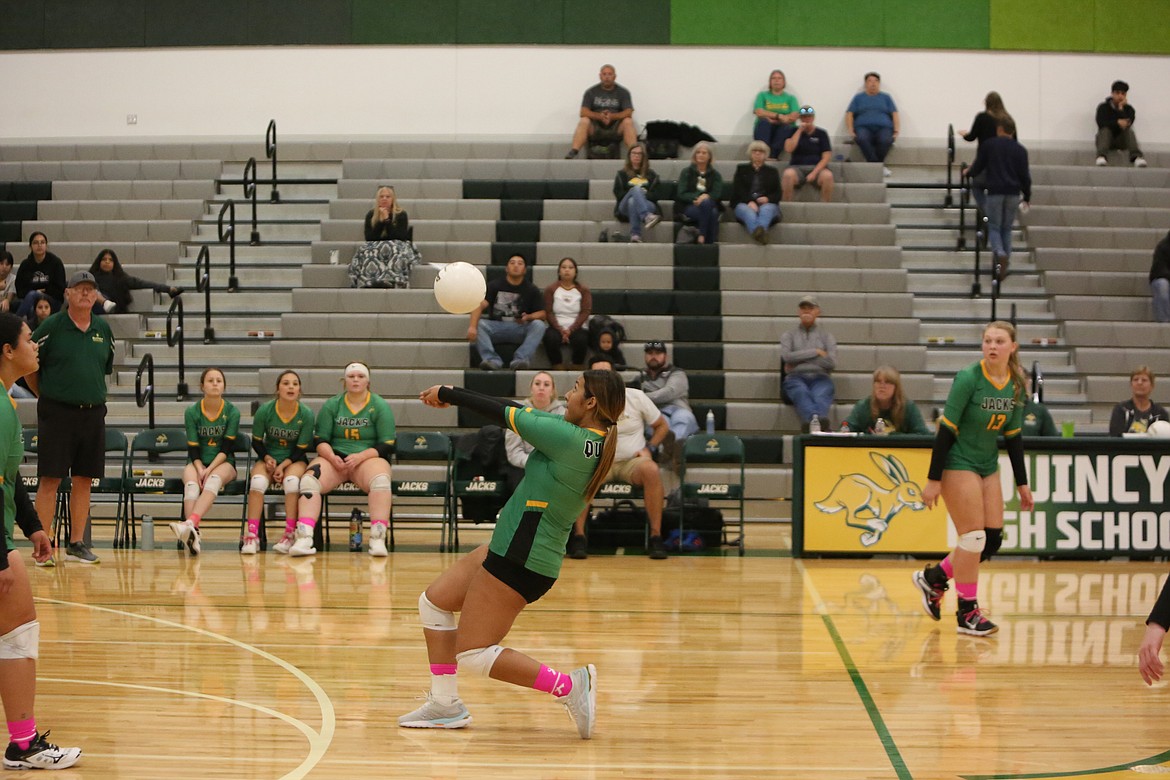 Quincy freshman Alyana Quintanilla passes the ball over the net during the first set on Saturday.
Previous
Next
by
IAN BIVONA
Sports Reporter
|
October 1, 2022 2:38 PM
QUINCY – The Quincy volleyball team got back in the win column on Saturday, defeating Mabton at home in four sets.
Despite dropping the first set 25-20 to the Vikings, the Jackrabbits rallied off three consecutive set wins for the 3-1 victory.
"We had a good practice (Friday)," Quincy head coach Dean Pratt said. "That did not carry over in that first set, but they took upon themselves and did a little pushing on their own."
The second set saw both teams fight back and forth, with a tied score at 21 before Quincy began to pull away for the set win 25-22.
"We came off of a loss, and we wanted to get this win (today)," sophomore Emma Galloway said. "We had a couple of girls gone, so I think we really wanted to push for them and get another win under our belt."
After Mabton rallied to tie the set at 5 in the third set, Quincy's Shea Heikes made a diving attempt to the ball on what appeared to be a lost cause – but the Jacks rallied to score and used the momentum to jump out to an 18-10 lead in the third set. The Jacks were able to hold off a Mabton rally and won the third set 25-20 on an out of bounds serve by the Vikings.
"We came in with a lot of confidence, and it's really exciting that we won," Heikes said.
Quincy was once again able to jump out to an early lead in the fourth set, scoring eight of the first 10 points in the set. The Jacks extended their lead to 12-3, but Mabton cut the deficit to five after a timeout. Following a Quincy timeout, the Jacks extended their lead to 10 on an ace by Heikes.
"We play really well when we all work together, and when we're talking and communicating," Heikes said. "I think we're a really good team."
Quincy took the fourth set 25-17 on an out of bounds serve by the Vikings, winning the match 25-17. The Jacks took early leads in the final three sets, which Pratt said helped build momentum.
"When you put pressure on them, you're in better shape than giving them a point," Pratt said.
The vocal leadership of Galloway can be heard when she is on and off the court, letting her teammates know where to be and when to be ready.
"It just brings an energy that everybody needs, and it definitely helps them out with passing and who needs to get the ball," Galloway said of her being vocal during games.
Quincy is back in action on Wednesday for a home conference match against Omak at 6:30 p.m.
"If we work together as a team we can achieve a lot of things," Galloway said. "A lot of good things."
Ian Bivona may be reached at ibivona@columbiabasinherald.com. Box Score
Set 1: Mabton 25, Quincy 20
Set 2: Quincy 25, Mabton 22
Set 3: Quincy 25, Mabton 20
Set 4: Quincy 25, Mabton 17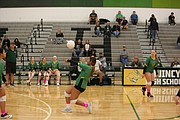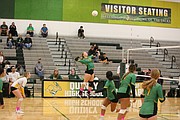 Recent Headlines
---