Basin cross country teams face off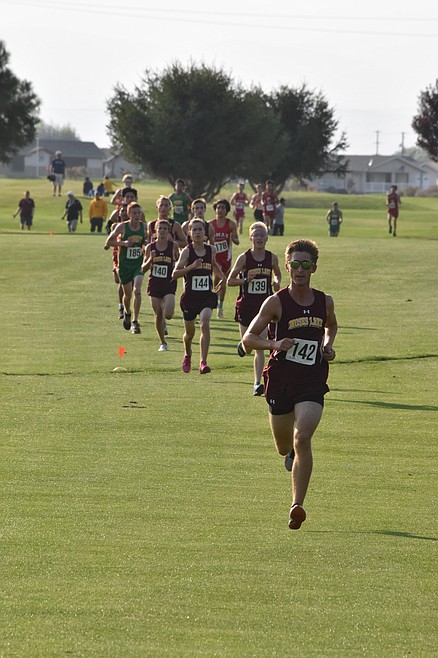 The second annual Windermere Central Basin Colockum Clash was held in Quincy on Thursday. Local teams included Moses Lake, Soap Lake and Quincy.
Rebecca Pettingill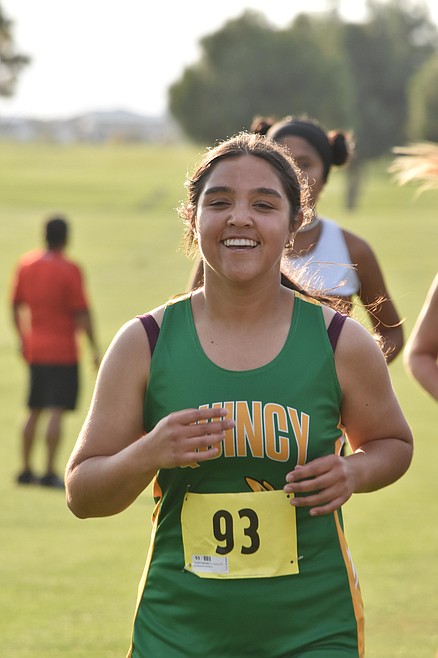 Quincy junior Crystal Espinoza smiles as she runs the race.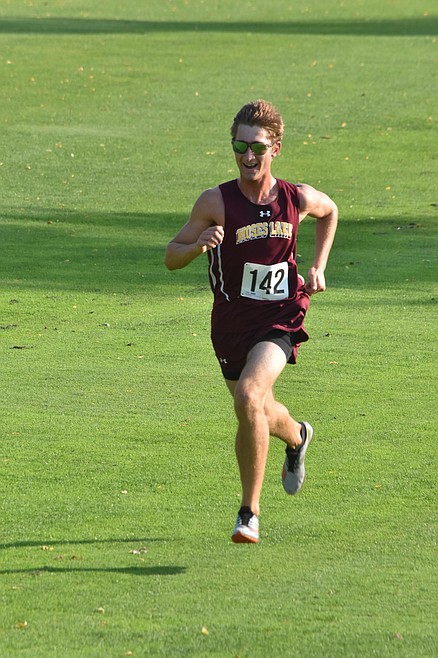 Moses Lake senior Ethan LaBonte came in first with a time of 17:32.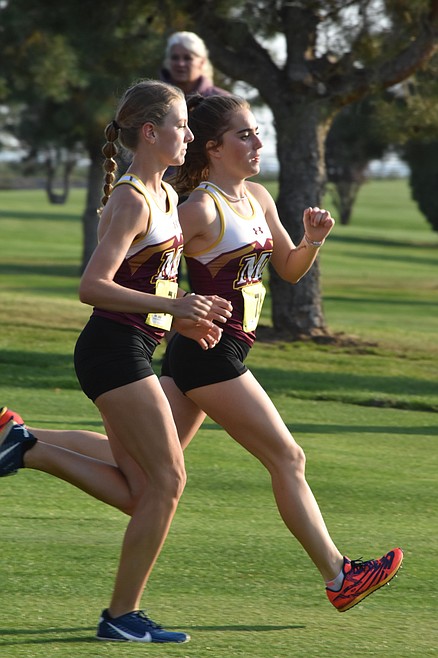 Two Moses Lake runners start out the race together at Colockum Ridge Golf Course.
Previous
Next
by
REBECCA PETTINGILL
Staff Writer
|
October 1, 2022 4:39 PM
QUINCY - Several Basin teams faced off Thursday at the second annual Windermere Central Basin Colockum Clash in Quincy.
The meet was held at Colockum Ridge Golf Course and featured six teams; Brewster, Cashmere, Moses Lake, Omak, Quincy and Soap Lake.
Moses Lake came out on top in both the girls and boys races. Quincy, as a team, placed third in the boys and fourth in the girls.
Here's how boys from the Basin did:
1st place Moses Lake senior Ethan LaBonte 17:32
2nd place Moses Lake sophomore Jonathan Roueche 17:59
3rd place Moses Lake senior Sam Elliott 18:15
4th place Moses Lake junior Brodie Holland 18:24
5th place Moses Lake sophomore Jesse Humpherys 18:25
6th place Moses Lake senior Logan Labonte 18:30
8th place Quincy junior Levi Kukes 18:44
9th place Moses Lake sophomore Niko Rimple 18:58
12th place Quincy junior Yanik Bautista 19:42
16th place Quincy senior Edgar Guzman 20:23
17th place Quincy junior Alexis Birrueta 20:37
24th place Quincy senior Adiel Sandoval 21:36
28th place Quincy junior Emmanuel Birrueta 22:21
30th place Quincy freshman Sergio Esparza 23:11
Soap Lake freshman Issac Contreras 23:17
Soap Lake freshman Jocsan Sanchez-cruz 25:52
Soap Lake freshman Xavier Robinson 33:25
Here's how girls from the Basin did:
1st place Moses Lake senior Camryn Holterhoff 20:54
3rd place Moses Lake junior Sylvie Gephart 22:01
4th place Moses Lake sophomore Rianne Nelson 22:01.09

5th place Moses Lake senior Marissa Bischoff 22:28
11th place Moses Lake sophomore Eowyn Hardebeck 24:33
12th place Moses Lake junior Ambar Salas 24:34
13th place Quincy junior Crystal Espinoza 24:36
14th place Moses Lake junior Katelynn Lustig 24:41

19th place Quincy senior Luz Aragon 27:45
20th place Moses Lake freshman Morgen Holt 27:48
21st place Moses Lake freshman Natalie Bischoff 27:52
22nd place Quincy senior Marisol Uribe 27:55
24th place Moses Lake sophomore Vanessa Perez 28:35

25th place Quincy senior Marissa Tafolla 28:40
27th place Quincy sophomore Brenda Uribe 29:44
28th place Quincy senior Dulce Bautista 30:03
29th place Moses Lake senior Jayden Nordstrom 30:37
30th place Moses Lake freshman Mirika Uber 32:06
31st place Moses Lake freshman Jannah Salas 33:44
34th place Quincy senior Jasmine Vasquez 34:13
35th place Moses Lake junior Atziry Chavez 34:22
Rebecca Pettingill may be reached at rpettingill@columbiabasinherald.com.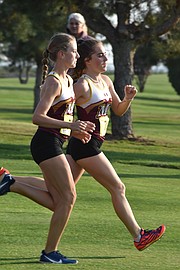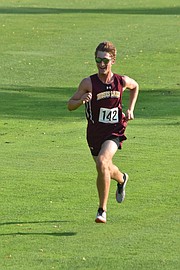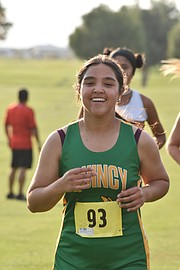 Recent Headlines
---