Cold to stay
by
CHERYL SCHWEIZER
Staff Writer
|
November 30, 2022 4:01 PM
MOSES LAKE — Of course, it's that time of year, and the first snowfall of the season Tuesday night closed schools, left people with driveways and sidewalks to shovel, discombobulated morning commutes, annoyed a lot of cats and delighted a lot of dogs.
And while the snow might get cleared off the road and schools will get going again, the snow is here to stay, at least for a while.
Jon Fox, a meteorologist with the National Weather Service office in Spokane, said Wednesday morning that snow showers might linger through Thursday, and possibly into Friday night. New snow amounts are forecast to be minimal, an inch or less.
"It's not going to melt though, unfortunately," Fox said.
Thursday night's low temperature is forecast to be about eight degrees, he said. The average high for this time of year in the Moses Lake area is 37 to 38 degrees and average lows are 25 to 28 degrees.
"It's going to be well below that (average) for the next seven days," Fox said. "There's no warmup in your near future.
"Kind of depressing, huh?" Fox said.
The snow closed schools in most local school districts, many opting to go - well, old school and cancel classes – the classic snow day. Wilson Creek students switched to online classes. Ephrata schools went from a two-hour delayed start to three hours and finally were canceled for the day.
The NWS office had only scattered reports of snow totals through Wednesday morning, Fox said. About eight inches was reported near Soap Lake, and about 11 inches in the Grand Coulee area. By contrast, an unofficial report near Ritzville showed about 2.5 inches.
"Okanogan County got hammered. Chelan County got hammered," Fox said. Reports indicated about 12 inches in Leavenworth and 10 inches in the Winthrop-Twisp area, he said.
Kyle Foreman, public information officer for the Grant County Sheriff's Office, said there were some reports of accidents Wednesday morning, but they resulted in minor or no injuries.
"We had people sliding off the roadway," Foreman said.
A storm that brought freezing rain last week gave drivers a chance to refresh their winter driving skills.
"They had to relearn to drive in the snow. After the first day, they relearn it," Foreman said.
Drivers need to slow down in winter conditions, Foreman said, and increase the distance between themselves and the cars ahead of them. He recommended 6 to 10 car lengths.
"And make sure your windows are not covered with snow and ice," Foreman said.
The culprit for the cold and snow is a long-term - and familiar - weather pattern.
"It's a La Nina sort of weather pattern," Fox said, and that means cooler and wetter conditions.
"There's been a trough of low pressure in the region through most of November. And it's not going to move any time soon," he said. The eight to 15-day outlook calls for colder-than-normal temperatures and wetter-than-normal conditions.
"Any snow that people have isn't going to go anywhere," Fox said.
Cheryl Schweizer can be reached via email at cschweizer@columbiabasinherald.com.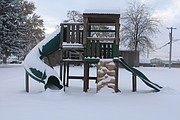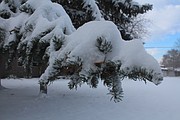 Recent Headlines
---