Mt. Rainier National Park changes access due to staffing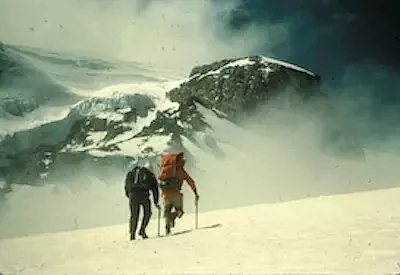 Two climbers on Mount Rainier in 1981. According to the Mount Rainier National Park website, attempts to reach the summit at more than 14,000 feet high have increased in recent decades.
COURTESY PHOTO/MT. RAINIER NATIONAL PARK
by
STAFF REPORT
Staff Report
|
November 29, 2022 4:03 PM
ASHFORD – Mount Rainier National Park announced updates Tuesday to winter 2022-23 recreational access due to staffing.
"Mount Rainier National Park offers terrific winter recreational opportunities and making this access change will help visitors make plans knowing that weather permitting, the road to Paradise will be open on weekends when the most visitation typically occurs," said Greg Dudgeon, park superintendent in the release. "The park did not make this decision lightly, but safety is at the forefront of everything we do. We believe these winter access changes are the safest choice for our staff and visitors during the winter season."

Beginning Nov. 29, the park will maintain public vehicle access to Paradise on Saturdays and Sundays only. The Longmire area will continue to be open seven days a week barring any major storm events. Daily snowplowing will continue seven days a week between the Nisqually Entrance and Longmire.
The release states park staff will revisit the Paradise access schedule should staffing levels change during the winter season.

The sledding runs at Paradise will not open this year, and sledding is not permitted elsewhere in the park. Winter camping at Paradise will be available Saturday nights only, conditions permitting.

Winter recreation access on the east side of the park remains unchanged. State Routes 410 and 123 are closed to vehicles at the northeast, east, and southeast park boundaries. The east side of the park is open for visitor use throughout the winter, including overnight winter camping with a valid permit. State Route 410 from the north park boundary and White River Road are open to snowmobiles up to the White River Campground.
The National Park Inn and Longmire General Store remain open daily for equipment rentals, food, and beverages.
For more information about Mount Rainier National Park, please visit www.nps.gov/mora.

Recent Headlines
---