Vikings look to gel as season begins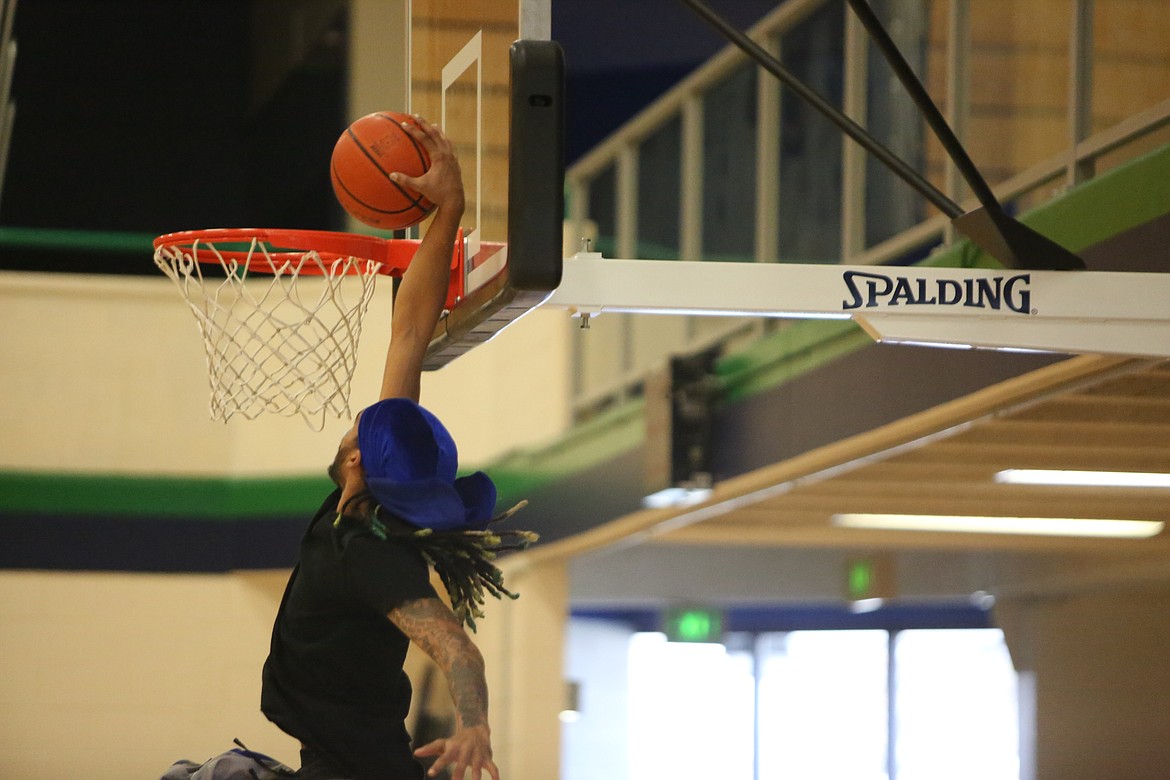 Big Bend sophomore Keenan Miller rises up to dunk the ball during a Viking practice.
IAN BIVONA/COLUMBIA BASIN HERALD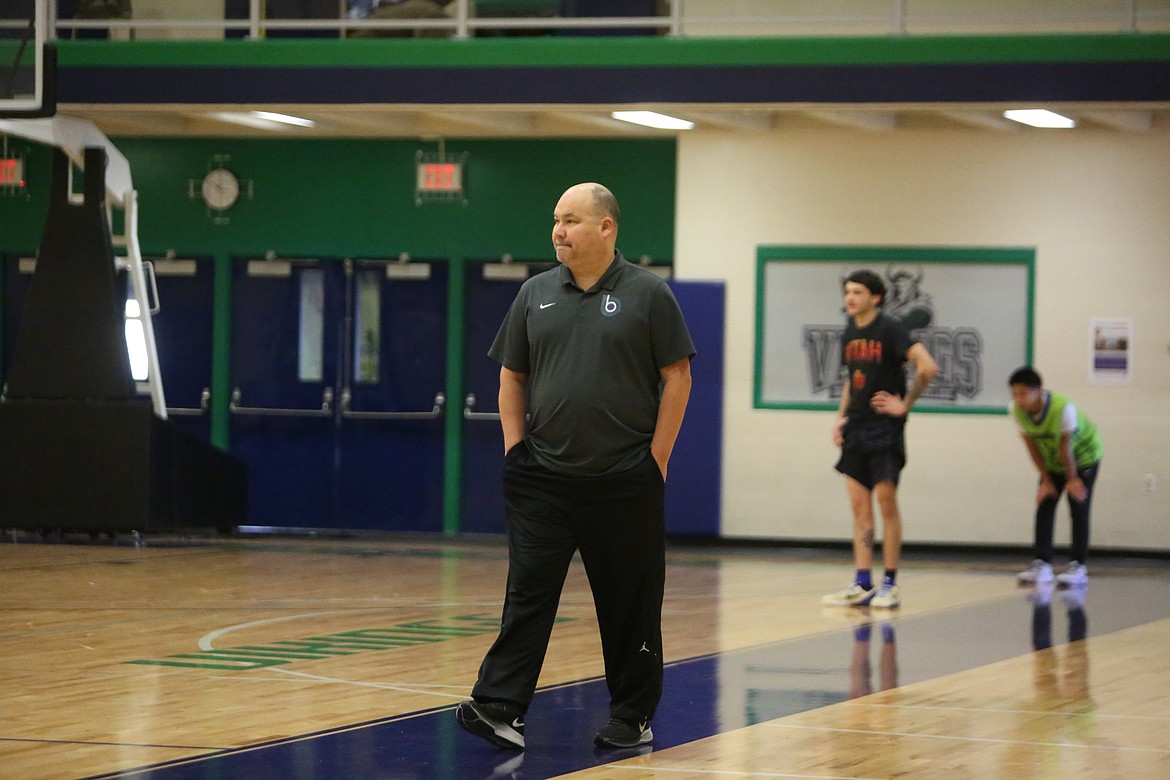 Mingo Scott, Big Bend men's basketball head coach, returns for his sixth season as head coach of the program. Scott played for the Vikings from 1991-92 as a shooting guard.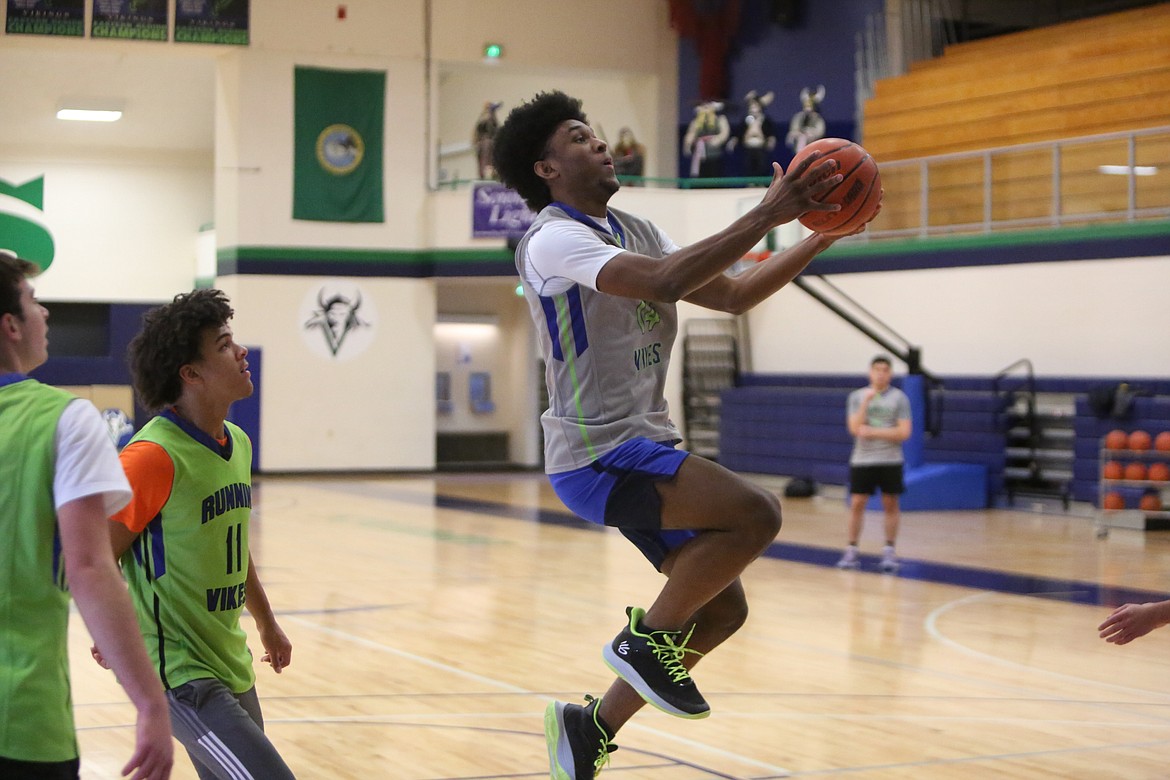 Big Bend players begin practices by working on layups and driving to the basket.
Big Bend freshman Garin Macfarlane moves the ball toward the pain during a practice drill.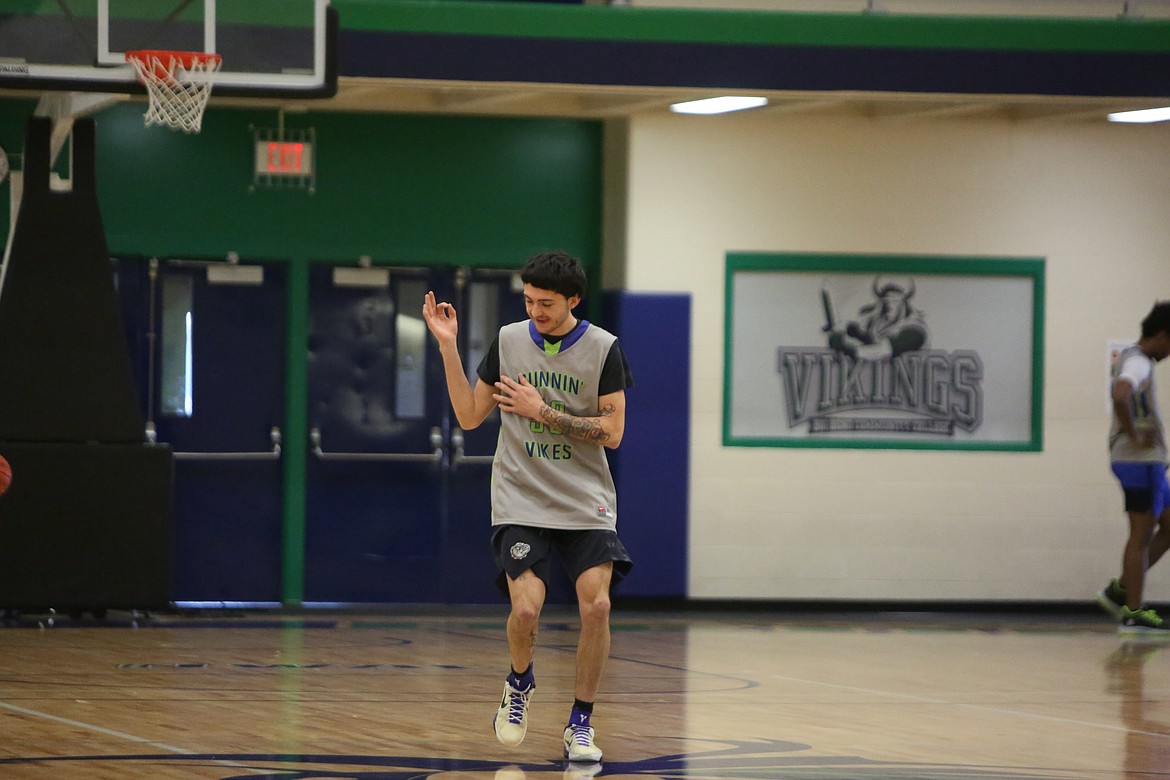 Sophomore Emiliano McMakin celebrates after making a three-point shot in practice.
Previous
Next
by
IAN BIVONA
Sports Reporter
|
November 24, 2022 1:25 AM
MOSES LAKE — The Big Bend Community College men's basketball team is looking to improve on its 7-17 finish from a year ago as the 2022-2023 season begins on Friday.
With players from all around the country, the team had to wait out the off-season to practice together as a unit. Practices began in mid-September.
"The talent's there," BBCC Head Coach Mingo Scott said. "The question with all teams is, it's never about talent, it's about them coming together and gel. Believe in one another and play together."
Scott, who played at Big Bend from 1991-92 and is in his sixth season at the helm of the program, brings a former player's mentality to the Vikings.
"I think I'm more of a player's coach, so I can relate to them," Scott said. "I've been on both sides of it. I give them a little bit of freedom, freedom with discipline is how I explain it."
Having players from as far as Texas limited what the Vikings could do in the off-season, though the previous 10 weeks of practices have helped to work the rust off.
"We can't do much in the off-season because of where these guys are from," Scott said. "I got two guys from Kansas and Missouri, I got two guys from Utah, I got a guy from Vegas. Guys are from so far over the place that we just start conditioning from day one when they get here in September."
The Vikings return four players to the floor from a season ago with the retention of sophomores Keenan Miller, DJ Frye, KaRon Sears and Emiliano McMakin. They'll set the path for the team's nine freshmen.
"Everybody's trusting each other and getting to know each other more," Miller said. "A lot of these guys, it's only four of us that are returners, so a lot of the guys haven't played together. Just learning to trust each other, trusting the guy next to you, make the extra pass. The small stuff."
Miller, Frye and Sears all started for the Vikings last season.
"We've got three (starters) back and I already know what they can do. I have a lot of set offenses but I have a lot of offenses that are tailored to individual plays – kind of like the NBA, where you do isolation," Scott said. "I know what those three guys can do."
Freshman Garin Macfarlane, who joins Miller and McMakin as one of the Vikings' three captains, noted that despite the team demonstrating talent, having a successful season will come down to how well the team plays as a unit.
"I think everybody's super talented here, so it's more molding together and being good teammates," Macfarlane said. "Everyone's got talent, so it's all how we can work together in games."
Prior to league play beginning on Jan. 4, Big Bend will be playing in three tournaments across the state in Spokane, Seattle and Mount Vernon.
"I think we're about 70% of where we need to be," Scott said. "Everybody knows the plays and knows what we need to do when we're practicing. When you've got young kids and hit the game, things tend to blank out at times. That's why these preseason tournaments are good before we get into league (games)."
Playing nine games on the road to begin the year will help the Vikings to create chemistry on and off the court, according to Scott.
"It helps to go on the road because there's no fan support," Scott said. "Basically, the people they have cheering for them are their parents and them taking care of themselves. It helps create a family atmosphere when you're on the road; you got to be with each other all the time."
The Vikings played in four scrimmages throughout preseason practices, which helped the team get to know each other on the court. While the true strength and identity of the team have yet to show themselves, McMakin said that they will show in due time with the team already showing they can play well in facets of the game on any given night.
"We've only played four games, we're still trying to figure out what our strengths and weaknesses are," McMakin said. "Between those four games, one game we had a really good shooting night, and the next game it was a really good defensive night. Our only struggle is getting boards, and that's just fundamentals. We can work on that."
Big Bend tips off its season on Friday against Whatcom Community College in the Skagit Valley College Turkey Tournament.
"I'm just excited for the season," Macfarlane said. "All these practices, you just have to look forward to games. I'm just ready for the games and I know everyone else is too. We're excited."
Ian Bivona may be reached at ibivona@columbiabasinherald.com.
Recent Headlines
---