Knights prep for semifinal clash
by
IAN BIVONA
Sports Reporter
|
November 23, 2022 12:39 PM
ROYAL CITY — Royal Head Coach Wiley Allred said playing in Saturday's 1A state semifinal playoff game was normal for the Knights.
"It's more the norm than the exception, which is kind of fun," Allred said. "Credit to the kids, we have been able to do it. We have a set structure and schedule for the week; I think that helps. It's almost the expectation, that's what we aim for and hopefully, we can finish this week off."
The No. 1 seed Knights, who have won five of the previous six state titles, now prepare for a matchup against No. 12 Freeman. Even with school closed on Wednesday due to icy weather and Thanksgiving Thursday, players will be focused on the task at hand.
"It's been good, kids are excited to be here," Allred said. "If they have to be here to practice, I tell them it's the best place to be on Thanksgiving. They've been eager to go, work through and keep improving, and focus on the next opponent."
On their way to the semifinals, the Scotties knocked off No. 5 King's 28-13 in the first round before taking down No. 4 Eatonville 23-17 last weekend. Freeman finished the regular season 7-2, winning their last five games.
"It doesn't surprise me what they've done, and the seeding, you can throw it out the window," Allred said. "They lost to the No. 2 seed, Lakeside, by a touchdown and two points early in the year, and obviously Lakeside's a good football team. (Freeman's) there where they are because they've earned it."
Leading Freeman is quarterback Boen Phelps, a dual-threat under center who also plays inside linebacker.
"They're a dangerous team," Allred said. "Their quarterback's one of the best athletes in the state, running or throwing. He's extremely talented at both. He's also one of the best basketball players in the state, he's just a really good athlete. He's surrounded by good receivers, they have really good coaching and their defense is solid."
Allred said that going up against a dual-threat quarterback is difficult, especially one with Phelps' repertoire.
"The fact that he's a big-time threat to run or pass," Allred said. "He's got a cannon, he can throw it deep, he's accurate. He's a next-level kid at probably whatever sport he chooses."
On the rest of the offense, the Scotties beat teams by spreading the ball out, also demonstrating the ability to run the football out of the spread. According to Freeman's MaxPreps page, the Scotties are averaging 30.1 points per game in their 11 outings this season.
"They spread you out, and (Phelps) dictates," Allred said. "They'll run with their running backs as well, but a lot of their biggest plays are on broken plays, and he just takes off and who knows where he's going."
Defensively, the Scotties post a strong inside linebacker duo, where Phelps also plays.
"Both their linebackers are really good; they fly to the ball and they're solid everywhere," Allred said. "There's no weaknesses there that I can see; they're solid everywhere."
This year's semifinals matchup will be held at a neutral site, with the Knights and Scotties meeting at Lions Field in Moses Lake. Royal played three consecutive state semifinal games at Lions Field from 2017-2019.
"Moses Lake's our second home," Allred said. "We kind of expected (to play there) with a team from the Spokane area to come and meet partway. That can't bother us; last year is the only time we haven't had the semis away from home. Usually, it's at Moses Lake."
As practice continues leading up to Saturday's kickoff, Allred had a simple message to the team.
"Don't take it for granted," Allred said. "It doesn't happen very often for any team, and to be the top four in any sport is not easy to do. If we're going to be out here, let's make the most of it."
Royal and Freeman kick off at 3 p.m. on Saturday at Lions Field.
Ian Bivona may be reached at ibivona@columbiabasinherald.com.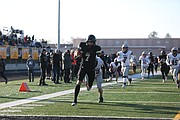 Recent Headlines
---